15 European Lip Smacking Street Foods
* Disclosure: This post may contain affiliate links, which means we may receive a commission if you click a link and book something (there is never any extra cost to you for using these links).
Food is the universal language around the world. There are few better ways to acquaint yourself with a new place than by sampling its street food. While posh restaurants can sometimes border on being soulless , street eateries are full of character and flavor.
Culturally rich Europe has many culinary treats up its sleeve. From buttery layered bread stuffed with kebabs to curry laden frites, you'd find a host of delicious options to indulge in. Be warned, you might not want to have anything else other than these on your whole trip!
Here are the most lip smacking street food you can find all across Europe:
1. Kashkaval Pane, Bulgaria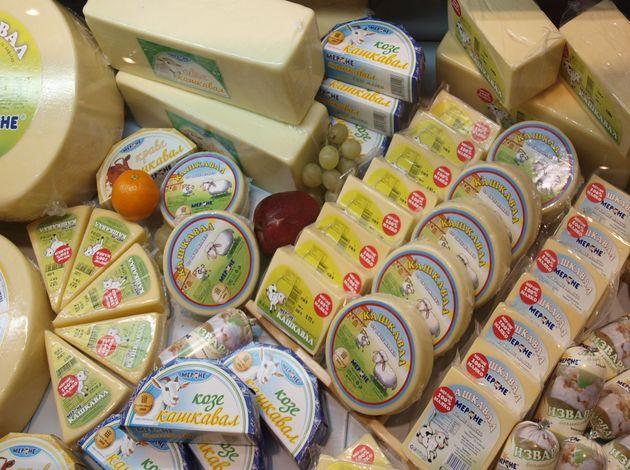 Image Source: Ivan/Wikimedia Commons
What's not to love about fried bread oozing with melted cheese? Kashkaval Pane is made by frying bread stuffed with local Kashkaval cheese which is made from sheep's milk. Hugely popular in Bulgaria, this delicacy is completely '4 am hungry pang' satiating.
2. Cevapi, Bosnia and Herzegovina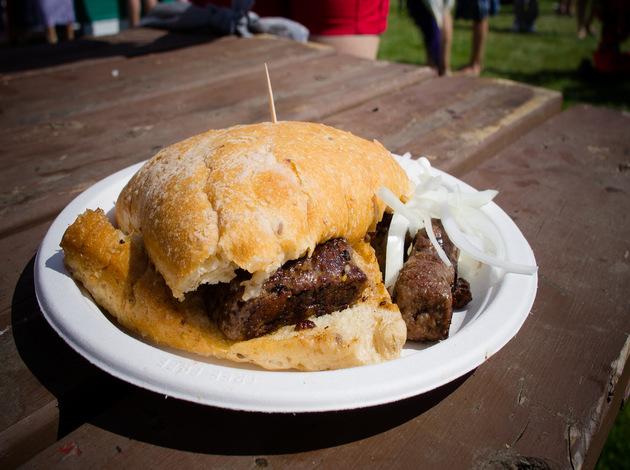 Image source:Kurt Bauschardt / Flickr.com
A perfect meal on the go, Cevapi is commonly found on the streets of Eastern Europe but is especially popular in Bosnia and Herzegovina. Grilled beef and pork sausages are stuffed with veggies like tomatoes and onions enveloped by a warm pita bread and a red pepper spread. Yes, completely droolsome!
3. Street Crepes, France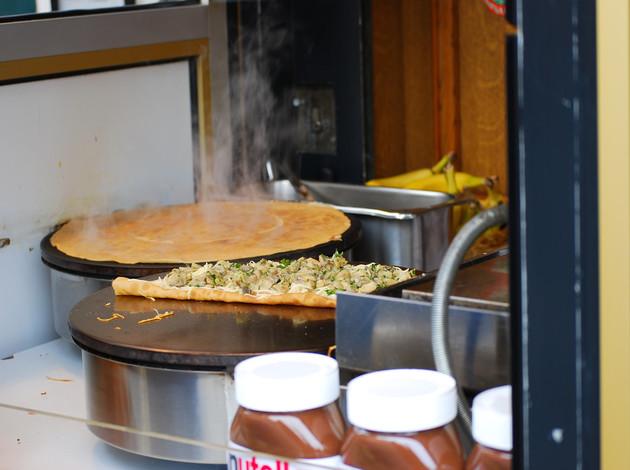 Image Source: Eric Chan/ Flickr.com
Its quite common to see roadside crepe stations in Paris. Fresh, hot crepes are made right in front of your eyes and stuffed with a variety of meat and veggies. On an unforgivingly cold day in Paris, there is nothing more reassuring and cozy than these! Head to the Montparnasse neighborhood to sample some of the best crepes in the city.
4. Currywurst, Germany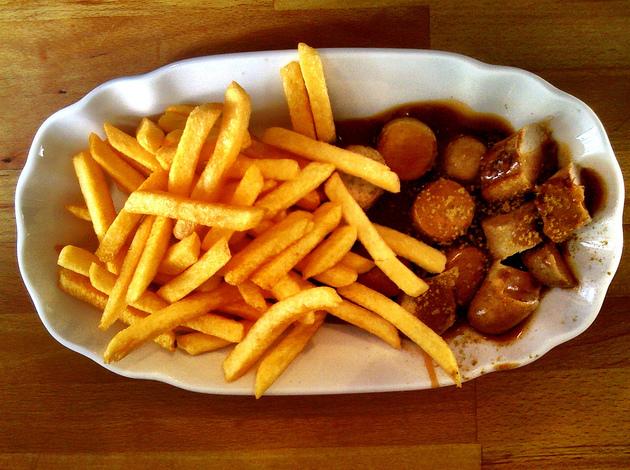 Image Source: Dominik Schwind/ Flickr.com
You might not understand the German sense of humor but you'd definitely agree that there is no better way to eat sausages than the way they do. Currywurst is easily one of the best German inventions- steamed and fried sausages cut into slices and laden with tangy-spicy curry sauce, served with French fries on the side. Slurrp!
5. Langos, Budapest

Image Source: Kobako/ Wikimedia Commons
Cheap, customizable and the perfect beach snack, lángos has comfort food written all the way. This versatile snack takes on many avatars you can have it plain , dusted with sea salt and garlic or add your choice of cheese, sour cream with meat and veggies. Warm and welcoming!
6. Oliebollen, Netherlands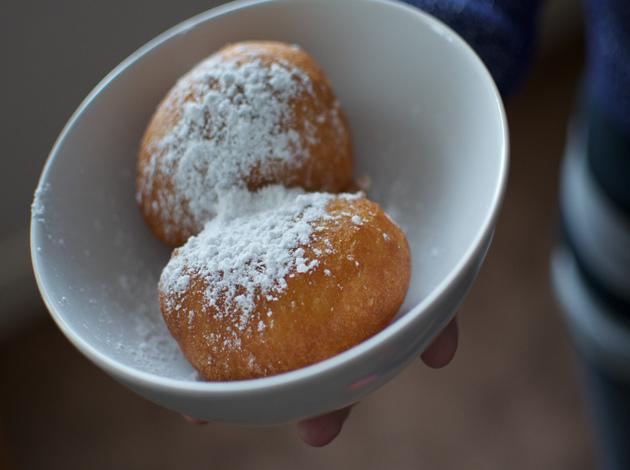 Image Source: jdegraaf/Flickr.com
Despite its name which literally reads 'oily balls', this delicacy is highly addictive. The Dutch's version of doughnuts, these melt-in-the-mouth dumplings are just what the doctor ordered for a weary soul! Take a calorific, guilt-free ride to heaven on this on!
7. Tunnbrodsrulle, Sweden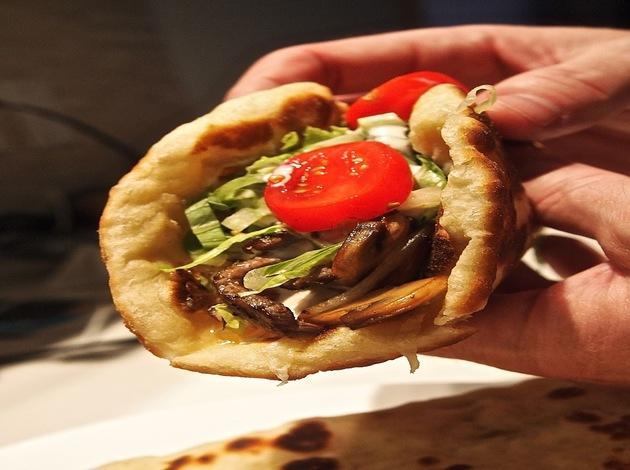 Image Source: Epicurious Generations
Probably the best remedy to the biting Scandinavian winter, Tunnbrodsrulle is a long name for a simple yet sumptuous dish. Its basically sausage wrapped in a soft flatbread which is filled with a flavor enhancing mash and salad. This one alone can count as a hearty meal!
8. Gofry, Poland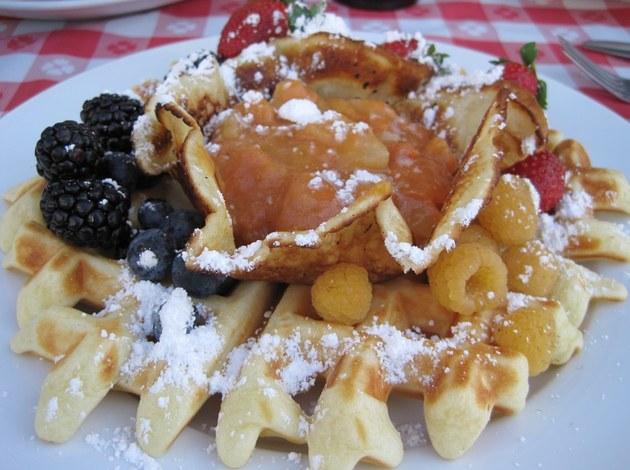 Image Source: Raul/ Flickr.com
Gofry is what the Polish refer to waffles as. A popular street food across Poland, these waffles are served with all kinds of toppings along with ice cream or whipped cream. They are accompanied with nuts, jams and sauces that make them really special.
9. Varenyky, Ukraine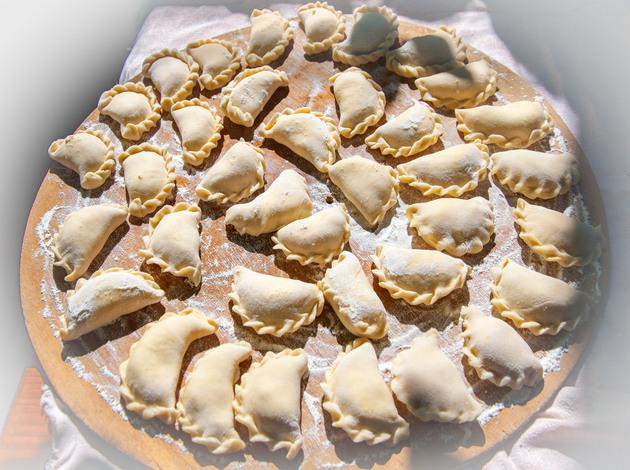 Image Source: Bo & Ko/ Flickr.com
Ukraine and most people in the Baltic region love their Varenyky. And its easy to see why. Dumplings made of unleavened dough and stuffed with more than 50 types of fillings, Varenyky are incredibly versatile and tasty. Who'd have guessed an European country could make a mean dimsum!
10. Korvapuusti, Finland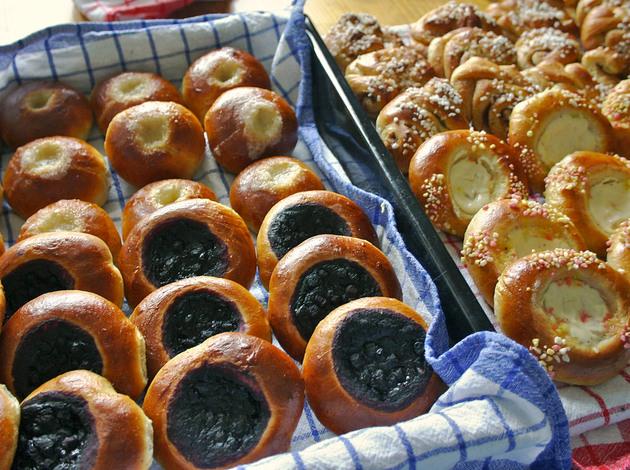 Image Source: Kahvikisu/ Flickr.com
Finnish people understand that delicacies like cinnamon rolls can't be had in a small portion. That is why they make Korvapuusti as a large cinnamon roll that is completely lipsmacking. With a shiny brown glaze and a delicious but not overbearing sweetness, these rolls are a perfect accompaniment to a hot cup of coffee.
11. Churros, Spain

Image Source: Sami Keinanen/ Flickr.com
We'd have never imagined how incredibly satisfying fried dough can be! Churros are popular in many countries around the world but the Spanish love for them is somewhat legendary. Made in various shapes and sizes ranging from thin, long and thick,Churros are the ideal start to your day. They're crunchy, sweet and eaten with hot chocolate- a recipe for goodness we say!
12. Döner Kebab, Turkey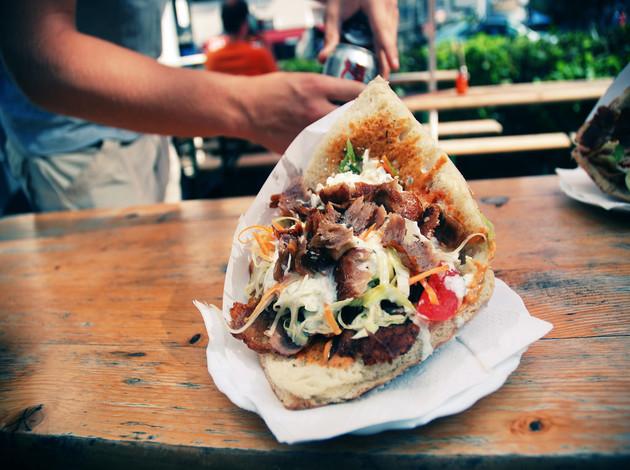 Image Source: Alex Kehr/ Flickr.com
Juicy, flavorsome and hearty, Döner kebabs are the perfect after-party snack. These kebabs are made from the meat on a rotisserie. They are served in a pita bread with salad or sauces and reveal different layers of flavors as you tuck in. Although these have been reinvented throughout the world, the various versions of Döner kebabs in Turkey are absolutely ambrosial.
13. Panzerotti, Italy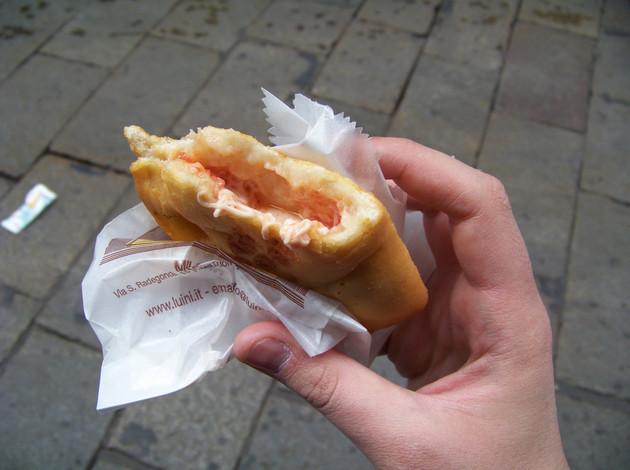 Image Source: matthewreid/ Flickr.com
Sort of like Calzone but not quite too, Panzerottis are moon shaped empanadas that are delightful to say the least. Fried bread (surprise surprise!) is stuffed with tomatoes and cheese to make a firecracker combination in your mouth. Trust Italians to know how to give a foodgasm!
14. Kürtőskalács, Romania and Hungary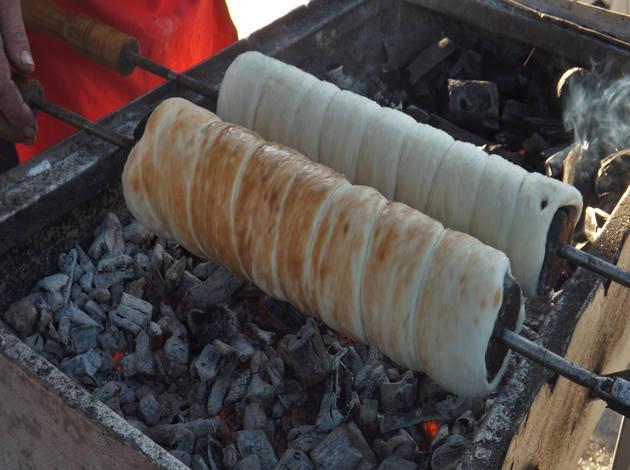 Image Source: young shanahan/ Flick.com
These chimney baked cakes are not just unique but atrociously delicious too. Made from sweet, raised dough and rolled in granulated sugar, these cakes are slow roasted over a charcoal as the butter smeared on them turns them golden. To make this further sinful, walnuts or powdered cinnamon are added to it. Oh my!
15. Fried Pirozhki, Russia

Image Source: Veronica Burke/ Flickr.com
There's a baked version of these but obviously the fried ones have caught our fancy. These bite sized buns are stuffed with wholesome, flavorful stuffing and are fried to perfection. If you ask us, there's no better way to enjoy your pie than this! These can be found all over Russia but are especially popular in St. Petersburg.
Europe maybe known for its fine dine and Michelin-starred delicacies but its true heart is in the fast, cheap and wholesome street food. Pocket friendly and hearty, these treats will definitely be the best thing you taste in Europe.