Best Street Food in Vietnam - 4 Cities and 10 Streets
* Disclosure: This post may contain affiliate links, which means we may receive a commission if you click a link and book something (there is never any extra cost to you for using these links).
A charming country in Southeast Asia, Vietnam is a must visit for every gastronome. The nation offers some delicious street food dishes that satisfy every type of palate. From the famous dish of Pho to the hunger satiating Bun Mam and even the homely yet tasty sticky rice called Xoi, the food that you will find on the streets of Vietnam is culinary heaven. Wondering where to eat what while visiting the country? Allow us to be your Vietnam street food guide.
Street food in Ho Chi Minh City: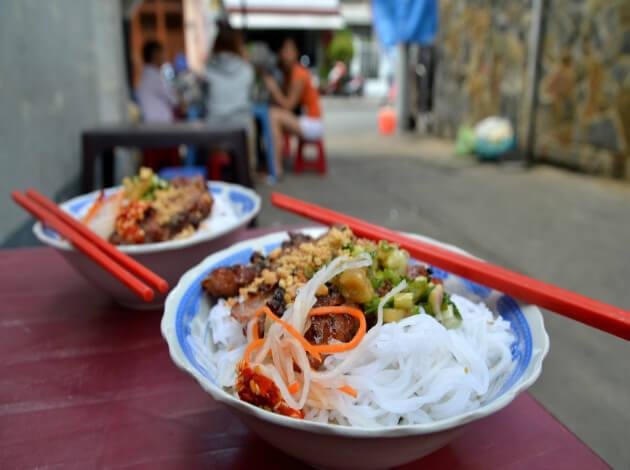 1. Van Kiep Street:
Also known as Saigon, Ho Chi Minh City probably has the best street food scene in Vietnam. The Van Kiep Street in the heart of the city is like an outdoor art exhibition where food vendors display their culinary skills! Come evening and the street gets thronged by foodies. Stretching just a couple of hundred metres, the street manages to house over hundred eateries serving an array of dishes.
Indulge In: Pho, Bun Cha, Banh Xeo, Cao Lau.
Nearby Attractions: Hue Nghiem Giang Tu, Notre Dame Cathedral, Mariamman Hindu temple.
2. Vinh Khanh Street:
If you are in search of some amazing seafood while visiting Saigon, you should head over to the Vĩnh Khanh Street during the night. Having an electrifying environment, apart from being host to many budding chefs, the street also has live entertainment including street dancers, fire eaters and even karaoke sessions. Trivia: Legend goes that Vietnamese gangster Nam Cam used to love eating at this street!
Indulge In: Bun Cha, Goi Cuon, Grilled crab.
Nearby Attractions: Chua Tan Phuoc.
3. Tran Khac Chan Street:
Housing over 50 eateries, the Tran Khac Chan Street is a food paradise for the locals as well as the tourists. Many of the food stalls in the street serve traditional dishes with a twist thus giving unique flavours to the fare. Always busy, the aroma that wafts off this street is so tempting that even non foodies succumb to its charm!
Indulge In: Barbecued chicken, Ca phe trung, Banh canh cua, Bot chien.
Nearby Attractions: War Remnants Museum, Saigon Central Post Office, Museum of Vietnamese History.
Street food in Hanoi: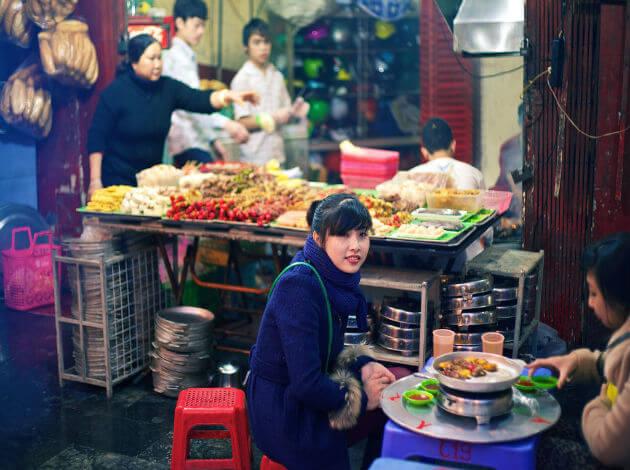 4. Old Quarter:
One of the most fascinating places to visit in Hanoi, the commercial district of Old Quarter is full of charming buildings boasting of colonial architecture. Housing several quaint pagodas and temples, the district is also known for its vivacious street food with several eateries (including bakeries and bars) serving some appetizing dishes.
Indulge In: Bun Ca, Pho, Vietnamese coffee, Ga Tan.
Nearby Attractions: Bach Ma Temple, Ba Dinh Square, Hanoi Opera House, One Pillar Pagoda.
5. Cau Go:
Located near the lake, this food street is famous for its seafood. And not only Vietnamese street food stalls and carts, Cau Go is also home to some chic restaurants that serve fusion food. The eateries generally open by 4 p.m. and remain operational till midnight.
Indulge In: Everything that the place has to offer- from lobsters to oysters!
Nearby Attractions: Hoan Kiem lake, Water Puppet theatre, Den Ba Kieu.
6. Nom Street near Ho Hoan Kiem:
Being a popular tourist attraction in Hanoi, most of the area surrounding the Hoan Kiem Lake is one giant food market! You will find many hawkers, vendors, carts and stalls near the lake and all of them sell some authentic and lip smackingly good Vietnamese food. The Nom Street in particular is known for its bustling and aromatic ambience. Going by its name, you might assume that you get only beef over here (Nom bo kho is air dried beef), but that's not the case. You get a variety of dishes over here, even vegetarian ones.
Indulge In: Nom bo kho, Pho, Xoi, Goi Cuon.
Nearby Attractions: Hoan Kiem lake, Huc Bridge, statue of King Ly Thai To, Water Puppet theatre, Den Ba Kieu.
Street food in Danang: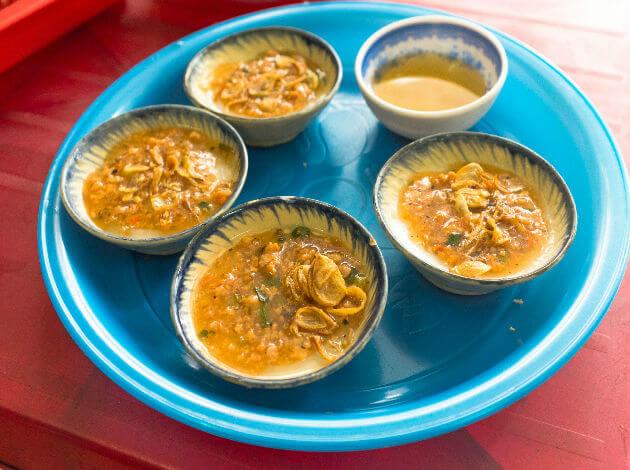 7. The streets off Nguyen Chi Thanh:
The street food in Danang is a tad bit different from the rest of Vietnam. And some of the most popular eateries and cafes in the city are located on the streets off Nguyen Chi Thanh. They serve delicious fusion food as well as quirky delicacies that will leave your senses tantalized.
Indulge In: Nem Lui, Quang noodle, Bun Cha Ca, Che bap soup.
Nearby Attractions: Da Nang Cathedral, Museum of Cham Sculpture.
8. Tran Phu:
Serving some of the best street food in Vietnam, Tran Phu is also home to a few eateries that serve authentic Italian food dishes. If you suddenly start craving pizza or pasta while in Danang, you now know where to go! Planning on heading over to this magnificent city? Here's an
itinerary planner
that might come in handy.
Indulge In: Banh Canh with Xi Quay, Banh xeo, Da Nang spicy snail.
Nearby Attractions: Lady Buddha And Linh Ung Pagoda, Dragon Bridge, Han River Bridge, Asia Park.
Street food in Can Tho: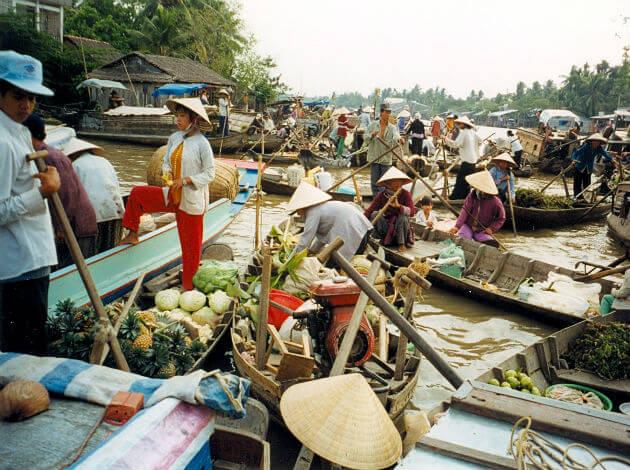 9. Ninh Kieu Pier:
The city of Can Tho lies along the Hau River and thus it boasts of a lovely pier. A popular tourist attraction in the city, the Ninh Kieu Pier is lined with food carts that serve the visitors with delicious Vietnamese street food. Usually operational during the evenings, the entire pier starts smelling of delectable food once the vendors set their carts and stalls.
Indulge In: Lau mam, Banh tam bi, Chuoi nep nuong.
Nearby Attractions: The pier itself is an attraction; go for a walk along it in the evening and make beautiful memories.
10. Can Tho Floating market:
Probably the most famous attraction in Can Tho, the floating market is an experience in itself. Called Cho Noi, the market consists of vendors rowing on boats, selling fresh fruits, gardening equipments, small cute souvenirs and even breakfast items. The market generally operates from 4 a.m. to 10 a.m. Thus, you'll have to wake up early for this one! But the visit would be completely worth it.
Indulge In: Banh tet la cam, Chuoi nep nuong, Grilled Pork Roll.
Nearby Attractions: The entire market is a charming phenomenon to witness. Don't forget to carry your cameras!
So gastronomes, ready to indulge in some heavenly food? Hope you have a gala time exploring these street food items in Vietnam. Do let us know how your experience was by commenting below.
Note: Some images are for representative purposes only.
*fb cover pic: wikimedia