Best Places to Stop on Pacific Coast Highway Road Trip
* Disclosure: This post may contain affiliate links, which means we may receive a commission if you click a link and book something (there is never any extra cost to you for using these links).
The list of great American road trips is filled with three heavy contenders. And in every parameter that matters - states, food, scenery, convenience, safety, diversity - the Pacific Coast Highway beats the Mississippi Great River Road and the kitschy wonder that is Route 66. The nearly two thousand kilometres from Washington to San Diego sounds intimidating, but it's very doable. Just have an incredibly comprehensive itinerary be ready to take at least two weeks. Here are some striking places to stop on Pacific Coast highway road trip.
1. Washington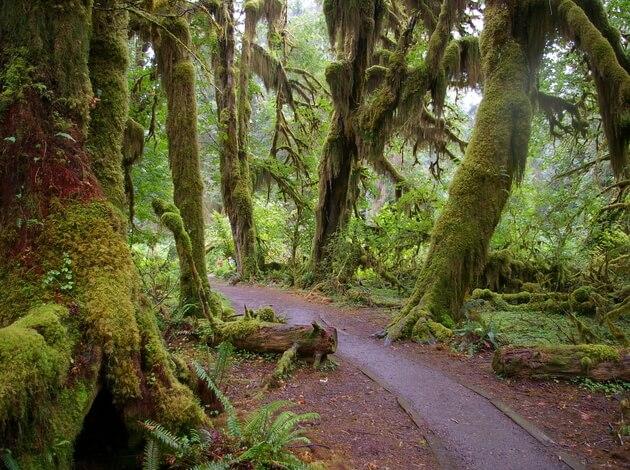 Our recommendation for a starting point maybe unexpected. While Seattle may traditionally be where the road trip kicks off, a little way east is a town that exploded in popular culture some years ago - Forks, Washington. The Twilight series brought this otherwise sleepy town into the stratosphere of national attention; now, the whole town is basically a site of pilgrimage for anyone who still misses Edward and Bella. Driving south will take you to the crystal sands of Ruby Beach. You won't find real jewels, but considering there are no real tourist attractions nearby, you may as well stop. Another short drive, and you'll reach the Kalaloch bluffs, from where, in the right season, you can watch whales. Head eastward, inland, for a scenic loop at Lake Quinault, a reservation area.
2. Oregon
Down, down down you go, past Aberdeen to Astoria. Climb the Astoria column for views of the Columbia River, then onwards to Fort Clatsop, where the famous frontiersmen Lewis and Clark once camped. At Cannon Beach, snap a picture of Haystack Rock, the most famous sight on the Oregon coastline. Ocean photo opportunities happen again at the curiously shaped rocks of Devil's Punch Bowl. Finally, the best attraction on this strip of Oregon for you is the Oregon Coast Aquarium. Wild sea lions and the world's largest sea cave system await at the Sea Lion Caves, followed by the vast dunes at the Oregon Dunes National Recreation Area. At this point, right before you head into the Golden State, drive away from the coast. An incredible cave system awaits you at the 'Marble Halls of Oregon'.
Must Read: USA Road Trip Guide
3. California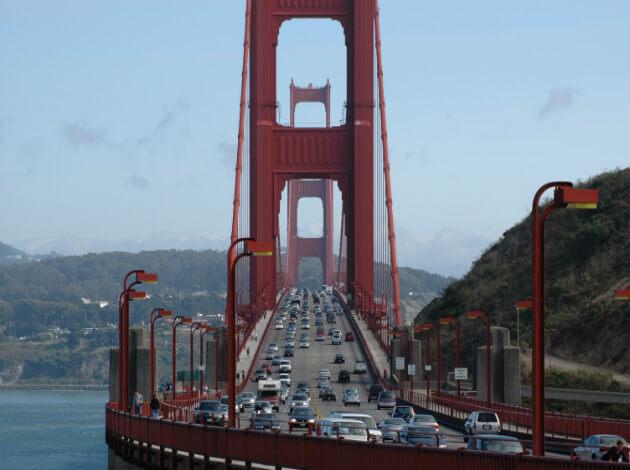 Many are content to just skip Washington and Oregon, and concentrate on California, and you can't blame them. The state's sights and attractions are nigh unbeatable on the Pacific drive. Why, the very first attraction as you approach from the north is the country of the majestic redwood forests. These ginormous trees, spread out over the Six Rivers National Forest, the Jedediah Smith Redwoods State Park, and the Del Norte Coast Redwoods State Park have a near mystical scenery unseen anywhere else in the world. It's a little hilarious how something this seriously beautiful has at its middle, something as kooky as the Trees of Mystery, where weird wood carvings and giant blue cow loom over the road. Not kidding. But then you have another stretch of redwoods at Redwood National Park. The last stretch of redwood fever is at the Avenue of the Giants.
Must Read: 

 Discover Route 66 Road Trip

Finally, you'll head back to the coast again (somewhat gratefully we imagine) to the Glass Beach, where for once, human pollution was actually beneficial. Glass dumped here was polished into round and smooth multicolored pebbles, creating a rather pretty beach. Not far south is the cute Victorian-era town of Mendocino; try the food here, it's great. After some incredibly scenic driving (we're actually going to stop mentioning it now; everything onwards is incredibly scenic), you'll reach Bodega Bay and have some wine at the Gourmet Au Ba bar. Past the Fort Ross State Historic Park (an old Russian settlement), you'll reach San Francisco.
Since San Francisco will need several blog posts of its own to cover, we'll just assume you saw everything and skip right ahead. A plethora of attractions are coming up, namely and in order - Pigeon Point Lighthouse, Ao Nuevo State Park (pinnipeds!), the Hole-in-the-Wall Beach, Laguna Beach (for nudists), the Natural Bridges State Beach - then you're at Santa Cruz.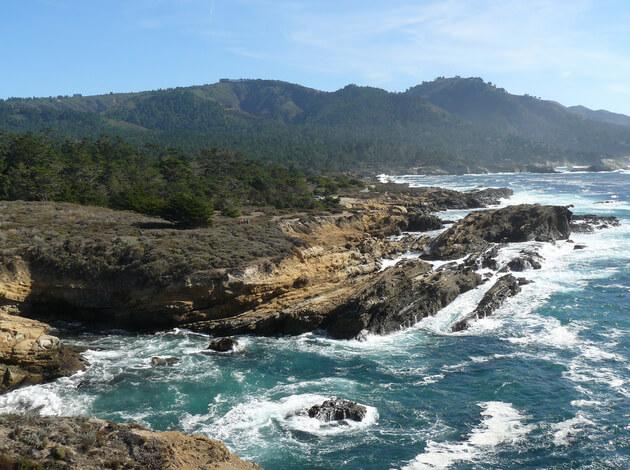 One hour south past Santa Cruz is charming Monterey, it's incredible aquarium and a seventeen mile drive (take a picture of the Lone Cypress!) to the even more charming Carmel-by-the-Sea. Have coffee here. It's the thing to do. Also check out the 17th century Carmel Mission. The jewel like rock and water and tree formations of Point Lobos State Reserve are coming up. Crossing Bixby Bridge, one of the state's most photographed structures, sets you driving the ninety miles of the breathtaking Big Sur. Stop at Slates Hot Springs if you wish. And definitely check out Pfeiffer Beach - they don't call it mini-Yosemite for nothing. Eat at the upscale Sierra Mar Restaurant. View the McWay tide falls from above and dig of jadestone at Jade Cove. Elephant seals and a lighthouse may be found at Piedras, and a little inland is the Hearst Castle State Historic Park. Stay at the weird and wonderful The Madonna Inn, and visit the nearby Bubblegum Alley. The Solvang Vintage Motorcycle Museum should get pretty much anyone's motor going.
Must Read: 10 Cross Country Road Trips In USA

  



Los Angeles is coming up, so things are getting congested again. If nothing else, check out the Santa Monica Pier. At night, that is. And finally, drive down to San Diego Zoo. Though there's a lot you can do in between - lighthouses, beaches, museums - none of it will feel unique anymore, and by this time you're likely to be exhausted. If you want to finish your tour with a bit of a laugh, visit the Museum of Creation and Earth History.
You may also like read:
Santa Maria Wine Trail
6 Places To Hike Around Los Angeles
Discover The Old Wild West Trail