Mega Kitchens In India That Offer Finger Licking Free Food!
* Disclosure: This post may contain affiliate links, which means we may receive a commission if you click a link and book something (there is never any extra cost to you for using these links).
What can be a better way to serve humanity than to spread out delectable food for millions of human souls every day? Well, if luxury accounts for having food at some posh restaurant than it also emanates from the act of offering food to people without asking for anything in reward. But that would need a lot of patience and manpower to intermesh feelings with food and taste with pleasure. Let us explore at least 10 Indian Mega Kitchens that offer mind blowing free food. They are popular and do have an international recognition for their gigantic level of culinary preparation.
1. The Golden Temple, Amritsar

Located in the heart of Punjab, whose food is world famous for its lip smacking flavor, the kitchen of Golden Temple in Amritsar prepares at least 2,00,000 rotis (Indian flat bread), 1.5 tonnes of dal (lentil soup) and other dishes to 1,00,000 people every day. To structure its huge output, this free kitchen uses 100 LPG cylinders and 5,000 kilograms of firewood on a daily basis. At this langar, people get hot meal irrespective of caste, creed and religion.
Let's shape your vacation!
Create an itinerary for your vacation in few simple steps! Add & Book hotels, AirBnbs and tours to your trip plan!
2. The Sri Sai Sansthan Prasadalaya, Shirdi, Maharashtra

PC - hifisnap
This kitchen combines spirituality and technology to serve its devotees. Considered to be one of the largest solar kitchens in India, this place has at least 4 rooftops that are arranged with 73 solar dishes, each one 16 sq. metres in size catering to nearly 40,000 meals in a single day. Moreover, the kitchen also prepares thousands of breakfast packets that are distributed without any cost to people in the early morning hours.
3. The Jagannath Temple, Puri, Odisha

PC - destinationodisha
Spirituality appears glorious with this temple that serves 100,000 people on a festival day and for about 25,000 on a normal day. According to the legend, the Goddess Mahalaxmi cooks in the Kitchen Herself; and all the cooks are her servants. The myth further goes that if Mother Laxmi is displeased with the preparations by the cooks, a dog will appear mysteriously on the temple grounds. And if the dog is seen, whole of the food that is prepared must be recooked.
4. The Dharmathala Manjunatha Temple, Karnataka

PC - udayavani
Situated in Belthangdi taluk, Dakshina Kannada district, this temple in South India receives the largest number of people from the region. This temple is dedicated to Lord Shiva and is managed entirely by a single family, the Heggades, who have been following their duty for 21 generations. The temples Annadanam kitchen prepares at least 70 quintals of rice, 15 quintals of vegetables and 2000 coconuts! Its gigantic hall gives space to 2500 people at a given time.
5. ISCKON Temples

PC: Vrindavanonline
The ISCKON Foundations Akshaya Patra is a non-profit organization that also runs the worlds largest school lunch programme. It has a Mega-Kitchen in Hubli, Karnataka, which owns mechanized designs to prepare at least 150,000 meals in less than 5 hours. Keeping in view charity as their central interest, this foundation provides mid-day meals in the rural schools for the under privileged children and thus support their education. Its really commendable to see how serve humanity especially children with something as essential as food. The small kids enjoy the packed food provided to them, hygienic and nutritious.
6. Tirupati, Andhra Pradesh

PC - natgeotraveller India
Everyday Tirupati temple serves Annadanam (offering food) free of cost to innumerable number of the pilgrims who visit it. The temple follows the teaching of Vedas according to which offering food without expecting anything in return is considered to be the highest form of worship. According to Vedas, the one who does annadanam to devotees attains heaven (Punya Loka) in this Universe (Brahmanda) itself. In this whole universe, the creation and its progression depend on food. Hence giving food to the devotees is more than attaining heaven.
7. Kukke Subramanya temple, Karnataka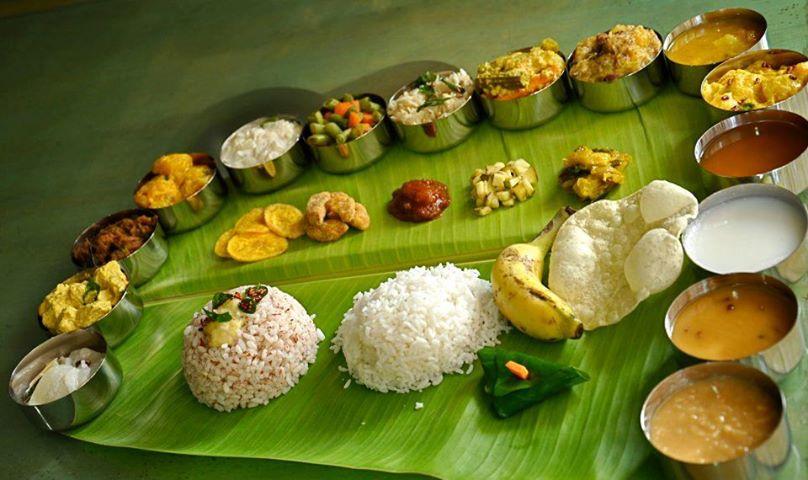 PC: indiaonline
Dedicated to Lord Subramanya, this temple is located in Karnataka amidst the magical and breathtaking Western Ghats range. The temple offers free food to everyone who visits the temple. The food is very tasty and a must have for everyone. Every day the temple serves thousands of people who visit it. Do not forget to eat this prasadam if you visit Karnataka!
8. Vaishno Devi, Jammu

PC: Beachhousekitchen.com
The Vaishno Devi Shrine Board serves lakhs of pilgrims everyday with free food- Bhandaras-set up at various checkpoints en route to Vaishno Devi. Your pilgrimage towards the shrine can become more interesting with hot and fresh free food, especially in weather as cold as that of Vaishno Devi.
9. Guruvayur Temple, Kerala

PC - kamakoti
This Hindu temple dedicated to Lord Krishna serves prasadam every morning and evening to the people who come here to seek divinity. Although there are strict practices which need to be followed in order to enter this temple, yet the place emanates spirituality with its ambiance, traditions and of course the prasadam.
10. Salasar Temple, Rajasthan

PC- yalo
Located in Churu district, this temple attracts innumerable worshippers throughout the year especially on Chaitra Purnima and Ashvin Purnima. The temple of Salasar Balaji is now considered to be a Shakti Sthal (a place of power) and Swayambhu (self creation) by faith, belief, miracles and wish fulfillments of the devotees. With its grand location and space, the temple serves free food and drinks to those who visit it.
Mega kitchens in india that offer finger licking free food!
i an 58 yrs old i wish to serve people in a holy place . helping in serving ,cleaning, etc

Answer

Report Abuse

Hi, David! I think it is wonderful that you are looking for such opportunities and I am sure most of these places welcome volunteers. But for more details, you will have to contact these mega kitchens directly.

Report Abuse