The Best Activities To Enjoy In Kanchanaburi
* Disclosure: This post may contain affiliate links, which means we may receive a commission if you click a link and book something (there is never any extra cost to you for using these links).
They say the best things are often found in the most unexpected of places. The maxim cannot be any truer when it comes to Kanchanaburi. This quaint town tucked away in the western part of Thailand is a delight, but unfortunately, most of the people are not aware of it. Despite having a lot to offer- from historical sites to temples and parks, this little provincial town do fades a little
when compared to its more jolly counterparts that are Bangkok and Pattaya. But ask a right person and they will tell you the plethora of amazing things to do in Kanchanaburi.

To further help you with that, here is our list of the best activities to enjoy in Kanchanaburi that you must definitely check out!
1. A pleasurable boat ride in Khao Laem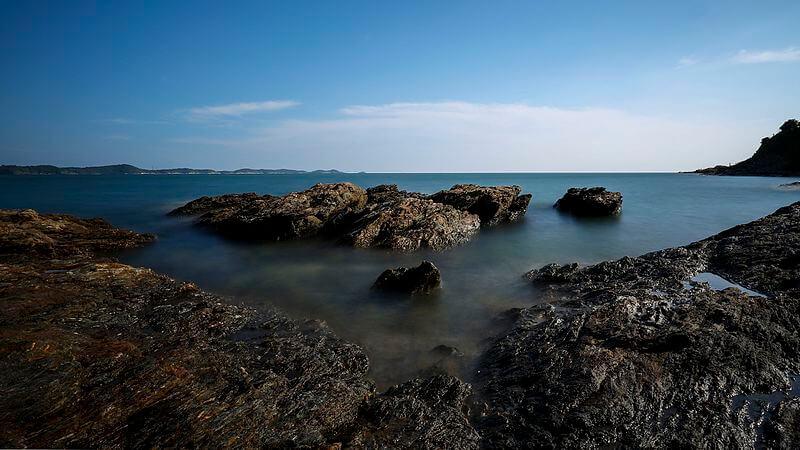 Image Source: Wikimedia Commons
Experience the nature at its finest riding along the clear waters of Khao Laem! Not only it is a gorgeous site in the town, the expansive lake reservoir also owns a history that is worth exploring. The place has a bridge interconnecting to the old ruins, beautifully reflecting its past in the sight of Wat Wang Wiwekaram Gao temple. A walk through its bridge or a ride on its quintessential Thai boats in the early morning will take you on a magical sojourn full of calm and tranquillity. Siding along the Khao Laem National Park, it has plenty of options for camping and adventure as well.
2. A journey to the past in Thai-Burma Railway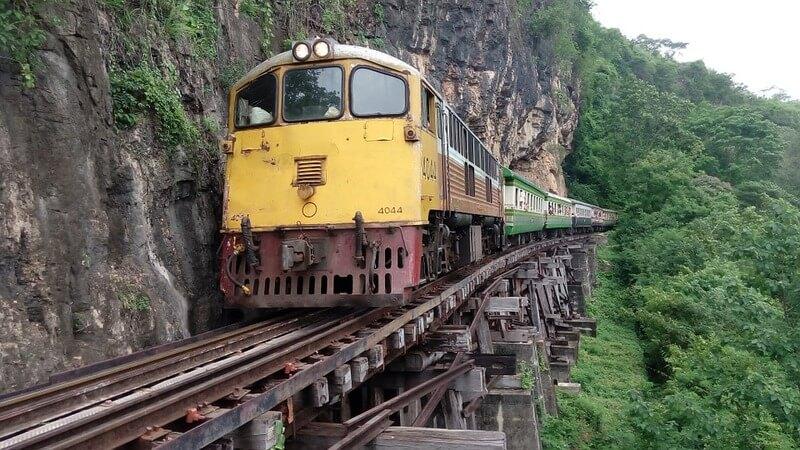 Image Source: Pixabay.com
Get acquainted with the country's history in the best way possible! Built during the time of World War 2, this popular train serves as a reminisce of the workers who lost their lives during its construction. Despite being attached to such a terrifying history, a journey in this 'Death Railway' is deemed to be the most scenic one and lasts for about 2 hours. Ride on this historic train that will lead you from Kanchanaburi to the alleys of Nam Tok, while providing you with enchanting views of attractions like The Bridge on the River Kwai, The Hellfire Pass and The Wang Po Viaduct. You will love it, we tell you!
Must Read: Places to Visit in Thailand for Honeymoon
3. Explore wilderness in the Sai Yok National Park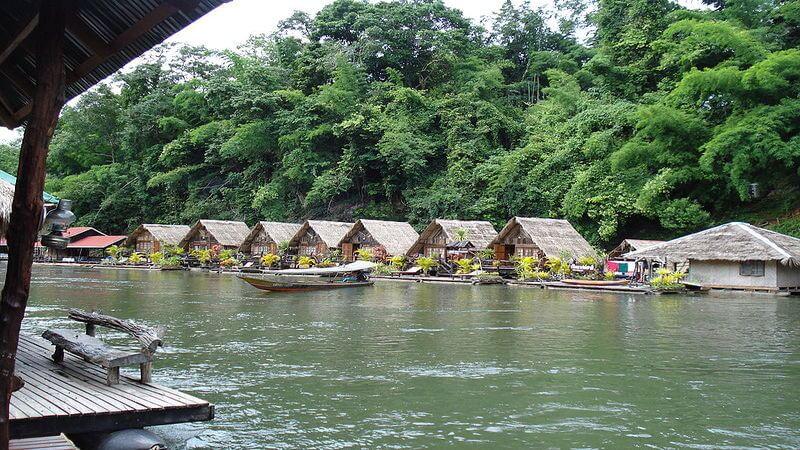 Image Source: Wikimedia Commons
You can literally go wild here! And you will want to. With amazing vistas of mountains, along with that of waterfall and forests, the place offers plenty of distractions to both nature lovers and wild souls. Spanning a land of 958 kilometres, Sai Yok National Park home to some really rare species, which you will be able to witness if you are lucky enough. Come here and look out for the native hog-nosed bats and barking deer. If not, just relax in one of the bungalows and camp tents that the place has. End your exciting rendezvous with a heartfelt meal in the floating restaurants that will serve you some of the most lip smacking Thai delicacies ever!
Must Read: Best Places to Go Scuba Diving in Thailand
4. Pay tribute to the martyred in Don Rak War Cemetery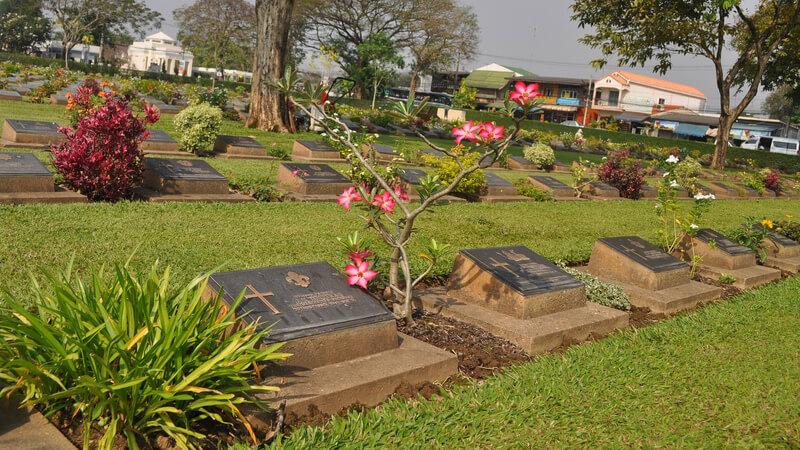 Image Source: David McKelvey/flickr.com
Come here and witness the cruelty that had been rendered upon the poor war prisoners decades ago. The largest war cemetery in Kanchanaburi, it is the final resting place of over 6000 thousands soldiers, mostly British along with some Dutch and Australians. The place bespeaks of the pain and death caused by the war and as you walk along the rows of immaculately placed headstones, you realise the gravity of it.
The serene atmosphere greatly juxtaposes against its inheld story and that's what make it so intriguing.
5. Monkey Puzzle Tree- Guess the height of this Kanchanaburi Gaint!
It would be a shame coming to Kanchanaburi and not exploring its lush surrounding. An absolute must, the best way to do it is via a bike. Set out on a fun journey to the greenest corners of the town and get rewarded with vistas and sceneries that will leave you awestruck. Also, ensure to check out the famous monkey puzzle while you are at it. Hidden amidst the woods, you will have plenty of adventure figuring out its directions while chatting with the locals.
Check Out: All Inclusive Resorts in Thailand
6. Feel the tranquillity in Wat Tham Sua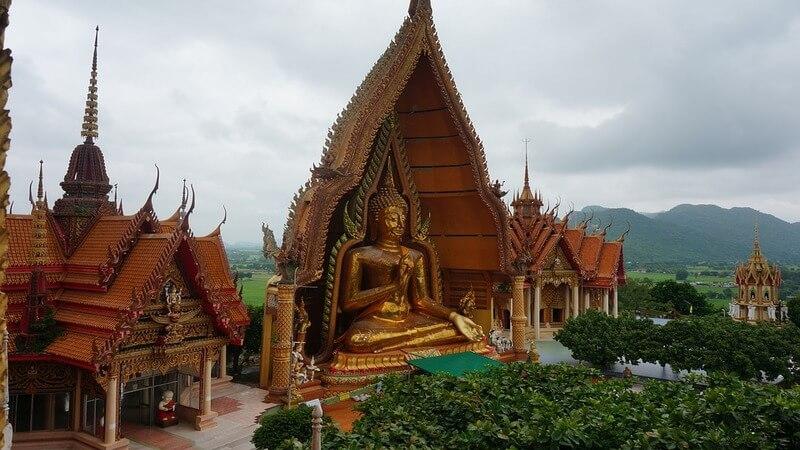 Image Source: Pixabay.com
Get one with Thai tradition and culture as you make your way through the myriad steps of this Tiger Cave Temple. Set atop a hill, the monastery provides a great experience with the town's spirit and nature. The climb to the temple is about of 120 steps and while this may seem intimidating to many, the stunning views of paddy fields along with the serenity and calm that it leave in its wake makes the effort totally worth it. On reaching the top you will be able to pay offerings to the decades old Buddha Statue that magnificently sits there in all its golden glory.
7. Have an architectural detour in Pak Prak Heritage Street
Save a day to get acquainted with the rich architectural heritage at Pak Prak Heritage Street. The street is home to over 20 relics featuring the glorious past and its beauty. You will be marvelled by how amazingly the flecks of other culture, mostly the Chinese and European, blends in with the quintessential style of Thailand. Not only that, these heritage buildings also has signposts written in English, explaining the history behind it.

There are plenty of coffee shops and food joints in the area restored on the grounds of old buildings that lies in the close proximity of other attractions. Better rent out a room to make the max of it!
8. Get a glimpse into the past with JEATH War Museum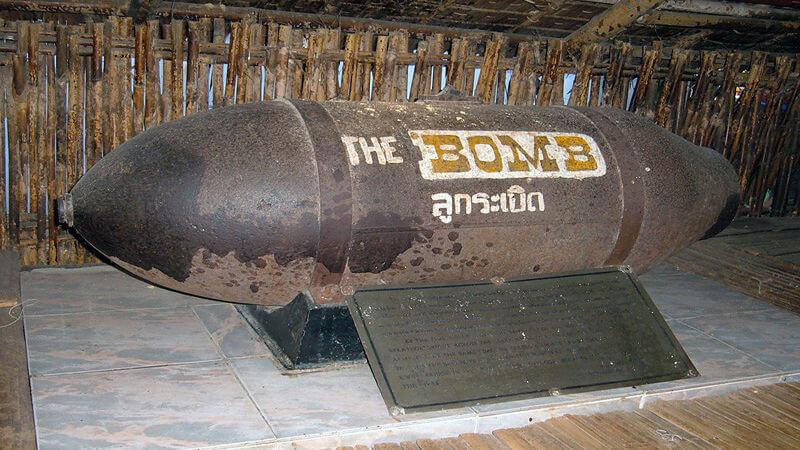 Image Source: Wikimedia Commons
What makes visiting this museum a must do for you is how honest it is in its exhibits and endeavours to bring the reality of war camps to the people. You will actually get to see how these war camps used to be in the past as the museum highly resembles one. It is situated on Wat Chai Chumphon area and is served by the monks who ensure that the place remains at its best. Come here and check out the old photographs and other items including written old accounts of past prisoners.
9. Take a relaxing walk on the Saphan Mon
A walk through this bridge is all you will need to get to know the city better. The iconic structure is 440m long and one of the largest in the world. But that's not where its charm lies. Connecting to the main town, the bridge furthers through the maze of myriad buildings and homes, which though not much different from the other parts, provides a thorough understanding of town's lifestyle. Relish the sight of Kanchanaburi's true native self in its sarong-wearing men and cheroot-smoking women and have one of the best times of your life! Don't forget to take a Karen shirt with you from the exclusive Thai market at the end of the bridge!
Must Read: Things to Know Before You Travel to Thailand
10. Befriend elephants in Elephant's World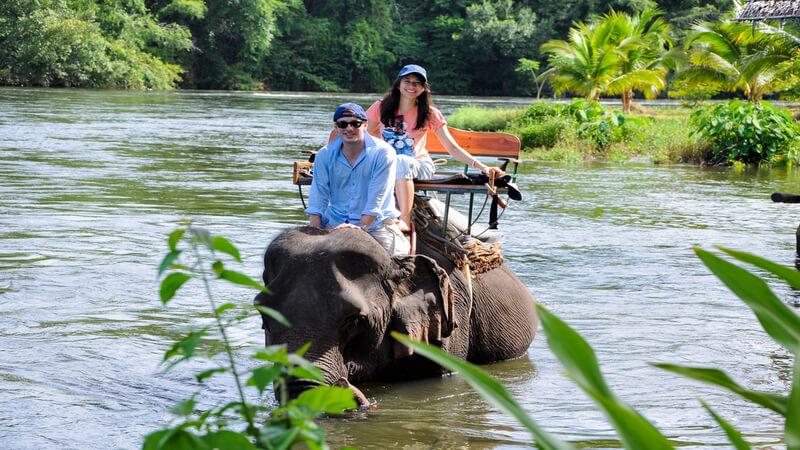 Image Source: Fah Rojvithee/flickr.com
Elephants are cute big creatures that enchant their viewers with their adorable antics but sadly, they are becoming extinct day by day and are in dire need of saving. To assist in their protection, Elephant's World provides varied opportunities for people to interact with these harmless creatures and understand.
Your one day here will be spent walking them around and feeding them fruits and sticky rice while having a relaxing time amidst nature. Animals lovers will surely love it here! Get an accommodation near River Kwai (which are easily available) and find yourself unwinding in this sincere side of Thailand.
11. Experience Thai cooking in Apple & Noi Cooking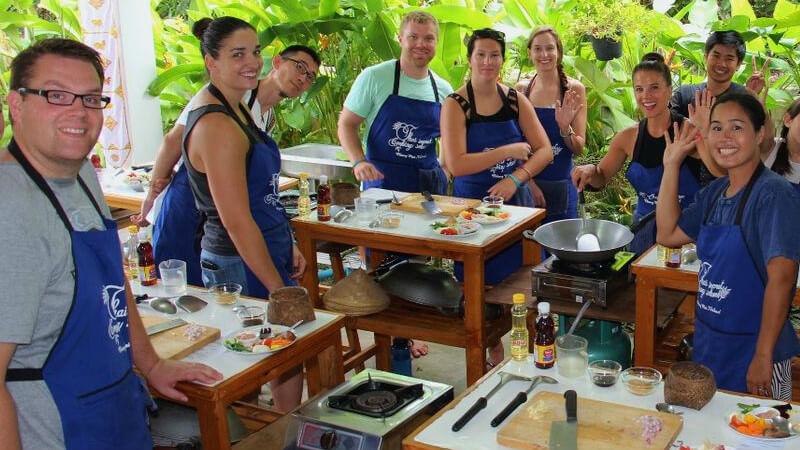 Image Source: Wikimedia Commons
Who doesn't love Thai food?! Deemed to be one of the healthiest and tastiest, Thai flavours are best at its home; and you would certainly not want to miss the opportunity to learn some serious Thai cooking lessons while you are here! Get enrolled in Chef Noi cooking classes and get some solid tips on Thai Cooking that you can impress your family with, back home.
12. Do some serious shopping in Kanchanaburi night market!
The biggest night market of the town lies a little away from main train station and offers a huge deal to its customers. The variety of food served here is enormous and you will find yourself hard pressed choosing which one to go for first. And what's more?! The prices are so cheap that you would not be contained by buying just a few. Don't shy away, take whatever you like from its range of items- clothes and accessories included, and we assure you, you won't regret it a bit.

If you are planning to visit an offbeat place anytime soon, by all means, go for Kanchanaburi. There are plenty to explore in this little town and we hope our list has helped you there!