9 Theme Restaurants in Mumbai You Must Dine
* Disclosure: This post may contain affiliate links, which means we may receive a commission if you click a link and book something (there is never any extra cost to you for using these links).

Having your dinner at one of the theme restaurants in Mumbai can bring you out of those monotonous dining experiences. From village themed to stock exchange, Mumbai offers you a plethora of choices for that interesting dinner you covet for. Let us see 8 of such restaurants where the theme plays an important part in what you eat and how you eat.
1. UFO Revolving Restaurant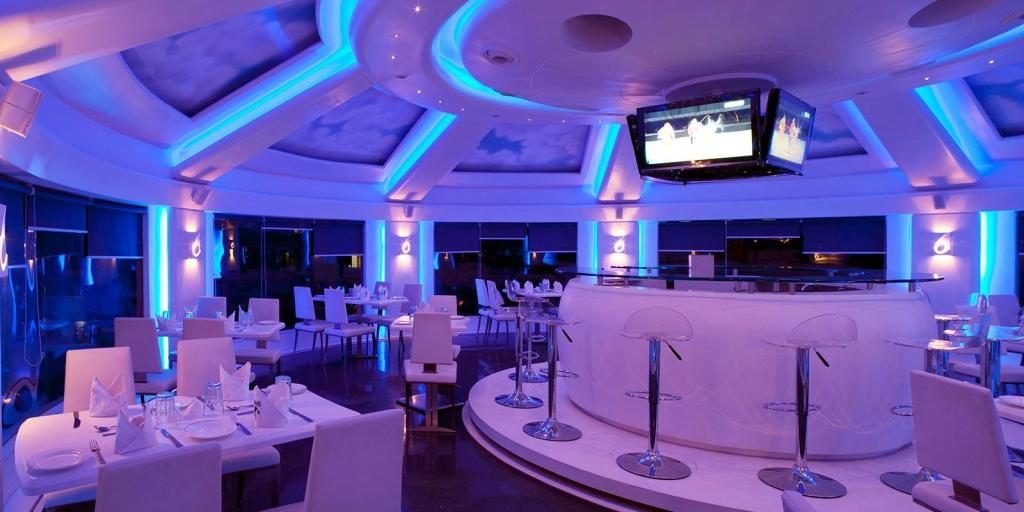 PC: zomato.com
Address: 321, 322, Dimple Arcade, Thakur Complex, Asha Nagar Rd, Thakur, Kandivali East, Mumbai.
Theme: Spaceship
Cost for 2: 1500/-
Want to have your dinner in the spaceship? This UFO revolving restaurant offers this out of the earth theme that takes you into the world of stars and spaceships. Located on the top of a complex, this restaurant offers you the sweeping views of the Mumbai city and some delicious memories that fail to leave your mind.
Also Check : Veg Restaurants in Mumbai
2. Village Restaurant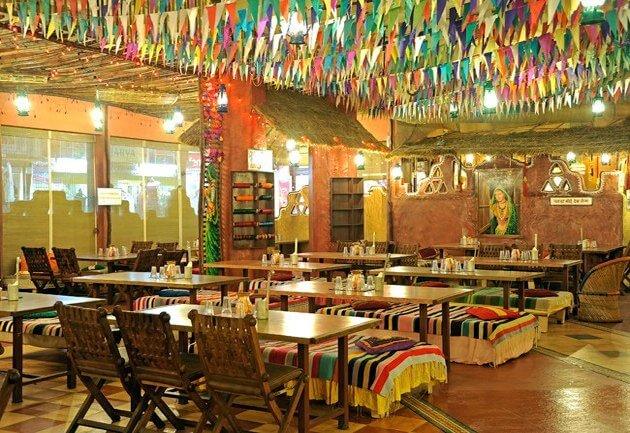 Address: 1st Floor, Raghuleela Mall, SV Road, Kandivali West, Mumbai
Theme: Indian Village
Cost for 2: 1000/-
There is a certain charm to a village-Indian themed restaurant that one wants to experience. Here you can indulge into unique things like tatoo making, bangle and palm reading to bring out that rustic in you.
Also Read : Offbeat Activities Near Mumbai
3. Rainforest Resto-Bar

Address: 3, Phoenix Market City Mall, Lal Bahadur Shastri Road, Kurla West, Phoenix Marketcity, Mumbai.
Theme: Rainforest
Cost for 2: 2000/-
Having your food in the lap of Amazon forest can be a great experience. The Ambience here is just amazing dim lights, that waterfall sound, make one feel like they are in a forest.
4. Poush

Address: S-25, 2nd Floor, Phoenix Market City, LBS Road,Kurla West, Phoenix Marketcity, Mumbai.
Theme: Kashmiri Life Style
Cost for 2 : 1500/-
Authentic Kashmiri cuisine is served here in authentic Kashmiri style. From wall to wall wooden interiors, table seating in the center and gazebos along both walls you get to taste the real Kashmir.
5. Bar stock exchange

Address: Plot No: 89, Near Pipeline Road, Sakinaka, Mumbai.
Theme: Stock Market
Cost for 2: 1500/-
There are people who understand the importance of Bar stock exchange in Mumbai. To make you sink into the world of stock exchange, this restaurant also keeps its prices for beers as variable. After all, nothing is fixed and permanent in stock exchange.
6. Dara's dhaba

Address: National Highway 8, Ghodbunder Road, Kashimira, Post Mira, Thane.
Theme: Punjabi Dhaba
Cost for 2: 1200/-
A Punjabi themed restaurant is definitely an authentic dhaba experience that comes alive in this restaurant. Perfect place to gorge on some Punjabi food (don't forget the butter chicken)in a perfect Punjabi setting.
Also Check: Best Pan Asian Restaurants In Mumbai
7. Pratap's Wild Dining

PC: zomato.com
Address:3Rd Floor, Om Heera Panna Mall, Oshiwara, Andheri West, Mumbai.
Theme: Jungle
Cost for 2: 1200/-
Jungle, jungle everywhere. For those who want to have their food in the lap of wild nature where they can hear(well just hear) the roars of lions.
8. Hard Rock Cafe

PC: zomato.com
Address: Bombay Dyeing Mill Compound, Pandurang Budhkar Marg, Worli, Mumbai -400025
Theme: Rock Music
Cost for 2: 2400/-
Rock music and food go together at Hard Rock Cafe. Perfect place to bring out that musician in you!
9. Diva Maharashtracha

Address: SVP Nagar, 4 Bungalows, Near Versova Telephone Exchange, Andheri Lokhandwala, Andheri West, Mumbai
Theme: Maharasthrian Food
Cost for 2 : 1000/-
When it comes to authentic Goan and Konkan delicacies, no one can beat Diva Maharashtracha. With exotic interior, the place promises to serve exotic cuisines prepared from finely chosen royal Maharashtrian recipe books.
So which theme restaurant in Mumbai have you been to? Does it feature here? Let us know.
You may also like to read:
Best Weekend Getaways from Mumbai
12 Places in Mumbai Where You Get Delicious Pizzas
16 Interesting And Fairly New Eateries In Amchi Mumbai