Best Things To Do In Goa
UPDATED Jan 04, 2019
52.1K Views
Picking the best of the best activities in Goa, we have compiled an ultimate list of things to do in Goa that will make your Goa trip nothing short of legendary.
Catering needs of one and all be it families, bachelors or solo, this ultimate list covers the best places to visit in Goa, the churches, the temples, the beaches and the food that defines Goan culture!
HERE'S A LIST OF BEST THINGS TO DO IN GOA
---
Best Beaches in Goa
Known for its marvelous coastline, Goa is a beach bum's paradise. This party capital of India is home to some of the best beaches in the world. Offering everything from adventure to tranquility, from parties to sunbathing opportunities, here are some beaches you should visit while touring Goa.
South Goa Beaches
1. Enjoy White Sandy Shores at Palolem Beach: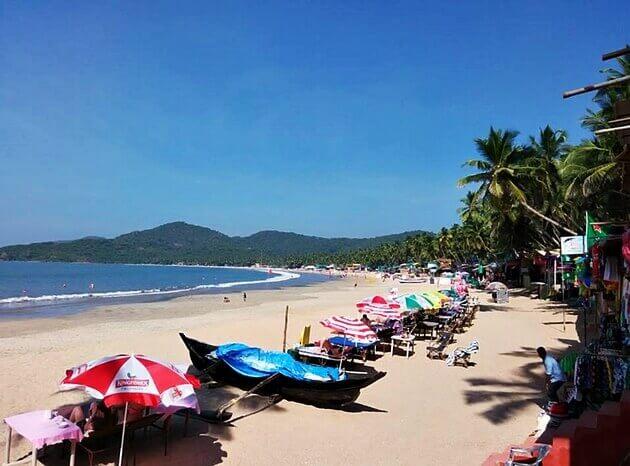 Source: Wikimedia Commons
A popular beach in this part of the state, the Palolem beach is a pristine one full of white sandy shores, a palm lined coastline and it is peppered with tiny beach huts. However, avoid visiting the beach over the weekends as it tends to get crammed.
2. Take a Sunbath at Agonda Beach: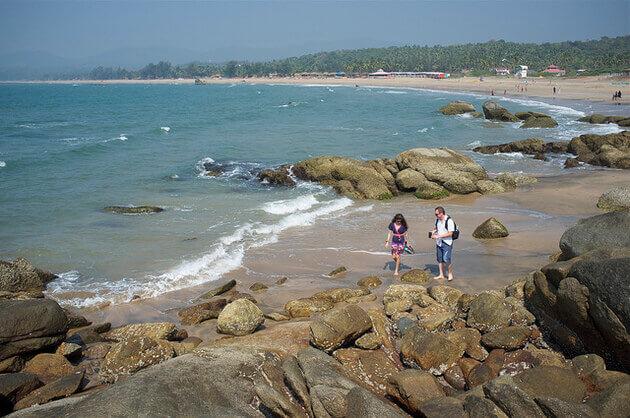 Source: Aleksandr Zykov/Flickr
Fringed with casuarinas and palm trees, the Agonda beach is perfect for sunbathing, swimming and taking leisurely strolls under the moonlight. If you are visiting Goa for your honeymoon, this beach will be the perfect backdrop for your romance.
3. Click lot of Photos at Colva Beach:
25 kilometers of a white sand shoreline, coconut groves spread as far as the eye can see and a line of beautiful villas belonging to the rich and the famous- that's Colva beach near Margao for you. Providing beautiful photography opportunities, you have to witness an enchanting sunset at the Colva Beach.
4. Give a try to Fishing Benaulim Beach:
Home to the fishing community, the Benaulim beach is still relatively undiscovered by tourists and hence is one of the best places to visit in Goa before it goes main-stream! Trivia: according to a legend, Benaulim is the place where lord Parashuram's arrow landed thereby creating Goa.
5. Escape from Crowd go to Betul Beach: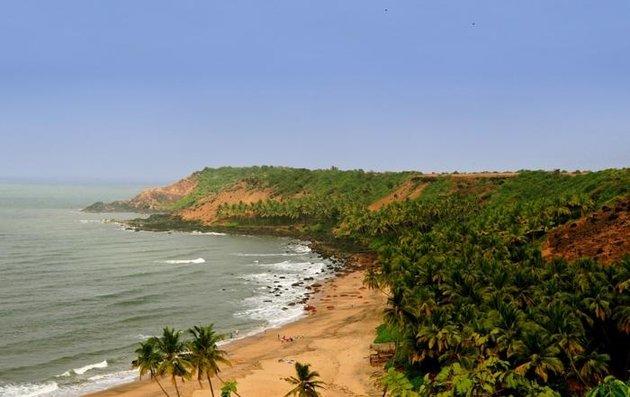 Source: divyabhaskar
South Goa is home to some of the most secluded and serene beaches in the state. Betul is one such beach you should visit if you want to escape the crowded tourist places in Goa! An important fishing port, the quaint coastal village of Betul is home to this beach which is located across the Sal River and is accessible only via a ferry or boat ride.
6. Stay at Best Resorts at Varca Beach:
Hosting some of the best resorts in Goa, the Varca beach is located south of Benaulim. This sun kissed beach will provide you with the perfect Goan getaway. While at the beach, do walk up to the gorgeous Our Lady of Gloria church which is considered to be the oldest building Varca town.
Check Out: Best Places To Visit In South Goa
North Goa Beaches
7. Enjoy Water sports, Do a lot of shooping at Calangute Beach:
The most famous beach in the state, the Calangute Beach features in every Goa travel guide! Overcrowded no matter when you visit, the beach still has a certain charm that allures visitors. Fondly called the 'Queen of beaches', this one has everything- water sports, beachside markets and restaurants, beach shacks and plenty of hotels and accommodation options.
8. Enjoy the Nightlife at Baga Beach: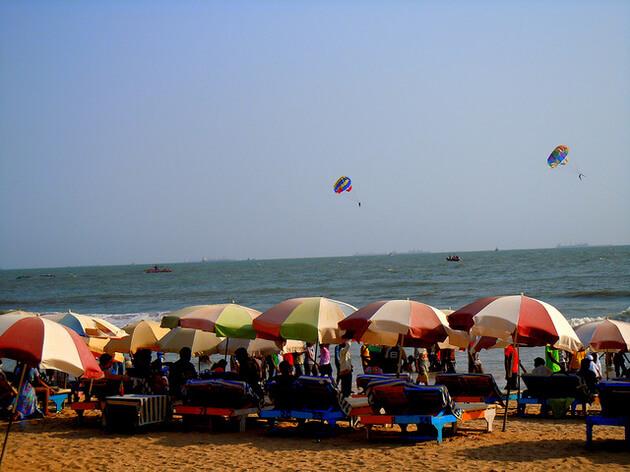 Source: Photo by Abhishek Kumar
Merging with the Calangute beach, the Baga Beach was made popular during the Hippie movement of the sixties and seventies. Famous for its vibrant nightlife, the beach is lined with famous restaurants, watering holes and a lively flea market. During the day, beach goers are treated to adrenalin pumping water sports such as wakeboarding, jet skiing, paragliding and windsurfing.
Bachelors, Youngsters Or Oldies, Goa's For One & All!
Replete with tons of interesting and fun things to do, Goa is a plethora of diverse activities that guarantee a grand vacation! Plan your trip to Goa and do let us know which of these were the best!
9. Enjoy Dolphin Excursions from Candolim Beach:
Until recently, this laidback beach used to host the famous Sunburn music festival every December. One of the most refreshing things is to undertake the many thrilling water sports in Goa, and Candolim beach hosts many of them. Also, if you want to go on a Dolphin spotting excursion, there are local tour operators present at the beach who will help you out with it.
Check Out: Places To Visit in North Goa
10. Rock the Floor at Vagator Beach: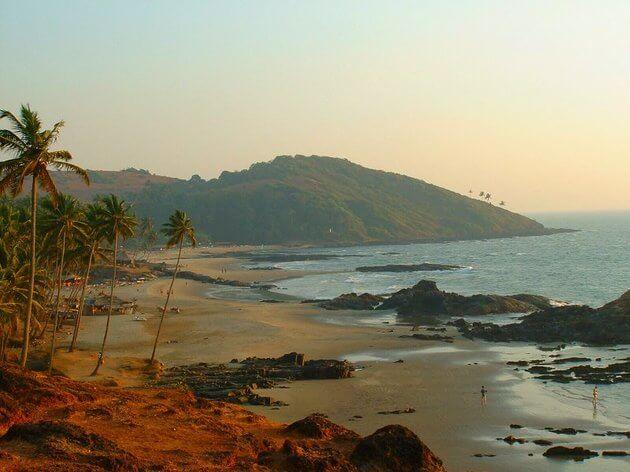 Source: Photo by Zerohund
With dramatic red cliffs overlooking the shore, the Vagator beach is a stunning tourist place in Goa. Since the year 2013, this gorgeous beach has been hosting the Sunburn music festival. When you visit this beach, do try to explore the nearby Chapora fort as well.
11. Get the Peace of Mind at Sinquerim Beach:
The spectacular Sinquerim Fort located near Panjim bisects the shoreline of the Sinquerim Beach into two. A relatively secluded beach, it is a fabulous holiday destination because of its proximity to world class resorts.
12. Taste awesome Seafood at Anjuna Beach: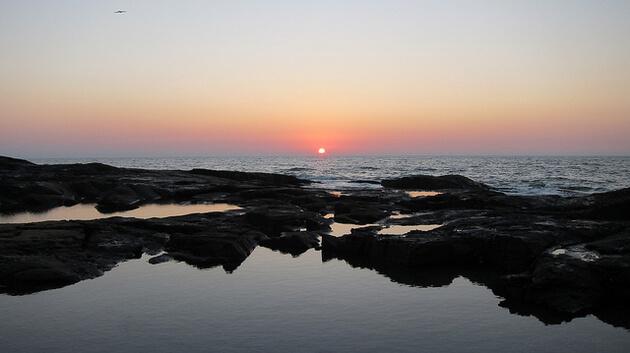 Source: Photo by innacoz
With a free spirited atmosphere, Anjuna Beach welcomes one and all to its soft sandy coastline. The beach is the go to destination to enjoy a night party and to hog on delicious seafood!
Check Out: Hostels in Goa
13. Enjoy Sunset with family at Miramar Beach:
Crowded on most days, the Miramar beach is nonetheless a fascinating place to visit in Goa. Located 3 kilometers from Panaji, it lies adjoining the estuary of the river Mandovi. One gets stunning views of Fort Aguada from the beach. Trivia: The beach was originally known as the 'Gasper Dias Beach'.
---
Adventure Activities in Goa
Although Goa can be a laid-back party place in the evenings, it is a great adrenaline pumping destination for all the adventure enthusiasts. Tons of opportunities that will turn on the escapade mode on! Here's a bunch of TripHobo recommendations for adventure activities in goa:
14. Ride Bike on awesome Goan Roads:
A vast empty road dotted with coconut trees, wind in your hair and unknown destination, Goa is a best place to hire a bike and write your very own motorcycle diary. Not only is it cool but also quite an affordable way to get around Goa. The bikes are easily available on rent all around Goa. Make sure you carry your driving license and always wear a helmet while riding.
15. Go Snorkeling: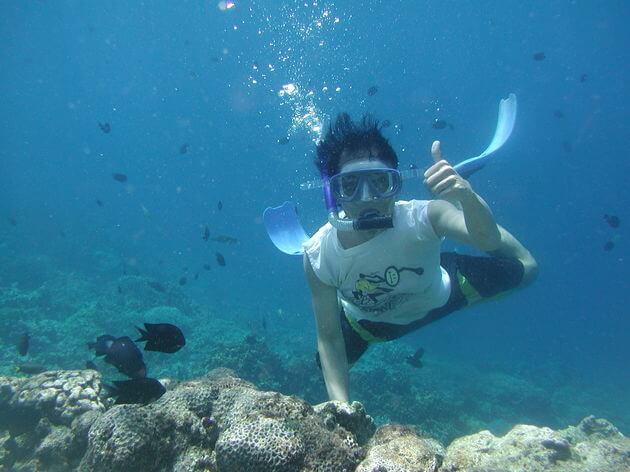 Source: Photo by Asep.saefulloh
Slightly unknown for snorkelling, Goa is emerging as one of the popular spots to explore the underwater world. The Grande Island is one of the best options to go on a snorkelling tour in Goa.
16. Book a Quad Biking & Get going: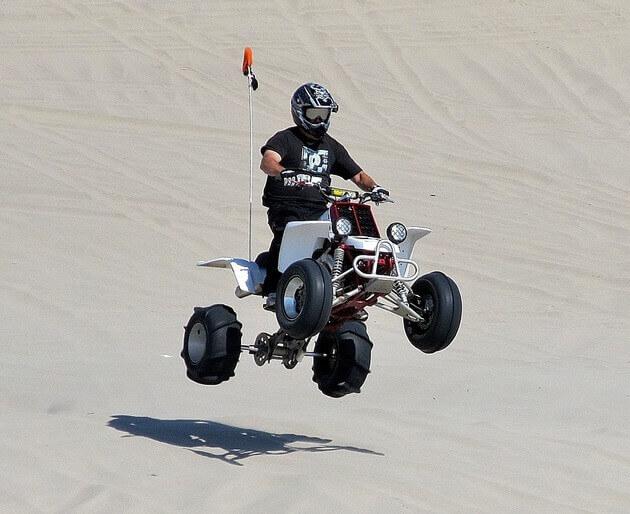 Map the rustic muddy tracks of Goa with an ATV! Book a Quad Biking Ride and get going, get dirty!
17. Give a try to variety of Water sports:
When in Goa, you simply can't miss on the bunch of water sports offered on its beaches. The beaches of North Goa are perfect for indulging into water sports. The activities you can try out are - Banana Boat ride, water scooter ride, Ringo Ride, parasailing, Jet Skiing, Bumper Ride, windsurfing, speed boat ride and wake boarding. Quite a lot isn't it!But definitely a sure shot thing to do in Goa!
18. Enjoy Backwater Kayaking:
If you though Goa was all about the oceans, think again! Goa also has some beautiful rivers that are perfect for a tranquil Kayaking experience and this is one of the extreme things to do in Goa! The Nerul River, The Mandovi River, backwaters of Sal and Zuari River are perfect spots for going on a Kayaking tour. These rides are also available in the off-season of Monsoon. You can explore the hidden side of Goa and also spot some beautiful birds and on your expedition!
19. Meet the Dolphins in Dolphin ride:
Watch these adorable sea creatures as they hop and spin in the waters; go on a Dolphin ride when in Goa! These guided tours are available from Panajim jetty, Sinquerim of Fort Aguada.
20. Canyoning:

Source: Photo by Krish Dulal
One of the most exciting things to do in Goa is to scale the rocks, especially the slippery rocks under the waterfalls of Goa! These tours also include rappelling, top jumping into the waterfalls and sliding through the currents of the waterfalls.
21. Learn Scuba Diving fom Experts:
Up for Scuba? Popular beaches like Calangute and Baga offer scuba diving opportunities for enthusiasts! This session includes training from experts.
22. Rafting:
Rafting is one of the most enjoyable things to do in Goa. If you are visiting Goa between May and September, Mahdei River is a great place to go rafting. The Tilari River is great for rafting between October and April.
---
Must Have Experiences in Goa
23. Visit the Spice plantation:
Goa is blessed with beautiful weather perfect for growing variety of spices. If you are travelling to Goa with family, this can be an ideal activity for your vacation . Take a tour of the various spice plantations in Goa; enjoy the aroma of fresh spices and shop for goodies to back home! Pascoal Spice Village, Savoi Plantations, the Rustic Plantation, the Sahakar Spice Farm, and Parvati Mandav Park Plantation are some of the popular spice gardens of Goa that you can visit.
24. Try your luck at the Casinos:
One of the hottest things to do in Goa is to visit its Casinos. Goa is one of the very few states in India where it is legal to Gamble. Try your luck at the casinos like Casino Royale which also offers an extravagant ambience and is fantastically located on the quaint Mandovi River.
25. Take an Elephant ride at The Jungle Book:
If you are planning a trip to Goa with kids, this one is a must-do activity! The Jungle book offers many activities and the Elephant activities are great for kids! You can wash them, swim and splash with these lovely animals.
26. Catch a Greek performance at Thalassa:
One of the quirkiest things to do in Goa, visiting Thalassa deserves to be on your bucket list. Located on the Small Vagator beach, this Greek restaurant serves delicious Greek spread and the Sirtaki dance that is performed here every evening makes it a nice experience! Smashing of plates, showering of flowers and dancing in circles on joyful music will certainly pep up your evening! Definitely a thing to do in Goa!
27. Get Relaxed with Ayurvedic Spa:
Goa is known for its indulgence into all things fine, and is dotted with multiple spas that will pamper you on your visit. You can choose for a Balinese spa or go for a traditional Ayurvedic spa treatment on your visit.
---
---
Nightlife in Goa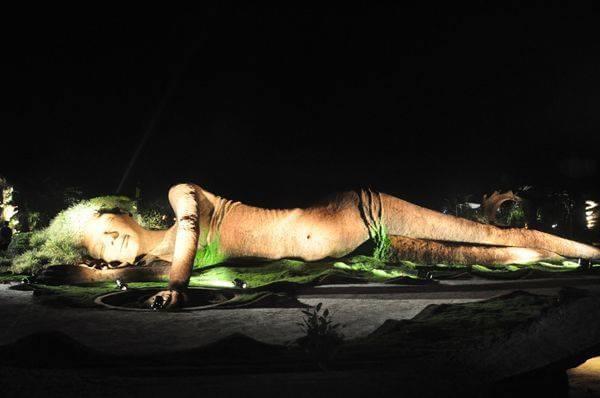 Source: facebook.com/lpkwaterfront
Nightlife in Goa is what makes this city a tourist's dream destination. A city that never sleeps, Goa will always have something for you to do. From picturesque clubs to beach front restaurants the destination is truly one in a million. Here are some clubs that are the heart and soul of the city.
28. Mark a night of Excitement at Club Cubana:
Club Cubana offers a vibrant nightlife experience and an outdoor pool that you can enjoy. The location is known for its crazy parties and is one of the hippest places in town. With a neon-lit night club the place also features an indoor DJ and dancing areas. So put on your dance shoes and be ready for a night of excitement!
29. Go crazy at Titos Club:
Everybody knows your trip to Goa is not complete until you pay Titos a visit. The nightclub offers an amazing range of cocktails and beers that is sure to get you closer to the Goa way of living. Good music, better vibes and interiors that will leave you astounded are some good reasons to visit the place. But most of all, Titos is known for its classy customers and crazy parties!
30. Kamaki:
So you are in Goa and want to try something different, head to Kamaki, the nightclub is famed for its interiors that are basically Goan with a twist of Greek interiors. Visit the place for good food and ambience and you will not be disappointed. The club also has many varieties in International Cuisines.
31. Curlies Beach Shack Goa:
There is nothing better than sitting under the sun to get that perfect sun tan and looking at your drink that looks absolutely irresistible. Experience this at Curlies Beach Shack Goa, a shack that has made a huge impression on the youth of Goa and India. The place is a must visit if you want to let out some steam and enjoy your stay.
32. LPK Waterfront:
LPK Waterfront is located next to a picturesque river and has some of the best sceneries you will get to see in the location. Rock carving-themed interiors are the highlight of the club. The design, music and the whole setting makes it a perfect spot to have a few drinks and dance till you drop!
Also Check Out Offbeat Things to Do in Goa at Night.
---
Shopping in Goa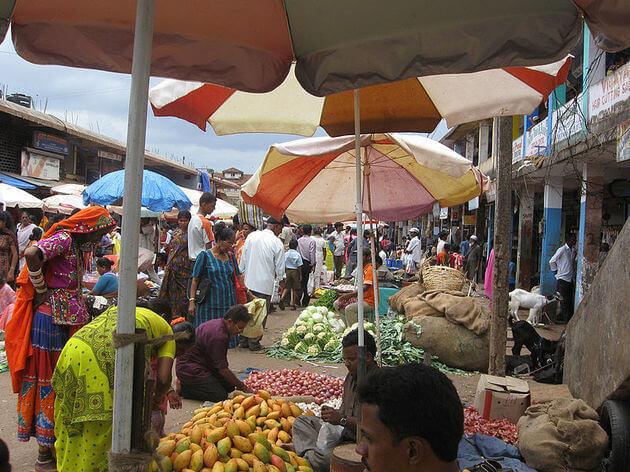 Source: Wikimedia Commons
If you think Goa is a destination only to party, then you are in for a surprise. Goa is also an amazing shopping destination. We are talking your local kind of stuff with a hint of Goan culture in all the markets that we list down. So what are you waiting for? Go dress all Goan, eat all Goan and take a little bit of Goa back with you!
33. Visit Anjuna Flea Market:
Anjuna Flea Market is the most known of them all. Also, it is one market which is your one stop solution to buy everything and in a flea market rate. Imagine, shopping in Goa is as reasonable and affordable as partying and staying here. You get everything that you need to wear, accessorize, decorate and gift. It is also quite a lively affair because it is surrounded by restaurants, stalls and various other fun activities.
34. Collect things to Decorate your House at Tibetan markets:
For everybody who thought that you could take back only spirituality from Tibet is definitely wrong. These Tibetan markets make the perfect unconventional shopping destination in Goa. You have the most beautiful of items sold here. Right from little ornaments, to chunky jewelry to souvenirs to gift to your friends to little showpieces to decorate your house. Who thought that in a state you would get the goodness of an entire city?
35. Buy Fresh fishes at Chapora fish market:
Yes, it is a known fact that Goa is the best vacation destination when it comes to sea food lovers. Chapora fish market is basically your best chance to go buy fresh stock of prawns, lobsters, fish and a lot of other animals that you love to eat. This village is located right across the jetty by River Chapora and is a perfect stop for the cook as well as sea food lover in you.
36. Mapusa Friday market:
Mapusa is like one of the most fun areas in Northern Goa. The Friday market is an even better place because it is like a farmer's market. It sells all the fresh produce of farmer's from across Goa. You will come across a lot of Goan specialties as well as be sure of a large variety of items here.
37. Purchase Local Goan Items at Margao Market:
This is Goa's largest and most famous market. You have a wide range of Goan local items available here. Everything that you need to pack for back home, or even use while on your trip to Goa with a hint of Goan in it can be found here. You can find everything here right from feni to cashews, to other Goa specialties.
More About Shopping in Goa.
---
What to Eat in Goa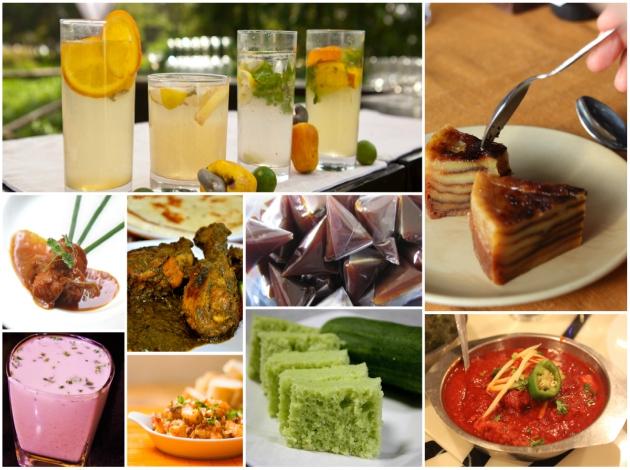 Goa is so diverse in terms of its local cuisine. Although the Indian Goan food has stuck to its roots, a lot of the food items have been adapted from the Portuguese and other colonies. You will see spicy, pungent flavors always ticking your taste buds. Also food from Goa boasts of having some amazing delicacies.
38. Try Out these Goan local items:
Vindaloo - 'vinho' for wine, 'alhos' for garlic (Portuguese), 'viande' and 'aloo' for meat and potato (French and Hindustani). Need we say more?
Ambot Tik - Goa is known for its sea food. How then, would the most fish curry of Goa not be on top of your list while trying out food in Goa?
Fish Recheado - This is another favorite amongst Goans. It's basically pomfret cut into half and filled with red spicy paste and then shallow fried. It is definitely an item you should try out.Sorpotel - Sorpotel is basically the product of coming together of Goan and Portuguese cultures. It is a dish cooked frequently in Goan Christian households and is a definite on Christmas.
Chicken Cafreal - This one is a dish brought by Africans to Goa long ago. A dish made out of chicken has evolved over the years and is a definite must try.
Prawn Balchao - Like many items Balchao is another dish that came from Portugal and is made in red tangy and spicy sauce. It is a dish from Macao where it is originally called Balichao.
Bebinca - This one is for the sweet tooth in you. It is basically a lot of layers of coconut pancakes. Traditionally it is made up of 16 layers, but can be made with lesser or even more. Authentically, the utensil used for this is a clay pot.
Dodol - This is another sweet dish that is made up of rice flour, cashew nuts, jaggery and is mainly served around the Christmas time.
Goan Sorak Curry - This is one curry that can be enjoyed by Vegetarians too. It is mainly made in monsoons and complements the rains outside perfectly.
Sol Kadhi - Although this one is more of a Konkani drink, it is still one of the most preferred drinking items in the whole of Maharashtra as well as Goa.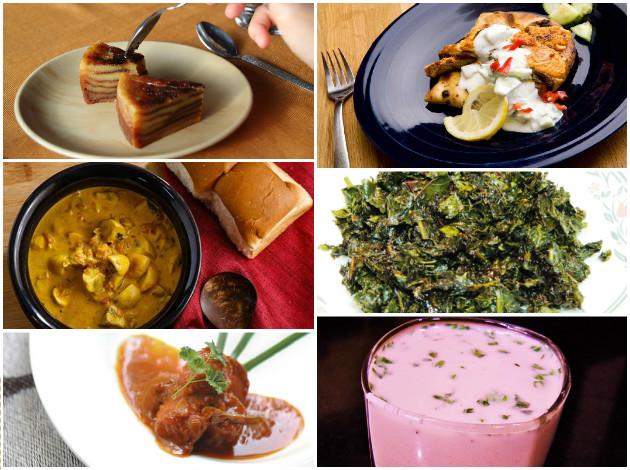 Tambdi Bhaji - Another treat for vegetarians, this bhaji is quite a treat. Tambdi basically means red and is made up of amaranth leaves.
Tomato Curry - This one is one of the simplest dishes that have been made in Goan households for the longest time. It has a coconut flavored base and is perfect for anybody who loves tomatoes and coconut flavors.
Foogath (French bean foogath) - This is a kind of fugad or foogath which is a steamed vegetable made up of coconut base and comes from Portuguese culture. Vegetarians try out a French bean variation of this.
Mushroom Caldin - You can also try out the vegetarian version of this famous yellow curry made with fish generally.
Feni - Feni is a drink made up of cashews and is the favorite Goan local liquor.
Cucumber Cakes - Commonly known as tavsali, this is one of the best vegetarian sweet dishes that are very famous in the Goan belt.
---
Be A Part of These Goan Festivals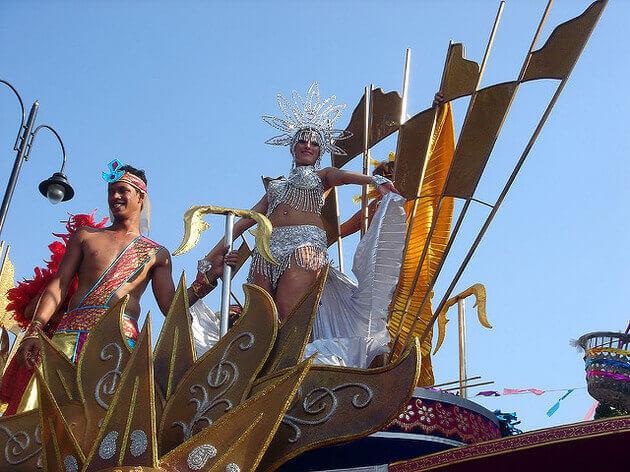 Source: Parag Sankhe/Flickr
Goa is all about relaxing and having fun, here are some of the best places to visit in Goa. So when you are making the list of most interesting things to do in Goa make sure to add these events and festivals.
39. Experience the fun at Goa carnival:
Loud music, lively crowd and a fiesta that will drive you crazy is what the Goa Carnival is all about. Started in 1961 the carnival gained significant amount of recognition and fame due to its fun-filled ambience. The carnival goes on for 3-4 days and brings joy to all of Goa. From singing, dancing, to feasting the carnival is sure to liven up your spirits. The festival is held in February every year.
40. Rock the floor at Sunburn festival:
Sunburn festival is perhaps India's biggest and baddest Electronic dance music festival. The festival hosts some of the most prominent names in the EDM industry. Normally stretching for about 3 days the festival offers you three days of party, booze and yes, amazing music to keep your feet tapping at every beat! This is a must visit for every music lover.
41. Taste the wine at the Grape Escapade:
The Grape Escapade is simply India's biggest wine fest. If you are someone who enjoys the finer things in life visiting this location is a good idea. The offbeat and dynamic festival is loved by all due to its scintillating wines and picturesque setting.
42. Goa Food and Music festival:
Planed a vacation to Goa in summers? Well, here is an event that will make your trip worthwhile. Goa Food and Music festival is all about as the name suggests Food and music. Combine these two with a hint of good wine or beer and voila! You have got yourself a happy, happy vacation! From street singers to performers the festival is a must visit for all travellers.
43. Meet the Celebrities at Film festival:
Goa has something in store for anyone who comes its way and if you are a movie buff then this is the place to be at. The International Film festival hosts only the best movies that will leave you spell bound. The event happens somewhere around the month of November and is considered one of the most renowned film festivals in the country.
44. Enjoy Goan Culture at Shigmo: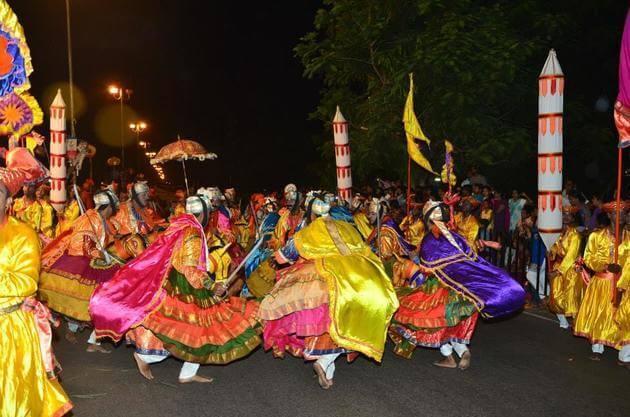 One of the prime local festivals, attending this festival is one of the must-do things in Goa if you are visiting in the month of March. The festival celebrates the arrival of spring; local decked up in their finery, traditional folk dances galore and temples flooded by devotees make it a pleasant sight!
Goa festivals are there to remind us all how beautiful life really is, be it through their liveliness or colors, the festivals are simply, magnificent. So here were the top events in Goa that you just cannot miss. Some other festivals that you should not miss out on are, Goa Mango festival, Sao Joao festival, Goa International Latin Festival International Jazz Live festival and Goa Arts and Literary Festival.
Must Visit Churches in Goa
Predominantly a legacy of the Portuguese colonization, the splendid churches in Goa are a must visit. Architecturally beautiful and steeped in history, these churches are a sight to behold and should make it to your list of places to visit in Goa.
45. Se Cathedral:
The Se Catedral de Santa Catarina or Se Cathedral is one of the most celebrated churches in Goa. This 16th century structure is one of the largest churches in Asia and is dedicated to St. Catherine of Alexandria. The architecture is Portuguese-Gothic in style, with Corinthian interiors and a Tuscan exterior.
46. Basilica of Bom Jesus: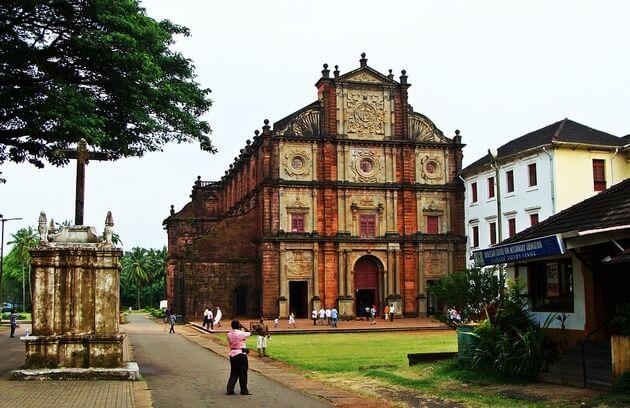 Source: Photo
A UNESCO World Heritage Site, the Basilica of Bom Jesus holds the mortal remains of St. Francis Xavier. Located in old Goa, this charmingly elegant church is a fine example of Jesuit architecture and is one of the most visited places in Goa.
47. Church of St. Francis of Assisi:
Consecrated in 1602, the Church of St. Francis of Assisi is a beautiful and tranquil site of worship. The interiors of the church boast of rich Baroque features along with a hint of Corinthian architecture. On the church's premises, you will find a museum set up by the Archaeological Survey of India.
48. Monte Hill Church:
Located atop the Monte Hill, this simple church has been used as a backdrop in a few Bollywood movies. From the top, visitors get marvellous views of Goa. The vicinity also doubles up as a popular picnic spot.
49. Church of Our Lady of the Immaculate Conception:
A beautiful building, the Church of Our Lady of the Immaculate Conception is the most famous landmark in Goa. One of the first churches to be built in Goa, there are two altars within the church, one on the left dedicated to Jesus Crucified and the one on the right dedicated to Our Lady of the Rosary.
50. Rachol Seminary and Church:
Known today as the Patriarchal Seminary of Rachol, this is the main administrative seminary of the Primatial Catholic Archdiocese of Goa and Daman. The structure was built solely for the purpose of a church and a college. The church has a statue of St. Constantine inside, and it is also said that his bones were brought to here from Rome and kept in a glass vial, which also has a few drops of his blood.
51. Church of St. Cajetan: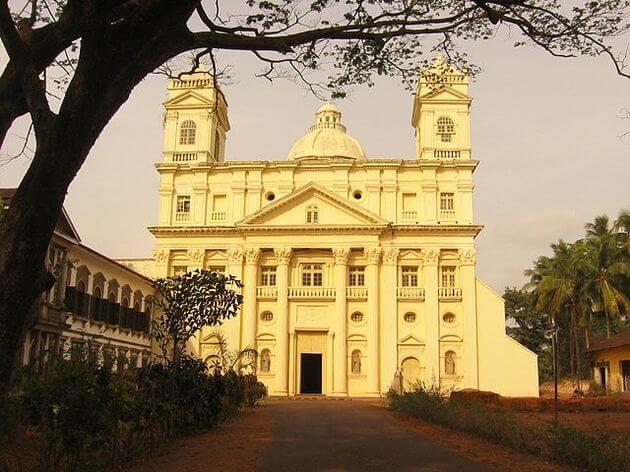 Source: Photo by Sebastianjude
This beautiful church was designed after the Basilica of St. Peter in Rome. The church has six altars, with three altars on the left dedicated to the Holy Family, Our Lady of Piety and St. Clare, and three altars on the right dedicated to St. John, St. Cajetan and St Agnes.
52. Chapel of Our Lady of the Mount:
Often overlooked by tourists due to its location on top of a hill, behind the St Cajetan church, is the Chapel of Our Lady of the Mount. Climbing up wooded steps, this white-washed church gives a splendid view of Old Goa. Along with that, offers quite a picturesque view at sunset with Mandovi River, Divar and Charao Islands and the lush green hills in the surrounding.
Here is a list of some other Unknown Historical Places In India.
53. St. Alex Church: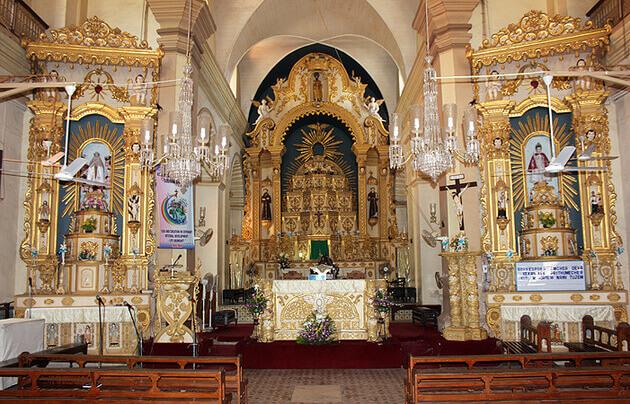 Source: Wikimedia Commons
This white church has two towers and a striking dome, similar to St. Peter's Basilica in Rome. The church has seven altars, with three main in the centre and two on each side, dedicated to our Lady of the Mount, Our Lady of Perpetual Succour, the Sacred Heart of Jesus and Mary, and Our Lady of Immaculate Conception.
54. Chapel of St. Anthony:
This chapel was built in dedication to St. Anthony, the saint of the Portugese army and navy. Although it was deserted in 1835, it resumed its use towards the end of the 19th century. These days it is used as a convent too.
55. Chapel of St. Catherine:
Unknown to many, this chapel is the first Christian structure to be built in Goa. It is also one of the first few Catholic structures to be built in the whole of Asia. While it is not functional today, enthusiasts of Goan history must visit this chapel for historical importance.
56. Church of Our Lady of Miracles:
Originally built as a military chapel, this church is renowned for its annual festival. Built by the Portugese on grounds of an old Hindu temple, this church is considered important by Hindus too. The annual feast day is a must see for the great display of congruity between Christians and Hindus of the area.
57. Church of the Rosary:
A little away from the Basilica of Bom Jesus, lies the Church of the Rosary, atop the Holy Hill. There are two chapels and three altars in this church, with the main altar dedicated to our Lady of the Rosary. The structure looks like that of a fotress church, of Manuline architecture with a little Gothic influence.
---
Must Visit Temples in Goa
Temples of Goa not only are an important place of pilgrimage for Hindus but also exhibit a blend of culture and history that has shaped Goa over centuries. Right from the Middle Stone Ages to the Portuguese invasion, the temples have survived time. One of the not-to-be missed things to do in Goa apart from chilling on its gorgeous beaches is to explore its temples, here's a top pick of temples that you can visit:
58. Shanta Durga Temple: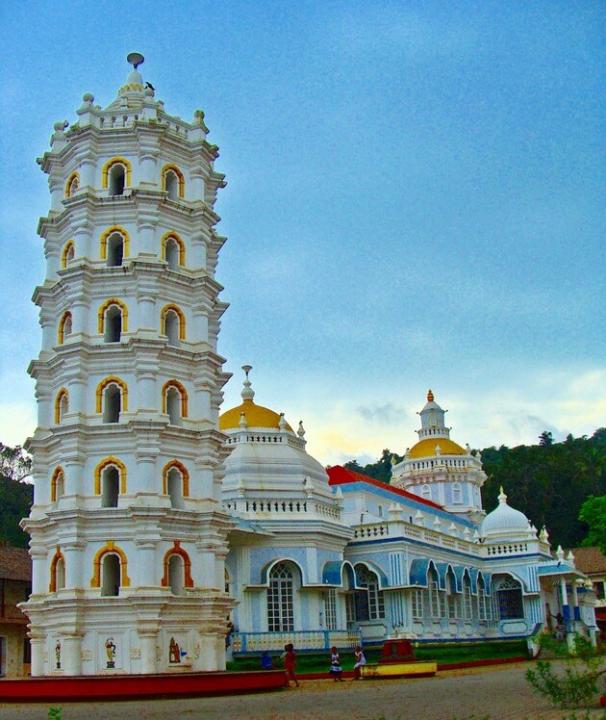 Source: Photo
Located at the foothill of Kavalem village, this beautiful temple id dedicated to goddess Shantadurga who blends the spirit of 'Vishnu' and 'Shiva'. A local deity and an important place of worship, the temple is worth visiting on your trip to Goa. The architecture of the temple is a blend of Indian and Portuguese styles and presents a beautiful pyramidal shape in its apex. The roman-style windows with stained glass and golden 'Paalkhi' are top highlights.
59. Mangueshi: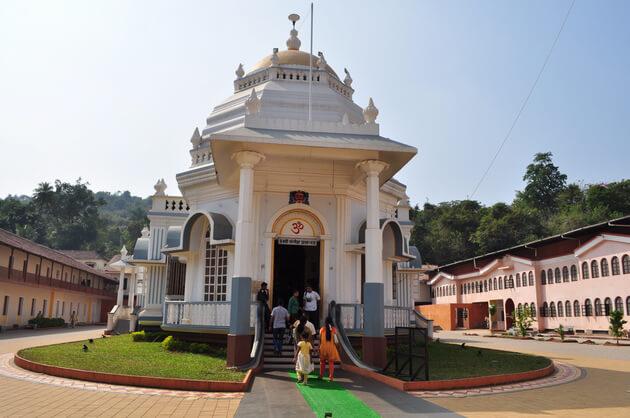 Source: Photo by Sandeep Badavanache
One of the most visited temples in Goa, this temple was originally relocated at its current site to during the Portuguese invasion. Dedicated to Lord Mangesh - an incarnation of Shiva, the temple complex exhibits multiple domes, pilasters and a striking 'Deepstambha' (lamp tower).
Here are some Beautiful Ancient places in India.
60. Nagueshi:
This simple and rustic temple is one of the oldest in Goa and is built in typical native style with sloped roofs and white domes. The stone inscription of the temple dating back to the 1413 AD is particularly notable. The temple reflects in the beautiful water reservoir located next to it and the coconut trees add to the hue of the panorama!
61. Ramnathi:
According to a legend, the deity of this temple Shri Ramnath Deity was installed by Lord Rama in 3000 BC while returning to Ayodhya from Lanka. Originally located at Loutolim in Goa, the temple was shifted to Ramnathim, Bandivade to protect it from Portuguese attack around 450 years ago.
62. Saptakoteshwar:
One of the six major temple sites dedicated to Lord Shiva in Konkan area, this temple presents a combination of Mughal, Hindu and European architecture. The original temple was destroyed during the Portuguese rule and was rebuilt with the original deity by Chhatrapati Shivaji Maharaj. The Mughal style dome, European style altar hall and Brahminical laterite and stone caves are worth admiring.
63. Navadurga:
Dedicated to goddess Navadurga, this temple is at least 500 years old and is famous for its annual Jatra held in the month of November.
64. Mahadev Temple:
A 12th century temple dedicated to Lord Shiva, this is the oldest temple in Goa. Dating back to the Yadava rule, the temple presents the Kadamba-Yadava style of architecture in Basalt stone. The temple resides at Tambdi Surla in the lap of Western Ghats.
65. Vimleshwar Temple:
Rivona is one of the most important pre-historic sites in western India and has rock carvings dating back to the Mesolithic Period (Middle Stone Ages ( 9000-4000 BC). The Vimleshwar temple is located within this remote village in the Sanguem taluka and is dedicated to Lord Shiva.
---
Must Visit Museums in Goa
Although Goa is known more for its vivacious parties and stunning beaches, it also has a very deep rooted culture. The museums in Goa help visitors explore this culture and heritage.
66. Goa State Museum:
Located in Panaji, visiting the State Museum is one of the best free things to do in Goa! Having an impressive collection of artefacts, the galleries within the museum are divided into categories such as Sculpture Gallery, Christian Art, Furniture, Printing History, Cultural Anthropology, Contemporary Art, Geology, Environment and Development and Goa's Freedom Struggle.
67. Naval Aviation Museum: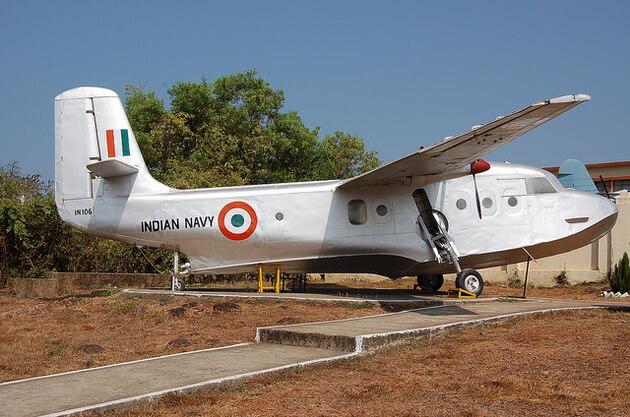 Source: Photo by Alec Wilson
Located in Bogmalo, the Naval Aviation Museum is a military museum. Divided into two parts- the outdoors exhibit and the indoors exhibit, the museum has on display 13 decommissioned aircrafts. It also showcases the evolution of the Naval and Air wings of the Indian army via various objects, write-ups, photographs and artefacts.
68. Monsoon Heritage Studio:
A must visit offbeat attraction in Goa, the Monsoon Heritage Studio will leave you amazed. Located in Arpora, the studio has on display fabulous art work creations of mirrored mosaic art by artist Yahel Chirinian.
69. Museum of Christian Art: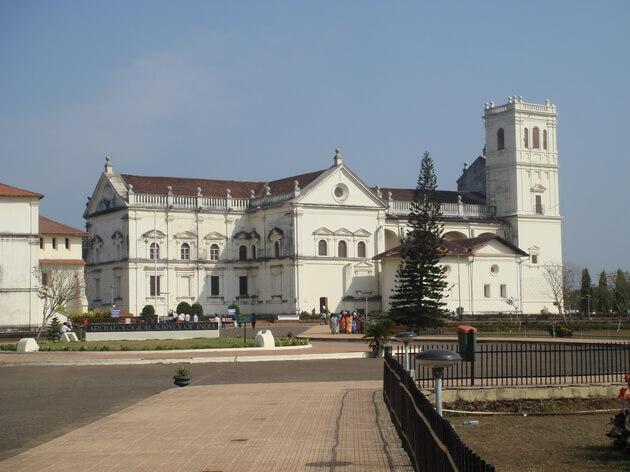 Source: Photo by Ondřej Žváček
Founded in the year 1994, the Museum of Christian Art is located within the precincts of the Convent of Santa Monica. Inside the museum you will find a unique collection of Indo-Portuguese Christian art objects. The exhibits include beautiful sculptures, intricate paintings, elegant furniture and gorgeous textiles.
70. Palacio do Deao:
A must visit place in Goa for architecture buffs, the Palacio do Deao is situated on the banks of the beautiful Kushavati River. Spread across a huge area, this palatial house boasts of beautiful and intricate architecture along with spectacular manicured gardens. Within this heritage house you will find a library, a restaurant and a cultural event space.
71. Archaeological Museum:
Established in 1964, the Archaeological Museum of Goa is housed in the church of St. Francis of Assisi. Spread across 8 galleries, the objects on display include those dating back to the prehistoric and early historic period to the late mediaeval period. Interesting objects and artfacts such as wooden sculptures, postal stamps and portrait paintings of governors and viceroys can be found within the museum.
Also Read about the Architectural marvels of india.
72. Goa Chitra: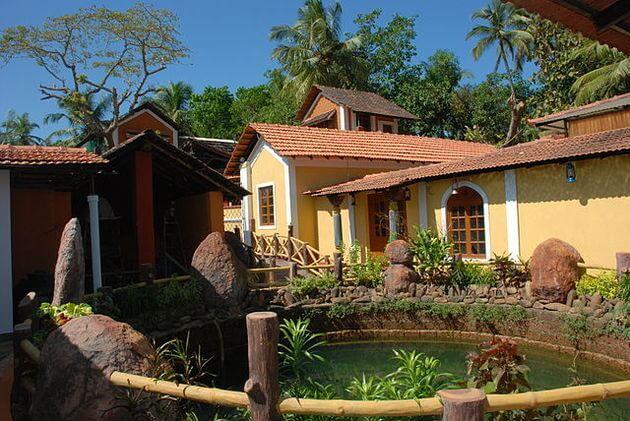 Source: Photo by Victor Hugo Gomes
If you really want to understand the history of Goa, you have to visit the Goa Chitra. An ethnographical museum, this place preserves the artefacts representing the culture of ancient Goa. Items on display include agrarian objects, storage boxes and tools used by goldsmiths, carpenters, cobblers, blacksmiths and tailors.
73. Big Foot Cross Museum:
Visit to the museum housing 1400+ different variety of holy crosses collected by Maendra Alvares during his journeys is one of the off-beat things to do in Goa. Classified into 80 different categories and well displayed in transparent glass boxes, the cross collection is worth your time.
74. Wax World Museum:
Exhibiting around 30 life-sized wax statues of prominent Indian personalities like Mahatama Gandhi, Osho and Ramakrishna Parmhansa, the wax museum in Goa is a huge crowd puller. The 500 Kilogram wax installation of the famous last supper makes it one of the must-do things in Goa!
Replete with tons of interesting and fun things to do, Goa is a plethora of diverse activities that guarantee a grand vacation! Plan a trip to Goa and do let us know which of these were the best!