Best Things To Do In Goa
* Disclosure: This post may contain affiliate links, which means we may receive a commission if you click a link and book something (there is never any extra cost to you for using these links).
If you are planning a trip to Goa, how to do you decide what to do?
Whenever we say Goa, we get those beautiful beaches, coconut trees, and happening nightlife. But that is not the whole Goa is about. Goa has a lot of things to offer to you right from churches, museums, temples, food, and activities. Don't expect to cover all the things to do in Goa on a single trip. That could be the reason why Goa is a place you want to visit again and again.
We have compiled a long list of things to do in Goa for you to choose from. Keep ticking of different activities on your every trip.
1. Enjoy White Sandy Shores at Palolem Beach: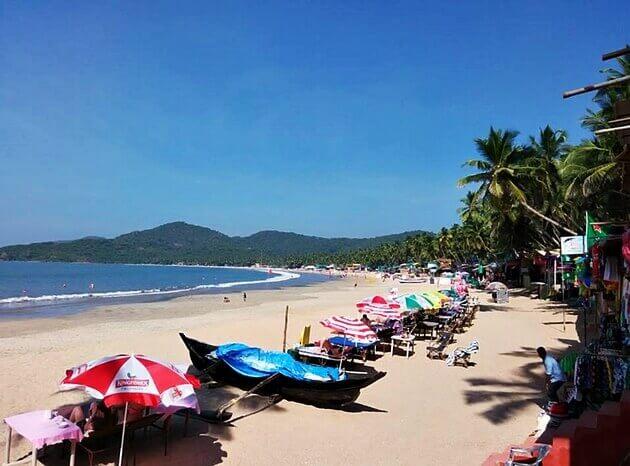 A popular beach in this part of the state, the Palolem beach is a pristine one full of white sandy shores, a palm-lined coastline and it is peppered with tiny beach huts. This is a very nice thing to do in Goa for a bachelor's. They can enjoy different water sports here. However, avoid visiting the beach over the weekends as it tends to get crammed.
2. Take a Sunbath at Agonda Beach: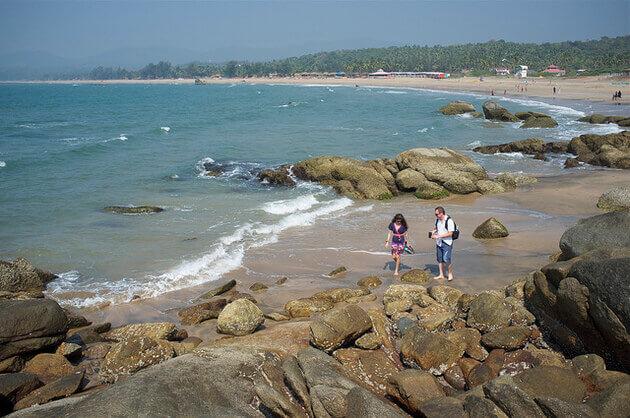 Source: Aleksandr Zykov/Flickr
Fringed with casuarinas and palm trees, the Agonda beach is perfect for sunbathing, swimming and taking leisurely strolls under the moonlight. If you are visiting Goa for your honeymoon, this beach will be the perfect backdrop for your romance.
3. Click lot of Photos at Colva Beach:
25 kilometers of white-sand shoreline, coconut groves spread as far as the eye can see and a line of beautiful villas belonging to the rich and the famous- that's Colva beach near Margao for you. Providing beautiful photo opportunities, you have to witness an enchanting sunset at the Colva Beach.
4. Give a try to Fishing Benaulim Beach:
Home to the fishing community, the Benaulim beach is still relatively undiscovered by tourists and hence is one of the best places to visit in Goa before it goes main-stream! Trivia: according to a legend, Benaulim is the place where lord Parashuram's arrow landed thereby creating Goa.
5. Escape from Crowd go to Betul Beach: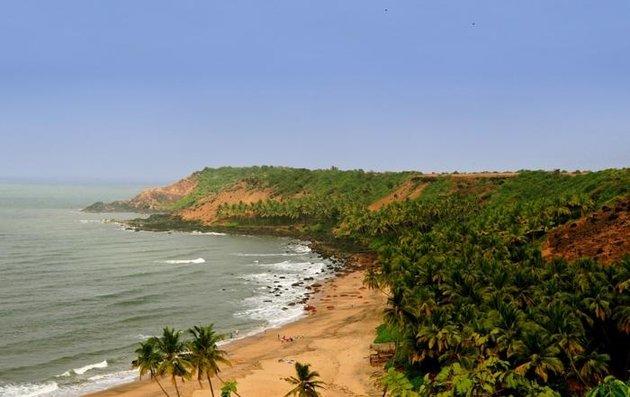 Source: divyabhaskar
South Goa is home to some of the most secluded and serene beaches in the state. Betul is one such beach you should visit if you want to escape the crowded tourist places in Goa! An important fishing port, the quaint coastal village of Betul is home to this beach which is located across the Sal River and is accessible only via a ferry or boat ride.
6. Stay at Best Resorts at Varca Beach:
Hosting some of the best resorts in Goa, the Varca beach is located south of Benaulim. This sun-kissed beach will provide you with the perfect Goan getaway. While at the beach, do walk up to the gorgeous Our Lady of Gloria church which is considered to be the oldest building Varca town.
7. Enjoy Water sports, Do a lot of shopping at Calangute Beach:
The most famous beach in the state, the Calangute Beach features in every Goa travel guide! Overcrowded no matter when you visit, the beach still has a certain charm that allures visitors. Fondly called the 'Queen of beaches', this one has everything- water sports, beachside markets and restaurants, beach shacks and plenty of hotels and accommodation options.
8. Enjoy the Nightlife at Baga Beach: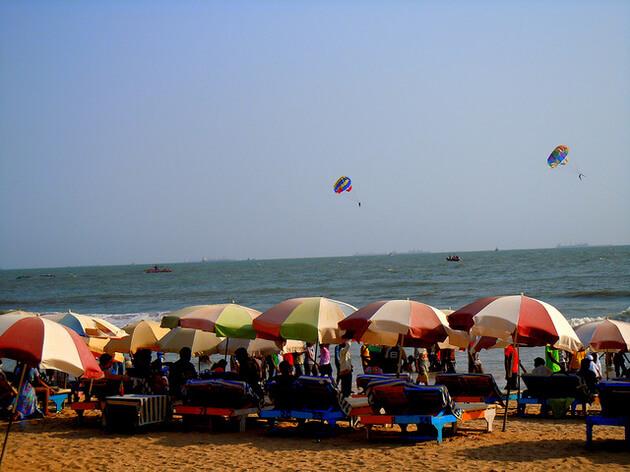 Source: Photo by Abhishek Kumar
Merging with the Calangute beach, Baga Beach was made popular during the Hippie movement of the sixties and seventies. Famous for its vibrant nightlife, the beach is lined with famous restaurants, watering holes, and a lively flea market. During the day, beachgoers are treated to adrenalin pumping water sports such as wakeboarding, jet skiing, paragliding, and windsurfing.
9. Enjoy Dolphin Excursions from Candolim Beach:
Until recently, this laidback beach used to host the famous Sunburn music festival every December. One of the most refreshing things is to undertake the many thrilling water sports in Goa, and Candolim beach hosts many of them. Also, if you want to go on a Dolphin spotting excursion, there are local tour operators present at the beach who will help you out with it.
Check Out: Places To Visit in North Goa
10. Rock the Floor at Vagator Beach: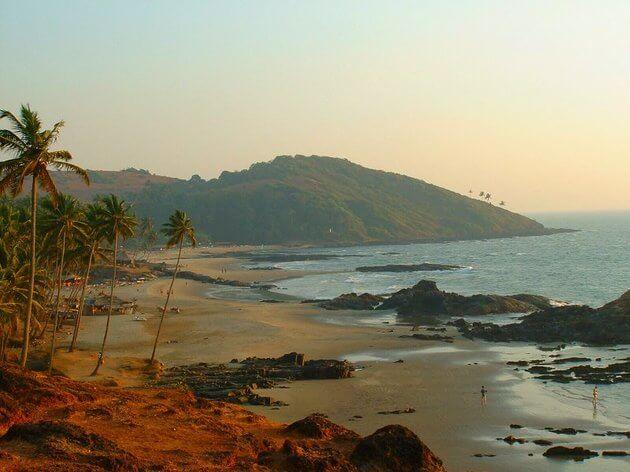 Source: Photo by Zerohund
With dramatic red cliffs overlooking the shore, the Vagator beach is a stunning tourist place in Goa. Since the year 2013, this gorgeous beach has been hosting the Sunburn music festival. When you visit this beach, do try to explore the nearby Chapora fort as well.
11. Get the Peace of Mind at Sinquerim Beach:
The spectacular Sinquerim Fort located near Panjim bisects the shoreline of the Sinquerim Beach into two. A relatively secluded beach, it is a fabulous holiday destination because of its proximity to world-class resorts.
12. Taste awesome Seafood at Anjuna Beach: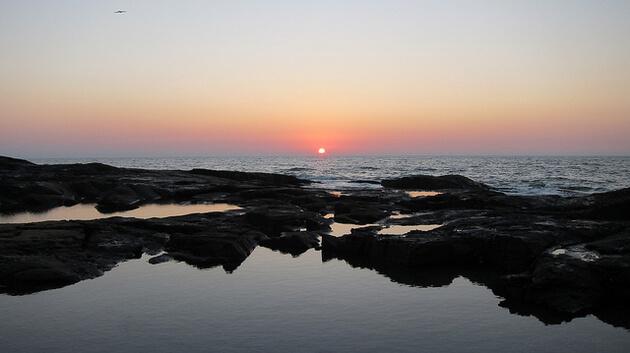 Source: Photo by innacoz
With a free-spirited atmosphere, Anjuna Beach welcomes one and all to its soft sandy coastline. The beach is the go-to destination to enjoy a night party and to hog on delicious seafood!
Check Out: Hostels in Goa
13. Enjoy Sunset with family at Miramar Beach:
Crowded on most days, the Miramar beach is nonetheless a fascinating place to visit in Goa. Located 3 kilometers from Panaji, it lies adjoining the estuary of the river Mandovi. One gets stunning views of Fort Aguada from the beach. Trivia: The beach was originally known as the 'Gasper Dias Beach'.
14. Ride Bike on awesome Goan Roads:
A vast empty road dotted with coconut trees, wind in your hair and unknown destination, Goa is the best place to hire a bike and write your very own motorcycle diary. Not only is it cool but also quite an affordable way to get around Goa. The bikes are easily available on rent all around Goa. Make sure you carry your driving license and always wear a helmet while riding.
15. Go Snorkeling: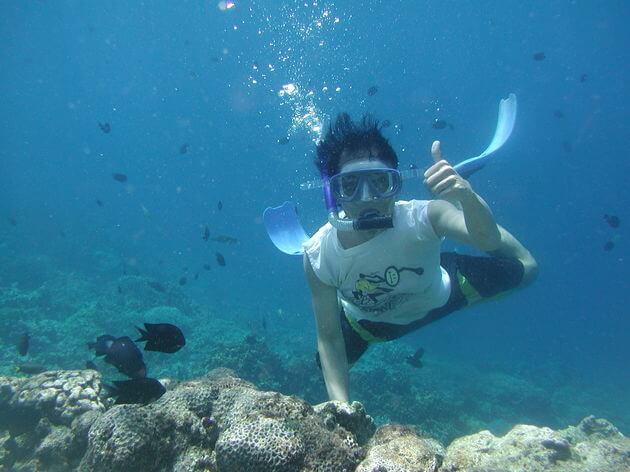 Source: Photo by Asep.saefulloh
Slightly unknown for snorkeling, Goa is emerging as one of the popular spots to explore the underwater world. The Grande Island is one of the best options to go on a snorkeling tour in Goa.
16. Book a Quad Biking & Get going: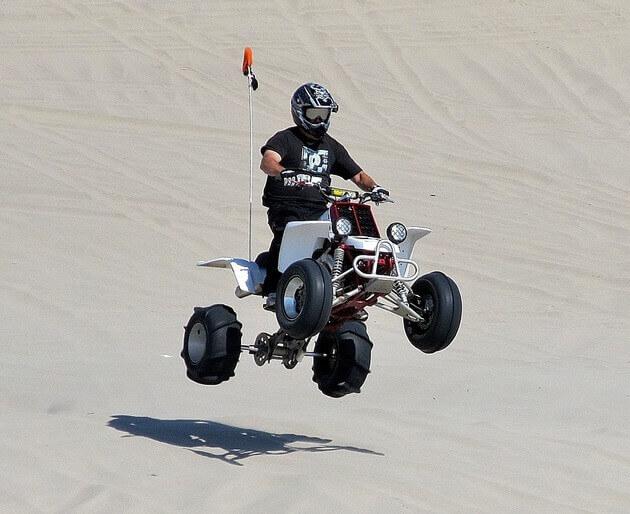 Map the rustic muddy tracks of Goa with an ATV! Book a Quad Biking Ride and get going, get dirty!
17. Give a try to variety of Water sports:
When in Goa, you simply can't miss the bunch of water sports offered on its beaches. The beaches of North Goa are perfect for indulging in water sports. The activities you can try out - Banana Boat ride, water scooter ride, Ringo Ride, parasailing, Jet Skiing, Bumper Ride, windsurfing, speed boat ride, and wakeboarding. Quite a lot isn't it!But definitely, a sure shot thing to do in Goa!
18. Enjoy Backwater Kayaking:
If you thought Goa was all about the oceans, think again! Goa also has some beautiful rivers that are perfect for a tranquil Kayaking experience and this is one of the extreme things to do in Goa! The Nerul River, The Mandovi River, backwaters of Sal and Zuari River are perfect spots for going on a Kayaking tour. These rides are also available in the off-season of Monsoon. You can explore the hidden side of Goa and also spot some beautiful birds and on your expedition!
19. Meet the Dolphins in Dolphin ride:
Watch these adorable sea creatures as they hop and spin in the waters; go on a Dolphin ride when in Goa! These guided tours are available from Panjim jetty, Sinquerim of Fort Aguada.
20. Canyoning:

Source: Photo by Krish Dulal
One of the most exciting things to do in Goa is to scale the rocks, especially the slippery rocks under the waterfalls of Goa! These tours also include rappelling, top jumping into the waterfalls and sliding through the currents of the waterfalls.
21. Learn Scuba Diving from Experts:
Up for Scuba? Popular beaches like Calangute and Baga offer scuba diving opportunities for enthusiasts! This session includes training from experts.
22. Rafting:
Rafting is one of the most enjoyable things to do in Goa. If you are visiting Goa between May and September, Mahdei River is a great place to go rafting. The Tilari River is great for rafting between October and April.
23. Visit the Spice plantation:
Goa is blessed with beautiful weather perfect for a growing variety of spices. If you are traveling to Goa with family, this can be an ideal activity for your vacation. Take a tour of the various spice plantations in Goa; enjoy the aroma of fresh spices and shop for goodies to back home! Pascoal Spice Village, Savoi Plantations, the Rustic Plantation, the Sahakar Spice Farm, and Parvati Mandav Park Plantation are some of the popular spice gardens of Goa that you can visit.
24. Try your luck at the Casinos:
One of the hottest things to do in Goa is to visit its Casinos. Goa is one of the very few states in India where it is legal to Gamble. Try your luck at the casinos like Casino Royale which also offers an extravagant ambiance and is fantastically located on the quaint Mandovi River.
25. Take an Elephant ride at The Jungle Book:
If you are planning a trip to Goa with kids, this one is a must-do activity! The Jungle book offers many activities and the Elephant activities are great for kids! You can wash them, swim and splash with these lovely animals.
26. Catch a Greek performance at Thalassa:
One of the quirkiest things to do in Goa, visiting Thalassa deserves to be on your bucket list. Located on the Small Vagator beach, this Greek restaurant serves delicious Greek spread and the Sirtaki dance that is performed here every evening makes it a nice experience! The smashing of plates, showering of flowers and dancing in circles on joyful music will certainly pep up your evening! Definitely a thing to do in Goa!
27. Get Relaxed with Ayurvedic Spa:
Goa is known for its indulgence in all things fine and is dotted with multiple spas that will pamper you on your visit. You can choose for a Balinese spa or go for a traditional Ayurvedic spa treatment on your visit.
28. Mark a night of Excitement at Club Cubana:
Club Cubana offers a vibrant nightlife experience and an outdoor pool that you can enjoy. The location is known for its crazy parties and is one of the hippest places in town. With a neon-lit night club, the place also features an indoor DJ and dancing areas. So put on your dance shoes and be ready for a night of excitement!
29. Go crazy at Titos Club:
Everybody knows your trip to Goa is not complete until you pay Titos a visit. The nightclub offers an amazing range of cocktails and beers that is sure to get you closer to the Goa way of living. Good music, better vibes, and interiors that will leave you astounded are some good reasons to visit the place. But most of all, Titos is known for its classy customers and crazy parties!
30. Kamaki:
So you are in Goa and want to try something different, head to Kamaki, the nightclub is famed for its interiors that are basically Goan with a twist of Greek interiors. Visit the place for good food and ambiance and you will not be disappointed. The club also has many varieties of International cuisine.
31. Curlies Beach Shack Goa:
There is nothing better than sitting under the sun to get that perfect suntan and looking at your drink that looks absolutely irresistible. Experience this at Curlies Beach Shack Goa, a shack that has made a huge impression on the youth of Goa and India. The place is a must-visit if you want to let out some steam and enjoy your stay.
32. LPK Waterfront:
LPK Waterfront is located next to a picturesque river and has some of the best sceneries you will get to see in the location. Rock carving-themed interiors are the highlight of the club. The design, music and the whole setting makes it a perfect spot to have a few drinks and dance till you drop!
Also, Check Out Offbeat Things to Do in Goa at Night.
33. Visit Anjuna Flea Market:
Anjuna Flea Market is the most known of them all. Also, it is one market that is your one-stop solution to buy everything and in a flea market rate. Imagine, shopping in Goa is as reasonable and affordable as partying and staying here. You get everything that you need to wear, accessorize, decorate and gift. It is also quite a lively affair because it is surrounded by restaurants, stalls and various other fun activities.
34. Collect things to Decorate your House at Tibetan markets:
For everybody who thought that you could take back only spirituality from Tibet is definitely wrong. These Tibetan markets make the perfect unconventional shopping destination in Goa. You have the most beautiful items sold here. Right from little ornaments, to chunky jewelry to souvenirs to gift to your friends to little showpieces to decorate your house. Who thought that in a state you would get the better of an entire city?
35. Buy Fresh fishes at Chapora fish market:
Yes, it is a known fact that Goa is the best vacation destination when it comes to seafood lovers. Chapora fish market is basically your best chance to go buy the fresh stock of prawns, lobsters, fish and a lot of other animals that you love to eat. This village is located right across the jetty by River Chapora and is a perfect stop for the cook as well as seafood lover in you.
36. Mapusa Friday market:
Mapusa is like one of the most fun areas in Northern Goa. The Friday market is an even better place because it is like a farmer's market. It sells all the fresh produce of farmers from across Goa. You will come across a lot of Goan specialties as well as be sure of a large variety of items here.
37. Purchase Local Goan Items at Margao Market:
This is Goa's largest and most famous market. You have a wide range of Goan local items available here. Everything that you need to pack for back home, or even use while on your trip to Goa with a hint of Goan in it can be found here. You can find everything here right from feni to cashews, to other Goa specialties.
Goa is so diverse in terms of its local cuisine. Although the Indian Goan food has stuck to its roots, a lot of the food items have been adapted from the Portuguese and other colonies. You will see spicy, pungent flavors always ticking your taste buds. Also, food from Goa boasts of having some amazing delicacies.
38. Experience the fun at Goa carnival:
Loud music, lively crowd and a fiesta that will drive you crazy is what the Goa Carnival is all about. Started in 1961 the carnival gained a significant amount of recognition and fame due to its fun-filled ambiance. The carnival goes on for 3-4 days and brings joy to all of Goa. From singing, dancing, to feasting the carnival is sure to liven up your spirits. The festival is held in February every year.
39. Rock the floor at Sunburn festival:
Sunburn festival is perhaps India's biggest Electronic dance music festival. The festival hosts some of the most prominent names in the EDM industry. Normally stretching for about 3 days the festival offers you three days of party, booze and yes, amazing music to keep your feet tapping at every beat! This is a must-visit for every music lover.
40. Taste the wine at the Grape Escapade:
The Grape Escapade is simply India's biggest wine fest. If you are someone who enjoys the finer things in life visiting this location is a good idea. The offbeat and dynamic festival is loved by all due to its scintillating wines and picturesque setting.
41. Goa Food and Music festival:
Planed a vacation to Goa in summers? Well, here is an event that will make your trip worthwhile. Goa Food and Music festival is all about as the name suggests Food and music. Combine these two with a hint of good wine or beer and voila! You have got yourself a happy, happy vacation! From street singers to performers the festival is a must-visit for all travelers.
42. Meet the Celebrities at the Film festival:
Goa has something in store for anyone who comes its way and if you are a movie buff then this is the place to be at. The International Film festival hosts only the best movies that will leave you spellbound. The event happens somewhere around the month of November and is considered one of the most renowned film festivals in the country.
43. Enjoy Goan Culture at Shigmo: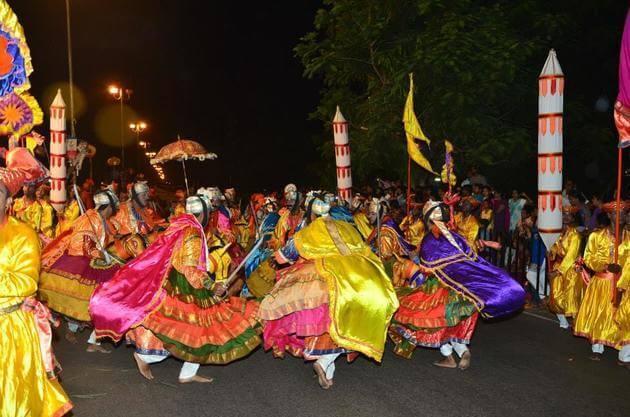 One of the prime local festivals, attending this festival is one of the must-do things in Goa if you are visiting in the month of March. The festival celebrates the arrival of spring; local decked up in their finery, traditional folk dances galore and temples flooded by devotees make it a pleasant sight!
Goa festivals are there to remind us all how beautiful life really is, be it through their liveliness or colors, the festivals are simply, magnificent. So here were the top events in Goa that you just cannot miss. Some other festivals that you should not miss out on are, Goa Mango festival, Sao Joao festival, Goa International Latin Festival International Jazz Live festival and Goa Arts and Literary Festival.
Frequently Asked Questions in Goa
Q. What is the best thing to do in Goa?

A. The best thing to do in Goa is to laze on the beach and soak in the sun and then renting a bike to explore the state's Portuguese colonial history.

Q. Which Goa is the best South or North?

A. If you are looking for popular beaches and bustling party scenes, then North Goa is the perfect place with beaches like Baga and Candolim. If you are interested in peaceful beaches, colonial history, and historic churches, then South Goa with Palolem Beach and Bogmalo Beach is the place to be!

Q. What can families do in Goa?

A. Things to do with a family in Goa are - visit peaceful South Goa beaches, go to attractions like Fort Aguada, Chapora Fort, Basilica of Bom Jesus, Our Lady of the Immaculate Conception Church, Mangeshi Temple, Anjuna Flea Market, and Bondla Wildlife Sanctuary. You can also book tours like Old Goa heritage walk with a ferry ride to make the best of your time.

Q. What is the best time to go to Goa?

A. The best time to go to Goa is in the winter season from November to February. The sea is ideal for watersports, the weather is cool and less humid, and most of the events or festivals are also hosted around Christmas and New Year.

Q. Which are the best luxury resorts available in Goa for a comfortable stay?

A. The best luxury resorts in Goa are - Le Méridien Goa in Calangute, Taj Holiday Village Resort & Spa, Doubletree By Hilton in Panaji, Vivanta Goa in Panaji, The Postcard Velha in Velhe Goa, and Taj Fort Aguada Resort & Spa in Candolim.