15 Best Things to Do in Seychelles
* Disclosure: This post may contain affiliate links, which means we may receive a commission if you click a link and book something (there is never any extra cost to you for using these links).
If you are wondering whether it is safe to travel to Seychelles, then know that it is one of the countries that has not been hit by the Coronavirus epidemic. No cases of COVID-19 are detected in Seychelles till this date. The authorities in Seychelles are taking all the steps to not let COVID-19 spread in the country and it is recommended to take precautionary measures while visiting Seychelles. Also, we suggest that you check flight operations to and from Seychelles as they might be affected amidst the virus outbreak.
Note: The Coronavirus statistics mentioned in this article are based on the updated reports available on March 3, 2020. These figures will be updated depending on how the outbreak unfolds.
Seychelles is an East African country that has a lot to offer. Though there are many tourist attractions in Seychelles, it has also maintained its rugged and rustic charm. As this is the country of islands and beaches, you will find a plethora of things to do in Seychelles. From lazing on the beaches to exploring the shipwrecks, your vacation is bound to be interesting here. The fusion of so many places to visit in Seychelles makes it ideal for honeymooners as well as adventure enthusiasts. So, here is the list of 15 best things to do in Seychelles.
1. Catch the picturesque sunset on La Digue Island

PC: wikipedia.org
La Digue Island is known for having one of the best beaches in Seychelles. When you visit Anse Source d'Argent Beach, you will be greeted with dramatic granite formations and white, sandy stretch. You can also visit Anse Severe that is famous for coral reefs and Anse Cocos that is still a hidden gem. You cannot miss exploring Veuve Nature Reserve that is located in the heart of this island. Go to the villages of La Passe and La Reunion to experience the rustic charm of the island. Renting a bicycle and wandering through the streets here is one of the best things to do in La Digue. Do not forget to pamper your taste buds with fried octopuses and bat curry.
2. Explore one of the oldest forests - Vallée De Mai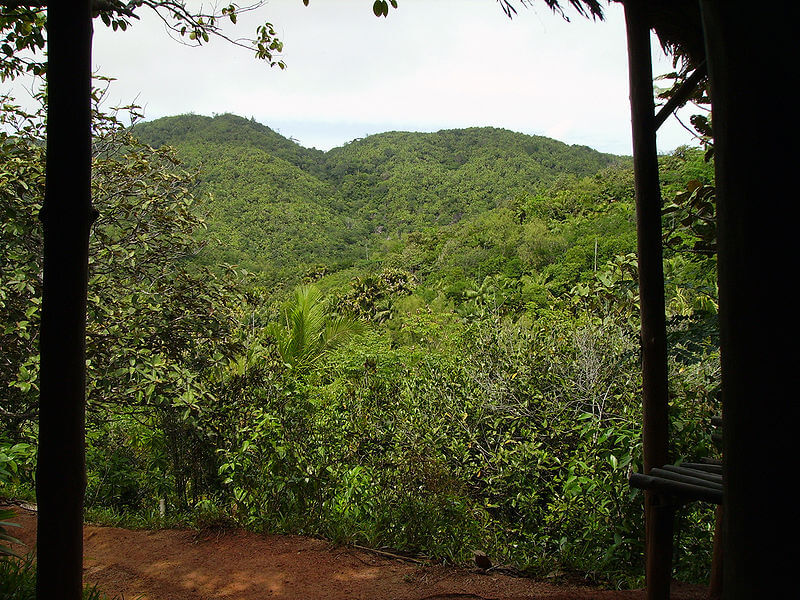 PC: wikimedia.org
Vallée de Mai is an alluring nature preserve that is nestled on the island of Praslin. This palm forest has been designated as the UNESCO World Heritage Site as it is home to several endemic plants. The famous tree of coco de Mer has the largest seed in the world that can be found here as well. If lucky, you will get to see the rare Seychelles black parrot in the woods. This pristine natural beauty has not been disturbed since ages and is one of the oldest forested lands around. That is why many people believe that Vallée De Mai could be the original Garden of Eden.
3. Take a day-trip to Cousin Island

Cousin is a teeny, tiny island that has been protected as the nature reserve and an important bird area. This forest is a little slice of paradise for nature-lovers and bird-watchers as it is known for having a rich biodiversity. This is also one of the major nesting sites for hawksbill turtles and green turtles. So, if you want to spend some time in the heart of nature, hop onto a ferry that leaves from Praslin. Keep in mind that staying overnight is not permitted and the island is closed on the weekends and on the public holidays.
4. Meet the giant tortoises on Curieuse Island

Dominated by red coloured soil and coco de Mer palms, Curieuse Island holds a special place in the hearts of tourists. People usually come here to get up close and personal with some of the giant tortoises in the world that frequent this island. Your trip to Curieuse is bound to be interesting with more than 500 giant tortoises roaming around. You will also come across the ruins of the leprosarium, a leper colony that was functional till 1965. There are several well-maintained walking trails that will take you around this mangrove forest.
5. Be in the heart of nature at Morne Seychellois National Park

PC: flickr.com
Morne Seychellois National Park is considered to be one of the largest national parks in Seychelles. This is the place that offers different recreational activities for all types of travellers. You can explore the dense mangrove forest, you can hike up the highest peak in Seychelles, and you can go birding as well. These things make it a Mecca for experienced hikers and nature enthusiasts. You can also visit the historical site of Mission Lodge and the ruins of old distilleries that can still be found in the park.
6. Catch some tan at Anse Lazio

PC: flickr.com
Anse Lazio is proud to be one of the best beaches in the world. The clear blue water and granite boulders lining the shore look postcard-perfect. If you are looking forward to snorkeling in Seychelles, a sheltered cove on Anse Lazio is the place to be! Even though this place attracts thousands of travellers from around the world throughout the year, it has succeeded in maintaining its serene atmosphere. Other activities like swimming and sunbathing can also be enjoyed here. This family-friendly beach in Seychelles is a must-visit for spending some quality time on vacation.
7. North Island - Ultimate destination for honeymooners
North Island is one of the popular honeymoon destinations in Seychelles. Its secluded beaches and a few luxury resorts are perfect when it comes to spending some relaxing time with your loved one. From mountain biking to deep-sea fishing, you can enjoy all sorts of activities here. Do not miss a chance to go clear boat kayaking as it will let you experience the natural beauty to the fullest. This granite island even has a Honeymoon Cove that offers great photographing opportunities.
8. Reconnect with nature at Sainte Anne Marine National Park

A group of 8 small islands is declared as the marine park to preserve the local wildlife. Those who love snorkeling and diving must come here. Vibrant reefs and rich variety of marine life make it an interesting place to explore. Glass-bottom boating tours are also loved by tourists. Different luxury resorts are scattered across the islands and provide accommodations with excellent amenities. You can easily combine spending leisurely time with exciting adventures while visiting Sainte Anne Marine National Park.
9. Dive to the Shipwrecks in Seychelles

You can never resist the pull of wrecked ships that are waiting to be explored. Though there are around 100 ships that were sunk in the waters around, it is believed that there may be more shipwrecks around Seychelles. These cultural and historical landmarks can be visited from the sites near Silhouette Island, Victoria, and the wreck of the Aldebaran. These hauntingly beautiful underwater sites have become tourist attractions in Seychelles. The best time to visit Seychelles for diving is from March to May and from October to November.
10. Explore the city of Victoria

Victoria, though one of the major cities in Seychelles, is known as one of the smallest capitals in the world. Your trip to Seychelles cannot be complete without wandering the streets of Victoria on foot. The clock tower that stands in the heart of the city is said to have been modelled from the London's Big Ben. If you are looking for things to do in Victoria, then visiting Victoria Botanical Gardens and National Museum of Natural History is a must. Go to the local market to soak in the local flavour as you will get to shop for souvenirs here.
11. Step back in time at L'Union Estate & Copra Factory

PC: flickr.com
The site of L'Union Estate is a significant historic landmark in La Digue. It was a coconut and vanilla plantation in the past that has been converted into a natural heritage site today. The plantation house carries an influence of the French colonial architecture. The colonial-era graveyard on the premises is also visited by many. So, if you want to understand the local history, lifestyle, and culture, this estate is a great place to be. Keep in mind that you will have to pay an entrance fee to explore this area.
12. Frégate Island for unspoiled natural beauty
If you are looking for a luxurious abode that is away from all the hustle and bustle, then the private island of Frégate is your destination. The small Anse Victorin Beach is a hidden gem that is peaceful and picturesque. When you visit this island, you will also get to see different rare local wildlife species as conservation programs are implemented here. From the nesting sites of endangered Green Turtle and critically endangered Hawksbill Turtle to rare Seychelles magpie robin, this small island is home to many.
13. Take a tour of Seychelles National Botanical Gardens
Seychelles National Botanical Gardens is one of the major points of interest in Seychelles. With the history of more than 100 years, this 15-acre botanical garden will keep you engaged for hours together. The pathways are lined with coco de mer trees and exotic plants like Cannonball tree add charm to the beauty. The garden is home to several exotic and endangered birds including fruit-eating Blue Pigeon, Indian Myna Bird, the nectar-sipping Sunbird, and the Seychelles Bulbul.
14. Visit the Jardin Du Roi Spice Garden
Jardin Du Roi Spice Garden is one of the interesting places to visit in Seychelles. Located on the Mahe Island, this is the site that combines museum and garden. You will be surrounded by aromas of different local and exotic spices when you explore the garden. The small museum will tell you about the agricultural history. It also displays different artifacts that are related to farming. If you are going to take a guided tour, then do not forget that you will have to notify this facility at least 24 hours in advance.
15. Spend some time at Sauzier waterfall
Sauzier waterfall is a hidden gem that you must explore on your trip to Seychelles. Located in Port Glaud, this cascading waterfall will take you away from all the chaos and will give you a chance to reconnect with nature. An easy walk will lead you to the pool that is tucked away amidst all the greenery. You can easily find this place without the help of a guide. So, get ready to embark on this little adventure.