Best Things to Do in Switzerland
* Disclosure: This post may contain affiliate links, which means we may receive a commission if you click a link and book something (there is never any extra cost to you for using these links).
If you are wondering whether it is safe to travel to Switzerland, then know that it is one of the countries that has been hit by the Coronavirus epidemic. 30 cases have been detected in Switzerland till this date. While the authorities in Switzerland are taking all the steps to contain the spread of COVID-19, it is recommended to take precautionary measures while visiting Switzerland. Also, we suggest that you check flight operations to and from Switzerland as they might be affected amidst the virus outbreak.
Note: The Coronavirus statistics mentioned in this article are based on the updated reports available on March 3, 2020. These figures will be updated depending on how the outbreak unfolds.
Switzerland is unarguably one of the best destinations to visit in the world. It seems that the country is almost unfairly endowed with plenty of natural beauty. The mountain ranges of the Alps and the Jura, the roaring waterfalls like Rhine Falls and Trümmelbach Falls, and pristine lakes like Lake Zurich and Lake Geneva make you step into the heart of nature.
The Alpine country has wisely taken advantage of the natural beauty it is blessed with and developed themselves to attract more tourists. Home to several skiing resorts like Jungfrau and Zermatt, Switzerland is the hub of skiing enthusiasts throughout the year. The many suspension bridges in the country like Europaweg Skywalk and Peak Walk are awe-inspiring man-made wonders.
Take a look at the 15 best things to do in Switzerland for this country, laced with romance as well as adventure, is waiting to be explored.
1. Take the adventure a notch higher
For those who want to awaken their adventurous side, Switzerland plays a perfect host. Bungee jump from a height of 220 meters at the Contra Dam and you can boast of recreating the scene from the Bond movie - GoldenEye. Go paragliding in Interlaken and enjoy the breathtaking mountain views while gliding through air. Take the adrenaline pumping game to another level by skydiving to the stunning views of the Bernese Alps. Hiking through Swiss National Park, ziplining across the wonderful vistas of Grindelwald, and skiing down the Mount Titlis are a few other adventures that you can undertake in Switzerland.
2. All aboard the train for a scenic journey
Aboard a train in Switzerland and you are in for the most picturesque ride. Grab a window-seat of the Glacier Express and for eight long hours you will be treated to mesmerizing vistas of snow capped mountains, pretty little villages, and pristine lakes. The train runs between two most beautiful mountain resorts of Zermatt and St. Moritz. The Bernina Express promises you the best way of going around the Swiss Engadin Alps. Travel from Chur or Davos to Poschiavo in Switzerland while taking in the beautiful vistas of high alpines, towering pine trees, and crystal clear lakes.
3. Know the history, culture, and art of Switzerland through museums
Switzerland rightly boasts to be a hub of museums. Spanning a wide range, these different museums in Switzerland give you a glimpse of their history, culture, art, and craft. Be it the Natural History Museum of Bern or the International Red Cross and Red Crescent Museum of Geneva, every other museum will leave you impressed. For contemporary art lovers, Zurich in Switzerland is just the right place. E.G. Bührle Foundation Collection, Kunsthaus Zurich, and Museum Rietberg in Zurich, rank amongst the top tourist attractions in Switzerland. One simply cannot miss out the Swiss National Museum in Zurich, for it will give you an insight into the country's diverse culture and rich history.
4. Take in the beauty of the crystal-clear lakes
Blessed with abundant natural beauty, Switzerland is home to several pristine lakes that are postcard perfect. Sit along the banks of the calm alpine lake Oeschinensee, and you will feel as if the world has come to a stand still. Lake Geneva, considered to be one of the largest in Europe, will offer you an admirable sight of Jet d'Eau. This is one of the largest fountains, soaring to a height of 140 meters. Looking at the deep blue waters of Lake Lucerne and Thunersee, you will feel calm and at peace.
5. Enjoy to the fullest at the skiing resorts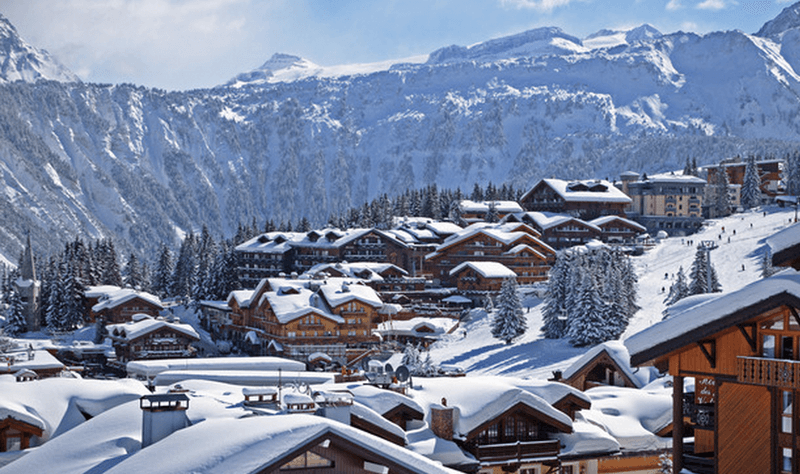 Taking advantage of being nestled in the lap of Alps, Switzerland has emerged as the capital of skiing resorts. Sporting easy terrains for newbies and hosting many learning programs, these resorts pose as prime attractions in Switzerland amongst skiing enthusiasts. Zermatt and St. Moritz are the top two ski resorts in Switzerland and are ideal for adults and kids alike. For highly skilled skiers, Verbier is the best bet. Its challenging high-altitude terrain will get the adrenaline rushing through your veins. Jungfrau, Davos-Klosters, and Saas-Fee are a few other top-rated ski resorts in Switzerland.
6. Indulge in some finger-licking Swiss chocolate
Switzerland is where the milk chocolate was first made. That being said, it equals to a chocolate factory for those with a sweet-tooth. You may take a tour of the Maison Cailler (Nestlé) chocolate factory in Broc to know the delicious secrets of chocolate manufacturing. Besides, you may visit some of the popular chocolate shops in different cities of Switzerland. Confiserie Arn and Favarger in Geneva, Confiserie Sprüngli in Zurich, and Poyet in Vevey are your best options. If you visit the Swiss Museum of Transport in Lucerne, then do not miss to take the Swiss Chocolate Adventure ride.
7. Be in awe of the cascading waterfalls
Rhine Falls in Switzerland is the largest waterfall in all of Europe and is no less spectacular than the Niagara Falls. Rightly one of the best tourist attractions in Switzerland, the best way to see its glory is by opting for a boat tour which takes you closer to the falls. There is also an observation deck for you to stand and view it from a distance. While many get allured only by the Rhine Falls, there are many other gorgeous cascades in Switzerland. These include Trümmelbach Falls, Mürrenbach Fall, Seerenbach Falls, and Staubbach Fall.
8. Ride the enthralling funiculars and cable cars to summits
Reach the top of the Alps by riding the funiculars and cable cars of Switzerland. Not only do these rides take you on a scenic route, but also prove to be quite thrilling. Ride the Gelmer Funicular in the Bernese Oberland and it will certainly get your blood gushing through the veins. Nothing less than a rollercoaster, this funicular boasts to be the steepest in Europe. When in Switzerland, you must take the Titlis Rotair gondola which slowly rotates to offer you 360-degree picturesque views of the Alps. The five-minute ride to the peak of Mount Titlis is packed with breathtaking vistas of the mountains carpeted in snow.
9. Visit famous cities and explore vibrant villages
Switzerland cities have a plethora of attractions which would satisfy the tourist in you. Zürich, Bern, Lucerne, and Geneva stand amongst the most-visited cities in Switzerland. Lake Zurich and Grossmünster in Zürich; Einsteinhaus in Bern; Kapellbrücke, Lion Monument, and Swiss Museum of Transport in Lucerne; and the preserved Old Town in some of these cities make for the best places to visit in Switzerland. While the cities of Switzerland attract travellers more, its villages are equally alluring. Visiting these, you will be able to see the countryside life of Switzerland. A few of the most charming villages in Switzerland are Grindelwald, Morcote, and Wengen.
10. Ring in the local festivals
If you are at the right place, at the right time in Switzerland, then you can experience its local festivals that are an affair of their traditions and customs. Or, you can plan a trip just to bask in the spirit of these festivals. Basler Fasnacht is a unique festival which takes place in Basel. Boasting to be Switzerland's biggest carnival, the festival has masked pipers and drummers starting a parade through the Old Town at the earliest hour of 4 o'clock in the morning. For chocolate lovers, there is Festichoc in Versoix wherein you can sample a variety of chocolates and admire chocolate sculptures.
11. Admire the magnificent castles of Switzerland
Have a historical affair by visiting the many lovely castles in Switzerland. Step onto the estates of any of these castles and you will be instantly teleported back to the olden days. The Oberhofen Castle by Lake Thun exhibits a beautiful amalgamation of different architectural styles. Castello di Montebello atop the hills of Bellinzona in the Swiss canton of Ticino makes for a postcard perfect picture. Dating back to the 15th century, Vufflens Castle with its unique square towers is a mesmerizing sight to behold. Chateau de Chillon by the rocky shores of Lake Geneva is one of the most-visited places in Switzerland.
12. Have a fine dining experience
Embark on a gastronomic journey by visiting some of the finest restaurants in Switzerland. Most of these are run by Michelin starred chefs and has the most elegant settings to enjoy a fine meal. If you are in Zurich, you must dine at Haus Hiltl which is the first vegetarian restaurant in the city. Offering over a 100 different dishes, its speciality is the Hiltl Tartar. You may enjoy mouth-watering cuisines and contemporary seasonal French dishes at Le Chat-Botté while taking in the picturesque vistas of Lake Geneva. Cheval Blanc in the Hotel Les Trois Rois of Basel, Le Loti and Le Tse Fung in Geneva's La Reserve hotel, and Restaurant de l'Hotel de Ville Crissier are your other best options to treat your taste buds.
13. Walk along the exhilarating suspension bridges
Switzerland stops at no point in offering thrilling experiences to the wanderers. Sporting around 10 suspension bridges, it feeds the soul of a thrill-seeker. It is home to the longest suspension bridge in the world named Europaweg Skywalk, above Randa, near Zermatt. It spans a total length of 1,621 feet and its highest point stand 86 meters above the ground. Peak Walk which is world's first suspension bridge connecting two mountain peaks is an awe-inspiring man-made wonder. Other suspension bridges in Switzerland that you must walk along include Titlis Cliff Walk, Trift Bridge, and Hangebruckenweg Furi Suspension Bridge.
14. Visit lovely vineyards and taste local wine
One of the top things to do in Switzerland is to visit its vineyards and taste the local wines. Discover the vineyards of Mont-sur-Rolle and sample the Chardonnays and Pinot Noirs while looking at the spellbinding views of Lake Geneva. The Lavaux vineyards in Vaud, stretching for 30 kilometers along the Lake Geneva shores, is a UNESCO World Heritage Site. Geneva, Ticino, and the German-speaking cantons are other major contributors to Swiss wines. Head towards the place of your choice and quench your thirst for wine by visiting the lovely vineyards.
15. Set out on a shopping spree
No vacation is ever complete without indulging in some shopping time and a Switzerland trip is no exception. From high-end shops to local stores, the cities of Switzerland offer you many options and let you shop to your heart's content. While you will get fashionable clothes and accessories in cities like Zurich, Geneva, and Lausanne, quaint towns like Interlaken and Zermatt will offer you Swiss chocolates, cheese, skiing equipment, and unique souvenirs for gifting.
With this list of best things to do in Switzerland at hand, you are all set to have a memorable vacation.
Best things to do in switzerland
what time of the year does paragliding in Switzerland start?

Answer

Report Abuse

Some paragliding centers offer adventure activities only in summers or winters whereas some places offer paragliding throughout the year when it is not raining and it is not too windy. So the answer to your question depends on which area you are visiting and which center you are choosing.

Report Abuse