Things To Know About Alaska
* Disclosure: This post may contain affiliate links, which means we may receive a commission if you click a link and book something (there is never any extra cost to you for using these links).
Alaska or as it is fondly called 'The Last Frontier' is the largest and least densely populated state of the United States of America. Bought from the Russian Empire in 1867 for a sum of USD 7.2 million, Alaska became the 49th state of the U.S. in 1949, just 10 years before the inclusion of Hawaii. Though a mention of Alaska brings to the mind pictures of snowfall, ice sheets and sleigh dogs, there is a lot more to this great state that we bet you didn't know about.
So here's a list of things about Alaska TripHobo would like you to know about:
Northern Lights:
Image Source: Pixabay.com
The Northern Lights a.k.a Aurora Borealis are beautiful bright dancing lights visible in the night sky usually at the high latitude regions. Though pale green and pink are the common colors, one can be lucky and catch a glimpse of shades of blue, yellow, red and violet in various shapes of patches, arcs, scattered clouds or rippling curtains. It is a naturally occurring phenomenon and can be seen in areas with low air pollution and population, thus making the small towns of Alaska wonderful sighting spots between the months of September and mid-April.
National Parks: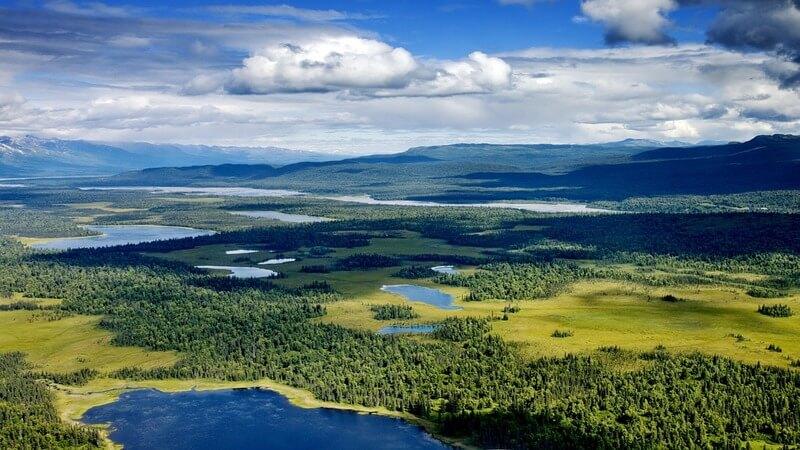 Image Source: Wikimedia Commons
Being the largest state has its perks, and boy does Alaska have one! It plays host to some of the largest and best National Parks in the whole of United States. Denali National Park is one of the biggest, with its 6 mil. acres of area playing home to a variety of flora & fauna. The Kenai Fjords National Park offers great sightseeing of glaciers and gigantic brown bears. Also not to be missed are Totem Bright State Historic Park, Wrangell-St. Elias National Park and the Klondike Gold Rush National Historical Park. And this is just the tip of the iceberg! Alaska has many more wonderful parks and experiences to offer to the hungry traveler.
Fjords: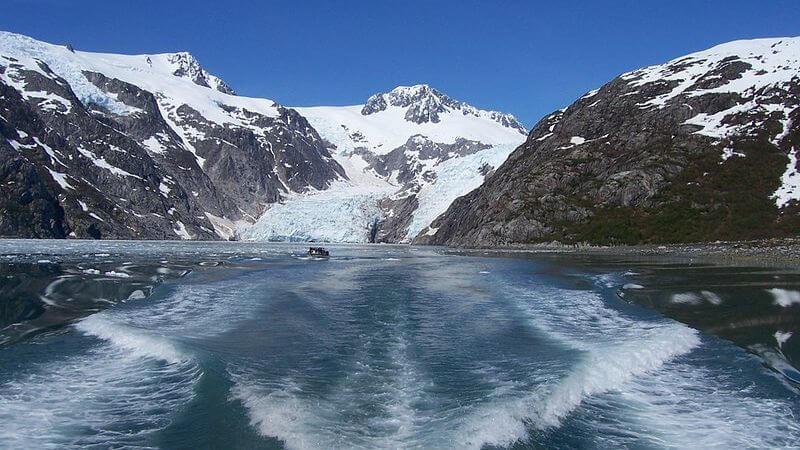 Image Source: Wikimedia Commons
A Fjord is a quite lengthy, steep sided, usually narrow inlet bordered on the sides by cliffs and then filled by seawater. It is a geological formation caused when a glacier segments a U-shaped valley due to erosion and ice-segregation of the surrounding substratum. The Tracy Arm Fjord located to the south of the capital city, Juneau is good for ship and boat tours. The tour offers beautiful glimpses of tiny icebergs, formed by water falling down the icy sides of the path and magnificent glaciers. You can also catch the occasional sight of a couple of bears or a whale frolicking around. Other fjord attractions are the Glacier Bay National Park, Kenjai Fjords National Park and Prince William Sound.
Dog Sled Racing: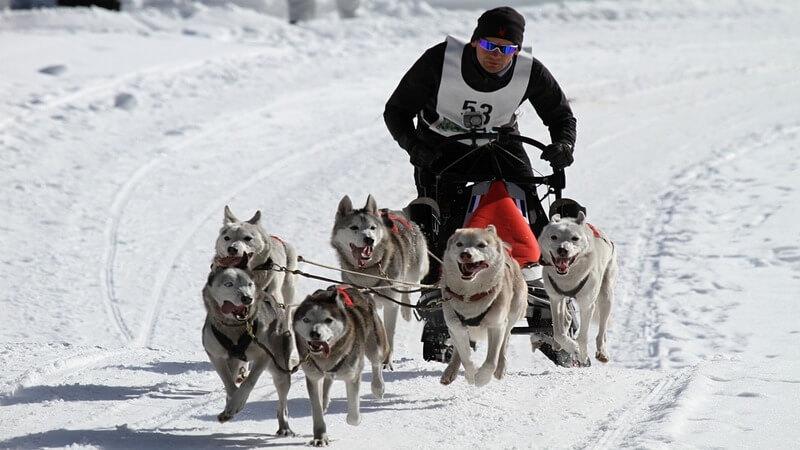 Image Source: Pixabay.com
Home of the Alaskan Malamute, the biggest and most powerful sled dog, Alaska has a very old association with the Huskies. Since historical times, huskies have been used to pull sleds for travelling and transportation purposes. Now sled races are an integral part of Alaskan heritage, with the Iditarod Trail Sled Dog Race being one of the biggest and annually held event. 16 teams cover distances of more than a thousand miles over 9-15 days while the whole world watches with bated breath. Flag-off is on the first Saturday of March and is a must watch for all visitors.
Alaska Highway: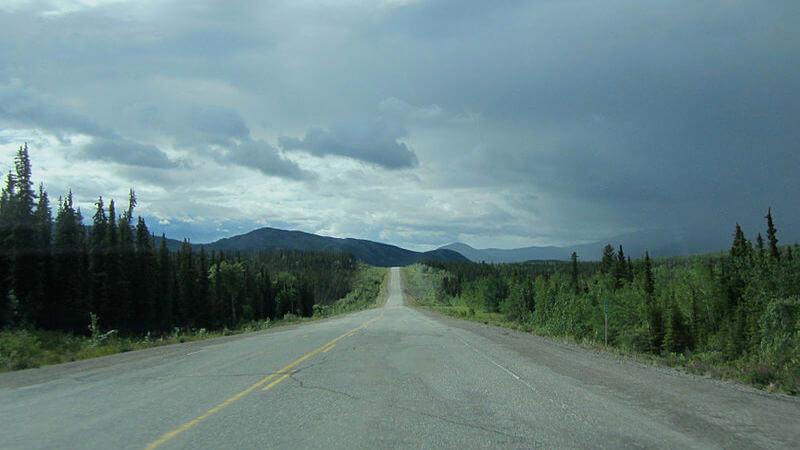 Image Source: Wikimedia Commons
''Here's to Alaska, here's to the people'' the John Denver song, Alaska & me, does help in capturing the beauty and essence of this beautiful state. But listening and humming along to a song just can't be compared to the overwhelming emotions one feels whilst talking a drive through the majestic countryside of The Last Frontier. Connecting the rest of the US to Alaska, the highway passes through Canada and is 1,387 miles long. It is a favourite haunt for Recreational Vehicle owners who can never get enough of the wonderful scenery this track has to offer.
Planning a Trip to Alaska? Book your Accomodation using TripHobo's Hotel Booking Feature.
Alaska Railroad: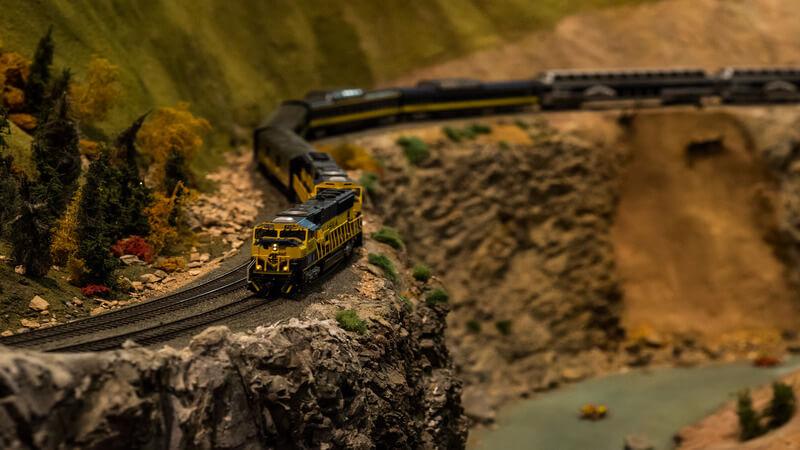 Image Source: Andrew E. Russell/flickr.com
The Alaskan Railroad which stretches from Seward to Fairbanks over a distance of 470 miles is a major tourist attraction in the summer time. The route gives a scenic tour of the Alaskan wilderness, some of it which is only accessible by train, while having all the comforts of travelling in a train. The packages offered vary from a single day tour to a whole and complete vacation.
Inuit: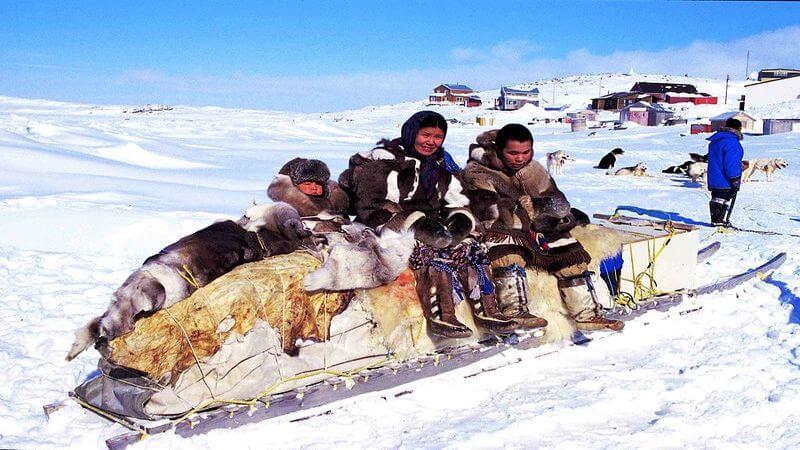 Image Source: Wikimedia Commons
Eskimos, igloos and snow are synonymous with Alaska. Eskimos or 'Inuit' as the people like to be called are indigenous people who have inhabited the Arctic region of Alaska and Canada since ancient times. There are various tours and programs and events like the World Eskimo Indian Olympics which help tourists and visitors in getting an insight into the local way of life and explaining that Eskimos have more to their culture than just Igloos and Eskimo kissing.
Midnight Sun: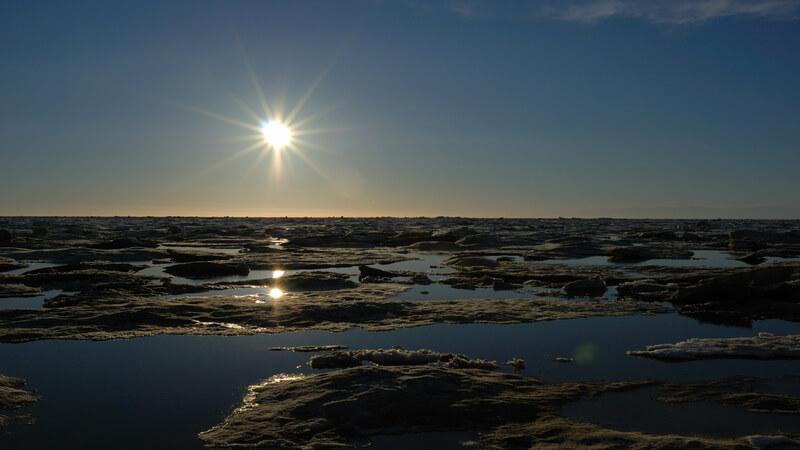 Image Source: Andrei Taranchenko/flickr.com
'The above given picture shows a time lapse capture of the various positions of the sun throughout the night'
Some areas in Alaska, especially the northern areas face a peculiar phenomenon where they don't see the sun in the winters for a period of 50-70 days and then in the summers have constant daylight for up to 80 days. The best place to experience this peculiarity is a town called Barrow, which is the northernmost city in the USA ,which incidentally was also featured in the Josh Hartnett starring horror flick '30 Days of Night'. Any takers for a visit, folks?
Fishing Excursions:
Image Source: Pixabay.com
Alaska has a huge coastline and produces large amounts of seafood throughout the year. It is also a haven for enthusiastic anglers and offers a wide variety of salmon ranging from sockeye, chum and Chinook salmon. Also games like halibut, trout and crab make fishing an interesting and fun activity for the visiting folks and locals.
Plan your grand Alaskan adventure using TripHobo's Smart Itinerary Planner.
Alaskan Food: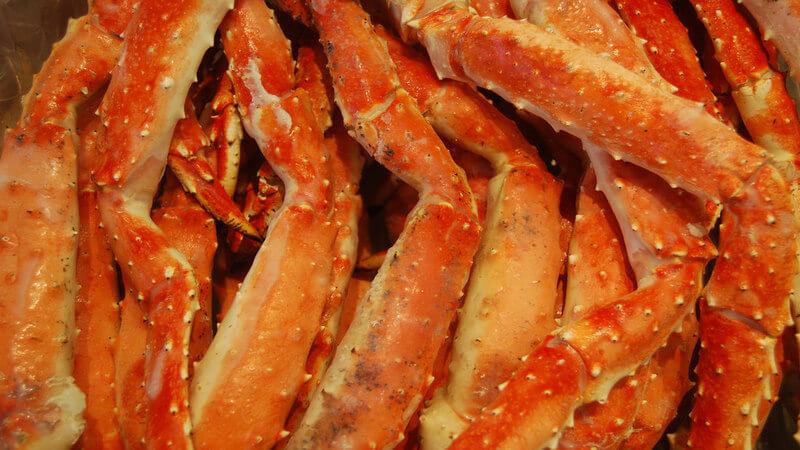 Image Source: missbossy/flickr.com
Alaska has a wide variety of dishes and cuisines for the traveler with banging hunger pangs. Salmon dishes like smoked & cured salmon, dishes prepared from a variety of wild berries and originals like the Akutaq (Eskimo Ice Cream), Alaskan King crab and Bannock are a must try while visiting. The Akutaq was traditionally prepared by natives by mixing whipped reindeer or bear fat, snow and the wild berries available. Not your everyday ice cream, is it?
Alaskan Alcohol: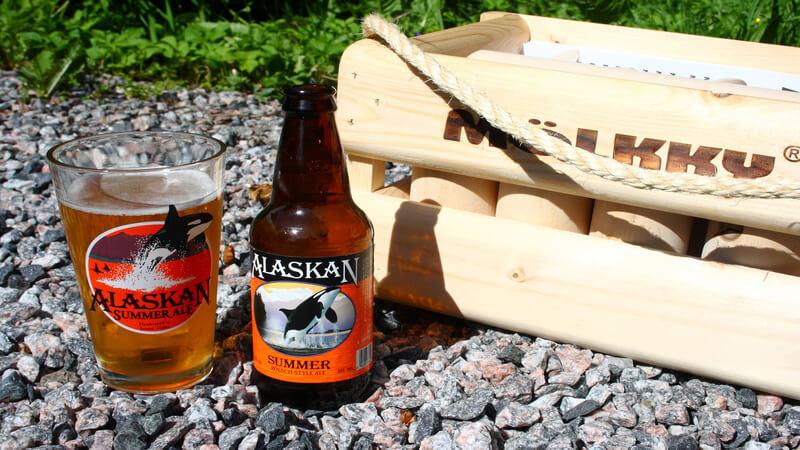 Image Source: Antti T. Nissinen/flickr.com
Being one of the coldest places on planet Earth, alcohol becomes a necessity rather than a luxury. But with Alaska, a good brewski leads to a great day. Local breweries are spread out over the state, with a variety of flavors to offer to the beer enthusiast. Alaskan Brewing Co. and Midnight Sun Brewing Co. are some of the famous brewing houses with large following. They even have beer festivals to celebrate their love for the drink! Time to kiss your regulars goodbye.
Great food, mind boggling experiences, amazing booze and breathtaking views. Witness a whale surfacing to catch a breath or take a road trip through the Yukon and the charming Alaskan countryside or just sit back grab a beer and watch the magic of the Aurora unfold over three months of prolonged darkness. The choice is yours but the possibilities are limitless. Do plan a visit to the Last and Final Frontier and make your vacation a legendary one.
You Might Also Like to Read About: