12 Magical Winter Terrace Bars in London
* Disclosure: This post may contain affiliate links, which means we may receive a commission if you click a link and book something (there is never any extra cost to you for using these links).
Brrr..London's winters can be unforgiving and gray. With the blink and gone daylight and biting autumn breeze, winters can get dull and vapid for many. But if you love the outdoors and want to experience London's best winter evening havens, we've got you covered.
From fairy lights to bougainvillea veils, winter terrace bars in London are little wonderlands that add charm and warmth to this season. Here are our recommended picks for the best terraces to enjoy a drink in winter:
1. Clos Maggiore, Covent Garden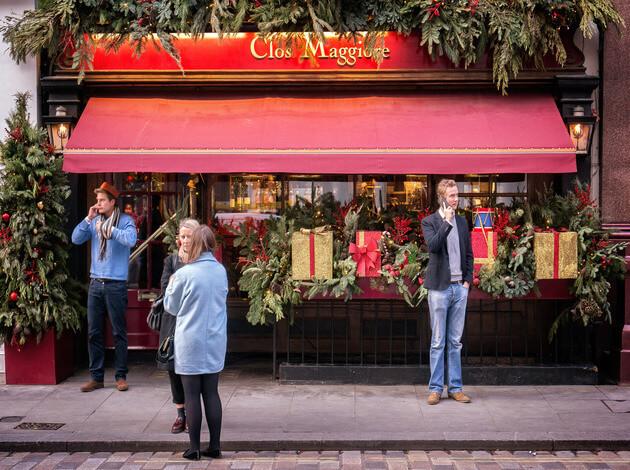 PC: Flickr.com/Garry Knight
Where: 33 King Street, Covent Garden, London, London WC2E 8JD
Why You'll Love It: You'll fall in love with this cozy terrace that is resplendent with winter glory. So what if the white blossoms are fake, you'd still feel warm in the cockles with the fairy lights and the fireplace that encourage you to linger. This unabashedly romantic place serves up delightful food to go with the ambiance. Think French-leaning European dishes made in a hearty fashion with an impressive wine list to match.
2. Ski Terrace, Courthouse Hotel Soho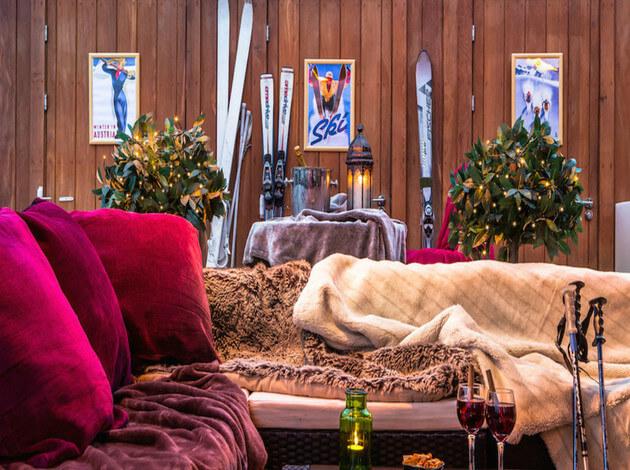 PC: Quintessentially
Where: 19-21 Great Marlborough Street, London W1F 7HL
Why You'll Love It: As the weather outside gives you shivers, this place will fill you with warmth and hope. Adorned with plush fleece chairs, feathery cushions and inviting blankets, there's nothing more you'd like to do here apart from snuggling up and ordering a warm mulled wine. The menu too is designed to keep you warm and cozy with dishes like toffee pudding and wine cooked chorizo. Inspired by the ski chalets of the 1950s, this place seems strangely familiar yet oddly new.
Must try the best street food in London
3. Babylon Restaurant, Kensington Roof Gardens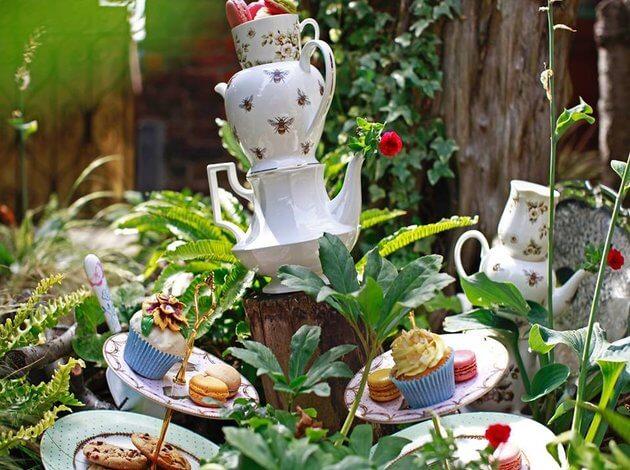 Where: 99 Kensington High Street, London W8 5SA
Why You'll Love It: The Roof Gardens at Kensington are definitely one of London's wondrous follies. Spanning 1.5 acres and gleefully set a hundred feet above the ground, this parkland is a flourishing paradise replete with flamingos, ducks and magnificent landscaping. Overlooking this gorgeous park is Richard Branson's Babylon restaurant that offers some of the best views in London. With an ambiance that'll light up even a weary winter soul, this place makes for a cheerful evening out. A brilliantly executed menu and flawless service, there's not much more you can ask for in this splendid setting.
Make Your London Trip a journey to remember with London itinerary 10 Days
4. The Sky Garden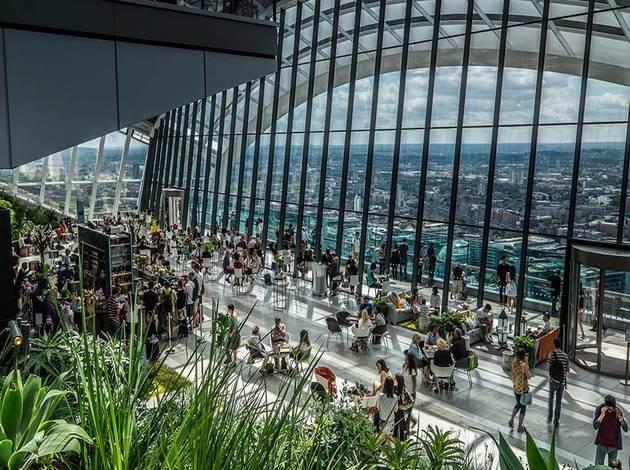 PC: Skygarden.london
Where: 1 Sky Garden Walk, London EC3M 8AF
Why You'll Love It: It's not every day that you can boast about dining in a beautifully landscaped garden on the 37th floor. Guests arrive at the chic seafood grill and bar by an express lift and are awed by the masterful detailing of the garden and the jaw-dropping views that surround you. The industrial looking glass ceiling overlooks some of the most enticing views of the city and Thames. You have three dining options to choose from (if you don't want to ogle for free) The Darwin Brasserie, The Skypod Bar and ultimately the Fenchurch Seafood Bar & Grill. Wherever you choose to be seated, chances are this will be a memorable moment nonetheless at this most awesome terrace bar in London.
Explore the best places to eat and drink in London
5. Madison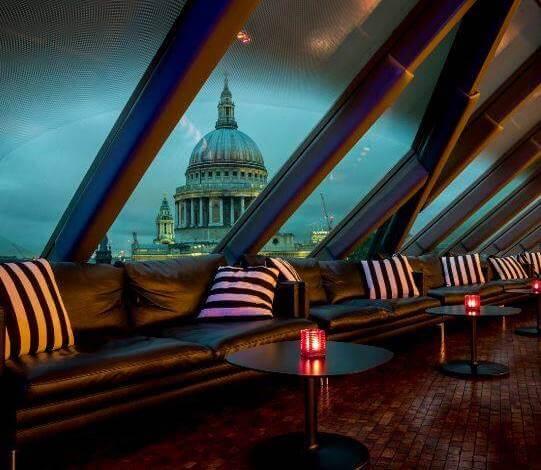 PC: Facebook.com/OneNewChange
Where: 1 New Change, City Of London, London, London EC4M 9AF
Why You'll Love It: With a view that overlooks St Paul's Cathedral and décor that's clean and clutter free, you know you are at one of London's most exciting terrace gardens. The restaurant serves delectable specialties like Foie Gras parfait and confit fillet of salmon and a cracking cocktail menu to match. An elegant vibe and warm service make this one a no-brainer for a weekend evening. The outdoor heaters make sure that you remain warm and comfortable in a breezy winter evening too.
6. Golden Bee, Shoreditch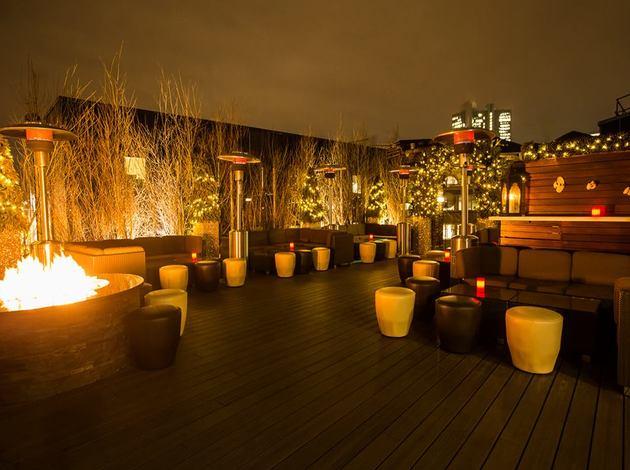 PC: Facebook.com/goldenbeeshoreditch
Where: 262-264 Old Street, London EC1V 9DD
Why You'll Love It: Whether you like to shimmy on popular music or prefer to cozy up under the blanket watching classics, Golden Bee is the place to be. Located in the trendy village of Shoreditch, this terrace bar boasts of great views and good vibes. With a pleasing cocktail list and warm service, you'll forget all about the bitter weather while you're here. Although this place doesn't serve food, we promise you that the lively atmosphere more than anything makes up for it.
Explore some fabulous weekend getaways from London
7. Forest on The Roof, Selfridges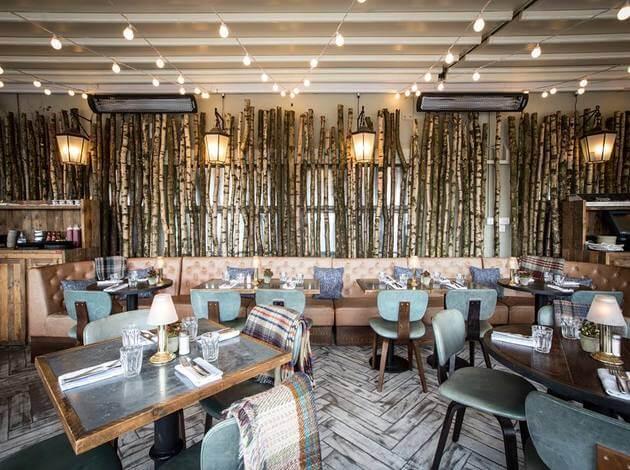 PC: Facebook.com/ForestOnTheRoof
Where: 400, Oxford Street, London W1A1AB
Why You'll Love It: The décor here is reminiscent of an autumnal forest. The narrow tree trunks, touches of silver and fairy lights add to the wonderland-like feel of the whole place. Find blankets on your chairs in case you're feeling chilly and many other country-inspired knick knacks in the private mini huts that make you feel like you are in a winter lodge. Enjoy some traditional egg nog and other Christmas themed drinks that complete the festive experience. The menu features foraged local produce executed in a clever way.
8. Sushisamba's Tree Bar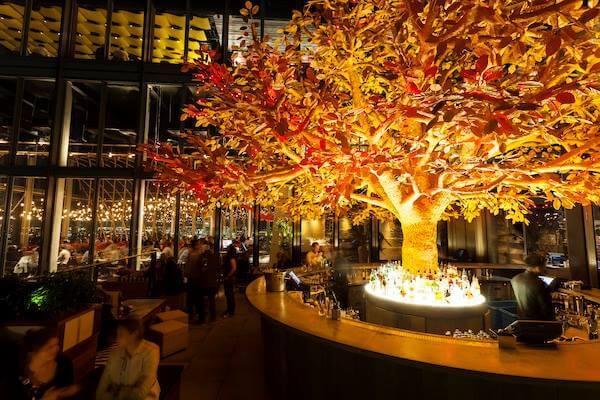 PC: Facebook.com/LivinginLondon
Where: Heron Building, London
Why You'll Love It: That Sushisamba is a good excuse to head out on a cold winter evening is taken for granted. But what you'll especially love is the whimsical tree bar on the East Terrace of the restaurant. This orange tree lights up as dusk falls and provides the perfect setting to cozy up in the blankets near the fire pit. The creative cocktail menu has plenty of tricks up its sleeve. The views are fantastic, to say the least and the atmosphere electric.
9. The Ivy Chelsea Garden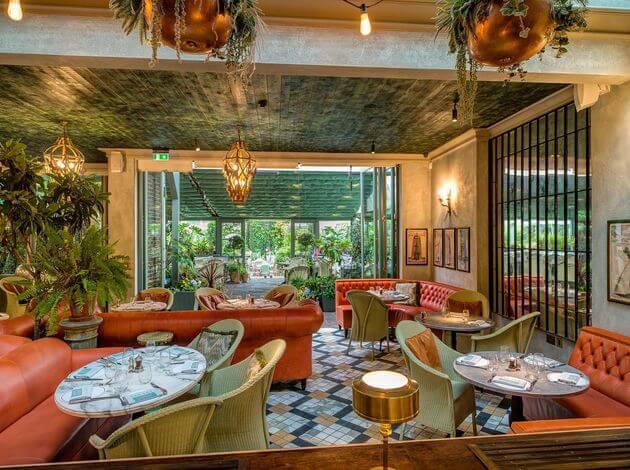 PC: Facebook.com/IvyChelseaGarden
Where: 197 King's Road, Chelsea, London, London SW3 5ED
Why You'll Love It: In the fantasy-like garden designed by Cecil Beaton, you will find the panacea for winter gloom. Set in the 18th century Tudor building, there couldn't be a prettier setting for an evening of champagne and hors d'oeuvres. The garden is a beautiful hidden gem that you want very few to know about. When you're done gasping at the gorgeous outdoor garden that features antique mirrors and tinkling water fountains, take notice of the befitting menu that has turned many a cynic into believers.
10. The Enchanted Hanging Garden, Fitzrovia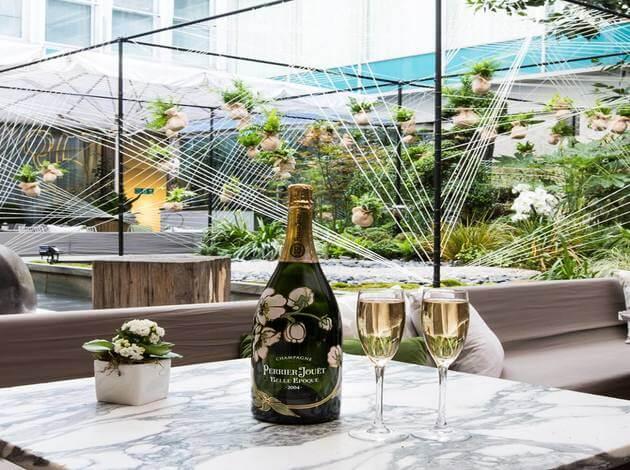 PC: Facebook.com/SandersenHotel
Where: 50 Berners Street, London, W1T 3NG
Why You'll Love It: This heritage garden forces you to look up from your phone and make real conversation. The garden is a private sanctuary where you can enjoy a few drinks or just relax your overworked brain and indulge in some delicious grub. The shrubbery adds brightness to the ambiance and refreshes the eyes and the modern décor complements the verdant surroundings. Tastefully done and incredibly peaceful, there's much to get you visiting again and again.
11. The Winter Garden at Le Pont De La Tour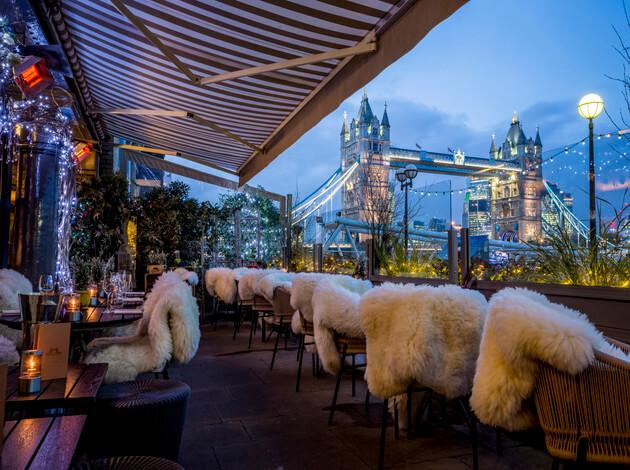 PC:lepontdelatour.co.uk
Where: 36D Shad Thames, London SE1 2YE
Why You'll Love It: A joint offering of Le Pont De La Tour and Tanqueray 10, there are few places more welcoming in the crisp frost of winter than this Winter Garden. Overlooking the Tower Bridge, the terrace has been transformed into a winter wonderland with furry blankets and a menu featuring warm cocktails. The food menu too is warm and inviting, full of hearty specialties by Chef Fredrick Forster.
12. The Terrace at Rosewood London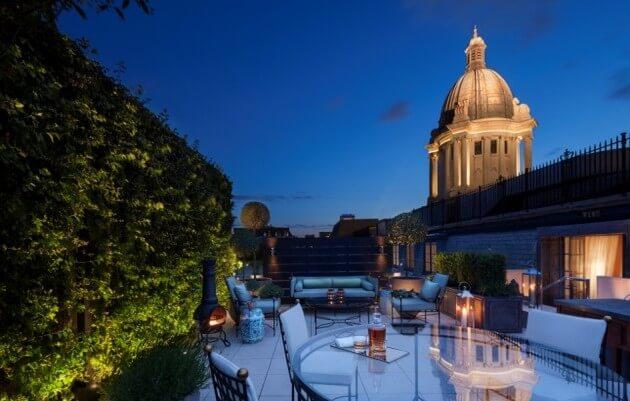 PC: luxuryhotelsgroup
Where: 252 High Holborn, London WC1V 7EN
Why You'll Love It: The Terrace has been transformed by Luciano Giubbilei to look like a beautiful English Garden. As you enjoy your hot buttered rum, you'll be nudged by its velvety taste to sip down on your chair and get comfortable in this verdant setting. A cheery way to spend a winter evening is to sample the carefully selected menu that features seasonal specialties. The hot-pots especially are a welcome dish on a chilly day.
Winters are for getting warm and cozy with your loved ones. A season that brings festive cheer to overcome the weather gloom, winters can be a magical time if you find special places like these to visit.