10 Top Cities to Visit in Japan
* Disclosure: This post may contain affiliate links, which means we may receive a commission if you click a link and book something (there is never any extra cost to you for using these links).
The Island country of Japan put up in the eastern part of the world is known for its centuries-old tradition and wonderfully exotic Japanese cuisine. While some don't consider Japan to be an ideal destination for holidaying some consider Japan to be one of the best places to visit at any time of the year. The reason is that you can learn so much from the Japanese culture and their lifestyle. What's more is that the Japanese people are one of the friendliest people on Earth treating you with dignity and kindness, making you feel comfortable. Wouldn't you want to travel now?
Planning to visit Japan, then these are the top 10 cities to visit in Japan on your first trip.
1. Tokyo - The Most Popular City of Japan

Tokyo, the capital city of Japan is the most populous city in the country with a population of over 14 million! A metropolitan city with a striking resemblance to New York, Tokyo is a blend of urban modernity and traditional flair. The streets of the city buzz with people all the time and quick interaction with one of them would reveal how friendly the people of Tokyo are. The vibe and the energy of Tokyo is something you should definitely experience on your first trip to Japan. With so many things to do in Tokyo, the city has to be the first in the best cities to visit in Japan.
Highlights: Senso-Ji, Shinjuku Gyoen, Meiji Shrine, Roppongi, Tokyo Disneyland.
2. Kyoto - City of 10,000 Shrines

Popularly known as the 'City of 10,000 shrines', Kyoto has more temples and shrines than any other city in Japan. Once the imperial capital of Japan, several thousand years ago, Kyoto is rich in heritage and culture and has stood tall against fire and war over the centuries. Dotted with quiet temples and sublime gardens, Kyoto looks mystical and offers a sense of calmness to the unsettled. Get your mind cleared and live the Zen life in Kyoto.
Highlights: Fushimi Inari-taisha, Arashiyama, Kinkaku-ji, Kiyomizu Temple.
3. Osaka - Economic Hub of Japan

Interested in Economics and want to know how exactly it works in a real-life scenario, head over to Osaka. Boasting a large number of international companies and business enthusiasts, the third largest populated city of Japan is also the economic hub, powering the country to the riches. Another interesting fact is that Osakan culture has significant importance for their food and as a result, the city is a delicious treat to the food lovers.
Highlights: Osaka Aquarium, Universal Studios Japan, Dotonbori, Osaka Castle.
Here's a list of best castles in Japan to plan a trip.
4. Hiroshima - Resilient City of Japan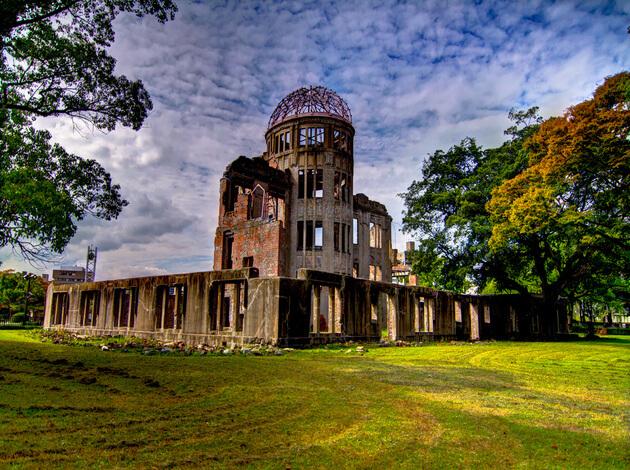 PC: Freedom II Andres/flickr.com
Hiroshima is one of the must-visit cities on your first trip to Japan. Recognized worldwide for the infamous atomic bombing that happened in the August of 1945, the historic city of Hiroshima is now a global peace center. Explore the remains of the once-thriving city of Hiroshima and marvel at how resilient the people of Hiroshima are, in rebuilding the city and their souls, stronger than ever.
Highlights: Hiroshima Peace Memorial Park, Itsukushima, Hiroshima Peace Memorial Museum, Shukkei-en.
5. Yokohama - Port City of Japan

Situated in the southwest of Tokyo Bay, Yokohama is easily accessible from Tokyo and is just a train ride away. Thanks to the growth of Japan's foreign trade and shipping, the fishing village of Yokohama has flourished tremendously to become the port and one of the famous cities to visit in Japan. Packed with plenty of amazing shopping centers, go on a shopping spree in the second-largest populated city of Japan and please don't get lost!
Highlights: Sankei-en, Yokohama Red Brick Warehouse, Yokohama Hakkeijima Sea Paradise, Shin-Yokohama Raumen Museum.
6. Nara - Japanese City of World Heritage Sites

Nara was Japan's first permanent capital and the birthplace of the fundamentals of Japanese tradition. Home to nearly 8 UNESCO world heritage sites, Nara is decorated with powerful monasteries and shrines, which are located closer to each other making it easier to visit them all in a single stretch. Visit Nara to have a closer look at the Japanese tradition and I am sure you will find intriguing things to take back.
Highlights: Todai-Ji, Kasuga-Taisha, Nara Park, Isuien Garden.
Book Hotels Now in Nara
7. Aomori - Snowiest City of Japan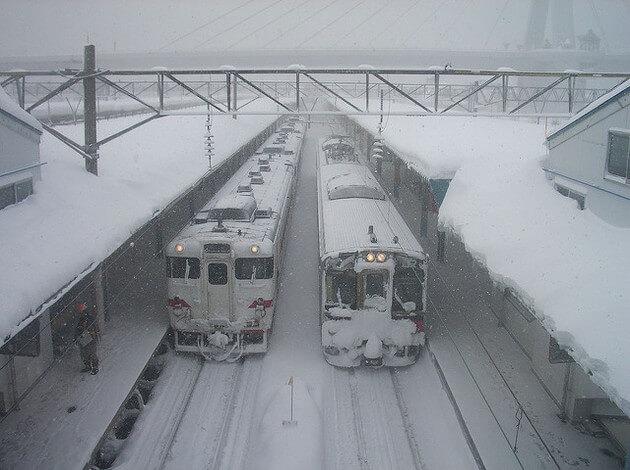 PC: Tsuda/flickr.com
Ready for some snow action, then read on. Receiving an annual snowfall of nearly 312 inches, Aomori is one of the snowiest places in the world. Yes, you read that right. Japan has snow and it looks amazingly splendid. If you are traveling to Japan on your honeymoon, then this is the place you should visit. With Aomori, you get to experience the Japanese tradition along with the backdrop similar to that of the Alpines. How is that for a deal! Also, when you are here dance gleefully in the summer festival of Aomori Nebuta. If you are planning a trip in summer, don't forget that Aomori is THE most beautiful cities to visit in Japan in summer.
Highlights: Hakkoda Mountains, Hakkoda Ropeway, Sukayu Onsen, Asamushi Aquarium.
8. Kamakura - Must Visit Zen City of Japan

PC: Wikimedia Commons
Escape from the hustle and the buzz of the metropolitan cities of Japan and find refuge in the peaceful, quiet city of Kamakura. Brimming with an equally enormous amount of temples as of Kyoto, Kamakura has nicknamed the 'Kyoto of the east'. Explore the historical attractions in the coastal city of Kamakura, have a bite at the beach shacks and relax on the beach shore and watch the sunset over the bay. Surely among the most interesting places to visit in Japan.
Highlights: Kotokuin Temple, Hase-Dera, Meigetsu-in, Tsurugaoka Hachimangu.
9. Okinawa - Island City of Japan

If you want to have a perfect island escapade on your trip to Japan then Okinawa is the best city to try that out. The name Okinawa translates to "rope in the open sea" and it perfectly describes the city of Okinawa which consists of a group of islands in the southernmost part of Japan. Bestowed with a sub-tropical climate and a gorgeous landscape, Okinawa looks visually pleasing and topped with activities like snorkeling, scuba diving, and diving, the city will keep you entertained and occupied throughout your stay.
Highlights: Shuri Castle, Okinawa Churaumi Aquarium, Yaeyama Islands, Ishigaki Island.
10. Kanazawa - A picture-perfect city to visit in Japan

Kanazawa is a hidden gem of Japan that is an amalgamation of art and rich culture. Built around a high castle, the city looks totally beautiful and is highlighted by a picturesque garden. Taking a stroll across Kanazawa, you will find some of the best samurai and charming geisha districts in the country that will fascinate you for the right reasons. Be ready with your cameras while visiting Kanazawa, you will definitely need it.
Highlights: Kenroku-en, Kanazawa Castle, Ishikawa Prefectural Museum of Art, Mount Utsasu.
More Useful stuff for Your trip to Japan
Places to Visit in Japan During the Summer
25 Japan Experiences to Add to your Bucket List
How to Purchase a Japan Rail Pass Ticket
10 Tips For Traveling To Japan From A First-Timer
20 Best Countries to Live in the World
Best Islands to Live on for Families
8 Smallest Countries in The World
Frequently Asked Questions About Japan
Q. Which are the famous cities in Japan?

A. "Tokyo" is the capital and one of the most well-known cities in Japan. You must visit Tokyo if you get thrilled by big cities. "Yokohama" is a city by the sea. Enjoy iconic Ferris wheel, museums, and shopping at this port. 3rd famous city is "Nagoya" city with beautiful castles, temples, and world-class museums for you to explore. "Kyoto" is famous for traditional culture in Japan. Visit shrines, temples, and beautiful museums in Kyoto. Enjoy the city "Nara" which is a perfect mix of nature and culture. Nara Park, National Museum, Historic Monuments all is there for you to experience.

Q. Which are the most beautiful towns in Japan?

A. Hida-Takayama, Karuizawa, Nara, Kanazawa, Hakone, Kamakura are some of the beautiful towns in Japan (not in the order)

Q. Which is the cheapest month to fly to Japan?

A. Generally, the cheapest month to fly to Japan is mid-January through March & April. Though the weather is cold, it is usually sunny and dry.

Q. What is the closest city to Mount Fuji?

A. Fujinomiya city is the closest city to Mount Fuji. The city is between Tokyo and Kyoto. It is known as the gateway of Mount Fuji. The city has a lot of off-the-beaten activities to enjoy.

Q. What should I not miss in Japan?

A. You should not miss the experience of crossing the Shibuya Crossing, seeing Mount Fuji, enjoying the cherry blossoms, shopping from vending machines, walking around temples and shrines in Kyoto.