10 Best Cities to Visit In Japan
UPDATED Dec 28, 2018
328.3K Views
Here are the Best cities to visit in Japan at a glance. These are definitely 10 unmissable places to visit in Japan on a trip.
Tokyo
Kyoto
Osaka
Hiroshima
Yokohama
Nara
Aomori
Kamakura
Okinawa
Kanazawa
1. Tokyo - The Most Popular City of Japan

A metropolitan city with a striking resemblance to New York, Tokyo is a blend of urban modernity and traditional flair.
The vibe and the energy of Tokyo is something you should definitely experience on your first trip to Japan.
The streets of the city buzz with people all the time and a quick interaction with one of them would reveal how friendly the people of Tokyo are.
Highlights: Senso-Ji, Shinjuku Gyoen, Meiji Shrine, Roppongi, Tokyo Disneyland.
2. Kyoto - City of 10,000 Shrines

Popularly known as the 'City of 10,000 shrines', Kyoto has more temples and shrines than any other city in Japan.
Once the imperial capital of Japan, a several thousand years ago, Kyoto is rich in heritage and culture and has stood tall against fire and war over the centuries.
Get your mind cleared and live the Zen life in Kyoto.
Highlights: Fushimi Inari-taisha, Arashiyama, Kinkaku-ji, Kiyomizu Temple.
3. Osaka - Economic Hub of Japan

Boasting of a large number of international companies and business enthusiasts, the third largest populated city of Japan is also the economic hub, powering the country to the riches.
Another interesting fact is that Osakan culture has a significant importance for their food and as a result, the city is a delicious treat to the food lovers.
Highlights: Osaka Aquarium, Universal Studios Japan, Dotonbori, Osaka Castle.
Here's a list of best castles in Japan to plan a trip.
4. Hiroshima - Resilient City of Japan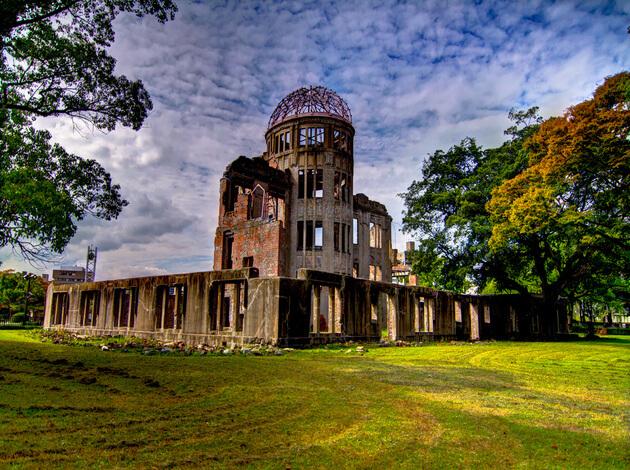 PC: Freedom II Andres/flickr.com
Hiroshima is one of the must-see cities in Japan.
Recognized worldwide for the infamous atomic bombing that happened in the August of 1945, the historic city of Hiroshima is now a global peace center.
Explore the remains of the once thriving city of Hiroshima and marvel at how resilient the people of Hiroshima are, in rebuilding the city and their souls, stronger than ever.
Highlights: Hiroshima Peace Memorial Park, Itsukushima, Hiroshima Peace Memorial Museum, Shukkei-en.
5. Yokohama - Port City of Japan

Situated in the southwest of Tokyo bay, Yokohama is easily accessible from Tokyo and is just a train ride away.
Thanks to the growth of Japan's foreign trade and shipping, the fishing village of Yokohama has flourished tremendously to becoming the port and one of the famous cities to visit in Japan.
Packed with plenty of amazing shopping centers, go on a shopping spree in the second largest populated city of Japan and please don't get lost!
Highlights: Sankei-en, Yokohama Red Brick Warehouse, Yokohama Hakkeijima Sea Paradise, Shin-Yokohama Raumen Museum.
6. Nara - Japanese City of World Heritage Sites

Nara was Japan's first permanent capital and the birthplace of the fundamentals of Japanese tradition.
Home to nearly 8 UNESCO world heritage sites, Nara is decorated with powerful monasteries and shrines, which are located closer to each other making it easier to visit them all in a single stretch.
If you intend to have a closer look at the Japanese tradition then Nara is the best city to visit in Japan and I am sure you will find intriguing things to take back from here.
Highlights: Todai-Ji, Kasuga-Taisha, Nara Park, Isuien Garden.
Book Hotels Now in Nara
7. Aomori - Snoweist City of Japan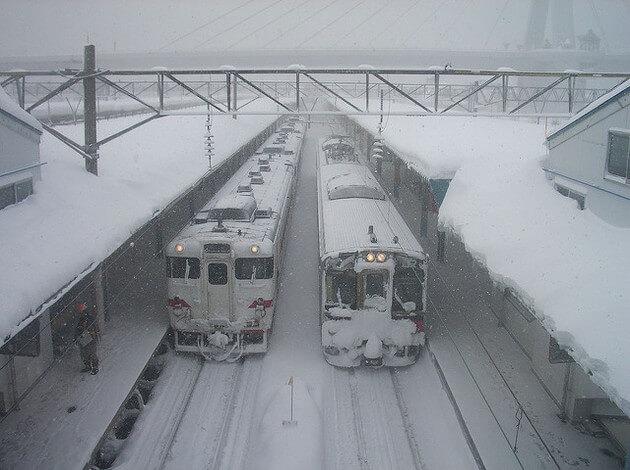 PC: Tsuda/flickr.com
Receiving an annual snowfall of nearly 312 inches, Aomori is the one of snowiest places in the world.
Yes, you read that right. Japan has snow and it looks amazingly splendid. If you are traveling to Japan on your honeymoon, then this is the place you should visit.
With Aomori, you get to experience the Japanese tradition along with the backdrop similar to that of the Alpines.
Highlights: Hakkoda Mountains, Hakkoda Ropeway, Sukayu Onsen, Asamushi Aquarium.
8. Kamakura - Must Visit Zen City of Japan

Brimming with an equally enormous amount of temples as of Kyoto, Kamakura is nicknamed the 'Kyoto of the east'.
Explore the historical attractions in the coastal city of Kamakura, have a bite at the beach shacks and relax on the beach shore and watch the sunset over the bay.
Highlights: Kotokuin Temple, Hase-Dera, Meigetsu-in, Tsurugaoka Hachimangu.
9. Okinawa - Island City of Japan

If you want to have a perfect island escapade on your trip to Japan then Okinawa is the best city to try that out.
The name Okinawa, translates to "rope in the open sea" and it perfectly describes the city of Okinawa which consists of a group of islands in the southern most part of Japan.
Bestowed with a sub-tropical climate and a gorgeous landscape, Okinawa looks visually pleasing and topped with activities like snorkeling, scuba diving, and diving, the city will keep you entertained and occupied throughout your stay.
Highlights: Shuri Castle, Okinawa Churaumi Aquarium, Yaeyama Islands, Ishigaki Island.
10. Kanazawa - A picture perfect city to visit in Japan

Kanazawa is a hidden gem of Japan that is an amalgamation of art and rich culture.
Built around a high castle, the city looks totally beautiful and is highlighted by a picturesque garden.
Taking a stroll across Kanazawa, you will find some of the best samurai and charming geisha districts in the country that will fascinate you for the right reasons.
Highlights: Kenroku-en, Kanazawa Castle, Ishikawa Prefectural Museum of Art, Mount Utsasu.
You may like to read: