Top 12 Dubai Tours For Your Next Vacation in 2019
* Disclosure: This post may contain affiliate links, which means we may receive a commission if you click a link and book something (there is never any extra cost to you for using these links).
Being a synonym of luxury, Dubai - the land of Sheikhs, gives you the opportunity to behold rich experiences of all kinds! Over the years the city has attracted visitors from around the world to bask in the glory of this desert, standing tall today as a manmade marvel with bewildering infrastructure. This also highlights the openness and maturity of the city and its culture, to accept one and all.
1. At The Top Of The World on Burj Khalifa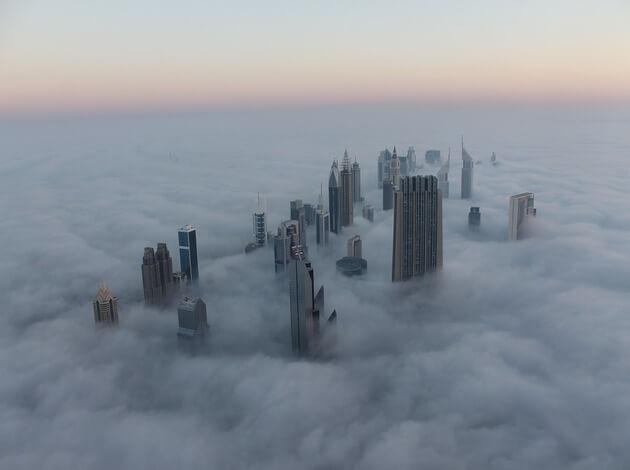 Image source: pixabay.com
Having no peer, Burj Khalifa is a living wonder! You cannot possibly come to Dubai and miss out on this stunning work of art that makes it the world's tallest building. Gasping at the city views from the observation deck on the 124th floor will simply leave you awestruck. This trip covers not just Burj Khalifa, but another Dubai's marvel Burj Al Arab, too. Afternoon tea at this striking sail-shaped building is utter luxury in its own right! Also taking you to the Dubai mall, for a little indulgence in some of the world's most exquisite brands and the sheer pleasure of the Dubai Dancing Fountain.
2. Miracle Garden And Global Village Dubai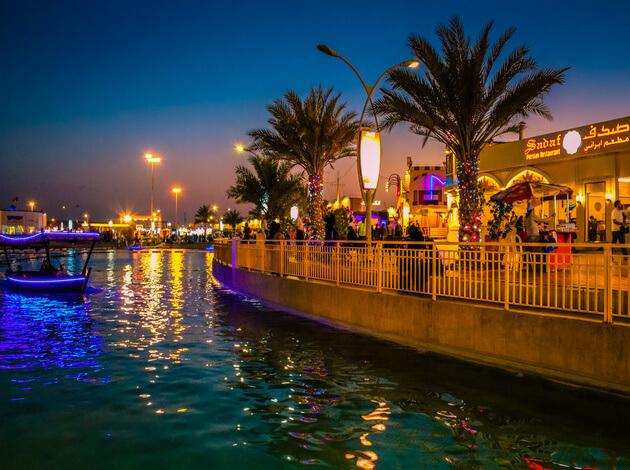 Image source: flickr.com/Black Zero
Claimed to be the world's largest tourism, leisure and entertainment project, the Global Village Dubai is the region's first cultural, entertainment, family and shopping destination, attracting millions of visitors every year. This is your chance to get your hands on some of the world's most authentic buys like - African black soap, Chea Butter, Argan Oil, Indian spices and other oriental home decoration products. The Miracle garden, the world's largest flower garden will have you mesmerized, with over 45 million blooming flowers in brilliant designs, astounding shapes, and structures! A perfect way to ditch the hustle and bustle of the city! What's more? A pickup and drop off facility from your hotel is available. Book tour online for maximum benefits.
3. Yellow Boat Ride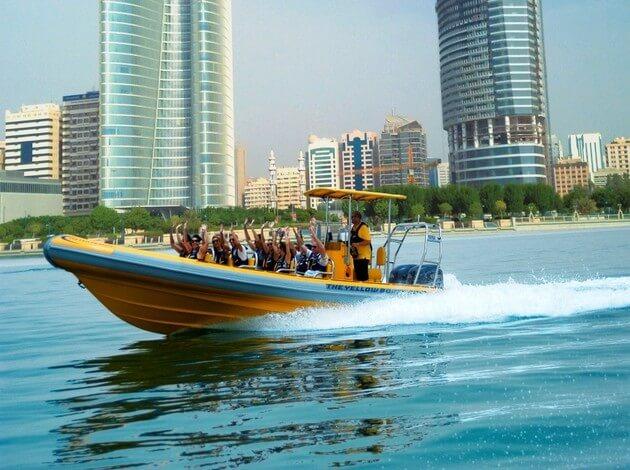 Image source: triphobo.com
A fun, thrilling boat ride encompassing the bay area of Dubai Marina, Palm, and the Burj Al Arab area, this is one super exciting tour. Enjoy this boat ride with your loved ones as you cut past gushing waters, revering the Dubai skyline. What could be a better way to sightsee around Palm Jumeirah, Burj Al Arab and Marina, you ask? We say Get, Set, Go!
4. Ski Dubai Ticket- Emirates Mall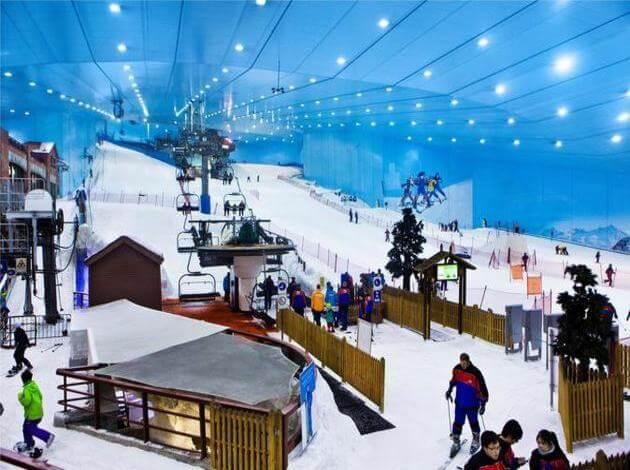 Image source: triphobo.com
Skiing in the middle of a desert?! That's Dubai for you! With 3000 SQ. km of widespread snow, this resort is a one-of-its-kind experience. Located in another luxurious mall, the Mall of Emirates, you are ought to feel like you are in the Alps, with the endless snow-play here. Skiing, snowboarding, tobogganing hills, a bobsled ride, snowfalls, you name it. Follow this with a devouring hot chocolate session and you are sorted!
5. Sunset Dune Buggy Adventure With Barbecue Dinner - Exclusive Buggy For Each Person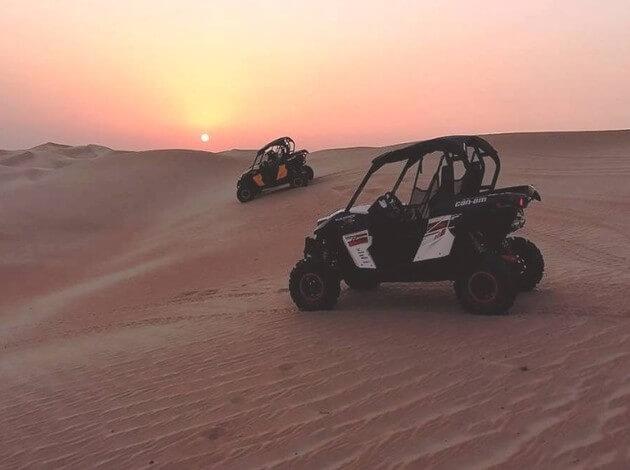 Image source: triphobo.com
Seeking some adrenaline rush? The Sunset Dune Buggy Adventure will satiate that, just right! Sunset Dune Buggy Adventure will also let you explore the beautiful outskirts of this beautiful city. Surf through the golden sand dunes, with the sun setting in the backdrop, on this 90-minute long expedition, going vroom-vroom! There will be a lead Marshall guiding you through this, roller-coaster ride. And you will also have some photo stops, of course! The tour is concluded with a scrumptious evening barbecue dinner.
6. Abu Dhabi City Sightseeing Tour From Dubai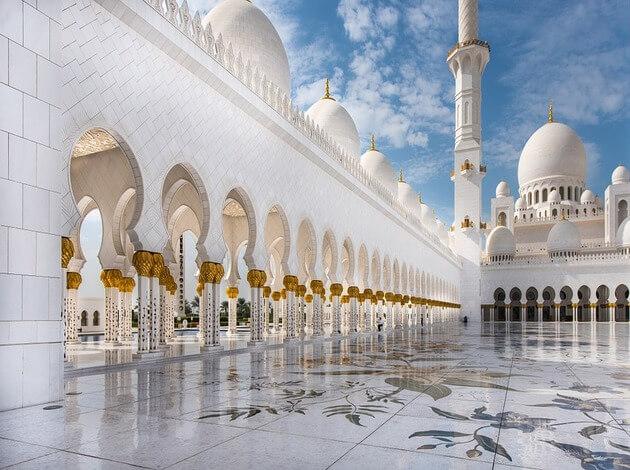 Image source: pixabay.com
Believed to be the next big thing, Abu Dhabi is rightly UAE's capital, given its rich culture and heritage. Feel the Arabian pulse as you explore the city's museums, exhibitions, and tours. Giving you the opportunity to experience the heritage in a manner that is un-mothballed and certainly not boxed, as you stroll around the dhow harbor, haggling in markets or absorbing the atmosphere at the many sheesha cafes. Evolving skylines, sandy shores, and iconic buildings sum-up amidst great Emirati heritage and culture, sum-up Abu Dhabi. Book tour online, to see the best of Abu Dhabi.
7. Flying Carpet Dubai - Safari With Romantic Dinner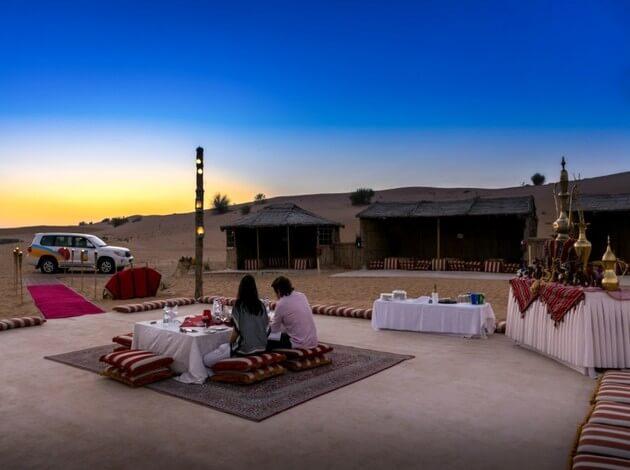 Image source: triphobo.com
An experience the Arabian nights, this tour takes you through a beautiful ride across the Arabian desert. Rekindle your romance, much like Jasmine and Aladdin of course, as you enjoy the exotic camel ride and the safaris that take you through golden fleece on the land. Concluding with a savoring Arabic barbecue will amplify this romantic evening. The quintessential Arabian nights' setup Sand dunes, flambeaus, carpets, crimson sunsets, and lip-smacking Arabic fair, we've got you!
8. Wild Wadi (Full Day) Dubai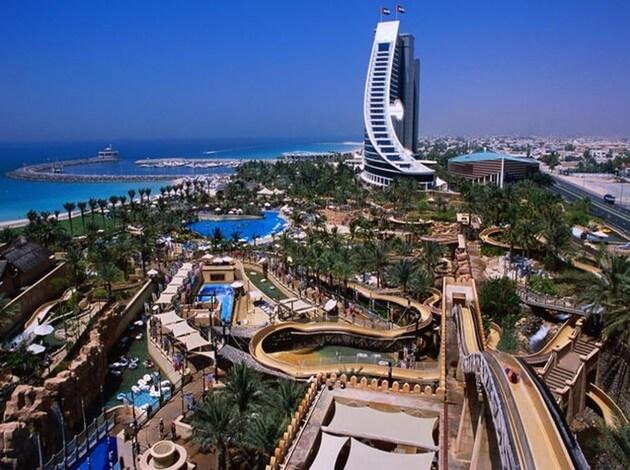 Image source: triphobo.com
Put on your sun tanners all over- brightest shades- swimsuits and get overly hydrated, while you beat the Dubai heat here! Wild Wadi resort is the quintessential must-visit for your gang-a-tang! Beat the heat, as you take that high rocketing splash into some super fun water rides at this 12-acre waterpark. More than 150 water activities make Wild Wadi Resort an enthralling "all day spent well" place. Conclude this adventure, lazying on their man-made beach with spectacular views. Adventure games on point - Let's see who slips & splashes better!
9. Helicopter Ride For 30 Minutes Dubai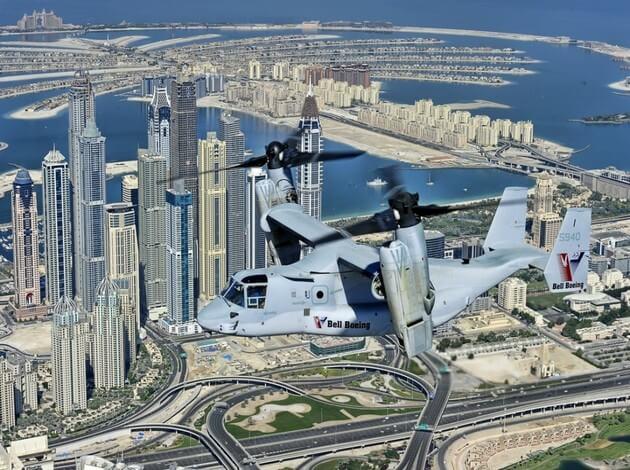 Image source: triphobo.com
A pan-aerial view of this city, that is an architectural gem, is perhaps one of the best experiences one could have! This helicopter ride involves taking off from The Palm Jumeirah, to get a birds-eye-view of the manmade wonders the city is made up of. Taking luxury to another level, literally, everything about this tour is luxurious. From boarding at the 5 Star Helipad & Lounge on the Palm Jumeirah to flying across the stunning skyline of Dubai. Book tour online and hop on your ride, straight away.
10. Ferrari World (Gold Package) - Abu Dhabi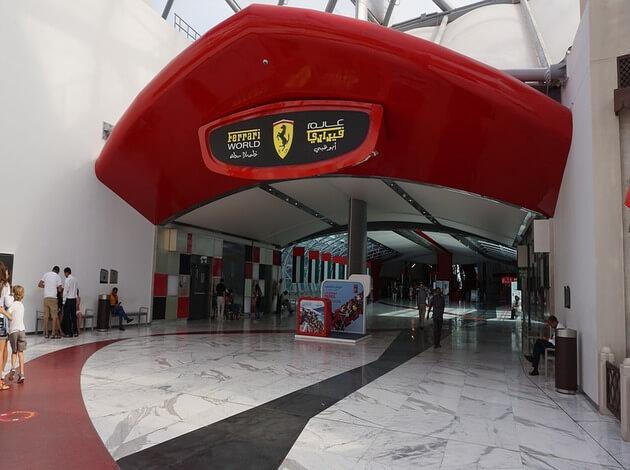 Image source: pixabay.com
Shift from everything blue and yellow- to everything red & black.! Ferrari speaks for thrill, and so does the Ferrari world - the world's largest indoor amusement park! It's not only for those who are seeking thrilling rides but also for the enlightened, the curious ones on passion, excellence, performance and technical innovation! Moreover, you can get yourself buckled up to the world's fastest roller coaster ride, if not the world's fastest car and your kids can be put up for a driving training session!
11. Dhow Cruise Dinner Dubai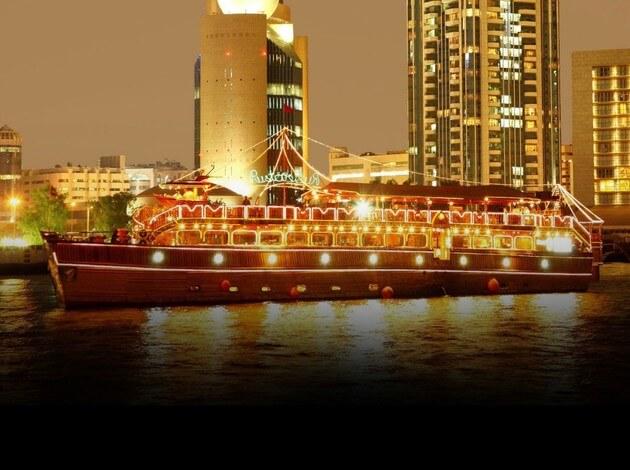 Image source: triphobo.com
Want to just sit, watch and experience the Arabic vibes in one go? Choosing this tour will serve you that rightly. Sit back and watch the old Dubai lit up and hustle, while you splurge on being served the most authentic Arabic buffet and mild drinks. The breezy dining experience, entertaining performances, the gold and white skyline, is one experience of its own! It will make you question if you live in the present! Book tour online and make the most of this beautiful evening.
12. Afternoon Desert Safari - Dubai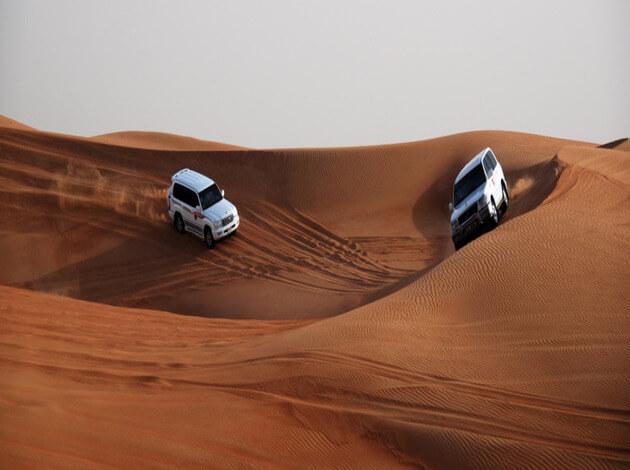 Image source: flickr.com/Robert Young
When one imagines how a royally active day can be spent on a desert, visuals of A-TV rides, sand boarding, cruising along the sand dunes, riding on a camel back like a nomad, barbecued food, relishing dates and authentic coffee with splendid cultural performances flash in the mind! In Dubai, this is for real and you should totally behold this opportunity. Stop imagining and get driving! This tour is all things Dubai, 4WD vehicles, shisha, and henna. Book tour online, lay back and enjoy!
Dubai, cannot stop ceasing the best but these tours sure can! Book yours, now.
[Explore other exciting
Dubai Tours
]