Top 12 Exciting Trips in India Under Rs 5000
* Disclosure: This post may contain affiliate links, which means we may receive a commission if you click a link and book something (there is never any extra cost to you for using these links).
Most of us get tired of the mundane routines that leave little space for imagination. However, if you are thinking of adding some fun and excitement to your life and want to undertake a memorable trip, here is a list that offers you a number of options. What's more? All of these trips mentioned here are thoroughly affordable and in fact fall under the category of that trips in India under Rs. 5000.
1. Kasol, Himachal Pradesh

PC: Wikipedia
Kasol in Hiamchal Pradesh dazzles with hippie style bars & restaurants along with that Goa-like aura which is captured in its majestic mountains. Although relatively far from Delhi, you can still enjoy your trip on a shoestring budget with overnight bus tickets starting from as low as Rs.800 for one side. Nothing can be as beautiful as uncovering that excitement in mountains and that too under Rs.5000.
TripHobo Hotels. Book Now, Pay Later!
2. Jaipur, Rajasthan

Travelling from Delhi to Jaipur has become very easy thanks to the Expressways. Hotels start at as cheap as 1000 for the night. Guided tours of the city shouldn't set you back more than 500 rupees; add another 500 for a local lunch, and you still have around 2000 to splurge on the rest of your getaway. There can be no other historical place as cheaply visited as this.
3. Lansdowne, Uttarakhand

Lansdowne has suddenly come into limelight as this hill station retains much of its natural charms due to a prior absence of commercialization here. Imagine you are closest to Delhi (just 250 kms) and you are there in a proper hill station. The best way to reach here is to board a bus to Kotdwar, a town 50 km from Lansdowne, and then switch to a local bus, to help you keep the round trip travel expenses less than Rs. 1000. Even the most splendid hotels will cost you not more than Rs 1500, sparing you with Rs 2500 for other expenses.
TripHobo Hotels
Also Read: 50 Best Hill Stations in India
4. Tawang, Arunachal Pradesh

PC: Wikimedia Commons
This is one religious destination in India that entices everyone with its monasteries, monks and the alpine views. Since the place has still been unaffected by commercialization, it can be visited at a really low cost. The train fare for an individual from Delhi would cost around Rs. 2,000 in the second AC class but hotels wouldn't charge you much in comparison to other destinations. Discover this relatively new destination at a low cost.
5. Rishikesh, Uttarakhand

PC: Wikipedia
Who is unaware of Rishikesh and its famous white water river rafting? The city is home to the holy river Ganga and is a perfect destination for adventure seekers and laid-back tourists alike. You can easily get on the state or private buses to Rishikesh from Delhi. The tickets start from as low as Rs.200 and go Rs.1400 for one way. Rishikesh has suddenly witnessed the presence of many backpackers' options and ashrams where you can easily get a room for less than Rs.150 for a day!
6. Kasauli, Himachal Pradesh

PC: Wikipedia
Kasauli is a small hill station near Shimla that enamours everyone who visits it with its well preserved natural beauty. The most cost effective way to reach Kasauli is to board a train from Delhi to Kalka and then take a shared taxi from there to Kasauli. Travel would cost you at around 1500 bucks. Pocket-friendly hotels accommodate you for Rs.1000 or less, which leaves you with about Rs. 2500 to splurge on the trip. Visit a small hill station at a small budget.
Book Now, Pay Later!
Read more about the Weekend Destinations in India closer to 5 major cities.
7. Varanasi, Uttar Pradesh

PC: Wikipedia
Most of the people outside of India consider this place to be synonymous with Varanasi. Explore this cultural and traditional centre of India at a really low cost as the town offers you immense possibilities for the same. While you can easily get a stay option for less than Rs.200 (or less) a day at Varanasi, it's well-connected to almost all the major cities in India. Getting a train to Varanasi from Delhi is the cheapest option with fares starting from Rs.350. Nothing can be as cheap as this. Varanasi makes for the best trips under 5000 from delhi.
8. Hampi, Karnataka

PC: Wikipedia
Hampi city is known for its ruins. Just like the city of Jordon and Petra, Hampi has kept its history abreast. You can easily find budget accommodation here. Moreover, the travel is really cheap.
9. Kanyakumari, Tamil Nadu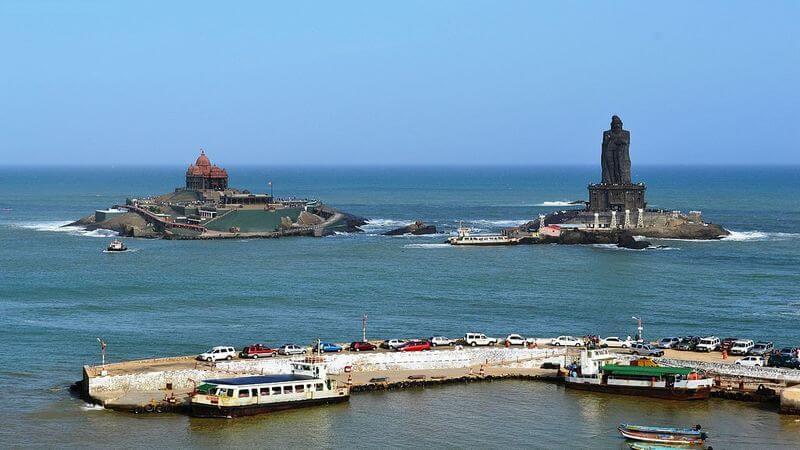 PC: Wikipedia
A bus ticket from Trivandrum (one way) would be around Rs. 250 and the basic rooms in hotels start from around Rs.800. Which means you are still left with a good Rs.3000, so as to explore and splurge further in Kanyakumari.
Get hotel deal with TripHobo
10. Vrindavan, Uttar Pradesh

PC: Wikipedia
Vrindavan is one of those cities is India that exudes religious fervour and history that makes it an interesting place to visit. Since it is designed for pilgrims, hotels start at as low as INR 600 for a night, if you are looking to make it an overnighter.
11. Mussoorie, Uttaranchal

PC: Wikimedia
North of India boasts of some of the best hill stations in India. They are the most popular too. People living in Delhi, Punjab, and Dehradun can easily access Mussoorie as it would be one of the best options which preserves its natural beauty along with that British charm. The best option to reach Mussoorie would be via road but you can also opt for train as the fare from Delhi to Mussoorie is not more than Rs. 1,000. You can get a decent hotel in the price of around Rs.600 per night and enjoy the pristine views of the hills. There are small eateries where you can have lip smacking food.
TripHobo Hotels. Book Now, Pay Later!
12. Binsar, Uttarakhand

PC: Wikimedia Commons
Just about 9 hours away from Delhi, Binsar is nothing but 300 kms of pristine panoramas. The town is famous because of its wildlife sanctuary, which was declared an important bird region in the late 90's. The easiest and cheapest way to get here is to take a train from Delhi to Kothgodam, the nearest railway station to Binsar (about 119 Kms away). And then take a local bus from there. The total cost to reach (one way), including both the train and the bus journey is around Rs.1500.
Check hotel deal with TripHobo Hotels.
It is not always important that you can travel only with immense money in your pockets. The real travel is in fact the one which is done with little money in hand, something that allows you to know the local culture better. Any other suggestions, let us know!
You may also like to read:
Weekend Retreats From Delhi Under 3000 Rupees