15 Best Tree House Resorts In India to Unwind This Summer
* Disclosure: This post may contain affiliate links, which means we may receive a commission if you click a link and book something (there is never any extra cost to you for using these links).
There's something really romantic about tree houses whether you look at cartoons, movies or books. Somehow, the idea of climbing up a tree and living amongst its leaves and branches fills one with an awe-inspiring feeling of oneness with nature. Plus, you can't beat the view. Did you know that there are tree houses in India where you can spend some quality time with loved ones, nature or just yourself? Here's our list of some quaint, wonderful tree houses where you can stay:
1. Tree House Hideaway, Bandhavgarh, Madhya Pradesh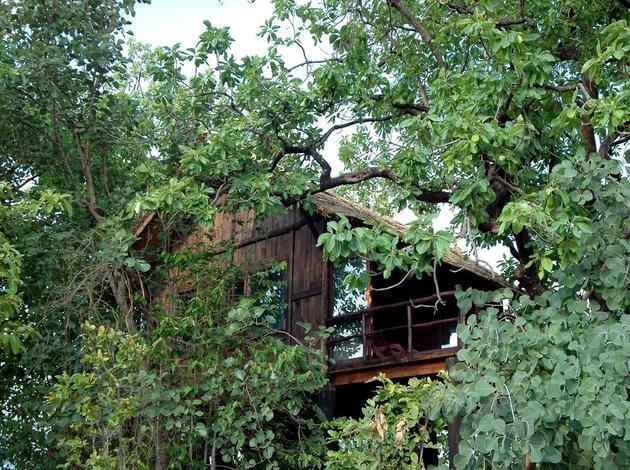 PC: Booking.com
You're surrounded by a beautiful patch of nature untouched by man, with tigers roaming about on the forest floor, hidden away in the Bandhavgarh Tiger Reserve. Five exclusive modern tree houses with all the facilities that ensure you have comfortable stay (Air conditioners, a dining hall, 24 hour water supply, power back up) which give you a birds eye view of the forest below. Are you ready to answer the call of the wild?
2. The Tree House Resort, Jaipur, Rajasthan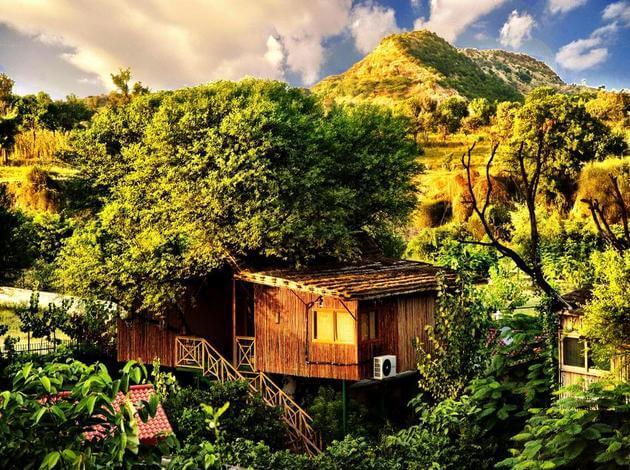 PC: Booking.com
What if you got all the luxuries that you imagine at a five star hotel but the setting is in the lap of nature, astride a tree? That's what the Tree House Resort in Jaipur offers you. A special place to go to if you're a bird enthusiast; but don't be mistaken, there's something for everyone. After exploring all the exciting places to visit in Jaipur, a stay in The Tree House Resort will sure please all your senses.
3. The Machan, Lonavala, Maharashtra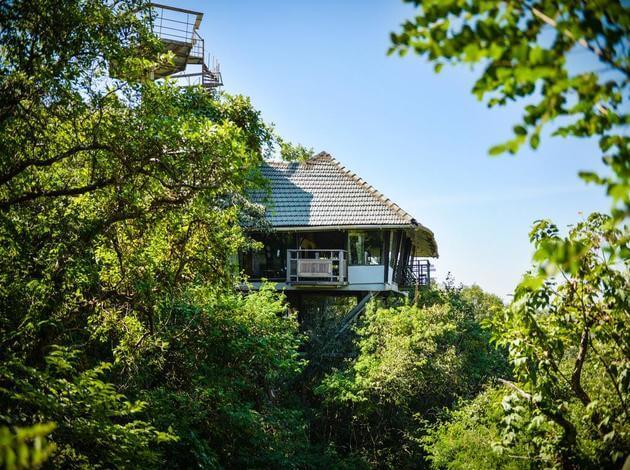 PC: Booking.com
This is one of the most famous tree houses in India. Located in the lap of nature, in the Western Ghats, perched about 35 feet off the ground, and only a 2.5 hour drive from Mumbai, this tree house getaway boasts an authentic, off-the-grid experience (for you Facebook and Whatsapp addicts, that means no network/internet) using only sustainable resources. Great for bird watching and spa retreats.
4. Vythiri Resort, Waynad, Kerala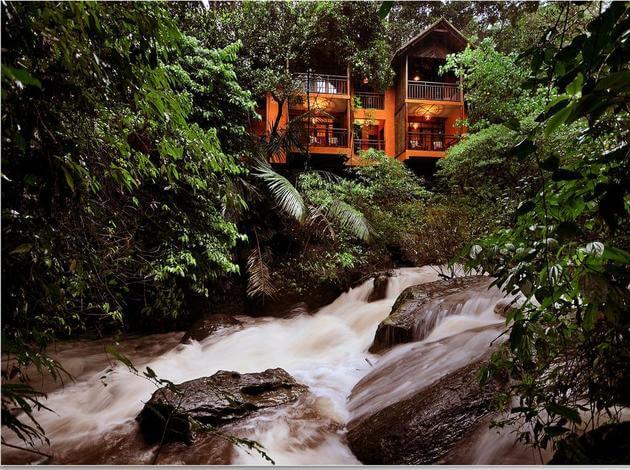 PC: Booking.com
Located in the serene forests of north-west Kerala, this is a beautiful resort which also offers ultra-luxurious land based accommodation. Well equipped with private Jacuzzis, a swimming pool, an excellent restaurant and a renowned spa, this resort is a great option for those looking to unwind. There are some beautiful local sights that are popular with visitors.
5. Tree House Cottages, Manali, Himachal Pradesh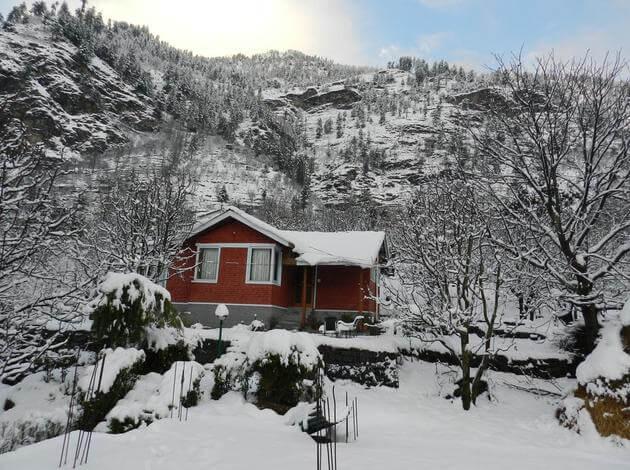 PC: Booking.com
This family-run establishment is located in the picturesque Kullu-Manali Valley, about 30 minutes (by car) from the main city. Surrounded by lush fields and orchards, this place is a refuge from the noise of the world. The hosts are warm, friendly, and gracious and the meals are home-cooked and delicious! Also, this is the most economical option on the list. The facilities are basic, but comfortable.
6. Eagle Eye Holidays Resorts, Chikmagalur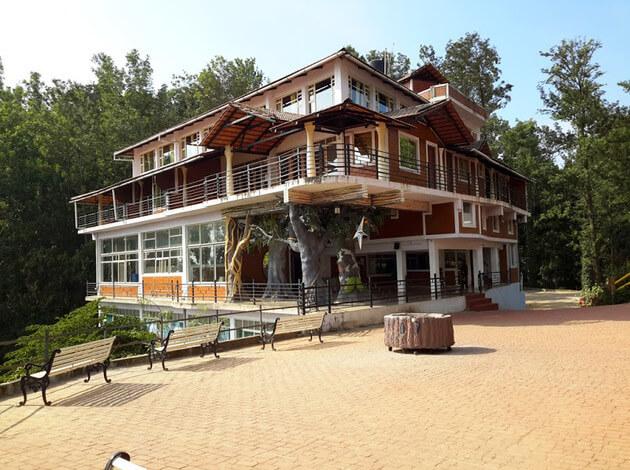 PC: eagleeyeholidays.com
Probably, one of the most underrated destinations, Chikmagalur is a wealth of opportunities for nature lovers and peace seekers alike! Take its Eagle Eye Holidays Resorts for example. Settled amidst the greens of Mullayanagiri, this lovely tree house resort let you have a glimpse of nature up and close. Just imagine yourself standing by its wooden window, taking in the panorama and basking in its serenity! Not only that, its height, 2900 feet above sea level, makes it a perfect place to overlook the spans of coffee plantations and enjoy views that nature has bestowed it inspiring. If you are looking for a blissful holiday, it's here!
7. Hornbill River Resort, Dandeli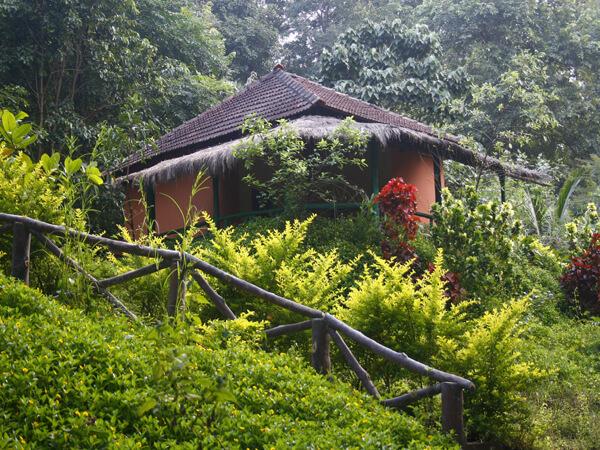 PC: hornbillriverresort.com
Most of the people who flock to Goa are often unaware of the gems lying around. This lovely tree house resort in one of them! Surrounded by thick forest with a close proximity to Kali River, Hornbill Treehouse Resort is where you should go, if an adventurous tryst is what you are looking for! Talk about kayaking, water rafting or a coracle ride, the place has it all! To top it off, its tree houses are perched 40 feet above the ground and are a great option for a bird-watching session. A romantic refuge for lovers and a peaceful one for recluse!
8. Sea Gull Chunnamber Beach Resort, Pondicherry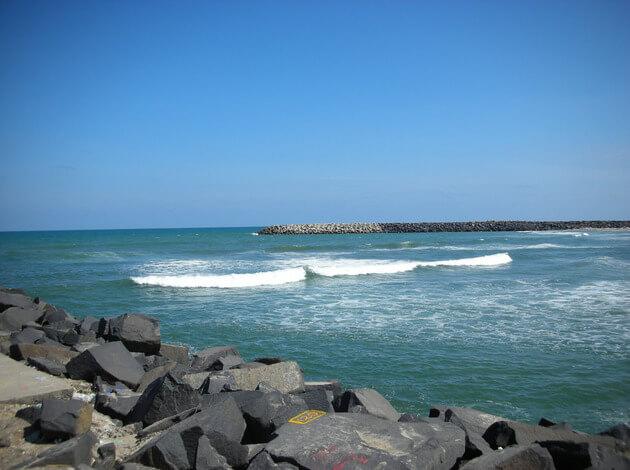 PC: Kalyan Kanuri/flickr.com (This picture is used for representation purpose only)
Possibly one of the most affordable treehouse resorts around, Chunnambar beach and Backwater Resort offers unparalleled views of the surrounding. It is located a mere 8 km from the Pondicherry capital and can be deemed as a perfect place for family outings. There are myriad things one can enjoy here including pool bathing, boating and bird watching. If that's not enough, check out its picnicking area that is specifically designed for guests to enjoy a meal in a splendid setting. Decked with all the modern amenities, it has everything to make your stay a memorable one!
9. Safari Land Resorts, Masinagudi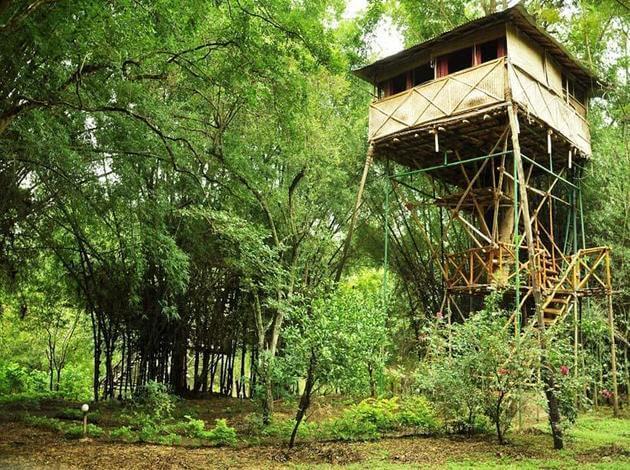 PC: Booking.com
If you are looking for an exclusive jungle getaway, then Safari Land Resorts is the place for you! Set amidst a vivid landscape of valleys and waterfalls, the place has long been a favourite one for honeymooners and families, all of whom come here for an authentic natural indulgence. Guests can enjoy a range of activities including nature walks, horse riding and safaris. Even bird watching and picture clicking become pleasurable here, given how beautiful the entire place is. Closer to the Mudumalai Wildlife Sanctuary, a stay here is a must for everyone!
10. Wild Canopy Nature Reserve, Mudumalai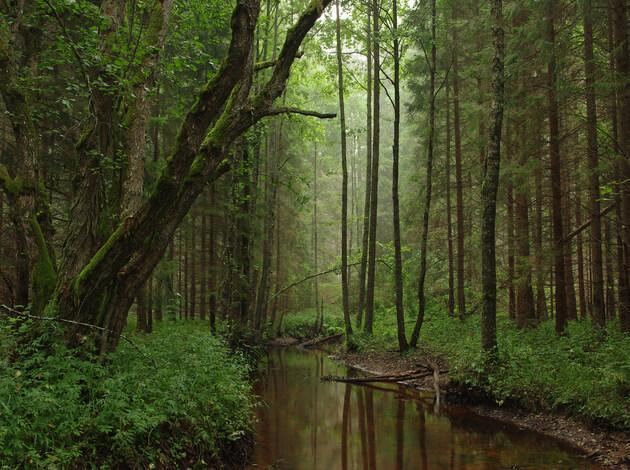 PC: Wikipedia.org (This picture is used for representation purpose only)
A staycation in Wild Canopy Nature Reserve is unlike anything you will ever experience! It's an offbeat destination even for those who are habitual to living in the wilderness like this. The tree top retreat is anything but wild with its flushing toilets, functioning sink and an elevator that will hoist you up effortlessly. Talk about luxury and you get a modern decor, completed with all the appliances and necessities you need to enjoy a comfortable stay. As if that's not enough, the place has its own jacuzzi too! Believe us when we say it will be an unforgettable experience for you!
11. Kaama Kethna Ecological Retreat, Goa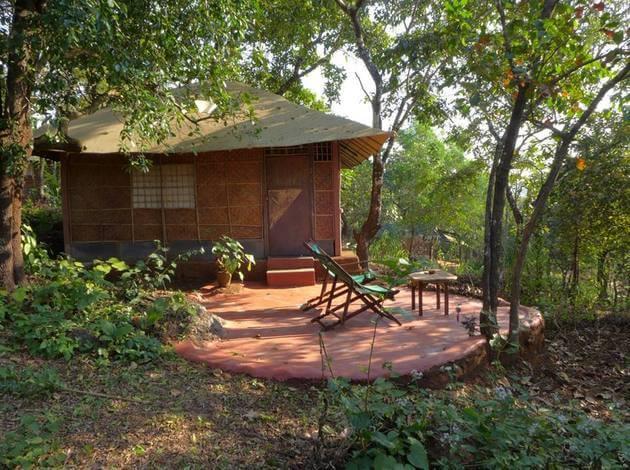 PC: Facebook.com
Planning for a peaceful yoga holiday? Then Kaama Kethna Ecological Retreat is perfect for you! The place is known for its charming tree huts perched high up on cashew trees from where you can do your birdwatching while sipping lazily on tea. The main idea behind its establishment was to provide a refuge to people where they can exercise their well being through various treatments and methods. There are meditation courses along with spa and yoga treatments available for guests. Brimming with positivity and quietude, the place is a little piece of heaven itself!
12. Treehouse at Gorumara Elephant Camp, West Bengal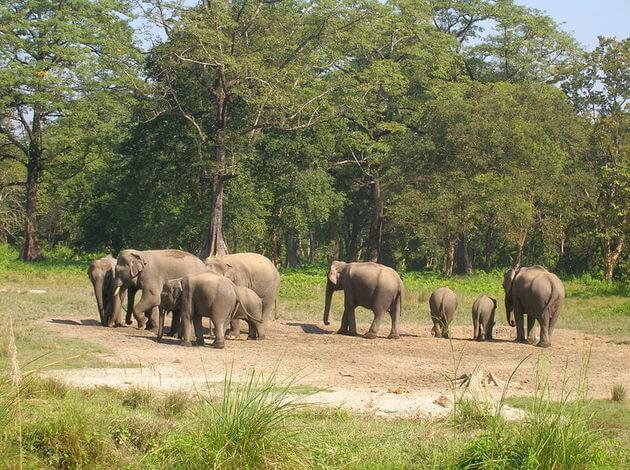 PC: Wikimedia Commons (This picture is used for representation purpose only)
Come here to not only experience the wild but to make friends with them! Yes, Gorumara Elephant Camp is a place where you can see a lot of elephants, bathe them and even ride them. The folks are known to be very friendly and make sure that your tree house vacation remains as amazing as possible. There are around six cottages in the camp, all are well decked and provides awe-inspiring views of the surrounding. The cultural programmes held in the evening are something that is not be missed!
13. Tiger N Woods, Madhya Pradesh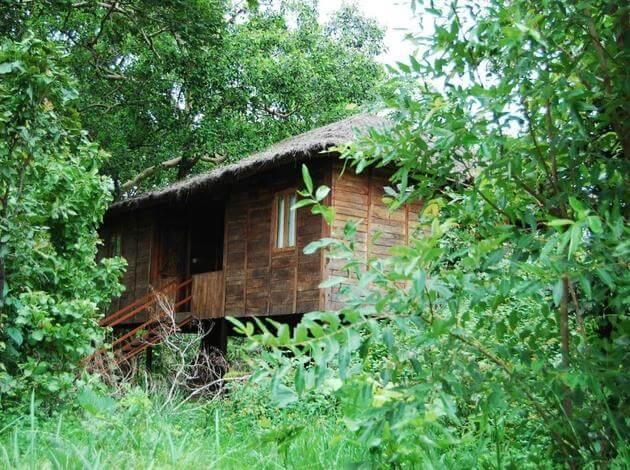 PC: Booking.com
Living in Tiger 'N' Woods is like living amidst wilderness. Every day your eyes open up to the vast span of greenery, providing glimpses of birds and animals flocking around. The lush mahua trees are beautifully complemented by machans (they have about 10 or so) where you can sit for a while and dwell. It has a small dining area as well that is specifically designed to give it a home-like touch. Moderately priced and well equipped, Tiger N woods is a nice tree house retreat.
14. Aamod at Shoghi, Shimla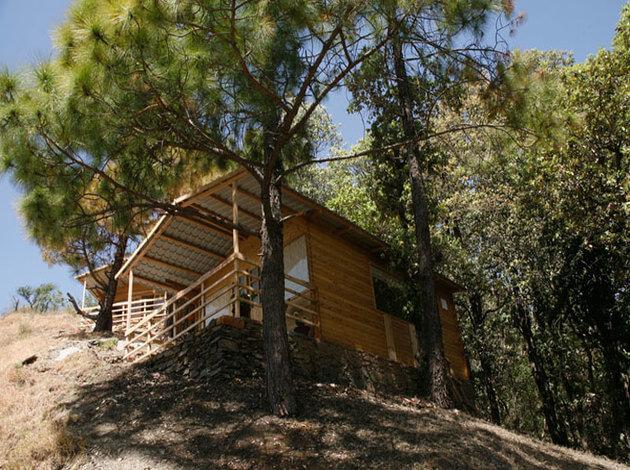 PC: aamodatshoghi.in
Not far than 13 kilometres of Shimla is this little natural habitat that is all covered in oak and pine trees. The eco resort brings together the comforts of modern living while retaining the true essence of the place. You will find a lot of interest in its wild surrounding and flourishing vistas. Ensure to bring your camera with you to capture some memories of your stay. The locals are very helpful and will show your all the worth-seeing places around.
15. The Treehopper, Indapur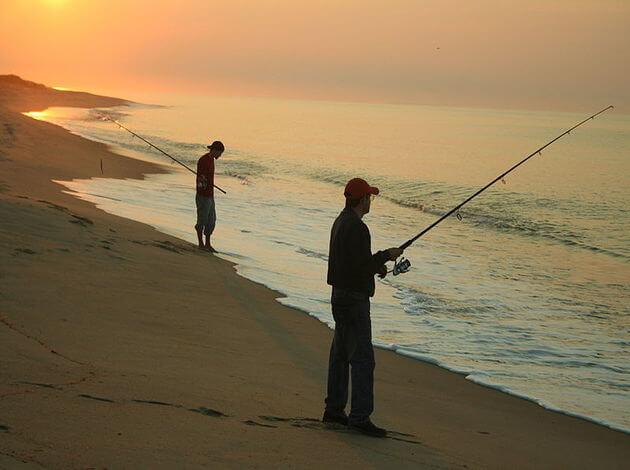 PC: Wikimedia Commons (This picture is used for representation purpose only)
Living in the city, it becomes necessary to get away from all that bustle once in a while. In such case, The Tree Hopper turns out to be a likely destination that lies a little away from both Pune and Mumbai. The tree house here is one of a kind given how strategically it has been placed and what all it offers. Less like a treehouse and more of a villa, it is perched on large wooden ramps, featuring a private balcony and en suite bathrooms. Guests can enjoy leisurely strolls along with a range of outdoor activities like biking, trekking, fishing, swimming and much more! Scenic, clean and homely, what more can you ask for?!
So, what are you waiting for? Plan your tree house getaway now and take a break from the shor in the city.
Other Posts You wlll Like
21 Best Architectural Buildings In India
Top 10 Peaceful Places To Live In India