In Search Of Inner Peace- My Trek To Roopkund
* Disclosure: This post may contain affiliate links, which means we may receive a commission if you click a link and book something (there is never any extra cost to you for using these links).
I agree that there is no valour in running away. And yet, my trek to Roopkund was sort of a last minute decision, I wanted an escape from the realities and monotonies of life! So, after signing up with Yuvashakti, a fabulous trekking organization, I was all set to flee.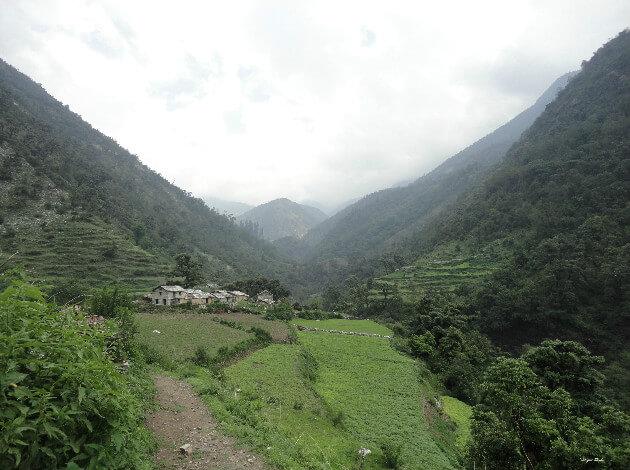 After four days of travelling and sightseeing, we finally arrived at Lohajung, the basecamp for the trek. We were in all 41 trekking enthusiast including 2 leaders. At Lohajung we had a briefing session where we were informed about the trails, tribulations and high altitude (the higher one goes, the lesser the amount of oxygen there is) that lay ahead of us. And that just got us all the more determined to conquer the final destination. After gorging on a heavy dinner, we all went to bed in our dormitories, excited about the trek that was to begin the next day.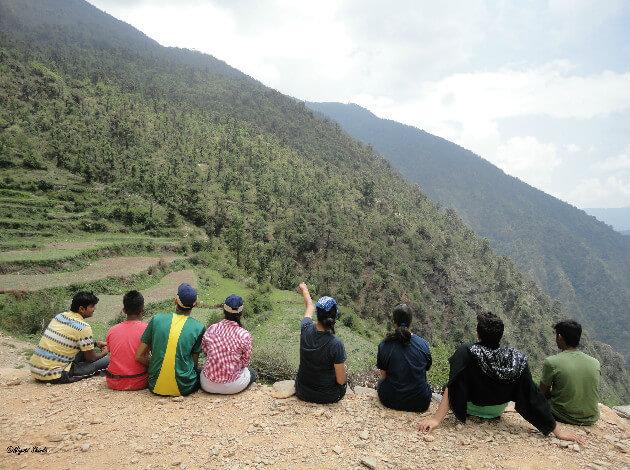 Day 1 of the trek saw us trekking from Lohajung to Didna. A total stretch of 8 kilometres, the trek was uphill with a moderately steep climb. An easy one, we could finish the trek in approximately 3.30 hours, not bad for a rookie bunch of trekkers! But this was just the beginning, our leaders gently reminded us. ''The actual trek would begin once we reach a higher altitude", we were 'promised'! Walking through a thick forest full of blooming Rhododendron trees felt extremely surreal that day.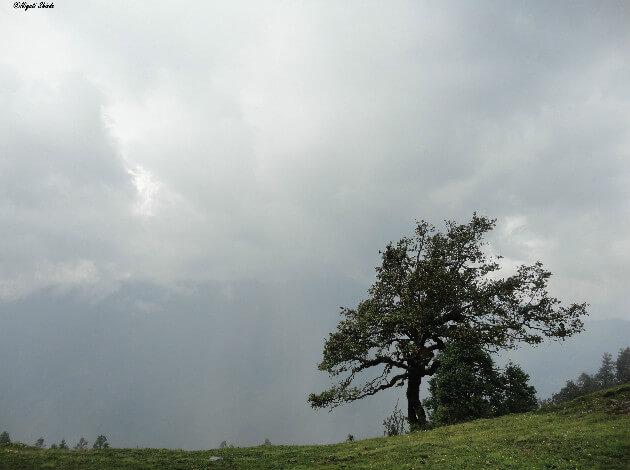 When the next day dawned, I realized my legs had somehow managed to turn to stone! They felt heavy and they pained as if I had just done a million squats in the gym! Day two's trek was a moderately difficult one, not only because of the distance, which was 12 kilometres, but also because of the altitude gain. By the time we reached our campsite at Bedni Bhugyal, we were out of breath! And yet this was the least of our worries- heavy rains, creepy flying insects that come along with the rains, a leaking tent and attending nature's call out in the open added to our woes.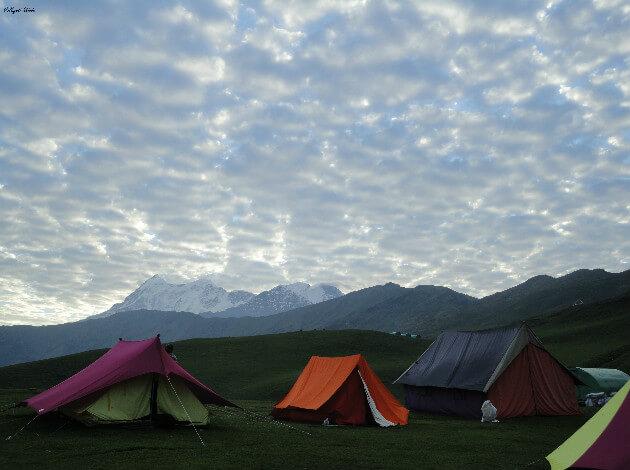 If day two made me realize that my legs had gone for a toss, day three ensured that I woke up with a feeling that I was carrying probably a 1000 tonnes on my shoulders! Compared to my other teammates, my bag was pretty light weight. However, it still weighed approximately 7 kilograms (including two filled water bottles). This day, we were to trek from Bedni to Pattharnachani. Covering 8 kilometres, this day's trek was also moderately difficult.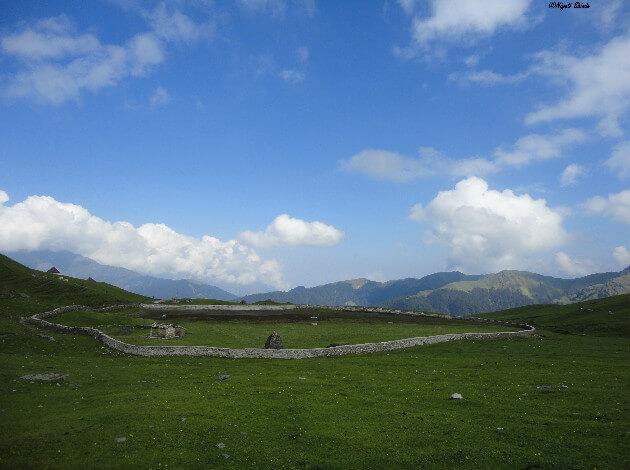 The meadow of Pattharnachani has an interesting story behind it. 'Pattharnachani' literally translates to 'Dancing stones'. Legend goes that once upon a time, a reigning king was displeased with the dancers in his court and thus cursed them. The curse was so strong that it turned all the dancers into stones! Even today, one can find these rocks and stones surrounding a tiny temple which is believed to be of the king.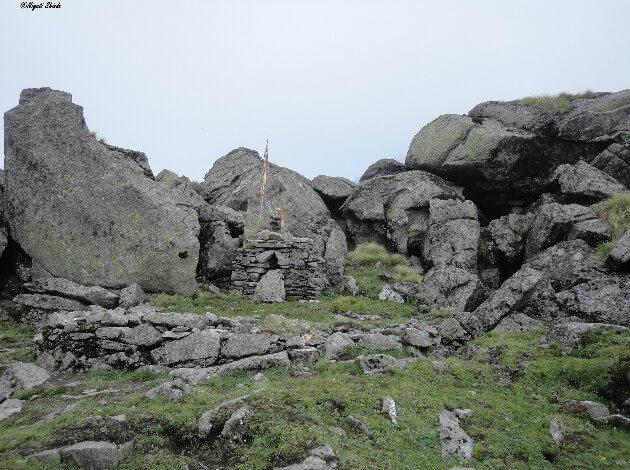 Day 4 was a tough one for me. Although the leaders had previously given me the option of hiring a pony to carry my bag, I had refused. What's the use of going on a trek not carrying your own bags? Won't that be like luxury travelling?! And won't it be torture for the poor little pony? This bag of mine (now infamous among the group because they assumed I was carrying gold bricks since I refused to part with it!) proved to be a problem on day 4. Because, although the distance we had to cover was less, the weather was changing quickly and the altitude gain was more. To add to it, due to lack of oxygen, we had to stop to catch our breaths every 10-12 steps! This slowed me down a lot and because of me, my teammates had to halt. This was not a good sign. At one point during the trek, the leaders gave me two options, either me and my bag go back to the previous camp, or I give my bag to a pony owner and continue ahead in full swing with the team! I gulped down my ego here and opted for the latter.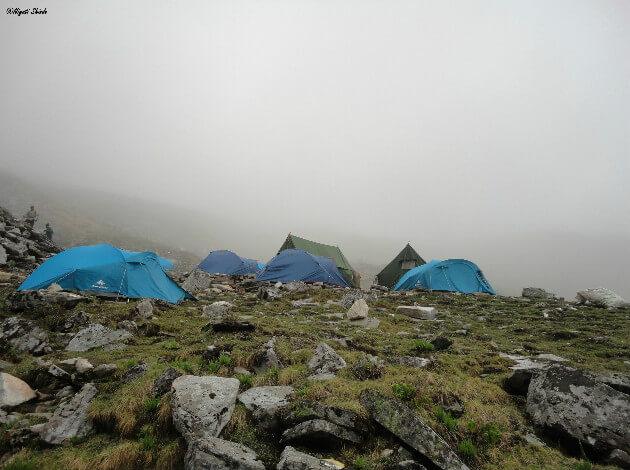 Our next stop was Bagubasa, the last camp. From here, we could see the mountains surrounding our dream- Roopkund. The trek to Roopkund began early in the morning the next day- at 3 a.m.! As our leaders explained, this was because our aim was to trek up to Roopkund, enjoy the views and start the return journey before sunrays hit the snow that covered our trek route. We were required to wear crampons on this day thus making it easy to navigate through the pristine snow.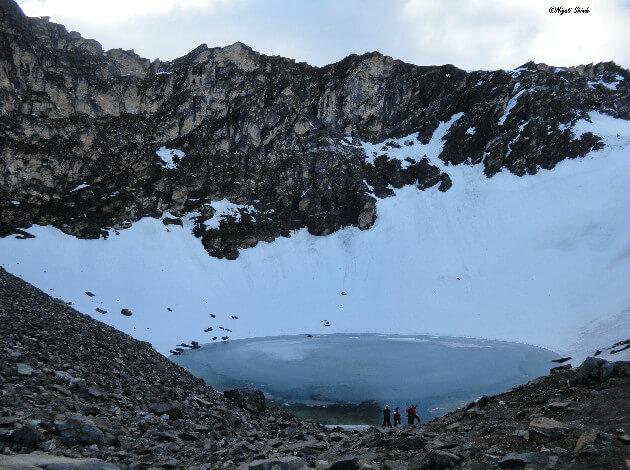 With torches in our hands and light rucksacks on our backs, we began our hike to the Mystery Lake. This day again proved to be a difficult one. Because, at 16,500 feet, oxygen feels like a miraculous substance, an elixir of sorts! Add to it the fact that your destination in nowhere in view! Roopkund is situated in a small valley, surrounded on all sides by massive mountains. So, as you are trekking, you are never blessed with its glimpses until you actually reach, thus making you feel like you are walking aimlessly towards nowhere! I must confess, mid way, I gave up! I was so tired and so out of breath that I just wanted to die (not exaggerating!). I kept muttering under my breath that this would be the last trek I ever venture on. I even promised to kill anyone who asks me out on a trek henceforth!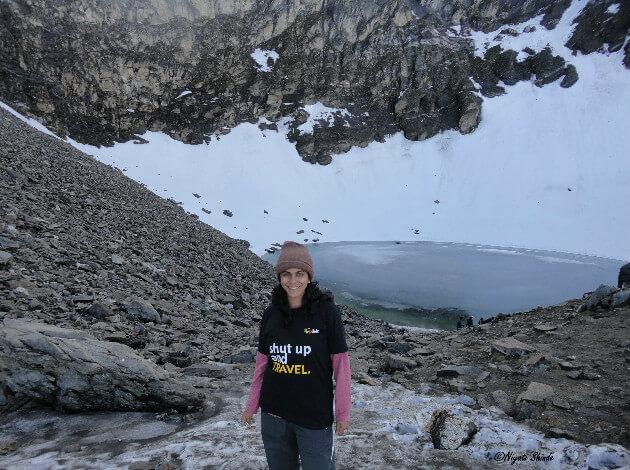 As a saying goes, when you want something, all the universe conspires in helping you to achieve it. I really wanted to see Roopkund and luckily for me, the 'universe' had surrounded me with fantastic teammates (now friends for life) and wonderful leaders who kept encouraging me and pushing me towards reaching the summit. Had it not been for their words of support and their help, I would never have made it to my dream.
And there it was, without any warning, right in front of me, The Mystery Lake, The Skeleton Lake- Roopkund. Its beauty is ethereal, its aura is mystifying and its mythological connection is intriguing. It was an odd moment for all of us, we did not know what to do- all the pain, all the efforts, all the suspense and all the trekking had led us to this, our ultimate destination. We were all speechless for a while and then reality hit us, we had made it!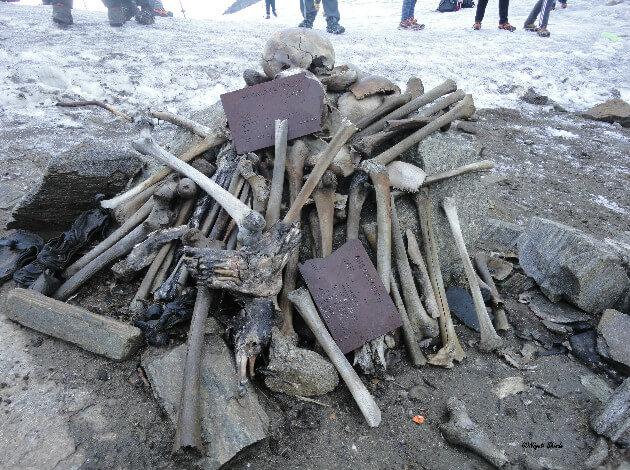 Since we were in sub-zero temperatures, we were not supposed to stay back at Roopkund for long. So, after clicking many pictures in our cameras, although no photograph will ever do justice to the exquisiteness of Roopkund, and many more in our minds, we left for Bagubasa. The trek after that was pretty simple as it was mostly downhill. From Bagubasa we went to Bedni and from there to a picturesque village called Wan. Our trek ended at this village where jeeps were waiting to take us back to basecamp.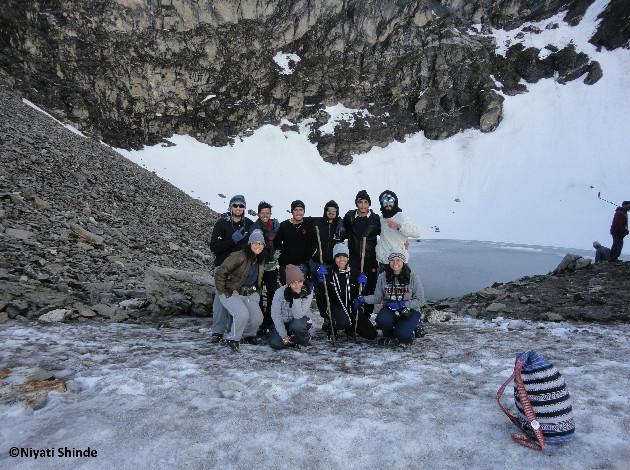 I had taken up the trek to Roopkund as an escape from the realities that surrounded me. I came back with a better understanding of the mysteries of life. I had read a beautiful quote somewhere which kept resounding in my head all throughout the trek. It goes like, ''... and know deep down, that heroes aren't qualified by their capacity to stay but by their decision to return..."
And yes, I will be going on more treks! Because inspite of the pain, the tiredness, the cramps, the blisters (and the showerless days!), I know, no amount of travelling and road tripping is ever going to show me the vistas that trekking is capable of.
You May Also Like to Read
Top 10 Night Trekking Places in India
Best Trekking Clubs In India for Group Adventure
10 Trekking Places In North East India