The Best Trekking Places Near Bangalore - Part 1
UPDATED Oct 24, 2018
88.0K Views
October in India is the best time to go on a hiking expedition. The weather is perfect- it is not pouring heavily, it is not very cold and yet the land is wet enough to make the trekking experience all the more thrilling.
TripHobo lists down 11 trekking places near Bangalore:
1. Kunti Betta Trek: Best Trekking Place Near Bangalore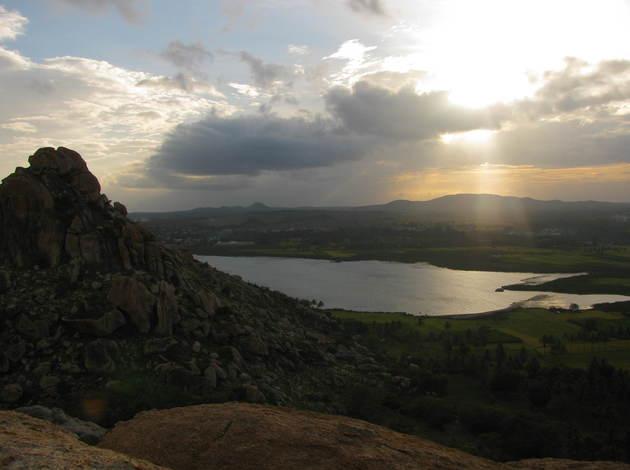 Image Source: Wikimedia Commons
One of the most popular treks with Bangaloreans and a favourite summit all across the state of Karnataka, Kunti Betta is situated in the town of Pandavpura. Legend goes that the Pandavas spent the last few months of their exile in this town. Marked by two hills, Kunti Betta is at an elevation of 2882 metres. The entire trek can be completed within 4 hours.
Dreaming about Travel?
Here's an Itinerary Planner that will turn our dreams into reality! Pick destination, dates and Create your dream itinerary today!
2. Skandagiri Trek:

Best Trekking Spot You Must Try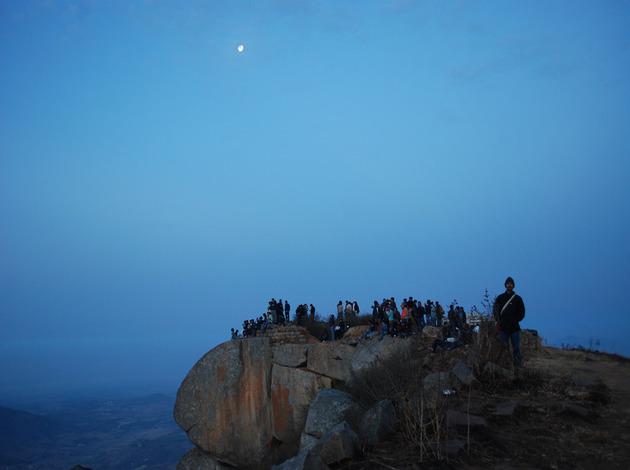 Image Source: Kalyan Kanuri/Flickr
A wonderful trek that is popular with night trekkers. Witnessing a mesmerizing and serene sunrise from the peak will definitely make your day! Situated at a distance of about 60 kilometres from Bangalore, Skandagiri lies in Chikballapur district of Karnataka. The peak is at an altitude of 4500 feet. The trek starts from Papagni Math and can be completed within 3 hours. Skandgiri is also one of the best places to visit near Bangalore on weekends!
3. Bheemeshwari Trek: Popular Trekking Spot for Adventure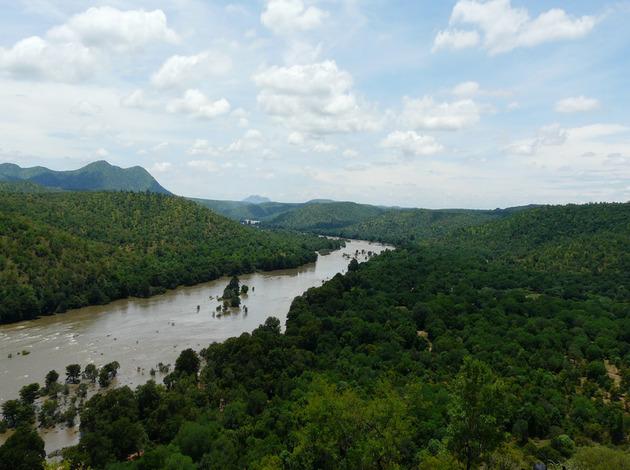 Image Source: Ashwin Kumar/Flickr
Located at a distance of 100 kilometres from Bangalore, Bheemeshwari is a popular spot for trekking, hiking and adventure sports enthusiasts. Surrounded by waterfalls and the Kaveri River, the area also provides ample opportunities for rafting, kayaking and high rope traversing.
For some more adventure here are river rafting destinations near Bangalore
4. Ramdevara Betta Trek: One Day Trekking Place Near Bangalore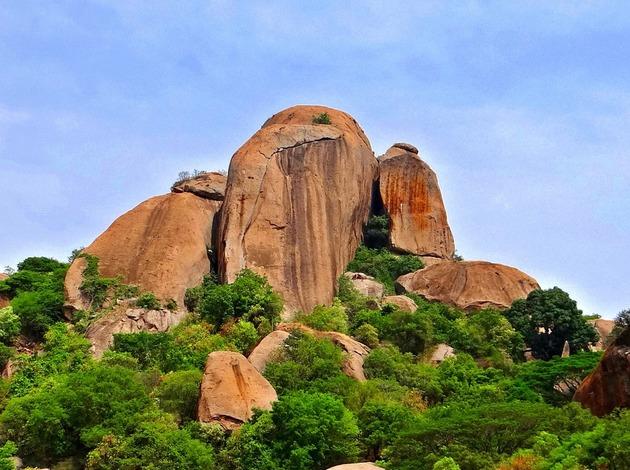 Image Source: pixabay.com
Ramdevara Betta is a heaven for rock climbing fanatics! Located approximately 60 kilometres from Bangalore, on the Mysore Road, Ramdevara Betta is situated at 3066 feet above sea level. It is one of the looming seven hills that dot this site and offers an array of opportunities for trekkers, rappellers and rock climbers. Takes approximately 3 to 4 hours to complete the trek.
Also Check: Weekend Getaways From Chennai
5. Savandurga Trek: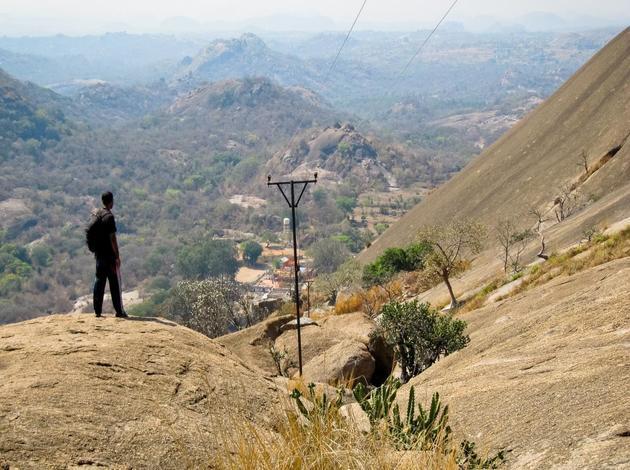 Image Source: PlaneMad/ Flickr
One for amateurs and beginners, the Savan Durga is made up of two peaks- Billigudda and Karigudda. Situated at an elevation of 4022 feet, the range offers a sublime and tranquil atmosphere for trekking. The hill is one of the highest monoliths in Asia. Situated at a distance of 60 kilometres from Bangalore, the Savan Durga trek can be completed in 2 to 3 hours.
6. Anthara Gange Trek: Night Trekking Place Near Bangalore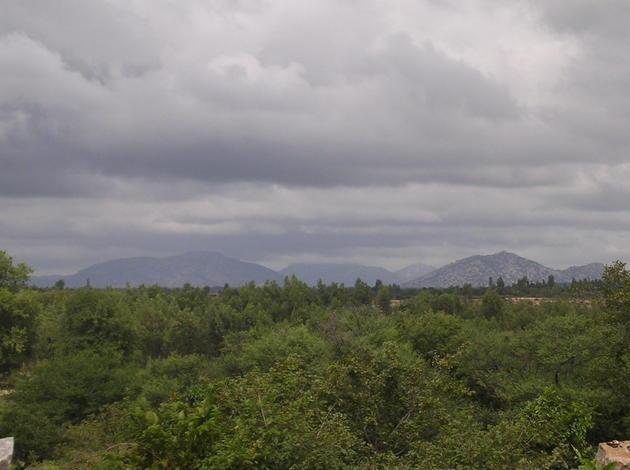 Image Source: Wikimedia Commons
A popular trekking spot, it is better to undertake this trek over weekdays since the place gets crowded over weekends. The Anthara Gange is a mountain situated in Kolar district, around 68 kilometres from Bangalore. A natural phenomenon, a lot of underground water can be seen seeping through the rocks. Hence the name, which roughly translates to 'Ganges from underground. The entire trek can be completed in 3 hours. However, you are bound to spend some time exploring the many mysterious caves that can be found along the way.
Also Check: 10 Trekking Destinations Near Chennai
7. Kabbal Durga Night Trek:

Night Trekking Place Near Bangalore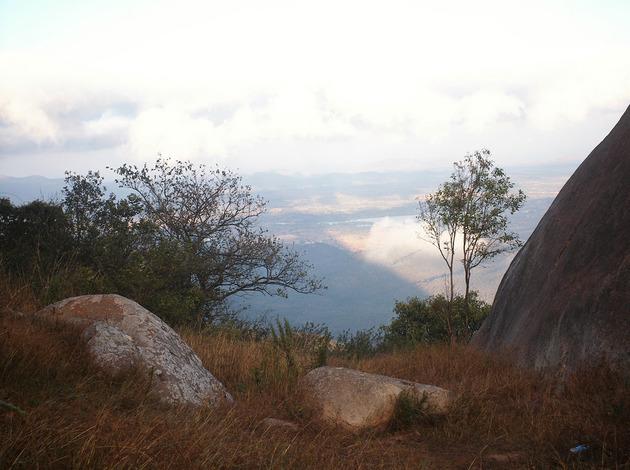 Image Source: Flickr
The least explored but the most fascinating night trekking trail, the small and charming village of Kabbal Durga offers a fantastic hiking opportunity for Bangaloreans. Put up tents, camp overnight and watch as an early morning sun spreads its warm shimmering rays across the entire region. Located at a distance of 80 kilometres from Bangalore, the trek can be completed in 3 hours. However, we recommend you camp overnight.
8. Dandeli Jungle Trek: Enjoy Jungle Trekking Near Bangalore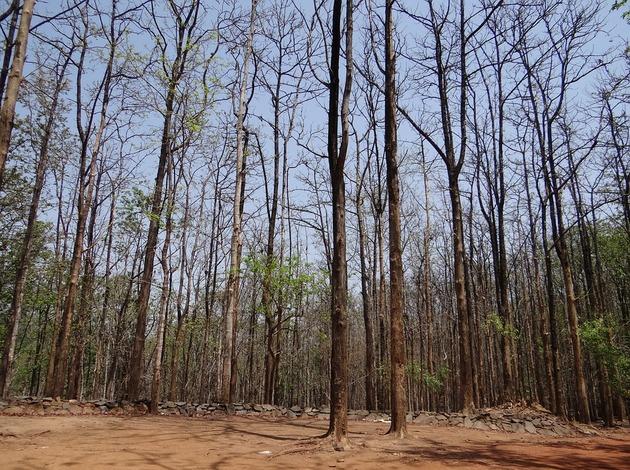 Image Source: pixabay.com
One of the most popular destinations in Karnataka, Dandeli is a gem of a place. Enjoy a blissful yet exhilarating trek in the jungles of this town. Get one with nature as you explore the vegetation, flora and fauna of Dandeli while on your trek. You will also come across many species of birds and butterflies.
9. Rangaswamy Betta Night Trek:

Night Trekking Place Near Bangalore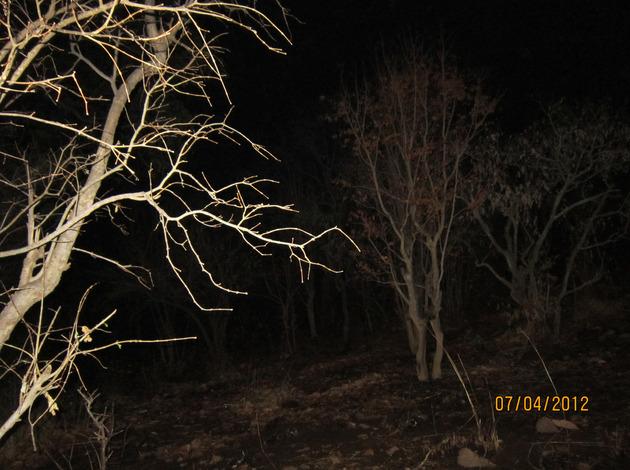 Image Source: Aditya Patawari/Flickr
Situated around 70 kilometres from Bangalore, the Bilikal Rangaswamy Betta is a hill located near Kanakapura town. At the summit of the hill lies a huge granite rock within which you will find a temple dedicated to Lord Ranganatha Swamy. The entire area belongs to the Forest Department and hence, you need to take special permission before embarking on this trek.
Must Read: Adrenaline Pumping Activities Around Bangalore!
10. Kumara Parvata Trek: Challenging Trek Near Bangalore (Coorg)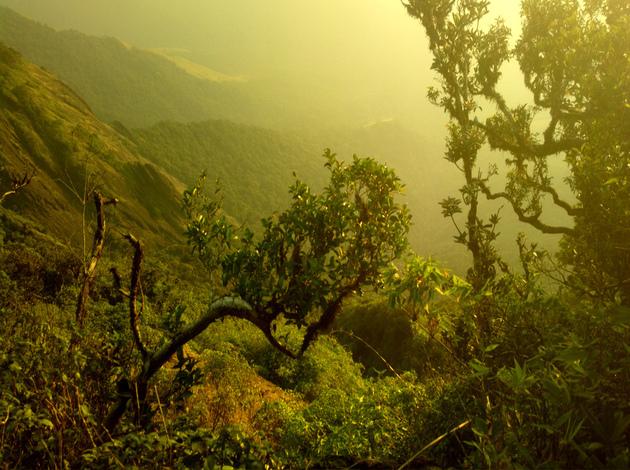 Image Source: solarisgirl/Flickr
The Kumara Parvata trek is a challenging one. But the views it provides from the top are worth all the trouble in the world! There are two peaks involved in the completion of this trek. The final peak is called Kumara Parvata, and the peak that you need to cross to reach Kumara Parvata is called Sesha Parvata. The trek is undertaken through dense intimidating forests and vast open meadows.
11. Madhugiri Trek: Toughest Trekking Spot in Karnataka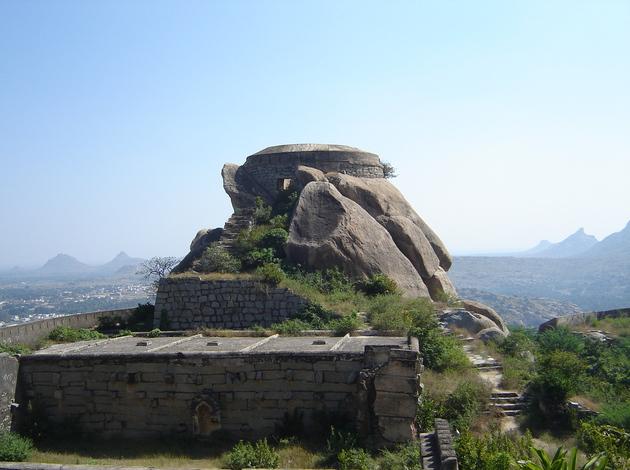 Image Source: Wikimedia Commons
Situated in the town of Madhugiri, the town derives its name from the hillock of the same name. The second largest monolith in Asia, you will find a fort nestled on its steep slopes. Antaralada Bagilu, Diddibagilu and Mysore Gate are the three gateways of the fort. You will find yourself trekking through a series of doorways to reach to the top of this hillock. The ruined temple of Gopalakrishna is located at the top.
Which treks out of the list have you done till date? And which treks do you plan on taking up? Leave your answers in the comment section. Happy trekking to you!
You May Also Like: