Unforgettable Experiences in Amsterdam that You Must Catch Up
NEHA KAPOOR
Apr 27, 2017
796 Views
The city of art enthusiasts, a city that nestles eclectic corners, Amsterdam stupefies the visitors with its hippie charm that resists obsoletism. Strewn with the art works of Rembrandt, Vermeer and Van Gogh, this city evokes admiration as well as world attention. For foodies, the capital of Netherlands is equally a haven thanks to its gourmet cuisine and world class bakeries. Green spaces, dazzling night clubs and shopping districts dot the cityscape of Amsterdam and render it to be an ultimate tourist destination. We definitely have an idea that you know how to make the best out of this city, however, here are some unforgettable
things to do in Amsterdam
that can render your trip to this city a memorable one.
1. Catch up some Foot tapping live music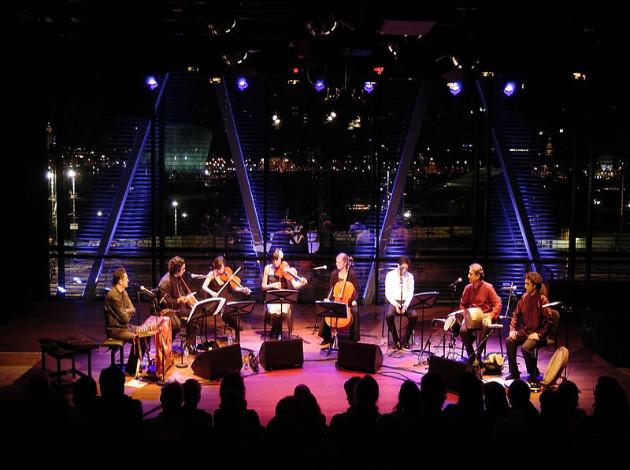 Image Source: Wikimedia Commons
It is a world acknowledged fact that Amsterdam bustles with live music venues that offer you a truly unforgettable experience of the city. Catch for some venues where you can listen to some effervescent notes of music that will stir your emotions and jazz up your life. The city is so much abuzz with the music scene that the venues range from hole- in -the -wall -bars to the famous Concertgebouw. While you are staying in this lively city, do reserve an evening for a live music performance, to transfer you into dizzying heights.
2. A Heineken Experience for a true Amsterdam flavour

image source: Maria Ekilnd/flickr
While you are in this stunning city, indulge into Heineken Experience to know and understand the renowned brand better. Held at an old Heineken Brewery, this experience will give you a chance to enter into a virtual ride through the history and brand image of the famous beer company. What's more? You can satiate your craving to have it with tasting sessions for a warm experience.
Visiting Amsterdam
Make this trip count! Build a custom itinerary with Amsterdam trip planner and create an unforgettable experience for your trip. Bon Voyage!

image source:martin_vmorris/flickr
Experience Amsterdam like a local! What can be a better way to soak in the beauty of Amsterdam than to just sit in and admire the open green space of Vondelpark ? Walk in the park's winding paths, sit by the ponds, admire its statues or sit in its open-air theatre for a rich cultural as well as an alluring experience. The very fact that the visit to this park is free will make your desire to enter it even more inviting.
4. Hop on your bike and explore the city

image source: Moyan Brenn/flickr
The best way to experience Amsterdam's cultural side is not to just visit its various museums or attractions, but to absorb the beauty of this city while sitting on a bike and catching up with the vignettes of life here. As they say, cycling is a way of life in Amsterdam and the city boasts of innumerable cycle routes that invite you to take up your bike and just ride around the hidden corners, canals and attributes of the city as well as beyond. And why not? Amsterdam is one of the world's most cycle friendly cities making you rely on your pedal power.
5. Take up an Inexorable Canal Tour

image source: pixabay
Many websites and tour operators would have beaten to the bush the idea od taking canal tours of Amsterdam. Even then, the truth remains that a canal ride is one of the best travel experiences in Amsterdam that can leave indelible memories in the minds of its visitors. The city's canal belt offers you a quintessential picture postcard view of Amsterdam and you end up capturing the magical essence of the city with a single ride or cruise through its immortally shimmering canals. From canal cruises to hop-on and hop-off sightseeing tours, you have the choice of your own!
6. Make a visit to Anne Frank's house

image source: pixabay
Anne Frank's history is inevitably enmeshed into the history of Amsterdam and there is no way you can skip to visit her house during your trip to this city. The house is a poignant reminder of the atrocities done during the Nazi rule here. It was the same place Anne Frank and her family hid during their attempt to flee the persecution. A grim reminder of World Wars and the Holocaust, this place is a must visit for those who wish to understand Amsterdam and its annals better.
7. Indulge into an affair with Tulips

image source: Emanuele/flickr
Tulips are interwoven in the landscape of Amsterdam, a sight of whose will offer you a synonym of the city. They are the colorful emblems of beauty and truth (reminded of Keats?) and are the symbols of Dutch culture and offer you a unique and unforgettable experience in Amsterdam. The best place to buy the effervescent Amsterdam tulips is the famous world's only floating flower market- Bloemenmarkt. Lined up with stalls and shops selling flowers, this market looks probably one of the most alluring markets in the world. If you plan to make a visit to Amsterdam during the spring time, do take out time to visit Bollenstreek that lay carpeted with colorful strips across miles of lowland fields between Harleem and Leiden.
8. An affair with De Pijp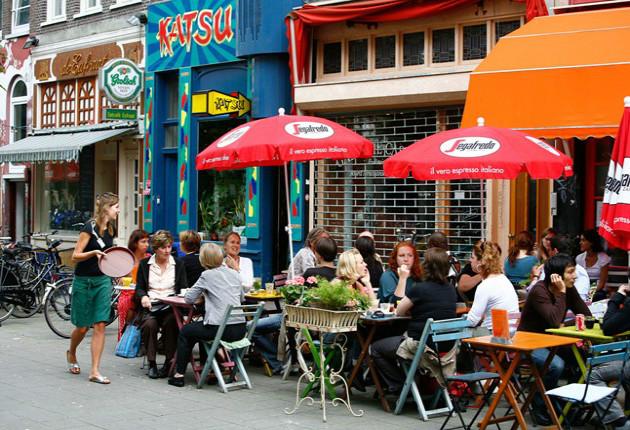 image source: cntraveller.com
A concoction of quirky shops, trendy bars, arty hotspots and cozy dining areas, De Pijp can be easily considered as the coolest hangout bohemian neighborhood of Amsterdam. This place will certainly offer you some of the most unforgettable dining experiences in Amsterdam leaving you overawed with local crowd and astonishing vibes. Spend an evening here to know the glitters that this area holds in store for you! In short, have an affair with it!
9. How about tasting some Dutch cuisine?

image source: Rauwe Andijvie Stamppot/flickr
For some of the best culinary experiences in Amsterdam, hop on to some of the best restaurants that populate the city. Ranging from lively Eastern eateries to classic French Michelin-starred establishments, Amsterdam offers you the best international cuisine in the world. However, nothing can best the sumptuous Dutch food that proliferates the city. The famed Chef Kees Elfring is known for serving on platter the freshest local foods for his ever-changing, daily four-course meals.
10. And Jordaan ofcourse!

image source: Antonio Fassina/flickr
The arty district of Jordaan looks ravishing with winding alleyways, gorgeous canals, 17th century architecture, cafes, boutiques and specialty shops that bustle to make an ensemble of a perfect Amsterdam's experience. Some of the most important Amsterdam's attractions populate Jodaan and thereby make it an oh- so- must- place to visit in the city. Choose daytime to take a stroll here!
11. How about some fluorescent art?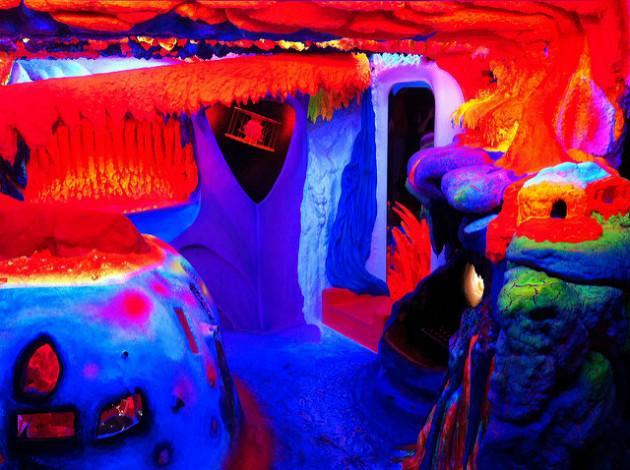 image source: ilovebutter/flickr
There is a never ending list of fun things to do in Amsterdam that makes the city so adorable in the eyes of many visitors. Visit, Electric Ladyland, an eccentric museum that is filled with fluorescent art, rendering it to be eye catching for those who visit it. To visit this museum, you will have to put soft slippers on your shoes, and walk down the stairs into the artistic cave-like space. What you come across inside is a microcosmic, dark collection of fluorescent objects exhibited in a multicolored cave, with artificially created spaces, full of vibrant, fluorescent colors.
12. Watch time passing by at the Bridge of 15 Bridges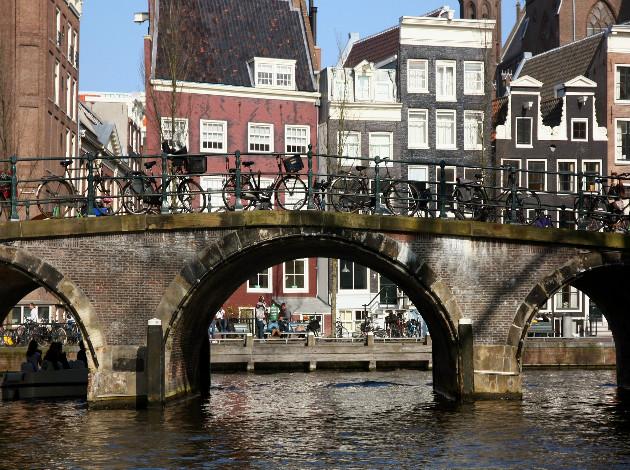 image source: ErikaBenitez/flickr
If you are looking for some of the top experiences in Amsterdam, just take a halt at the Bridge of 15 bridges and take some enamoring photographs of the city. Explore Amsterdam and try to find out the bridge crossing of the Reguliersgracht and the Herengracht and stand at the side with the odd numbers with your back turned to the Thorbeckeplein. From this epic point, you will be able to see six bridges in front of you, six to the left and two on the right. That makes it 14th and the 15th one, is the one where you will be standing.
Everyone visits museums and art houses in Amsterdam, however, take out some time for these best experiences so that your mind can be stamped with the unforgettable experiences of this lovely city.