12 Unique Restaurants To Dine In Chicago
* Disclosure: This post may contain affiliate links, which means we may receive a commission if you click a link and book something (there is never any extra cost to you for using these links).
The vast range of culinary expertise has landed Chicago amidst the top notch food destinations in the world. It is true! There is a plethora of food opportunities waiting for you in every nook and corner of the city, contingent upon your preferences. The cutting edge food scene only gets better as you explore more and more of its wonders, leaving the beaten and tried path. If you have had enough of those pizzas, burgers and steaks, how about trying something new? Trott through the city to experience the bizarre, unexpected yet unusually enjoyable side of dining.
Experience the real city in a marvellous foodie detour. Check out these unique restaurants in Chicago that will not only appease your hunger but will blow your mind too!
1. Hopewell Brewing Company

Image Source: Yelp.com
Nothing like your typical brew place which is often dark and drab, donning a vibe of indifference, Hopewell Brewing Company is a breath of fresh air in the city's bar culture. Taking a three sixty degrees turn, it offers a taproom uniquely amiable with its whitewashed walls and sunny lively appearance. You won't even feel like you have come for drink; instead, it will be more of a cosy and soothing experience sitting on those sleek tables and having your fill. The decor completed with a large window and giant googly eyes only seem to add to its funky appearance.
Address - 2760 N Milwaukee Ave, Chicago, IL 60647, USA
Cost for two - 35 USD (Approx)
2. Acadia

Image Source: Facebook.com
Don't be deceived by its looks! The Acadia, despite having a commonplace appearance, is bundle full of fun for those looking for a unique eat. Expect a lot of surprises here! The first one being its innovative menu that includes exciting variations of the traditional classics. Be it the lobster rolls, burgers or anything else, it will definitely have a zing of its own. To make it even more interesting, there are little menu tasting sessions held during the visit where you will be called into the kitchen only to be offered a little glass of champagne or snacks.

Address - 1639 S Wabash Ave, Chicago, IL 60616, USA
Cost for two- 61 USD (Approx)
3. The Girl & The Goat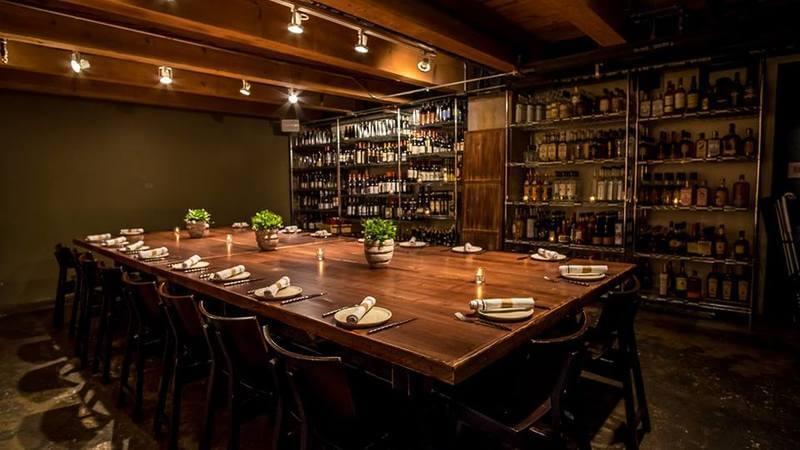 Image Source: Facebook.com
The place can be best described as a quirky outcome of Stephanie Izard's experimental albeit unique cooking style. The Top Chef participant has a gift for churning out excellent dishes even from the ingredients that are non-appetising and disgusting. Take duck tongues and pig faces for example. You will be amazed by how innovative some of these dishes are! Located in the West Loop area of Chicago, this urbane dine offers a little something for everyone, from normal to offbeat and crazy. Come here to take a dig into its best-served delectables like Avocado creme fraiche and White anchovy.

Address - 809 W Randolph St, Chicago, IL 60607, USA
Cost for two- 85 USD (Approx)
4. Frontier

Image Source: Facebook.com
Imagine a large alligator or pig on your plate, smeared in different spices and marinades. Seems crazy right? But this is exactly what you get in Frontier! Their menu includes crazy servings of animals (from head to foot, no kidding!), served in private rooms on big tables. The dishes are prepared by Chef Brian who calls them comfort food. Visit the place if you don't mind eating up a non-skinned stuffed pig which is sided with the restaurant's own beer or cocktail. If you are vegetarian, fear not, as there is a separate section for green eaters too!

Address - 1072 N Milwaukee Ave, Chicago, IL 60642, USA
Cost for Two- 50 USD (Approx)
Check out: Weird Restaurants in the World
5. Guthrie's Tavern

Image Source: Yelp.com
A place that feels like home, what can be interesting or unique about it, one might think. Well, Guthrie's Tavern certainly does not look like hundred bucks that it actually is, and that's where its charm lies. Perched on Addison Street, it can literally be passed off as your childhood basement where you used to play, converse and have lots of fun. The charming vibe is further accentuated with the variety of traditionals served here. Accessorised by antiques and board games, a decent eat in this restaurant is a luxury that can't be missed. Expect the classic rock playing behind as you indulge in your pizzeria.
Address - 1300 W Addison St, Chicago, IL 60613, USA
Cost for Two - 50 USD (Approx)
Discover: Best Bars in Chicago
6. Elizabeth

Image Source: Facebook.com
It is funny how aptly the name reflects the characteristics of this restaurant. Run by Iliana Regan, Elizabeth is for larger than life dining experience. It is located in the Lincoln Square gem and home to a large range of delicious delights that are just as majestic and enthralling as its name. Another thing which distinguishes the place is Regan's method of dishing food through foraging, resulting in the varied and seasonal choices of food for customers. Come here for recipes like creamy baby potatoes and owl shaped foie gras that are just as visually stimulating and hip!
Address - 4835 N Western Ave, Chicago, IL 60625, USA
Cost for Two - 150 USD (Approx)
7. Ruxbin Chicago

Image Source: Yelp.com
Headed by one of the most celebrated chefs Edward Kim, Rubin Chicago is a place where you get much for the comparatively little price. The place is known for its quality meat, served fresh and sauteed with premium spices that only seems to accentuate its flavour. Bare of any pretensions as its motto suggests the restaurant and coffee bar is apparently a hot dining spot for eclectics looking for lovely treats.

Address - 851 N Ashland Ave, Chicago, IL 60622, USA
Cost for Two - 90 USD (Approx)
8. EL Ideas

Image Source: elideas.com
El Ideas, in one word, is a comfort place where you crash into on a particular weary day and expect to leave happy and refreshed afterwards. The restaurant is not very large, with only 26 seats available but watch past it and you will be treated with a splendid time that you will cherish forever. The vibrant ambience will make you feel like you are home!
Address - 2419 W 14th St, Chicago, IL 60608, USA
Cost for Two - 300 USD (Approx)
Must Visit: Beaches in Chicago
9. Alinea

Image Source: Facebook.com
An aftermath of chef Grant and chef Dave's quirky experiments, Alinea derives its charm from its mystery factor. Yes, its menu! The restaurant is famous for having a menu shift every four months, always adding something new to be served on the platter. You can find all kind of themes here, from childhood to Tackle Ancient Rome and Hollywood, that not only makes it appetising but visually stimulating as well. We recommend trying out its exclusive Kitchen Table, which maybe a little expensive but worth the price.

Address - 1723 N Halsted St, Chicago, IL 60614, USA
Cost for Two - 600 USD (Approx)
Check out: Best Molecular Gastronomy Restaurants
10. Au Cheval

Image Source: Facebook.com
In Au Cheval, do as the locals do! And be ready to spare few hours when coming here for cheeseburgers. Yes, that long it takes to get served here! Such a wait for mere cheeseburgers might sound exaggerated for many, but those who have been lucky to eat them will swear on how heavenly they taste. The umami- rich beef sandwiched between crusty slices of bread, doused with cheese and pickles is another thing altogether. If you have done with their burgers, try out other delicacies like its bologna sandwich.

Address - 800 W Randolph St, Chicago, IL 60607, USA
Cost for Two - 30 USD (More if alcohol has been ordered)
11. Uru-Swati

Image Source: Yelp.com
A vegetarian restaurant which is much more that what it sounds! The place serves a range of Indian and Pakistani delicacies that, even though lacking in the red meat area, proves to be a great indulgence nonetheless. There's a reason why it is deemed to be one of the best places to eat in Chicago, owning to its chef's mastery in preparing a light yet mouth watering meal with stuffed doughs, eggplants, veggies and lots of gravy. Ensure to taste its popular Palak Paneer that just goes right with the paratha and leave a lasting impression on one's mind.

Address - 2629 W Devon Ave, Chicago, IL 60659, USA
Cost for Two - 35 USD (Approx)
12. Oriole

Image Source: Yelp.com
Tired of the already beaten path of fine dining? Here comes the saviour- Oriole! It is the new place in the city that serves everything delicious and uncommon. Located in the west loop, the restaurant can easily be missed if not paid attention carefully. It unmarked entrance lies in a quiet side street and leads to an elevator which will take you to a maze of fine dining and comfort. The interiors are cosily designed to provide it with a sublime feel, perfect for a date or even alone eat! There is no menu, but with the smiling warm kitchen staff here, you won't need one!
Address - 661 W Walnut St, Chicago, IL 60661, USA
Cost for two- 350 USD (Approx)
Ensure to check out all these amazing places that will make your Chicago trip even more memorable!
You may also like to read:
Best Restaurants in Pike Place Market
Best Old Town Restaurants in Prague
Hiking Near Chicago - Best Trails for Fun and Adventure