10 Unique Restaurants in India
* Disclosure: This post may contain affiliate links, which means we may receive a commission if you click a link and book something (there is never any extra cost to you for using these links).
Bored of eating at the same old take out joint or diner? There's an interesting restaurant located very close to home! These places have gone one step ahead and made dining an experience. With special attention on theme, décor and food, these restaurants stand out as some of the most amazing eateries in India.
For food, ambiance and innovations, here are Triphobo's picks for the coolest out-of-the-box unique restaurants in India
1. Karavalli, The Gateway Hotel, Bangalore

PC: gateway.tajhotels.com
Why: Named as one of the finest restaurants in Asia for its extensive research combined with ancient recipes that churn out some of the most lip smacking south west coastal cuisine. The ambiance is eclectic and the clientele, unflinchingly loyal.
Where: 66, Ground Floor,The Gateway Hotel, Bengaluru, Karnataka 560025
Also Read : Places in Mumbai Where You Get Delicious Pizzas
2. Indian Accent, The Manor, New Delhi

PC: indianaccent.com
Why: For dishes like foie gras stuffed galawat, chilean spare ribs, warm doda burfi treacle tart. The experimental food and exceptional ambiance makes this place a sure winner.
Where: 77, Friends Colony West, Near Old Friend's Club, New Delhi, Delhi 110065
Also Check : Veg Restaurants in Mumbai
3. Kaidi Kitchen, Chennai

PC: Zomato.com
Why: The ambiance trumps the food. Jailers and wardens serve you food behind bars and put up a great prison-like show for you.
Where: 20/3, Bishop Wallers Avenue East, Next to St. Ebbas School, Mylapore, Chennai, Tamil Nadu 600004. (Also in Delhi, Jaipur and Kolkata)
Also Read : Theme Restaurants in Mumbai
4. 70 mm, Hyderabad

Why: This one is a real treat for Bollywood fans. From statues of evergreen, yesteryear actors to zones named after genres, almost everything here impresses you. Thankfully, the food lives up to the ambiance too giving you an unusual dining experience.
Where: Ohri's Jalavihar, Necklace Road, Hyderabad, Telangana 500068
5. Taste of Darkness, Hyderabad

PC: Facebook.com
Why: A brilliant concept that is immaculately executed. At this place, you are expected to dine in the dark and feel the food with your hand. An eye opening peek into the world of the blind!
Where: 5th floor, Inorbit Mall, Mindspace, Madhapur, Hyderabad, Telangana 500081
Also Read : Exotic Ice Creams in Mumbai
6. The Bar Stock Exchange, Mumbai

Why: In the city of India's most important stock exchanges, this bar fits right in. The prices of the drinks fluctuate according to that night's demand!
Where: Plot No: 89, Near Pipeline Road, Sakinaka, Mumbai, Maharashtra 400072 (Also at other locations in Mumbai)
7. Nature's Toilet Café, Ahmedabad

Why: Because they managed to make the lavatory cool! Enjoy your meal while you sit on the toilet seat and watch how your inhibitions melt away. What's more, this weird restaurant is surrounded by a toilet garden too.
Where: Next to Sabarmati Ashram, Ahmedabad
Check Out : Michelin star restaurants in India
8. Hijackk Café, Ahmedabad

Why: This double decker bus converted into a restaurant is an interesting and unique concept that takes you on a drive around town as you relish your meal.
Where: Devarc Mall, S.G.Highway, Ahmedabad, Gujarat 380059
9. Veli Lake Floating Restaurant, Trivandrum

PC: keralatourism.org
Why: Because restaurants aren't supposed to float! Made on the picturesque veil lake, this restaurant and in fact the whole town, floats nonchalantly on water. Full marks to the blissful ambiance!
Where: Veil Tourist village, Trivandrum
10. 1857, Hyderabad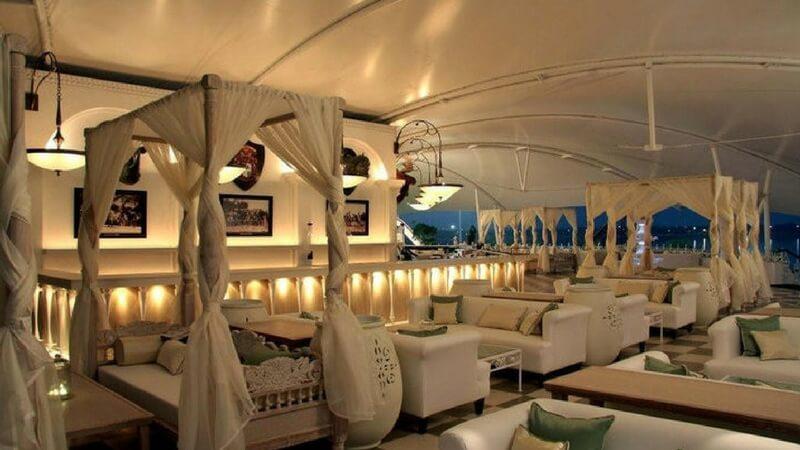 PC: Facebook.com
Why: This is a colonial themed restaurant that has borrowed heavily from the style of the British Raj. The food is well researched and executed and the authentic pictures of the British Raj take you back to forgotten decades.
Where: Inside Jalavihar, Necklace Road, Opp Necklace Railway Station, Hyderabad, Telangana 500068
Have you dined at any other place that deserves to be on this list?
You May Also Like To Read:
7 Weirdest Restaurants Around The World
11 of The Most Expensive Meals in India
9 Lesser Known Restaurants of Goa