14 Breathtaking Road Trips In United Kingdom
* Disclosure: This post may contain affiliate links, which means we may receive a commission if you click a link and book something (there is never any extra cost to you for using these links).
Comprising of Scotland, England, Northern Ireland and Wales, the lyrical landscapes of United Kingdom are a sight to behold. From Scotland's lush highlands and serene lakes to the magnificent natural wonders of Northern Ireland, from the picturesque towns and bustling cities of England to the castles and panoramas of Wales, we believe that the best way to explore the sheer beauty of UK is to go on a road trip. Here are some roads in the UK that offer stunning vistas. Don't forget to pack your camera!
Llandovery to Gwaun-Cae-Gurwen, Wales:

Known as the Black Mountain Road, the A4069 connects the quaint town of Llandovery to the charming village of Gwaun-Cae-Gurwen. Full of exhilarating corners and turns, the road was even featured on BBC's famous show Top Gear.
Time Taken: 1 hour
London to Bath, England: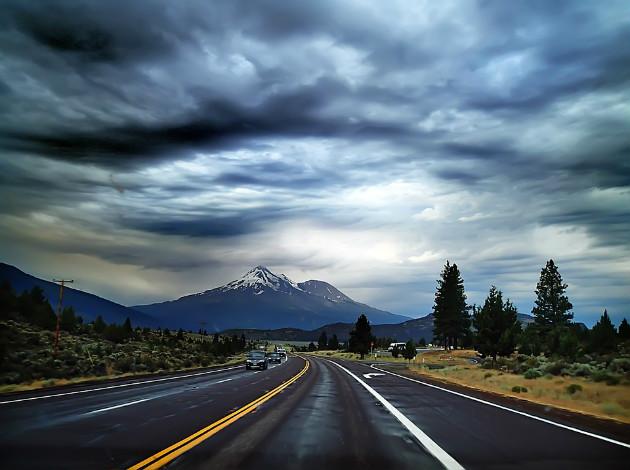 Photo by Wiegots
Set on the Thames River, the vivacious capital city of London offers some quick weekend getaways. If you are planning on escaping the hustle bustle of this city of the Big Ben, a roadtrip via M4 to the beautiful UNESCO World Heritage site city of Bath would provide you with the perfect break.
Time Taken: 3 hours
Also Read: Top 10 Road Trips Across Europe
Glasgow to Inverness, Scotland:

Photo by Stephen Sweeney
Although there are a couple of roads connecting the gorgeous port city of Glasgow to Loch Ness lake's city of Inverness, the best way to travel between these two is to drive down the A82. Full of breathtaking sites, you might end up taking longer to reach your destination because you'll be busy making pit stops for capturing spectacular photographs!
Time Taken: 4.30 hours
The Atlantic Highway, England:

Connecting Barnstaple in Devon to Newquay in Cornwall, the Atlantic Highway was, until 2002, a trunk road. Named so because it follows the Atlantic Ocean coastline, a trip down this highway would be perfect for beach bums and photography enthusiasts.
Time Taken: 2 hours
Wrexham to Bala, Wales: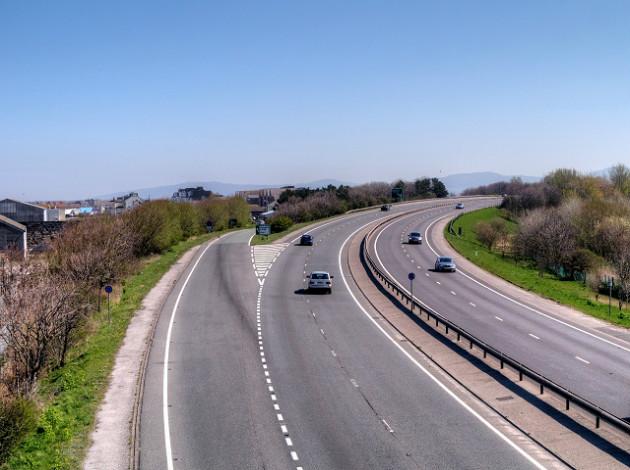 Photo by David Dixon (CC BY-SA 2.0)
Drive through the renowned Welsh hills from Wrexham to Bala via A494 and A5104. Situated within the historic county of Merionethshire, Bala is a charming little town whereas the historical town of Wrexham leaves its visitors intrigued.
Time Taken: 1 hour
Edinburgh to Paisley, Scotland: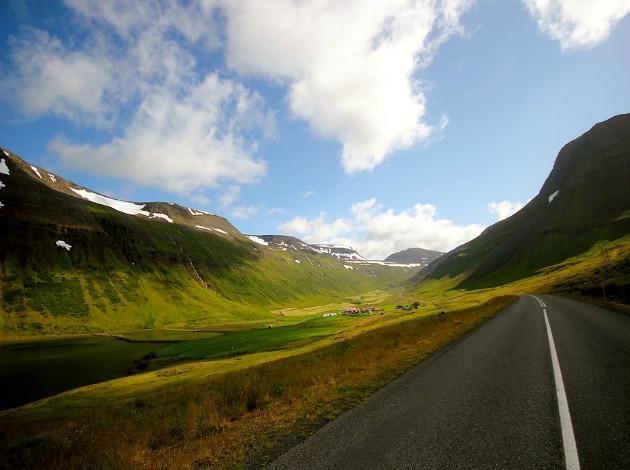 Photo by hfossmark
The M9 from Edinburgh to Paisley proves be an ideal path for an amazing road trip. You can make pit stops at the wonderful towns and cities of Falkirk, Cumbernauld and Glasgow before reaching the delightful town of Paisley.
Time Taken: 2 hours
Conwy to Merthyr Tydfil, Wales:

Photo by Tilman2007/Dr. Volkmar Rudolf
From one enchanting town to another! The journey from the enthralling town of Conwy to riveting town of Merthyr Tydfil via the A470 is full of mesmerizing natural beauty.
Time Taken: 4 hours
Portrush to Ballycastle, Northern Ireland:

Northern Ireland is known for its acres of enticing landscapes. If you are in that part of UK, do drive down from Portrush to Ballycastle via A2. Portrush is a sleepy little seaside town where you'll get the best seafood in Ireland! Ballycastle, literally translating to 'town of castle' is a charismatic town that offers visitors several things to do- from aquasports to historical tours. While in Northern Ireland, you just have to drive down the famous Dark Hedges. It is a beautiful beech tree lined avenue which was even used as a filming location for Game of Thrones.
Time Taken: 1 hour
Inverness to Durness, Scotland: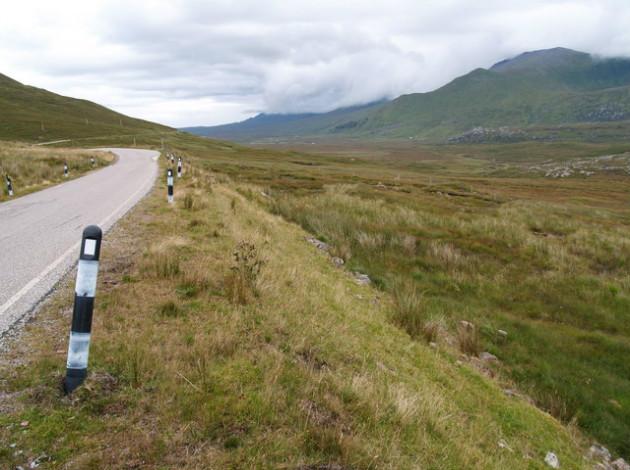 The Scottish highlands are world renowned. Take a journey through lush scenery and tranquillity- go on a roadtrip from Inverness to Durness via the A838. The picturesque village of Durness is the most spectacular corner of Scotland. Did you know that it is the most North Westerly Village on Mainland Britain?
Time Taken: 3 hours
Abergavenny to Penderyn, Wales:

Photo by Pmorici
A road trip full of dramatic landscapes, the journey from Abergavenny to Penderyn will leave you awestruck. Planning to stay for a long while in Wales? Book your accommodations using our smart hotel booking feature. It bargains for you and gets the best deals possible.
Time Taken: 1.30 hours
York to Kirkbymoorside, England: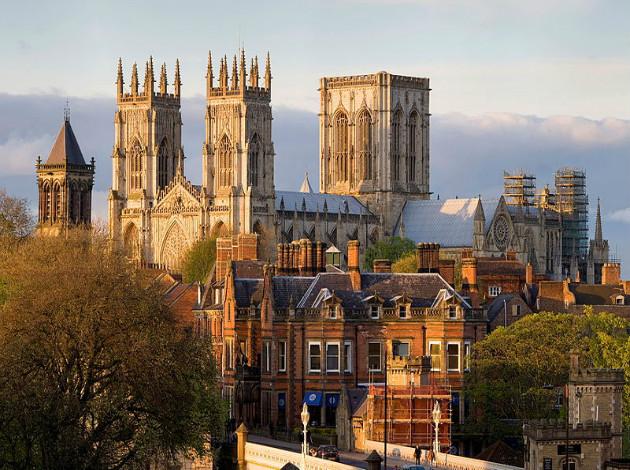 Kirkbymoorside is a quaint market town in England. Boasting of emerald green moorlands, if you are a romantic at heart, the town will entice you with its lovely weather and charming alleys. While visiting York, we recommend you plan a one day trip to Kirkbymoorside.
Time Taken: 1 hour
Also Read: London to New York by Road
Invergarry to Skye, Scotland:

Photo by Frank Winkler
This one is the ultimate road trip on can go on while in Scotland! Hectares of unblemished, virgin landscapes will greet you with open arms. The Isle of Skye is connected to mainland Scotland by a bridge. A drive over this bridge offers such spectacular and enchanting views that you'll have to pinch yourself to ensure you are not dreaming! Maybe this is how J.M. Barrie's Neverland looks like.
Time Taken: 3 hours
Chirk to Bethesda, Wales:

Photo by Denghu
The A5 is one road you should drive on while in Wales. The border town of Chirk looks right out of a fairytale. More so because of the imposing Chirk Castle. A couple of hours drive from Chirk on A5 will bring you to the former quarrying village of Bethesda. If you are an outdoorsy person, this village will quench your thirst for the outdoors.
Time Taken: 2 hours
Belfast to Londonderry, Northern Ireland:

Photo by Roger Price
After spending a few days exploring Northern Ireland's pulsating capital city of Belfast, you can rent a car or hire a bike and head over to the historical city of Londonderry (also known as Derry). This walled city is full of history, mystery and intrigue.
Time Taken: 2 hours
All set to go on an epic roadtrip across UK? Plan your road trip itinerary using our marvellous and easy to use trip planner. Happy Journey!
Note: some of the images are for representative purposes only.
You might also like reading: