18 Unusual Things To Do In Oregon
* Disclosure: This post may contain affiliate links, which means we may receive a commission if you click a link and book something (there is never any extra cost to you for using these links).
Nestled in the Pacific Northwest area of the United States, Oregon is a "love-at-first-sight" for everyone who visits it for the first time. Surrounded by majestic mountains, beaches with azure blue waters and breathtakingly beautiful forests, the state of Oregon has been a perfect nature resort for a large number of tourists. While the Crater Lake National Park and Portland Japanese Garden are two of the most famous places to visit in Oregon, there are a few hidden gems like Thor's Well and Devil's Staircase. The presence of Crater Lake and Mount Hood offers plenty of things to do in Oregon that you would love to take part in on your Oregon trip! Want to know more? Read on and have an exciting Oregon vacation!
1. Take a guided tour of Crater Lake National Park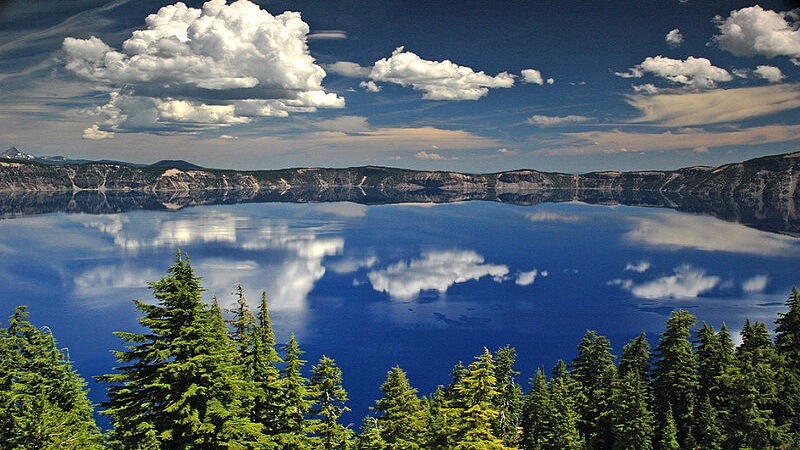 PC: wikimedia.org
Visiting Crater Lake National Park is like stepping into a paradise. Perched on the foothills of Cascade Mountains, Crater Lake National Park is home to the best of Oregon lakes- the Crater Lake, a collapsed volcano called Mount Mazama, and a volcanic island called Wizard Island. You can take a guided tour of the national park walking through its famous trail called Sun Notch or go for a ride on the Rim Drive.
Take a wonderful Crater Lake 3-Day Tour From Portland!
2. Click pictures of Multnomah Falls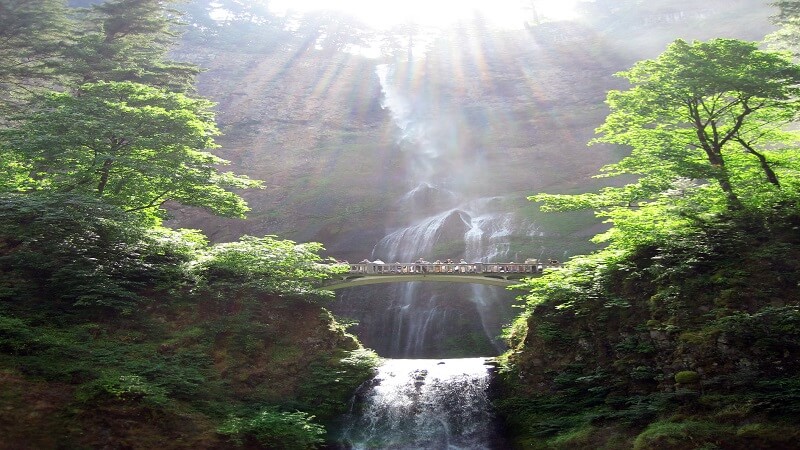 PC: wikimedia.org
No wonder that the incredible beauty of Multnomah Falls has got itself featured in the movies like Star Wars, The Shining, or Twilight. Multnomah Falls is, indeed, the greatest epitome of natural beauty and one of the best things about Oregon. Located in Columbia River Gorge, Multnomah Falls cascades from the height of 600 feet making it one of the highly photographed spots in the world.
3. Take a tour of Tillamook Cheese Factory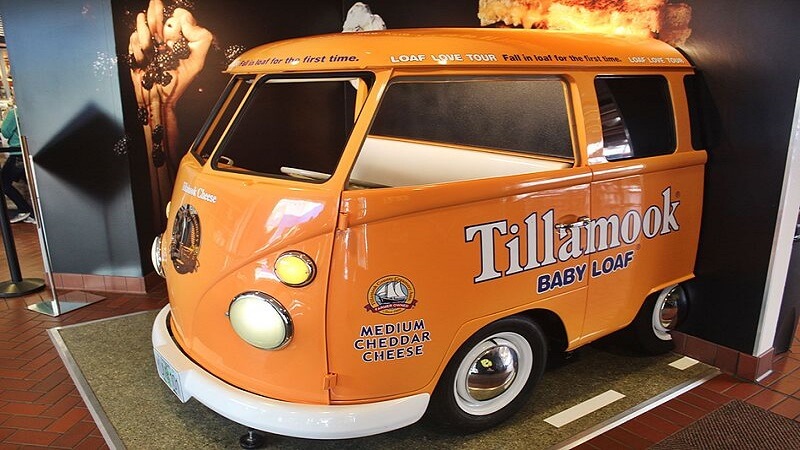 PC: wikimedia.org
One of the best things in Oregon is the Tillamook Cheese, and while you are touring Oregon, it becomes important that you visit the place where this world-famous cheese is produced. First opened in 1909, the Tillamook Cheese factory has been dedicated to providing quality milk products. Don't forget to buy some time-tested Cheddar cheese from the factory!
4. Go Wine tasting at Willamette Valley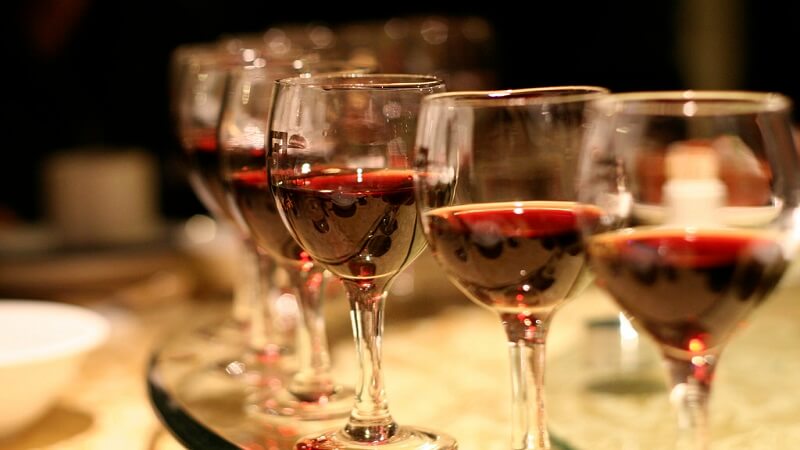 PC: flickr.com
Whether it's Dundee, Carlton, Newberg, or Amity, each winery and vineyard of the Willamette Valley is sure to make your Oregon trip filled with pleasures. Do you know that there are around 300 wineries in the valley? Well, all the wine-lovers will never feel short of a wine tasting adventure while in Oregon! Besides, staying at their resort and stargazing is one of the best things to do in Oregon at night.
5. Walk through the Portland Japanese Garden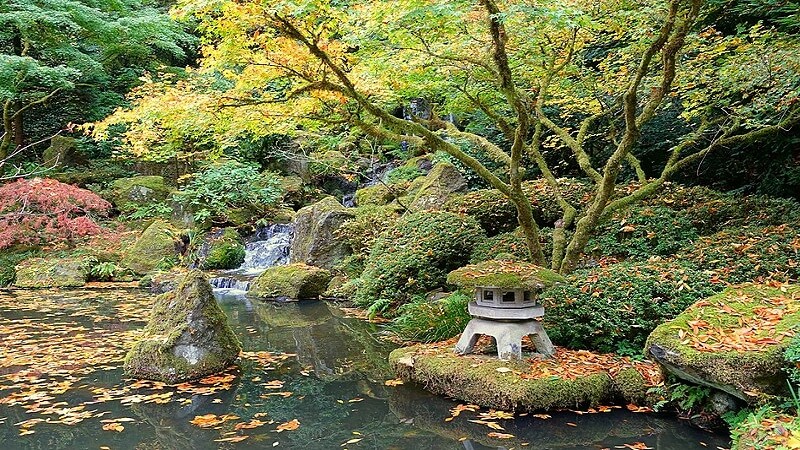 PC: wikimedia.org
Looking for some relaxing things to do in Oregon's Portland? Come to Portland Japanese Garden and you will feel the calm and peace like never before. Located inside the Washington Park in the West Hills of Portland, Portland Japanese Garden consists of a 12-acre area with beautiful walkways, 8 distinct gardens, and a Japanese Tea House.
6. Enjoy skiing at Mt. Hood National Forest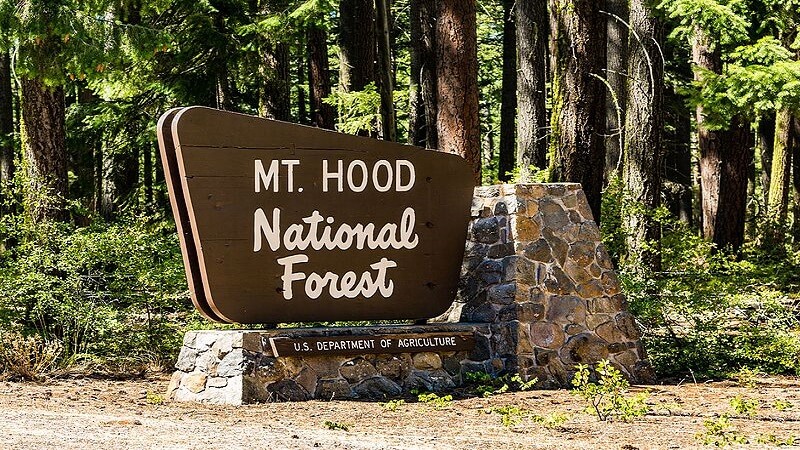 PC: wikimedia.org
20 miles to the east of Portland, you will find a slice of heaven called Mt. Hood National Forest. While hiking through the trails inside the forest is one of the fun things to do in Oregon during the summer months, Mt. Hood National forest becomes a ski retreat in winter as its dormant volcano and alpine lakes get loaded with plenty of snow.
7. Visit the stunning Pittock Mansion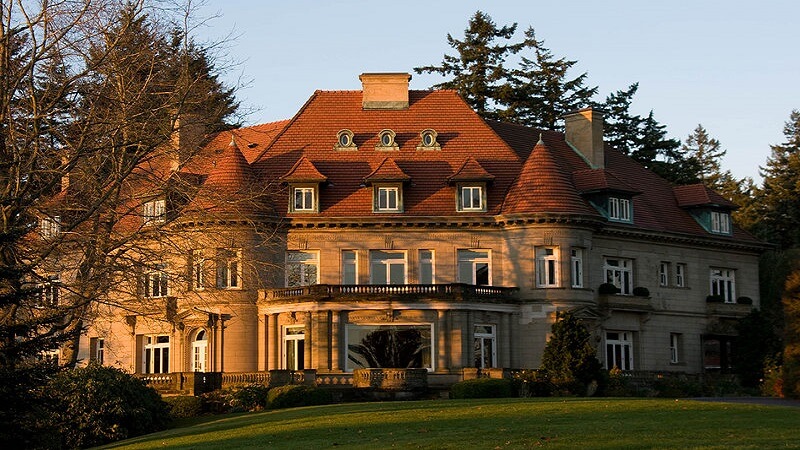 PC: wikimedia.org
With 80,000 visitors every year, Pittock Mansion stands as one of the most popular Oregon tourist attractions. Built in the year 1909 in French Renaissance-style, this impressive mansion houses a museum that tells the story of Portland's transformation into an industrial town. You can also visit their gift shop and buy some craft or history-related items as a souvenir for your loved ones.
8. Meet the furious animals at Oregon Zoo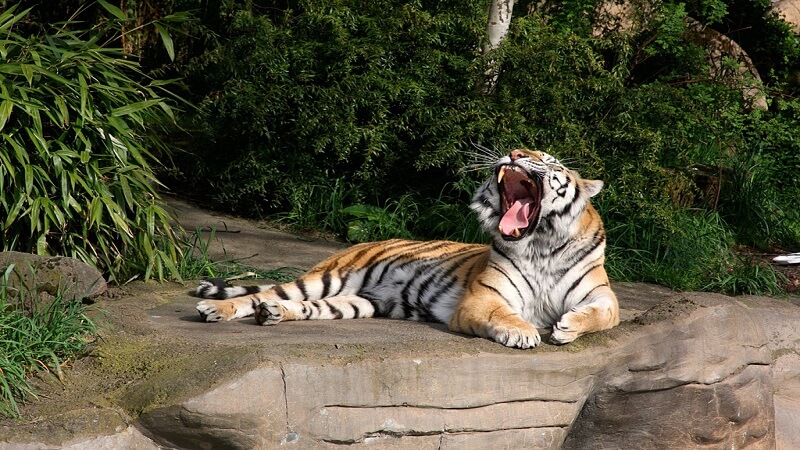 PC: flickr.com
Also known as the Portland Zoo, the Oregon Zoo is a perfect place to spend time with kids. Just 2 miles from downtown Portland Oregon, the Oregon Zoo is located on an area of 64 acres and houses a large number of regional fauna. You can tour the exhibits like Africa Rainforest, Fragile South American Forest, Pacific Shores Stellar Cove, Island Pigs of Asia, and more. The Oregon Zoo is also considered as the first zoo in the world to breed the pygmy rabbits.
9. Jump Into The Deepest Lake In United States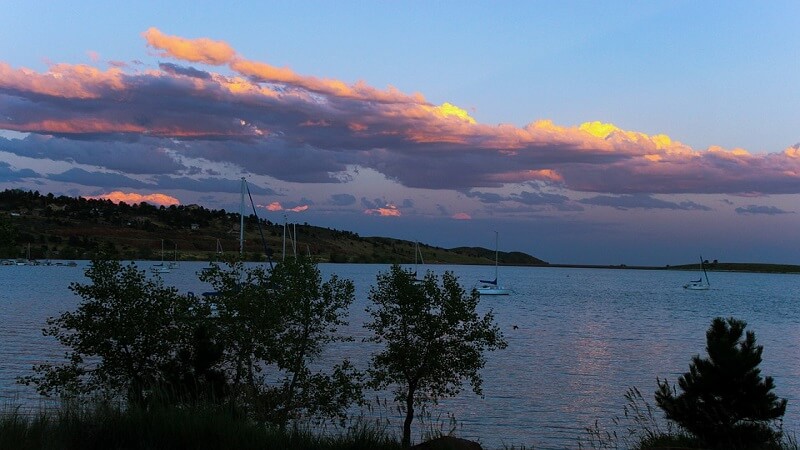 PC: pixabay.com
Yes, you need to know swimming before you do that. But if you do know it, you should consider taking a dip into one of the deepest lakes in the United States of America. Carter Lake has a depth of almost 2000 ft (1964ft) to be precise. But that is not the only attraction of this place. It is also incredibly beautiful. The water is as blue as it can get. It is almost surreal!
10. Have A Pie The Size Of Your Head
The Apple Valley Country store in Hood River, Oregon serves up an apple pie which can easily weigh up to 4 pounds (yes really). Not only they are huge but they are also damn delicious. You can pair them up with some huckleberry milkshake and apple butter, and you'd never want to get out of Oregon ever again.
11. Climb A Mountain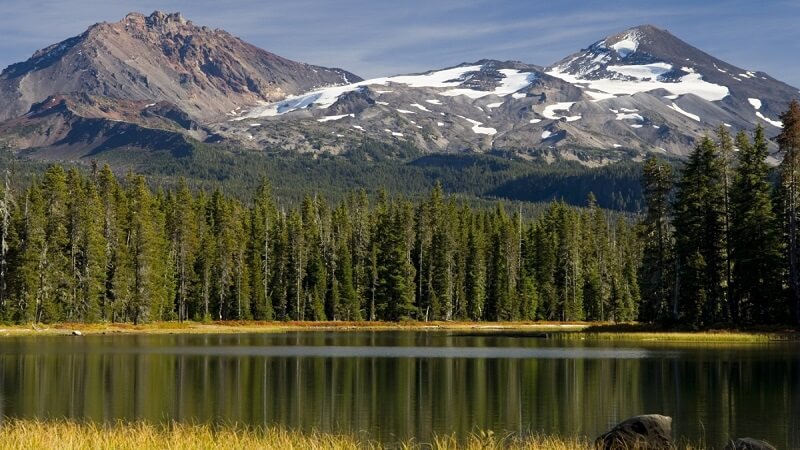 PC: pxhere.com

Oregon has an abundance of mountains in its vicinity. If you're a beginner you can go for the beginner's trail like the Dog mountain trail, or if you're a daredevil who just wants to seek adventure above everything else you opt for Mount Jefferson which is very steep to climb. But we'd suggest you wait till the winter gets over and the routes are opened for the public. We wouldn't want James Franco playing you in a biopic.
12. Brave The Line For Magical Donuts
Magic Donuts are actually magical, but not in a Harry Potter way, more likely in a delicious foodgasm way. Why you may ask? Because you get a giant donut covered in fruity treats, some cheese and a strip of bacon on it! There aren't many places that serve Donuts with bacon on them.
13. See A Ghost-ship!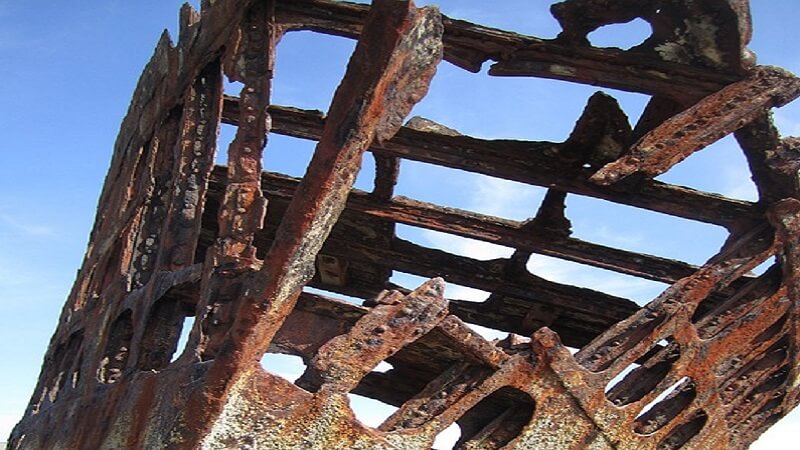 No, we're not talking about Pirates of the Caribbean here. This place can be referred more like the aftermath to Titanic. It draws over hundreds of people over the weekend, mostly teenagers looking for some good Instagram photos. Despite being over a century old it remains to be a famous attraction on the Warrenton, Oregon Coast.
14. See The Goonies House
Anyone who grew up in the 80s wouldn't miss out this opportunity. The house is located in Astoria, Oregon is now owned by a young Jewish couple. Goonies fan themselves they let other fans have a stroll around the house as long as the guests are polite and come on foot.
15. Eat A Crab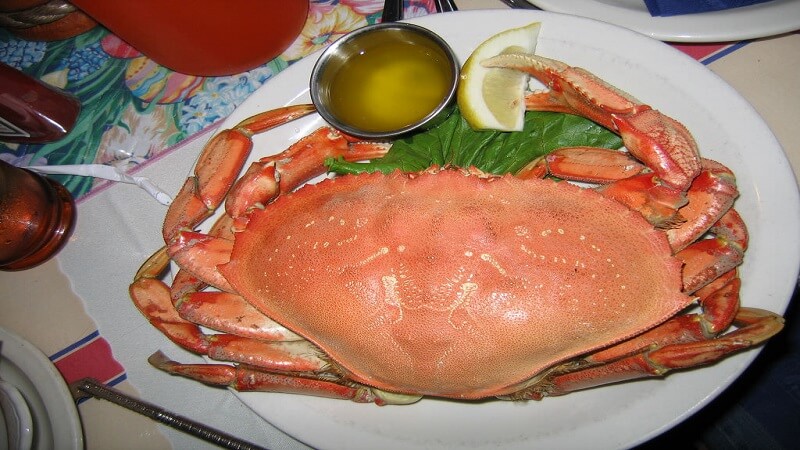 PC: flickr.com
It will be considered as a cardinal sin if you visit Oregon without eating the Dungeness crab, which is local to the Oregon coast. You can visit any restaurant along the coastline, and you'll be served with some of the best crabs. But Norma's Seafood and Steak in Seaside, Oregon is famous for serving the best crab in the state. If you're feeling ambitious enough you can visit the fish market on the Rockaway beach where they are caught and cook one up yourself.
16. Go On A Beer Adventure
The Bend Ale Trail is basically the equivalent of to The World's End" movie for craft beer lovers, minus all the cameramen, director, actors, and the drama. The beer trail will take you across all the 14 breweries in the city. Try to make it at the end of it (if you can). Don't blame us if you end up on the front page of the paper (not for a good reason) the next day.
17. Be Impressed By Kites
The kite festival is one of the highlight of the city. It is hosted annually with over hundreds of people participating in it. If you don't know how to fly a kite, don't worry the view of hundreds of kits flying in the sky makes it up for everything. After all who doesn't get impressed by kites?
18. Defy Gravity At The Oregon Vortex House Of Mystery
PC: flickr.com
This place is located in the Gold Hill area of Oregon; this bizarrely weird roadside attraction will turn skeptics into believers. Sure, there is a high chance it will be an optical illusion it could be totally paranormal. You decide which one is more fun to believe.
The Vortex House of Mystery located in the Gold Hill area of Oregon may seem like an optical illusion at first glance, but it's not. It is a bizarrely constructed house that will fool you into checking your glasses twice!
What is your idea of a perfect Oregon vacation? Which places did you like the most? Do let us know and enjoy your time in the gorgeous state of Oregon!
You May also like to read about: