The Only USA Road Trip Guide You'll Need Ever
* Disclosure: This post may contain affiliate links, which means we may receive a commission if you click a link and book something (there is never any extra cost to you for using these links).
Follow your Great American Road Trip straight from the Horse's Mouth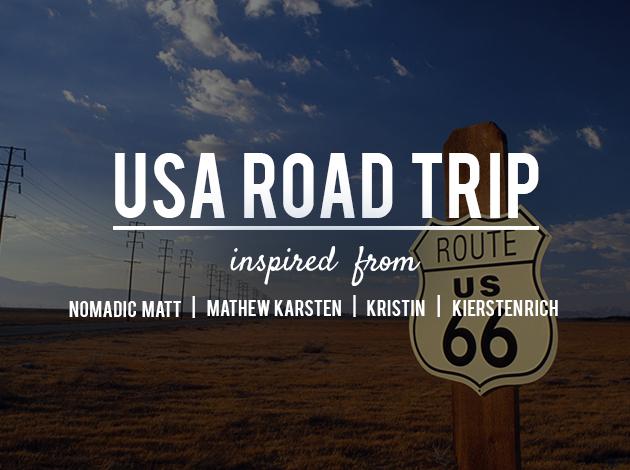 Are you also one of those who loves to conquer the roads, who loves the speed and passion that goes into making a road trip successful? Then, the American Roads should be your next sojourn! For most of you, USA Road trips are projects and dreams that still need to be realised. So here's a collage of experiences that some of the established travel bloggers have shared through their travel blogs. They have redefined and shaped up the way we look at the roadtrips and their accounts will charge you with passion to unlock your cars and immediately pounce on your driver's seat for life changing road trips through America, today and just now! They have got that blood that loves to witness the horizons of States roads and they would love to instill the same in you:
5. Live through Florida Keys Road Trip with Mathew Karsten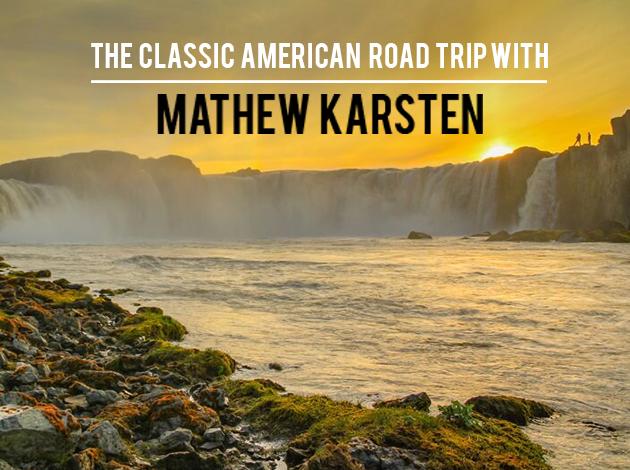 You can call him as: A full-time adventure travel blogger & photographer
Followers: Around 230,000 and still going up
Website: Expert Vagabond
When Mathew Karsten decided to commence on the classic American road trip between Florida Keys from Miami to Key West, he just needed a convertible wheels and a couple of friends to add that element of fun and companionship to his trip. His journey constituted of 110-mile trip, including crossing over 42 different bridges. Driving under the warm sun with lesser (indeed very less) clothing, he had his apparatus ready for the road trip: some good tunes and an unchained spirit. Feeding wild Tarpon, staying an overnight in Marathon Key and covering that Seven Mile Bridge that seems to have no end and watching Key West sunsets were some of the souvenirs that he collected from this journey. For those who are looking for some tips for this journey, this blog is the perfect resource.
So here's how we replicated his trip through our itinerary planner!
4. The ultimate California Road Trip with Kristin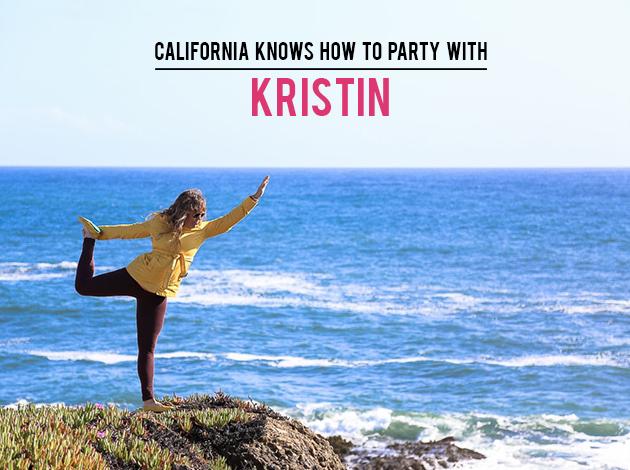 You can call her as: Avid traveler, Conde Nast employee by day, red carpet correspondent by night.
Followers: Around 40,000 and increasing hourly
Website: Camels and Chocolate
It seems California road trip has been on the minds of many! Sautéed with a humorous tone, Kristin's blog is an insider's offering for those who dream of embarking on California's coastal road trip! While calling Santa Cruz as the "town of dichotomies", she considers the journey towards it to be one of the most satisfying ones. Her blog is suffused with beautiful photographs for an added visual quality and lets people imagine the road trip with all its vignettes. Her stops are not cities but natural views such as blue skies, hills, cliffs, and lighthouses amongst others! A perfect recipe for a life changing journey!
Highlights of her journey: food tour in San Francisco, San Mateo County, Pigeon Point, Devils Slide and San Gregorio, Natural Bridges State Beach

3. Get prepared for an all-girls road trip to California Coast with Kiersten Rich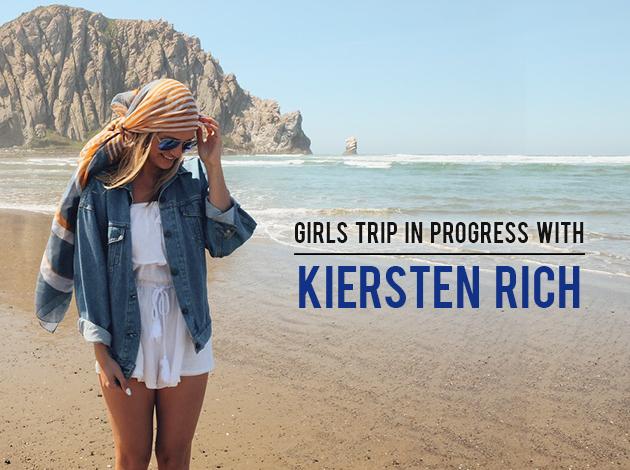 You can call her as: A world traveler
Followers: Around 310,000 and still increasing!
Website: The Blond Abroad
What makes Kiersten Rich's trip to stand out is the fact that it is an all-girls trip traversing the great American roads. Her blog on a roadtrip through California's coast is a perfect resource material for whom it is the pitstops in the journey that matter more than the destination itself. She encourages you to make stops here and there while putting a consummation to the journey. From hotel stays to restaurants, from road tips to tips on how to have fun, this blog summarizes all for you. So why should men have all the fun!
Her blog elaborates the stops in between of:
Los Angeles-Santa Barbara-Solvang-Pismo Beach- San Luis Obispo- Morro Bay- Big Sur- Carmel by the Sea- Monterey- Santa Cruz- San Francisco
2. Kristin again with 3 Awesome Fall Road Trips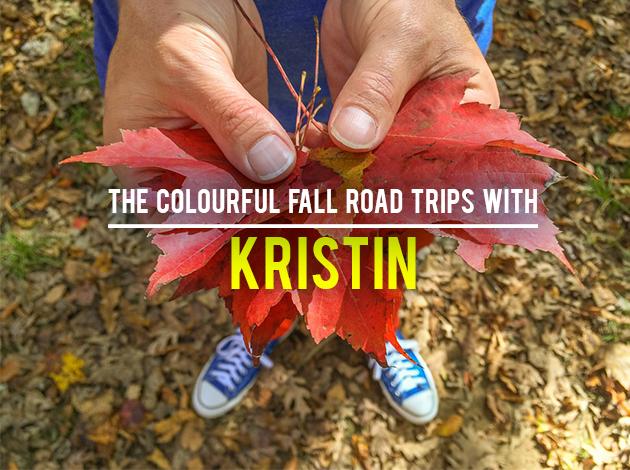 You can call her as: Avid traveler, Conde Nast employee by day, red carpet correspondent by night.
Followers: Around 40,000 and increasing with every hour!
Website: Camels and Chocolate
If you have always been thinking as to where you can spot the beauty of Fall leaves in USA, read Kristin's blog as a perfect deep pocket! She gives you a list of roads to take up trips during Fall season! With exact details of time taken to cover the distance, Kristin urges you to take up road trips around America where you can witness that picture landscape enveloped by Fall colours! The beauty of the yellow rusty red and gold colours is one thing that binds the trips to Auburn and Alabama, the Outer Banks and North Carolina, Oxford and Mississippi for her.
Perfect Road Trips for witnessing fall season for her:
Auburn, Alabama: Time taken-4 hours, 30 minutes
The Outer Banks, North Carolina: Time Taken-11 hours, 40 minutes
Oxford, Mississippi: Time Taken-4 hours, 30 minutes
1. Meet Nomadic Matt-the ultimate Travel Guru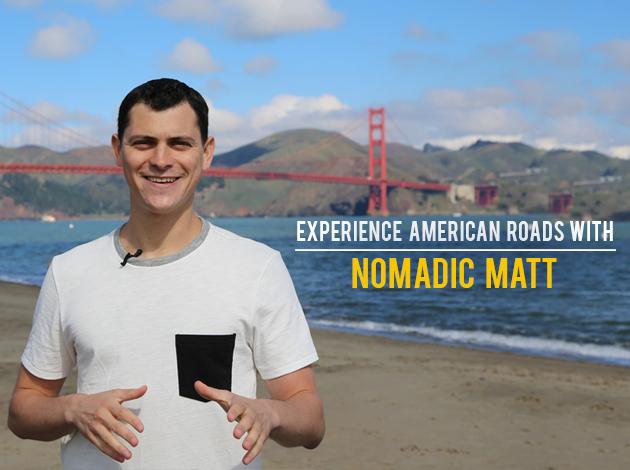 You can call him as: An American travel expert!
Followers: Whew! around 31,00,000 and increasing leaps and bounds!
Website: Nomadic Matt
The numero uno of all travel bloggers, Nomadic Matt seems truly in love with American roads as for him, they take you on a journey not just from one city to another but from one minicountry to another, endowed with a different set of belief, culture and lifestyle! As he says, road trip runs in the DNA of Americans thanks to their history and the sense of independence that it infuses you with!
Leaving the "King of all road trips", i.e the cross country ones, he chose to first traverse through his country that took him to myriad experiences and vibrant local flavors! From Rocky Mountains, to the Grand Canyon, Denver, post-Katrina New Orleans, and the Great Plains, he drove through the dramatic landscape of USA for an enriching experience to be penned down for others to follow.
Areas covered: Arizona, Rocky Mountains, to the Grand Canyon, Denver, post-Katrina New Orleans, the Great Plains, Memphis to Montana, Yellowstone, California wine country, Utah, Mardi Gras, Chicago to his home back in Boston.

Keep track of this space for more stories on road trips that will suffuse your imagination with travel and experiences!
Wanderlust not yet satiated? Check out these doable USA Roadtrips. (Bonus - packing tips)