Valentine's Day In Kolkata: 14 Best Ideas To Celebrate
* Disclosure: This post may contain affiliate links, which means we may receive a commission if you click a link and book something (there is never any extra cost to you for using these links).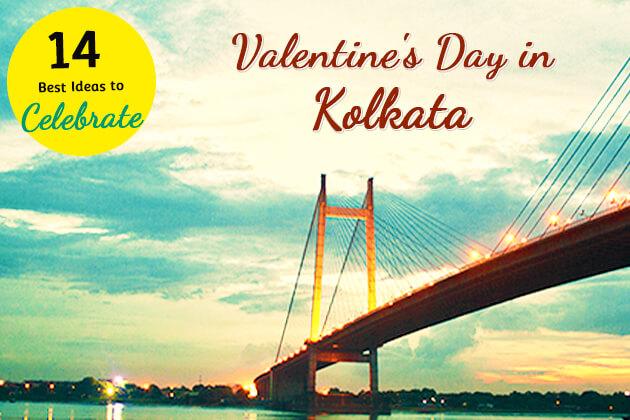 Kolkata is a queen by nature, whispering secret stories and making you fall in love over and over again. Long story short, you don't need to be in Paris to feel the magical spell of love and when it comes to celebrating love, Kolkata has its own style. Gifting a rose? Or buying those red heart-shaped pillows? Well! It is not our cup of tea. Rather a puchka treat on the roadside, tram ride along Maidan or a boat ride on Hoogly River charms Kolkatans any day.
With Valentine's Day around the corner, we at Triphobo have come up with some interesting ideas to celebrate Valentine's day in Kolkata.
1. Go For An English Breakfast At Flury's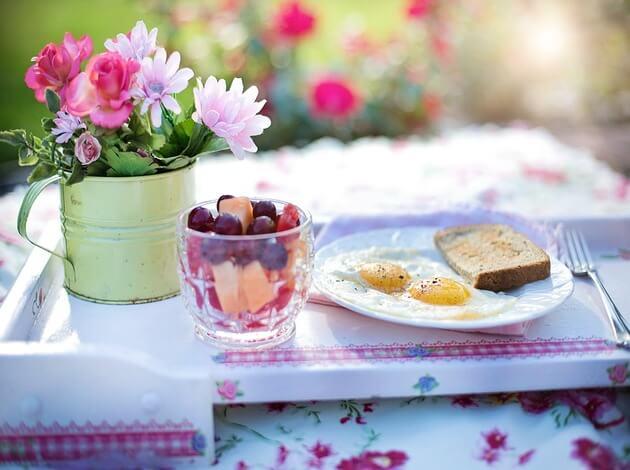 Indian history has always declared Kolkata as the capital of British Empire. That's why, we still see few remnant of British Raj's glory left in Kolkata. One of the finest examples is Flury's. Ask any Kolkatan as to where you can enjoy the perfect heritage breakfast in this city, Flury's will be their answer. Since its first public opening in 1927, this heritage eatout has held up to its glory by serving perfect English breakfast. Sitting inside the legendary tearoom, savoring a hot cup of tea with freshly baked breads and bacons and watching the day pass by through its large glass windows itself makes a perfect start for the Valentine's Day in Kolkata.
2. Breathe In The Fresh Air In The Gardens Of Kolkata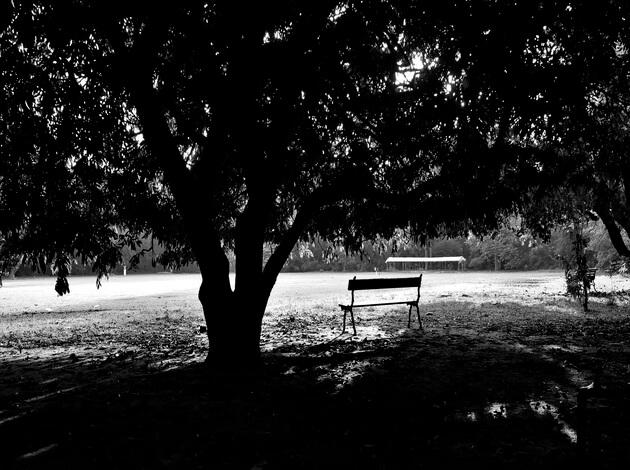 PC: Abhijit Kar Gupta/flickr.com
Inspite of becoming a metropolitan city, Kolkata still holds her green face. And you can make out from the number of gardens the city has right in its core. Some of them are Elliot Park, Rabindra Sarobar, Central Park and Millennium Park. Step inside one of these parks, shut yourself away from the chaotic streets, hold your loved one's hand and enjoy a leisure walk along the woods. It's a perfect place and time to bond with him or her which otherwise your hectic work schedule does not let you do so.
3. Learn About Kolkata's History In Victoria Memorial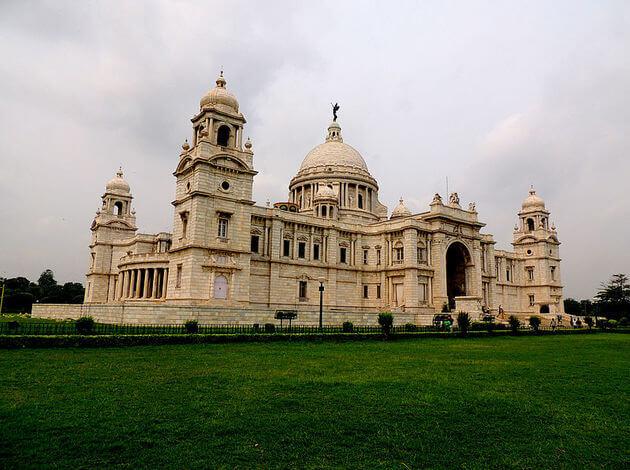 For couples who are always amused by history, Victoria Memorial is your destination. This majestic white marble structure which is a lookalike of Taj Mahal has its own charm which mesmerizes every visitor who comes over here. The lush greenery with chirpy birds makes the entire ambience romantic. Step inside the hall and you will be amused by the stunning historical collection. And as the sun sets in, the fountains in the garden starts dancing to the musical note at 7pm.
4. Hop On A Tram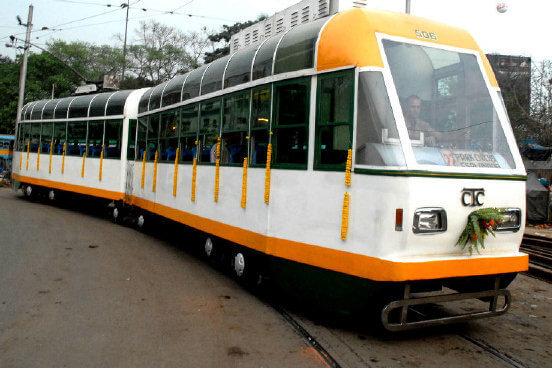 PC: Wikipedia.org
If walking around the city doesn't sound an exciting idea, opt for a Bollywood style romance. Hop on a tram, the heritage ride of Kolkata. Hop on the tram that runs past the Maidan. Remember the famous scene in Yuva (hindi movie) where Vivek Oberoi takes Kareena Kapoor on a tram ride on their first date? Though tram has become an ancient mode of transport, but its lazy pace is surely going to be enchanting journey to relish the beauty of Kolkata. Make sure you and your lover get a window seat to enjoy the scenery.
5. Watch The sunset At Princep Ghat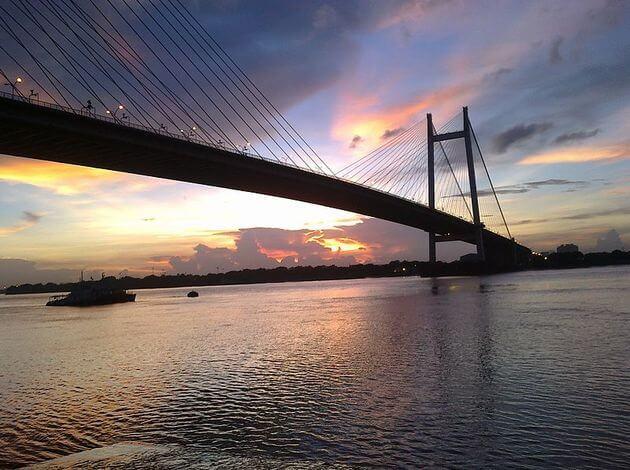 When it comes to celebrating love, how can you forget Princep Ghat?! No matter how old you are, you cannot stop yourself from admiring the Hoogly River from the bank of Princept Ghat. Go for a boat ride, capture the sunset or take few selfies in the famous Palladian porch which has been a backdrop for many Bollywood songs and movies.
6. Amusement Parks For Adventurers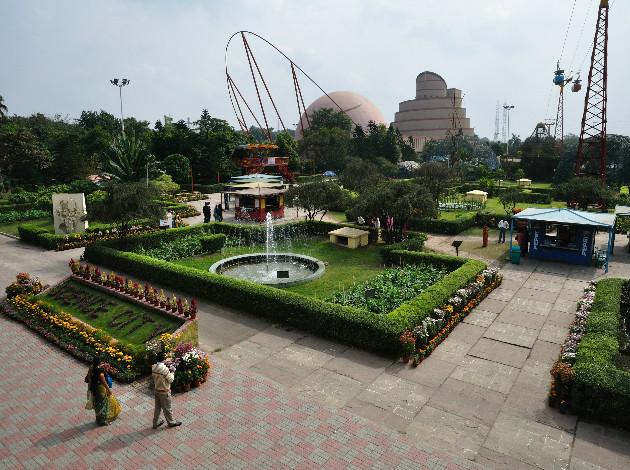 PC:Wikimedia Commons
Are you adventure junkies? If yes, Kolkata does have lots of options to excite your adventurous spirit. Beside historical buildings, Kolkata has advanced herself in terms of entertainment. With this, the concept of 'amusement park' has been introduced over here. As per the options are concerned, parks like Nicco Park, Science City, Aquatica (Water Park) and the Super Bowl are there to entertain you.
7. Revisit Your ' couple adda' At Indian Coffee House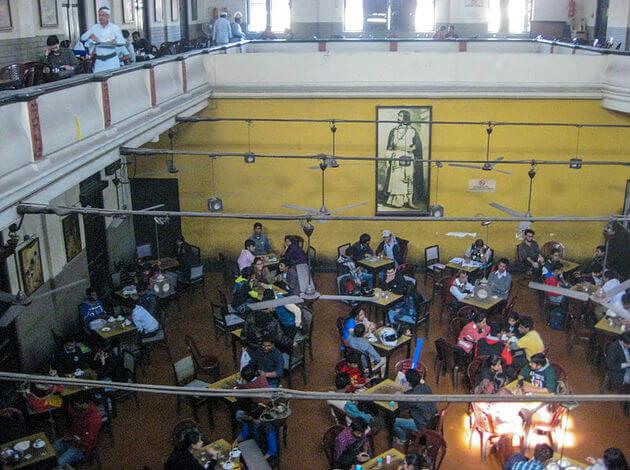 PC Wikimedia Commons
Are you those couples who love having their chit chat over a cup of coffee? If yes, then visiting Indian Coffee House is a must. If the house seems to be too chaotic, go to the first floor where you will find many couples like you enjoying coffee with a plate of hot samosas.
8. Explore College Street With Your Bookworm Lover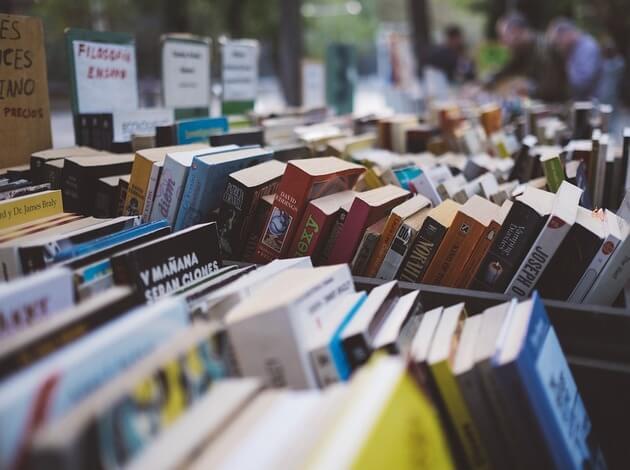 For bookworm couples, College Street is the paradise to indulge in some book reading session. Often nicknamed as Boi Para by Kolkatan, this street cannot be given a miss if your intention is to impress your bookworm lover on this Valentine. Remember, College Street has been declared as the largest book market in India and second-hand largest book market in the world.
So, what can be a better idea than treat him or her with the books!
You may also like 7 Best Book Cafes To Visit At Least Once In Kolkata.
9. Watch A Movie At Nandan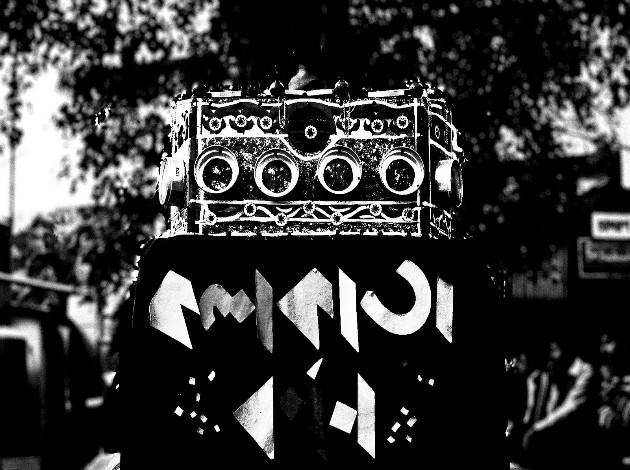 PC: Soumyaroop Chatterjee/flickr.com
The Bhadraloks as well as youngsters of Kolkata always boast about their important contribution in the film industry. And the names that automatically come up in our mind are the famous film makers Satyajit Ray and Ritwik Ghatak. So, to cherish this rich film history of Kolkata, visit Nandan a paradise for all movie buffs.
10. Shopping At New Market
PC: Paul Hamilton/flickr.com
Valentine means gifting something special to your loved one. So, instead of buying a gift all by yourself, take your lover for a tour in the historical market place of Kolkata New Market. It is the most popular bazaar that has everything for everyone who comes for shopping. Right from food, to clothing, accessories and home décor; New Market has enough shops to make a day tour for you on this Valentine's day.
11. Taste The Appetizing Platter Of Kolkata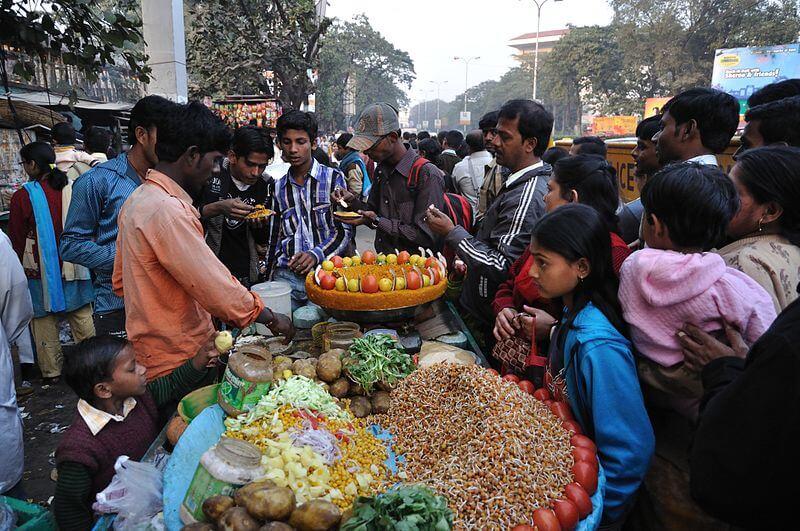 PC: Wikimedia Commons
Kolkata has always been a heaven for foodies, specially when it comes to street food. Right from Chinese cuisines to Mughlai khana, Kolkata offers different flavors for foodies to indulge in. And if you people turn out to be foodie couple, what better way than indulging in some soul gratyfing food in the streets of Kolkata.
12. Someplace Else For Music Lovers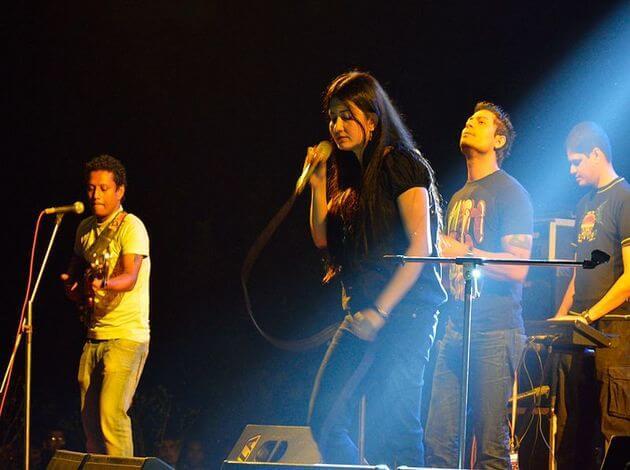 PC: Wikimedia Commons
Music always plays a major role in turning any ambience into a romantic one. And with soothing live music performance, this Valentine's Day is definitely going to be special for you. So, come to Someplace Else, one of the famous pubs of Kolkata and enjoy a nice drink with your lover and live music performance to complement it. Trust me, nothing can beat music and wine when it comes to experiencing love.
13. Treat Your Valentine Royally in Kolkata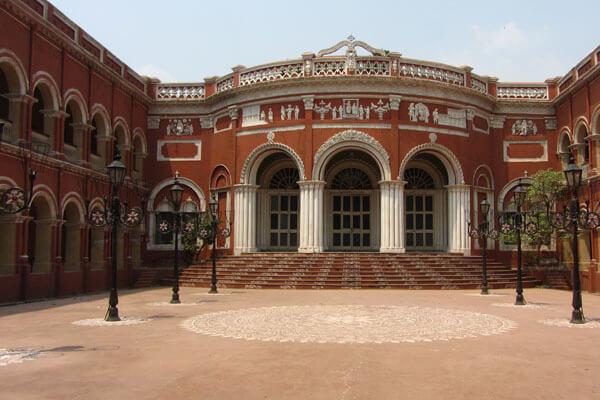 PC: itachunarajbari.com
Kolkata's history is mostly occupied by zamindary tales. And one of the prominent example of this historical age is Itachuna Rajbari or 'Bargee Danga'. A couple of hours drive from Kolkata will take you to this royal mansion which has been the muse in the popular Bollywood movie Lootera. You can stay in one of its ultra-modern room which are furnished with antique furniture, enjoy a royal Bengali cuisines that includes Luchis, Dhokar Dalna, Shukto and of course Kasha Maangsho. In the late evening hours, you can enjoy a leisure walk around the 'pukurpar' (pond) and enjoy the sunset like Sonakshi and Ranveer did in Lootera. So, if you wish to treat your valentine royally, come to this Rajbari.
14. Go For A Bike Ride To Raichak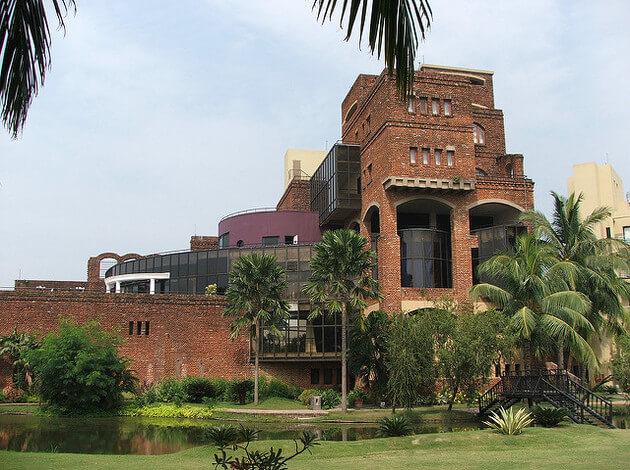 PC: Abhinaba Basu/flickr.com
If all these ideas sound too cliché, go for a bike ride to Raichak. Located on the banks of Hoogly River, Raichak has been recently turned into a tourist site, especially for lovers who wish to enjoy a romantic bike ride along the river. The serene and peaceful ambience of the town adds up to its beauty. And with the ride, you can enjoy a nice candlelit dinner in the Raichak Fort that is located right on the bank of the river.
These ideas can make your Valentine in Kolkata a special one and will compel you to stay "Kolkata, ami tomake bhalobashi".
If you come across any more ideas, feel free to add them up in your bucket list.