10 Spectacular Valleys in Jammu And Kashmir
* Disclosure: This post may contain affiliate links, which means we may receive a commission if you click a link and book something (there is never any extra cost to you for using these links).
Jammu and Kashmir: If only words could weigh the stunning beauty of this natural landscape! The terrain has come to symbolize the serenity that can stimulate poetry in you. Kashmir greets you with its snow capped mountains, picturesque valleys, serene lakes, magnificent trees, vibrant flowers and with a scope to indulge in plenty of adventures including trekking, water rafting, canoeing and a lot more. Synonym for holiday and travel, this landscape is bestowed with a number of valleys that inspire awe and majesty. Surrounded with the sublime mountains, these valleys echo nature, beauty and a certain level of mysticism. Let us explore at least ten of the valleys in Jammu and Kashmir that inspire reverence for an unspoilt beauty.
10. Zanskar Valley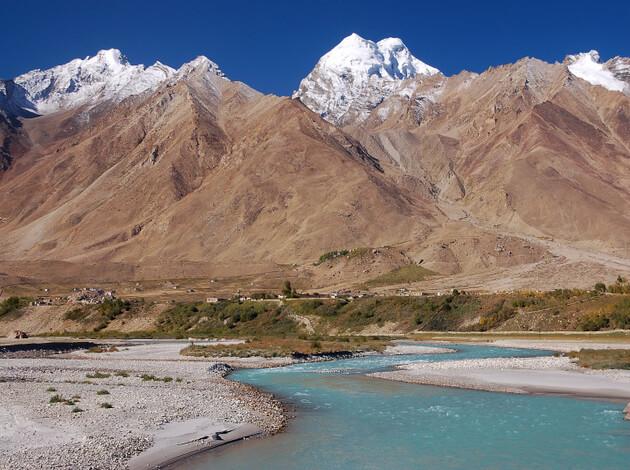 Image Source: CortoMaltese_1999/Flickr
Located just 250 kms from Kargil and 480 kms from Leh, the Zanskar Valley deserves a prominent mention in this list. Overlooking the valley are the gorgeous Nun Kun mountain massif that offer an absolutely splendid view. Zanskar is home to monasteries like Stongdey, Suney, Karsha, Phukta and Zongkhul and thus a paradise for those seeking peace of mind. Visit the Zankar valley in winters when the Zanskar River freezes and becomes a trek route for avid trekkers.
9. Kishtwar Valley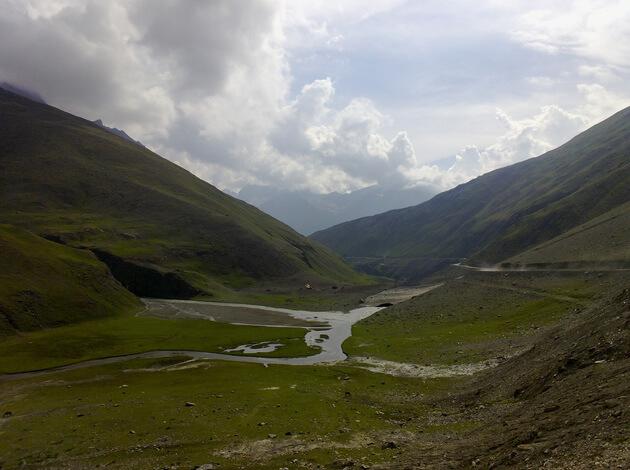 Image Source: Sitaram Shastri/Flickr
Make your travel experiences count. Plan with vacation planner of TripHobo.
Embellishing Jammu & Kashmir, the Kishtwar valley is surrounded with lofty mountains and dense deodar and pine forests. A perfect place for those who enjoy taking short or long walks or contemplating the natural beauty, Kishtwar is a paradise in its own right. Also a 400 sq km land is under National Park in Kishtwar. There are also two sacred voyages namely, Machail Yatra and Sarthal Yatra that begin from Kishtwar.
8. Markha Valley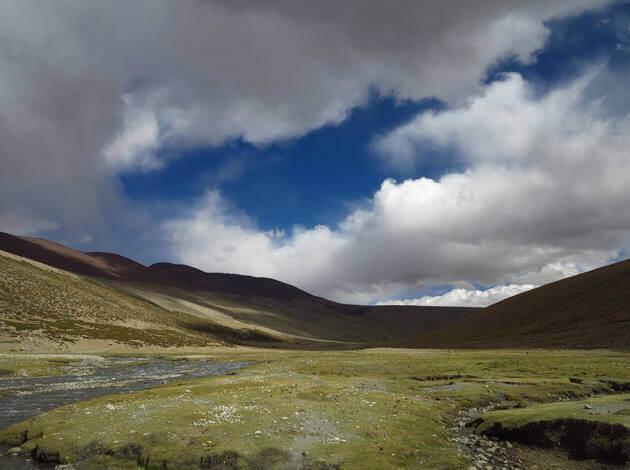 Image Source:Raphael Affentranger/Flickr
Markha valley is the trekkers paradise that is surrounded by Kang Yatse 6400mts from east and Zanskar range from the south west. From any of the high points you can have breath-taking views of the Korakoram Saser Kangri peak (7670mts) Stok Kangri (6150mts) Kang Yatse 6400mts.and Nun Kun (7135mts.) Visit his valley to have a look at the sculpted canyons, fantastic rock formations, medieval villages, Buddhist gompas and snow-peaks that cover the region.
7. Suru Valley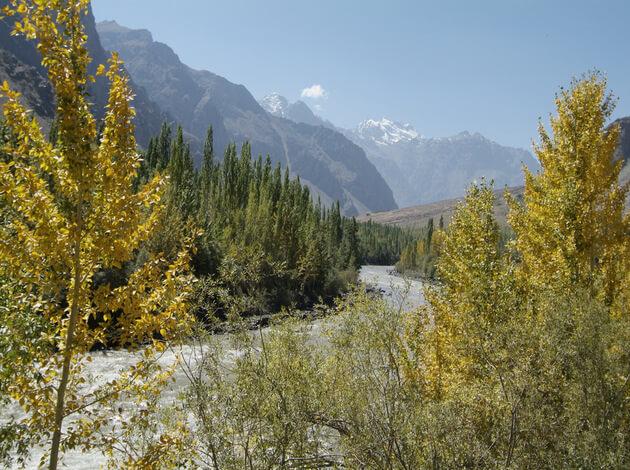 Image Source: snotch/Flickr
Suru valley is considered to be one of the most beautiful and scenic valley in Ladakh in Jammu and Kashmir region. Bordered along the Himalayan mountain range, this valley is drained by the Suru River (a tributary of the Indus River). The valley inhabits scenic vistas and pristine environment. It looks ravishing during spring time when the apple and apricot trees are in bloom. Mountains surround the valley and tower up to a height of over 10,000 ft. Kun and Nun are the two peaks of the Suru valley.
6. Shyok Valley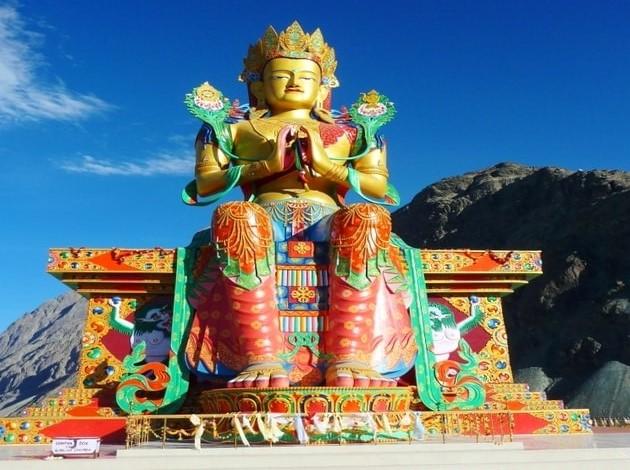 Image Source: Wikimedia Commons
The Shyok Valley is known for its river Shyok that originates from the Rimo Glacier, one of the tongues of Siachen Glacier. Shyok River spans a distance of approximately 550 kms in the northern part of Leh eventually meeting the Indus River at Keris to the east of the town of Skardu. The Shyok, which flows generally northwest direstion, is fed by the numerous glaciers on its journey through the range and it is this river that forms the Shyok valley, close to the Nubra valley.
5. Nubra Valley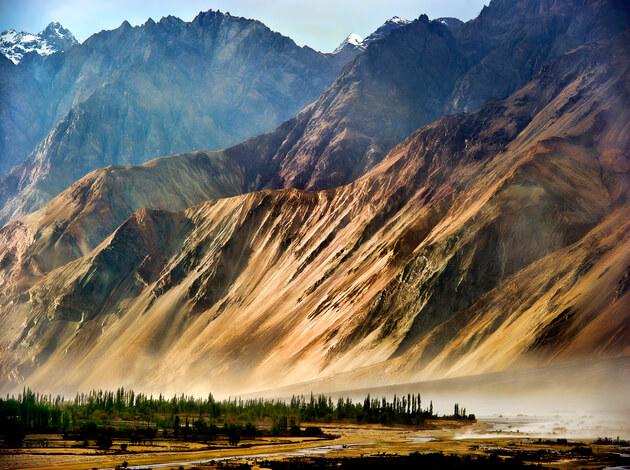 Image Source: alex hanoko/Flickr
Situated on the northernmost part of Jammu and Kashmir, the Nubra valley is located about 150 km from Leh, Nubra Valley is known as the Orchard of Ladakh and was originally called Ldumra which meant the valley of flowers. Surrounded by snowcapped Himalayan ranges, Nubra valley lies between Tibet and Kashmir. The view of the valley is picturesque and breathtaking. The valley is also called as the Moonland during winter as the whole valley looks like landscape of the moon. In summers, the valley is completely carpeted with lush greenery.
You may also like to read the offbeat things to do in Kashmir.
4. Nagin Valley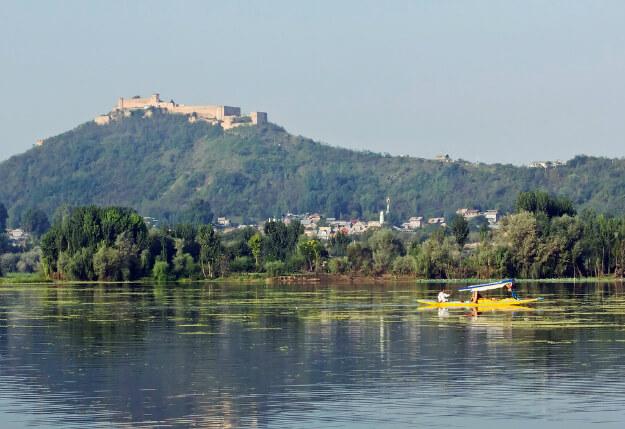 Image Source: June West/Flickr
Ah! the sheer beauty of pines, Deodars and lush alpine meadows! Welcome to Nagin valley, the virgin terrain that is just few kilometers away from the border and has been recently opened for the tourists to visit. Surrounded by natural beauty from every corner, the Nagin Valley is a beautiful meadow which offers enthralling sights to the visitors. The place is a great attraction for those who look up to camping and trekking.
3. Betaab Valley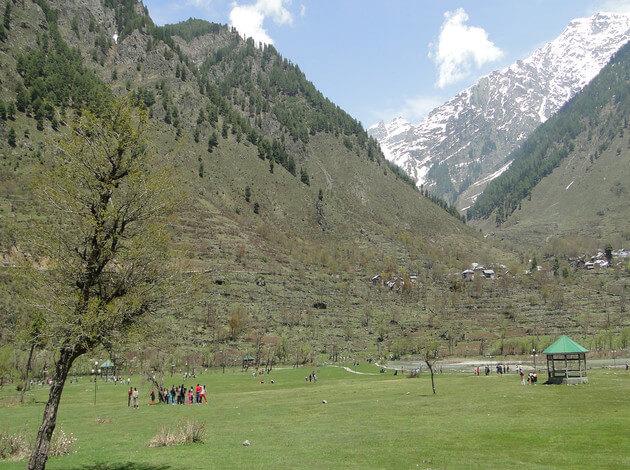 Image Source: Ankur P/Flickr
Known to have provided as a backdrop for most of the Bollywood movies, the Betaab Valley is located at a distance of 15 km from Pahalgam in the district of Anantnag, Jammu and Kashmir. The valley owes its name to the film stars Sunny Deol-Amrita Singh hit debut film Betaab. The valley lies to the northeast of Pahalgam, in the middle of Pahalgam and Chandanwadi, and is characterised by lush green meadows and snow clad mountains. Romance and nature come alive with this valley in Kashmir.
2. Dha- Hanu Valley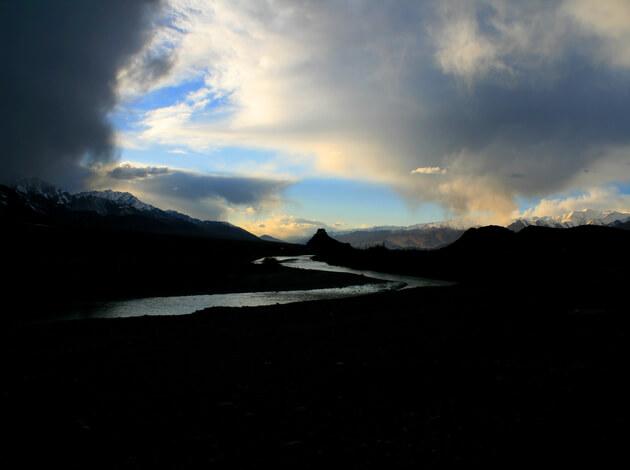 Image Source: Wikimedia Commons
Visit the Dha Hanu valley that houses nature and culture with its picturesque beauty and the villages of the dards of Ladakh district. They are formally Buddhists but they also worship their own Gods. Situated on a comparatively lower altitude, the region is slightly warmer than Leh. This hill station is among the best places to spend quiet vacations. The secluded region on the far side of the great Indus River but attracts tourists interested in visiting the great Hindukush mountains.
1. Poonch Valley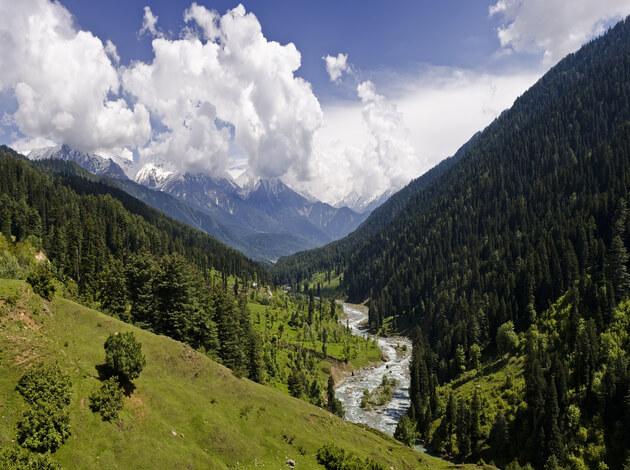 Image Source: Wikimedia Commons
Situated on India-Pakistan border, Poonch valley graces the district that draws travel enthusiasts from all over the world. Bordered by Pir Panjal range, it is one of the most scenic places that we come across in J & K. Verdant green meadows, alpine mountains, stunning natural lakes- Poonch is pristine nature personified. The waterfall at Behram Galla named as Noori Chhamb, the seven lakes (Sukhsar, Neelsar, Bhagsar, Katorasar, Kaldachnisar and Nandansar) at Girgan Dhok, the 18th century Poonch Fort and small villages like Mandi and Surankote are the attractions in this valley.
Let us know if you liked the valleys that stand in list here. Add more to it if you think nature has been left unexplored yet.