Russian Visa Requirements: Know Everything For A Hassle-Free Trip
* Disclosure: This post may contain affiliate links, which means we may receive a commission if you click a link and book something (there is never any extra cost to you for using these links).
A paradisiacal land loaded with attractions both historic and natural, Russia is a traveler's delight. With a wealth of attractions that combine the best of culture, adventure, royal heritage, scenic landscapes, and not to forget the flavorsome cuisines, Russia allures tourists from across the world. Whether you are an enthusiastic traveler wanting to get that adrenaline rushing or a laid back explorer who likes a more relaxed vacation, Russia has something in store for every type of tourist. Having said that, Russia has a fairly liberal visa policy along with visa waiver agreements with various countries making travel to the world's largest country very convenient. So plan your trip and refer to the guide below to know everything about Russia's visa waiver policy.
Planning a trip to Russia? Check out the best things to do in Russia for an outstanding trip!
Who can enter Russia without a visa?
Russia has a visa waiver policy with numerous Asian, European and South American countries. The citizens of these countries can enter Russia without obtaining a visa prior to their visit and can stay here for a limited period of time.
The passport holders of Belarus and South Ossetia have the right to tour through Russia for an unlimited period of time without a visa. The citizens of Abkhazia, Argentina, Armenia, Azerbaijan, Bolivia, Bosnia and Herzegovina, Brazil, Brunei, Chile, Colombia, Cuba, Dominica, Ecuador, El Salvador, Estonia (alien passport holders), Fiji, Grenada, Guatemala, Guyana, Honduras, Hong Kong, Israel, Jamaica, Kazakhstan, Kyrgyzstan, Laos, Latvia (non-citizen passport holders), Macao, Mauritius, Moldova, Mongolia, Montenegro, Nauru, Nicaragua, North Macedonia, Palau, Panama, Paraguay, Peru, Saint Kitts and Nevis, Saint Vincent and the Grenadines, Samoa, Serbia, Seychelles, South Africa, South Korea, Tajikistan, Thailand, Ukraine, United Arab Emirates, Uruguay, Vanuatu, Venezuela, and Uzbekistan can visit Russia without a visa.
While the duration of validity of visas for different countries varies depending upon the purpose of visit and the resident country, remember that tourist visas to Russia are valid for a period no longer than 30 days.
Additionally, if you are a tour group from China with about 5 to 50 members, and a tour operator registered with both China and Russia, you can enter Russia for a maximum of 15 days without a visa.
The Russian government had also made special provisions to make entry to the country easier for people traveling to attend special events like the FIFA World Cup 2018 and UEFA Euro 2020. Also, if you are an international tourist entering Russia through ports, you shall be allowed to stay in the country for up to 72 hours without a visa if you spend the night in the ferry or in specialized accommodation provided by the travel agencies.
While Russia has signed a visa waiver agreement with about 134 jurisdictions, some countries for which the agreement is signed but not authorized currently include Costa Rica, Dominican Republic, Equatorial Guinea, Iran, Micronesia, Sudan, Suriname, and Turkey.
Which countries are eligible for e-visa?
The Russian government has introduced the e-visa program that allows the citizens of 18 countries to apply for a single-entry e-visa for a visit to Russian Far East regions for a maximum period of 8 days. The countries under this program include Algeria, Bahrain, Brunei, China, India, Iran, Japan, North Korea, Kuwait, Mexico, Morocco, Oman, Qatar, Saudi Arabia, Singapore, Tunisia, Turkey, and the United Arab Emirates.
Please note that there are specific conditions which need to be fulfilled while applying for an e-visa. This includes the requirement of specific documents, passport validity requirements, and various others. You can contact your nearest Russian Embassy or Consulate for details specific to your country of residence.
Who needs a visa to travel to Russia?
All the countries not listed under the visa waiver program of Russia need a visa to enter Russia. This visa will have details like your passport details, the purpose of travel, entry and exit dates, and your personal details. It is your entry as well as exit permit for touring around Russia. A tourist visa to Russia irrespective of it being a single-entry visa or double-entry visa is valid only up to 30 days. Tourists are recommended to plan their visit accordingly.
How to apply for a Russian Visa?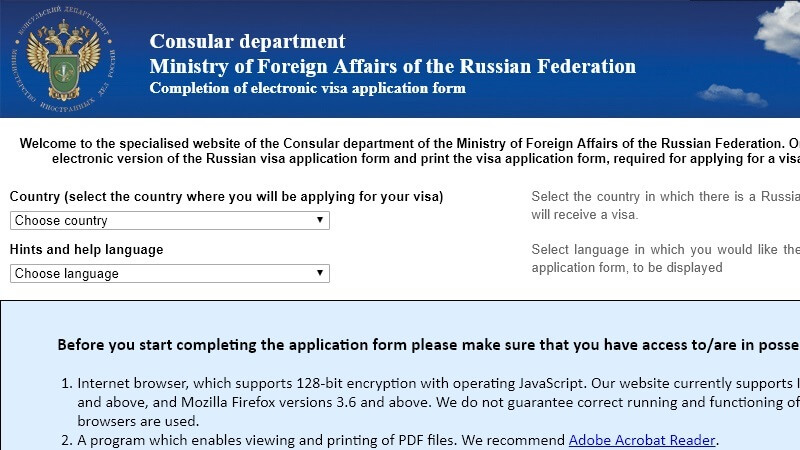 In order to apply for a Russian visa, a visa support letter or an invitation is mandatory which can be easily arranged online through travel agents or through your booked hotel. Once you have arranged for that, you will have to collect the necessary documents (as stated below) and print the online application form available on the official Russian Ministry of Foreign Affairs (MID) website. This form along with the necessary documents need to be submitted at the nearest consulate along with the applicable consular fee.
What are the documents required to apply for a Russian Tourist Visa?
If you are planning to tour through the splendid cities of Russia as a tourist, you would need the following documents in order to apply for a Russian visa-
1. Your original passport with at least 2 blank pages and validity of more than 6 months after your intended exit from the country.
2. A recent passport-sized photograph.
3. Duly signed and completed copies of your Russian application form.
4. Proof of accommodation like a hotel voucher.
5. Tourist support documents like confirmation of tourist acceptance.
6. In the case of tour groups, an itinerary and confirmation form from the tour company.
It is significant to note that the application form needs to be printed on an A4 size paper with right and bottom margins of 5mm and the failure to provide this might result in rejection of the application.
What is the cost of applying for a Russian visa?
The cost to apply for a Russian visa varies depending upon the resident country. You might also be required to submit the application to a processing center instead of the consular section. In such a case, the visa fees depend upon the administration office.
The hotspot for wanderlust driven travelers, Russia will evoke the explorer in you. And with such easy visa application process, you wouldn't want to miss a chance to explore this postcard-perfect land. So follow the above process, get your visa soon and go exploring!
* The above information is specific to the tourist visa and might vary depending upon the purpose of travel. The information is also subject to change and it is recommended that you contact the nearest consulate office for updated information regarding the same.