Visa Requirements For Saint Lucia - Everything You Need To Know
* Disclosure: This post may contain affiliate links, which means we may receive a commission if you click a link and book something (there is never any extra cost to you for using these links).
The tiny Eastern Caribbean island nation of Saint Lucia is a beauty you must explore. With majestic mountains rising high and azure ocean surrounding volcanic beaches, this offers a perfect Caribbean vacation. So, if you are interested in planning a vacation to Saint Lucia, here is all the information you need! Check if your country needs a visa for Saint Lucia, confirm which documents you need to submit, and get ready for a memorable trip!
1. Which countries/territories do not require a visa to enter Saint Lucia?
The list of countries/territories that can enter Saint Lucia without a visa is extensive. Saint Lucia allows nationals of these countries to stay from a minimum of 15 days to 90 days, depending on their nationality. These countries are -
Andorra, Anguilla, Antigua And Barbuda, Argentina, Aruba, Austria, Australia, Bahamas, Barbados, Belgium, Belize, Bermuda, Bonaire, Bosnia & Herzegovina, Botswana, Brazil, Brunei, Darussalam, Bulgaria, Canada, Cayman Islands, Chile, Costa Rica, Cuba, Curacao, Cyprus, Czech Republic, Denmark, Dominica, Estonia, Faroe Island, Fiji, Finland, France, French Guiana, French Polynesia, Georgia, Germany, Gibraltar, Greece, Greenland, Grenada, Guadeloupe, Guam, Guernsey, Hungary, Iceland, Ireland, Isle Of Man, Israel, Italy, Jamaica, Japan, Jersey, Kiribati, Kuwait, Latvia, Lesotho, Liechtenstein, Lithuania, Luxembourg, Malawi, Maldives, Malta, Marshall Islands, Martinique, Mauritius, Mexico, Micronesia, Monaco, Montenegro, Montserrat, Namibia, Nauru, New Zealand, Northern Marina Islands Norway, Panama, Poland, Portugal, Romania, Russian Federation, Saba, St. Eustatius, St. Helena, St. Kitts And Nevis, St. Martin, St. Marteen, St. Vincent And The Grenadines, Samoa (Western), San Marino, Seychelles, Singapore, Slovakia, Slovenia, Solomon Islands, South Africa, South Korea, Spain, Swaziland, Sweden, Switzerland, Taiwan, Tanzania, Tonga, Trinidad And Tobago, Turkey, Turks & Caicos Islands, Tuvalu, United Kingdom, United States Of America, Uruguay, Vanuatu, Venezuela, Zambia.
2. Who else can enter Saint Lucia without a visa?
Citizens of Antigua and Barbuda, Dominica, Grenada, Saint Kitts and Nevis along with Saint Vincent and the Grenadines are granted freedom of movement. The citizens of France can use a national ID card instead of a passport.
3. Which countries are offered visa-on-arrival in Saint Lucia?
Citizens of American Samoa, Benin, Bhutan, Bolivia, Burkina Faso, Burundi, Cambodia, Cameroon, Cape Verde Islands, Comoros, Cote d'Ivoire, Djibouti, Ecuador, El Salvador, Equatorial Guinea, Ethiopia, Gabon, Gambia, Ghana, Guatemala, Guinea, Guinea Bissau, Honduras, India, Kenya, Kyrgyzstan, Macao, Madagascar, Malaysia, Mali, Mauritania, Mongolia, Mozambique, Nicaragua, Palau, Palestine, Papua New Guinea, Paraguay, Peru, Philippines, Sao Tome & Principe, Senegal, Sierra Leone, Sudan, Thailand, Timor-Leste, Togo, Uganda, Vietnam, and Zimbabwe can get visa-on-arrival in Saint Lucia.
4. Which countries require a visa to enter Saint Lucia?
Nationals of Afganistan, Albania, Algeria, Angola, Armenia, Azerbaijan, Bahrain, Bangladesh, Belarus, Central African Republic, Chad, China, Colombia, Congo (Democratic Rep. Of), Congo (Republic Of), Cook Islands, Croatia, Dominican Republic, Egypt, Eritrea, Haiti, Indonesia, Islamic Republic Of Iran, Iraq, Jordan, Kazakhstan, North Korea, Laos, Lebanon, Liberia, Libya, Macedonia, Moldova, Morocco, Myanmar, Nepal, New Caledonia, Niger, Nigeria, Oman, Pakistan, Qatar, Réunion, Rwanda, St. Pierre & Miquelon, Saudi Arabia, Serbia, Somalia, Sri Lanka, Syria, Tajikistan, Tunisia, Turkmenistan, Ukraine, United Arab Emirates, Uzbekistan, Wallis & Fortuna Islands, West Bank, Yemen, and Zaire need to apply for a visa in advance while visiting Saint Lucia.
5. How to apply for a Saint Lucia tourist visa?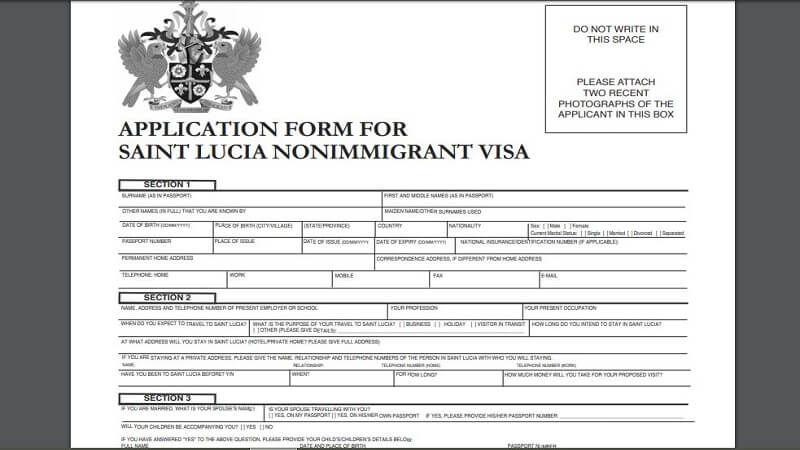 You can get a visa application form for Saint Lucia from the official website. You can fill up this form, attach the necessary document, and submit it at the nearest Saint Lucia embassy. If you are not able to submit Saint Lucia visa application in person, you can send it via post. It usually takes a minimum of 5 working days to process your visa application.
6. What are the requirements for a Saint Lucia visa?
When you are applying for a Saint Lucia tourist visa, you will need the following documents -
A Passport with a validity of at least 6 months after the date of entry in Saint Lucia
Minimum 1 blank page of passport for entry stamps
Completed and duly-signed visa application form
2 copies of passport-sized colored photographs
Fully-paid round-trip/onward air ticket/e-ticket
A complete printed itinerary
A copy of your hotel reservations
If staying at a private residence, a copy of an invitation letter from your host
Proof of sufficient funds that you can support yourself during the entire stay in the country
7. How much is the Saint Lucia visa Fee?
The fee for Saint Lucia visa may change depending upon the type of visa you have applied for. But, the minimum charges are USD 50, excluding courier fee of USD 15, applicable only if you are not picking up your passport in person.
Keep in mind that the information provided here is based on the data given on the official website and is subject to change without prior notice. Contact your nearest embassy before applying for a Saint Lucia tourist visa.