Things To Do On Your First Trip To Canada
* Disclosure: This post may contain affiliate links, which means we may receive a commission if you click a link and book something (there is never any extra cost to you for using these links).
If you are wondering whether it is safe to travel to Canada, then know that it is one of the countries that has been hit by the Coronavirus epidemic. 27 cases have been detected in Canada till this date. While the authorities in Canada are taking all the steps to contain the spread of COVID-19, it is recommended to take precautionary measures while visiting Canada. Also, we suggest that you check flight operations to and from Canada as they might be affected amidst the virus outbreak.
Note: The Coronavirus statistics mentioned in this article are based on the updated reports available on March 03, 2020. These figures will be updated depending on how the outbreak unfolds.
A vacation in Canada will be unlike any other vacation you've had before. Most people just have a strange and loose association of words to recall Canada. Ice hockey. Polar bears. Kayaking. There is so much more. It's just not quantifiable. So much of the country is still untouched by human hands it is a miracle. If you're visiting for the first time, there is no way you can leave without touching at least 50% of the list of things to do below. There would be no point in coming otherwise.
The Calgary Stampede - Ride the wild!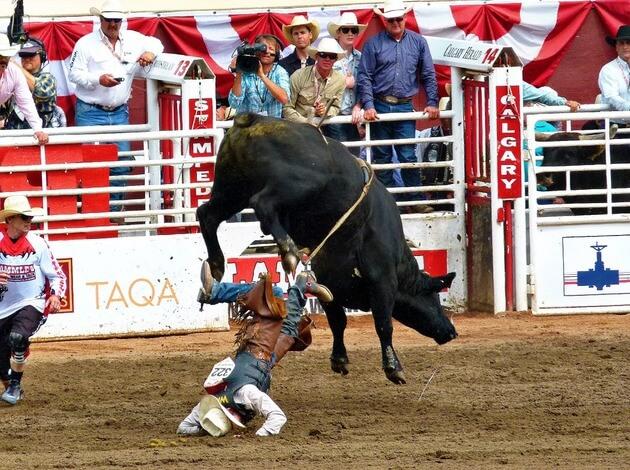 Over a million people visit this annual 10 day rodeo festival in Calgary, Alberta in July and pretend to be cowboys. The concerts, first nations exhibits, parades and chuckwagon racing all come together to make one of the biggest rodeo shows in the world! It's such a big event that it drives a major portion of the city's economy!
Ski - Hit the twisting slopes
Hitting the slopes is one of those ubiquitous Canadian activities that you just should not leave the country without doing. By far everyone's favourite is Whistler, thanks to its combo of frosted forests, pristine glaciers, and the fact that you can ski here throughout the year. Other terrific places include Tremblant, Revelstoke, and Lake Louise.
Niagara Falls - A definite first-timers must do

Image Source: pixabay.com
It is an undisputed and well-known fact that the Canadian side of the falls is the more fun side. From the Hornblower Niagara Cruises, the roses at the Niagara Botanical Gardens, the view from the Skylon Tower, the Niagara Falls fireworks, to the occasional concert that is held at this amazing backdrop, you don't have bragging rights until you see the Canadian side.
Pacific Rim National Forest - Let's be explorers!
In summer, this vibrantly green British Columbia park is visited by hikers from all around the world. In wintertime, a more niche group visit - surfers looking to take on powerful 26 foot high waves. Combining native culture, 197 square miles of untouched land, and crisp weather, this park is almost everything the great outdoors needs to be. The best time to visit is between June and Labour Day. Book your stays at the accomodation early!
Catch the Aurora Borealis - First thing you should see in Canada
There is no sight on the planet more breathtaking and otherworldly, the hundreds of miles high curtains of polarised light that light up the arctic when the sun is in the mood to show off. Our pick for the best place to catch this display is the little known town of Churchill, Manitoba. It's one of the 3 best cities in the world to catch the aurorae, when the nights are utterly black, but awash with a dance of color from September - May. Also, you can catch sight of polar bears and beluga whales nearby. Speaking of which...
Track Polar Bears - A Canadian Classic
We're not sure why this is a thing. Polar bears are big and dangerous and scary. By all right they should be utterly mad at the human race for melting all the ice all the time. Still, polar bear tours are a thing, and that's as Candian a thing as you can get. You can either stay at a wilderness lodge built right on the path the bears like to take or you could cruise through the snow on a tundra vehicle. The best place to do this from is Churchill, in the months of October and November. Book early.
Hot Springs - Relax and unwind in bliss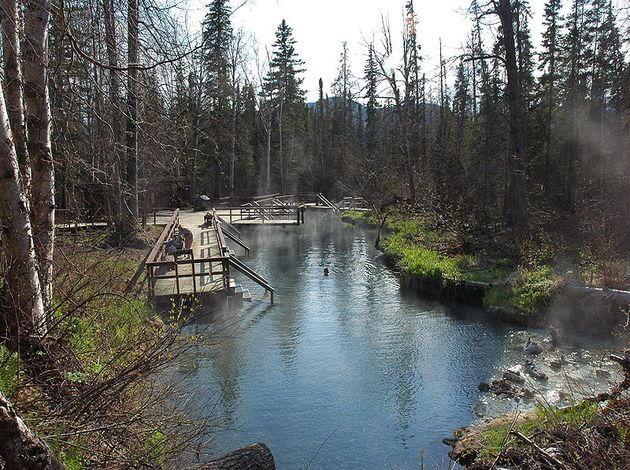 Western Canada is where you want to go for some subterranean heated water. Most hot springs get resorts built around them, so they tend to be pricey. Our favourite is the Lussier Hot Springs, where the temperature is just perfect at 43 degrees Celsius, and you also get to lounge and watch a river flow by.
Wine Trail - Discover spectacular vineyards
Canadian wine is much overshadowed by its Californian neighbor to the south, but that's doing the wine country here a disservice. Canada has four major wine growing regions and our favourite pick is Nova Scotia, where they've been growing grapes since the 1600s! No, seriously. There are about 70 winemakers in this land who produce award winning wine. Also, who doesn't want to visit Nova Scotia? Puffins, seals, kayaking in the Atlantic! Also, beer. Try the Alexander Keith's India Pale Ale.
Dog Sledding - You must have seen "Snow Dogs"
To the rest of the world, treating dogs like some kind of snow horses will always seem weird. You need to visit Banff National Park in the Canadian Rockies to appreciate how much of a way of life it is. Dog sled rides are serene and tranquil experiences through heartrendingly beautiful landscapes. And the guides will simply blow your minds with their in-depth exploration of the history and finer points of dog-sledding.
See an Ice Hockey Match - Wave that Maple flag
Honestly it doesn't matter where you catch a match. Just do it. Do it in Ottawa, or Vancouver. Do it in Ontario. There is a good reason the entire nation is crazy about this sport. Few things unite the diverse Canadian identity as well as ice-hockey does. Actually, catch a match in Montreal. That's where modern ice hockey began! Plus, it's Montreal! Who doesn't want to find themselves walking through a replica of France?
L'Anse Aux Meadows - Go back in time to the Vikings

Image Source: Wikimedia Commons
Columbus wasn't anywhere close to being the first European in these lands. That was the Vikings. And for proof of that, we invite you to the archaeological site of L'Anse aux Meadows, on the northernmost tip of Newfoundland. The settlement is thought to be a thousand years old, though little of it remains now, and most of the place is just grassy meadows now.
Vancouver - Soak in the culture
Do you know what's hilarious about Vancouver? It's that it never plays itself. Many, many movies have been filmed in and around Vancouver, but movies always use it to portray a completely different city. Why is that? Find out for yourself on your visit. Hike the Seawall, traipse through Queen Elizabeth Park, catch sunsets at English Bay, climb the Vancouver Lookout and click photos of the skyline.
Ticking things off this list is really the bare minimum. Did you know that Canada actually has 1.6% more total area than the USA? You try narrowing a USA tour to a list you can read off in one hand. You can't do it. The point of this list isn't to paint a picture of the country. It's to show you what the canvas looks like, and what sort of paint you can use. Still, it's a good place to start.