Best Places to Visit in Meghalaya During Moonsoon
* Disclosure: This post may contain affiliate links, which means we may receive a commission if you click a link and book something (there is never any extra cost to you for using these links).
Home to the wettest place on earth, Meghalaya entices high expectations! Cherapunjee, receiving rainfall all through the year has some of the most striking places to check out in the form of villages, forests, waterfalls and even a national park. Moving further, we have the capital of Meghalaya, Shillong. Featuring some gorgeous mountains and canyons along with a host of activities ranging from hiking to rafting, Shillong is no short of a step closer to heaven. The many churches only justify this fact further.
Here's how visiting Meghalaya in monsoons can be a great decision. It will be fair to say that as much you may dread the rain here, the natural beauty will not cease to mesmerize you.
Things to do Meghalaya in Monsoons:
Bask in the grandeur of some of the mightiest waterfalls in India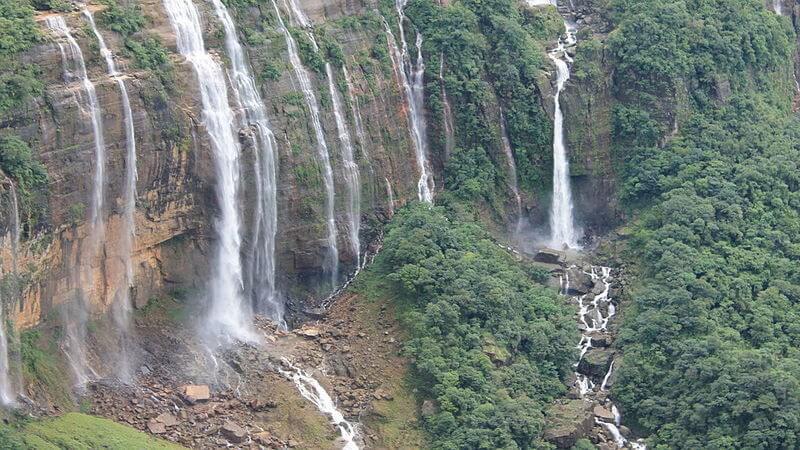 Image Source: Wikimedia Commons
Owing to a lusciously dense forest, Meghalaya is abundant with waterfalls. Perched in nature's bounty the Nohkalikai Falls, Kynrem Falls, and the Langshiang Falls are the most popular ones. The Nohkalikai Falls is identified as the tallest plunge waterfall in India with a height of 1115 feet. The Kynrem Falls lying at a distance of 12 kilometers from Cherapunjee are credited to be the seventh highest waterfall in India. The Langshiang Falls near Nongstoin offers a sweeping view of the West Khasi Hills district. These falls, among many other, come alive beautifully in monsoons that call for a must-visit!
Explore villages that boast unbelievably scenic characteristics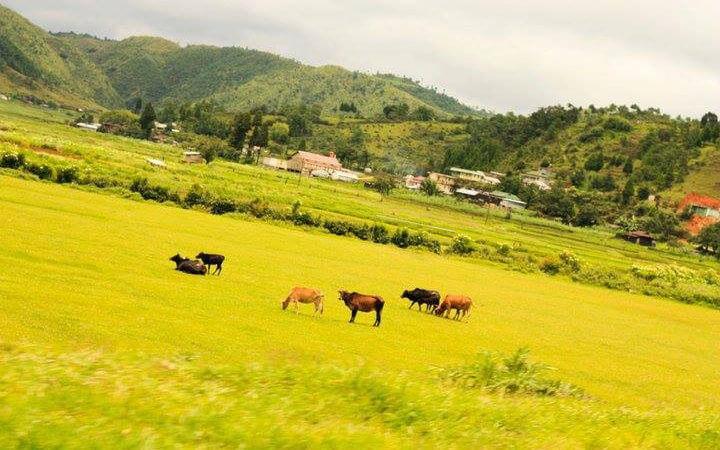 Image Source: 2il org/flickr.com
Villages in this state, Meghalaya which translates to 'the abode of clouds', are a sight straight out of a painting. Offering you a wide array of experiences, places such as Mawlynnong which is also ascribed as the cleanest village in Asia have got to be on your list of things to do in Meghalaya. Then there is the Nongriat village that is an incredible exhibit of nature's intertwining. This village is where you get to see the popular living root bridges. The villages of Mawsmai and Mawsynram are worth a visit too for some surreal natural goodness.
Discover places, understand transportation, find hotels. All under one roof. Plan DIY trip with TripHobo itinerary planner!
Tread forests home to medicinal and other utility vegetation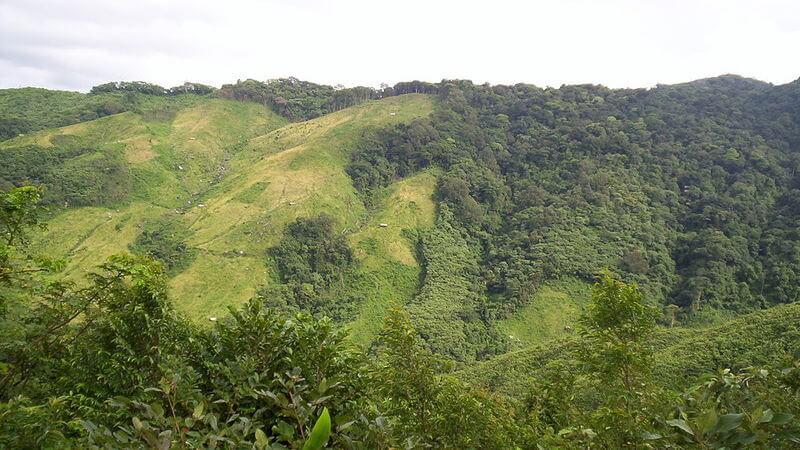 Image Source: Wikimedia Commons
The area that Meghalaya's forests cover is an astonishing figure, that is fairly justified by the rainfall this place receives. 8510 square kilometers is what the forest area in Meghalaya measures to! These forests produce a vivid variety of wood mostly including bamboo, cane, reed, timber, cinnamon and even many medicinal ones. Narpuh Reserved Forest, Nokrek National Park, Upper Shillong Forest and the Momin Reserve Forest are some of the reserve forests in Meghalaya worth a visit during monsoons.
Check Out: What to See in Shillong in 3 Days
Traverse caves bequeathing you with a blend of experiences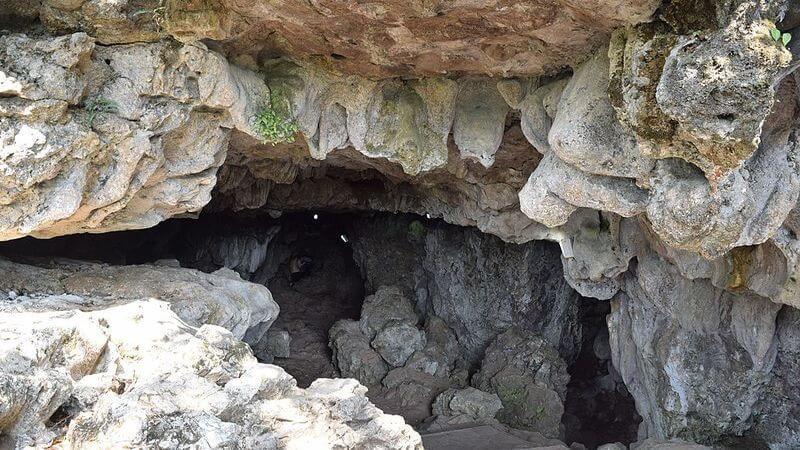 Image Source: Wikimedia Commons
Whether you up are for a thrilling, almost eerie experience or a trip down memory lane learning about stalagmite and stalactite formations, caves in Meghalaya can bestow you with miscellaneous encounters. From bat caves to lime lighted ones, choose your pick from any of the following - Mawsmai Cave, Arwah Cave, Siju Caves, and the Mahadev Khola Dham.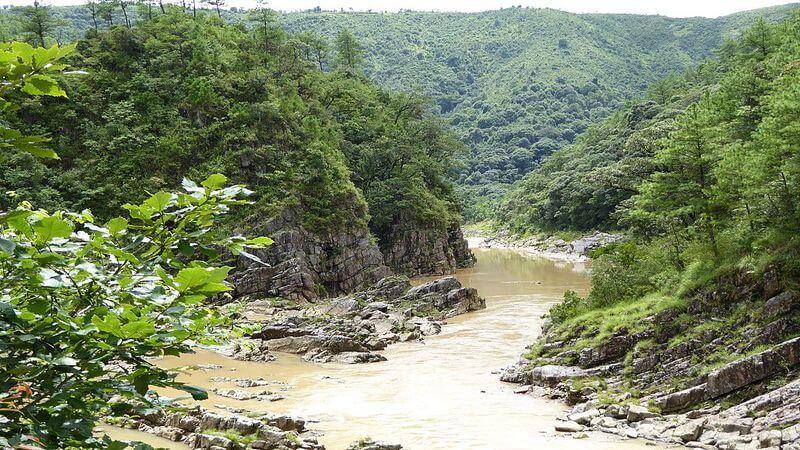 Image Source: Wikimedia Commons
One of the best geographical features of Meghalaya, the mountains, canyons, and hillocks apart from offering a sweeping view of the adjoining area also make for great hiking opportunities. David Scott Trail Entry Point, Nokrek National Park, and the Upper Shillong Forest are some popular choices for hiking in Meghalaya. The Khasi Hills, Garo Hills and Assam Hills play also offer several outdoor opportunities.
Get spellbound by the tranquil lakes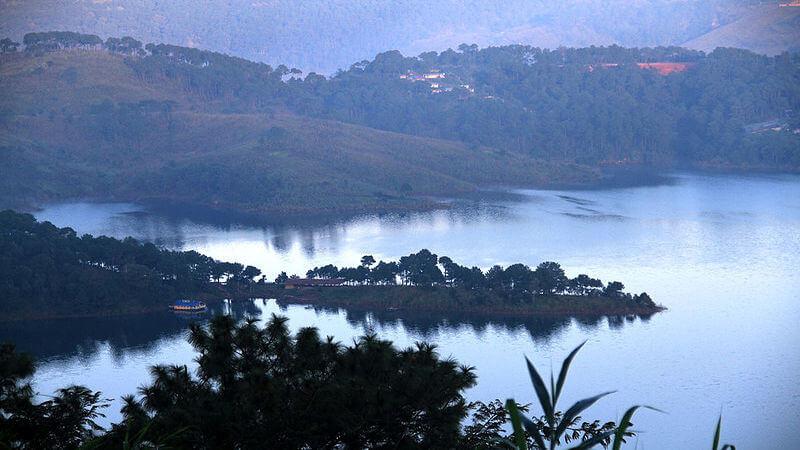 Image Source: Wikimedia Commons
Visiting Meghalaya in monsoons certainly calls for experiencing the refreshment and rejuvenation of watching the lakes in this state dance to the waters of the rain. Umiam Lake, Ward's Lake, Umhang Lake, Marngar Lake and the Fish Sanctuary play a very important role in garnering visitors to Meghalaya in monsoons. Additionally, these hold great significance in maintaining an ecological balance for the region too.
Visit national parks home to an incredible array of wildlife
Image Source: Wikimedia Commons
It is given that such a well-covered region will accommodate some a large variety of animals as well as flora and fauna. Meghalaya with its massive forest cover is home to animals such as the Hollock Gibbons which is an uncommon type of gorilla, wild elephants, langurs, leopards, and the very rare red panda among a ton of other animals. If you are lucky you may even spot the jungle-man here!
Places to visit in Monsoon in Meghalaya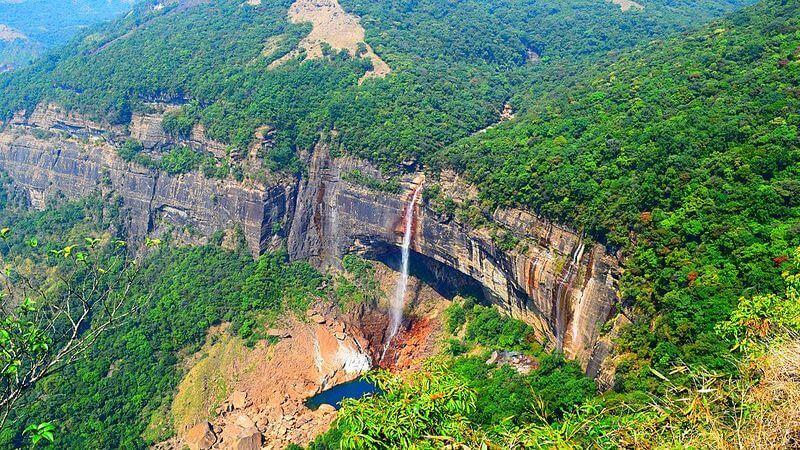 Image Source: Wikimedia Commons
A great spot to challenge the trekker in you, the Laitlum Canyon is one of the most popular trekking expeditions in the northeast. It is mostly undertaken by advanced trekkers owing to its difficulty level. The trek takes about some four to five odd hours to reach the summit that rewards you with heavenly panoramas. As you descend, look out for the Lwai falls where you can enjoy a refreshing dip!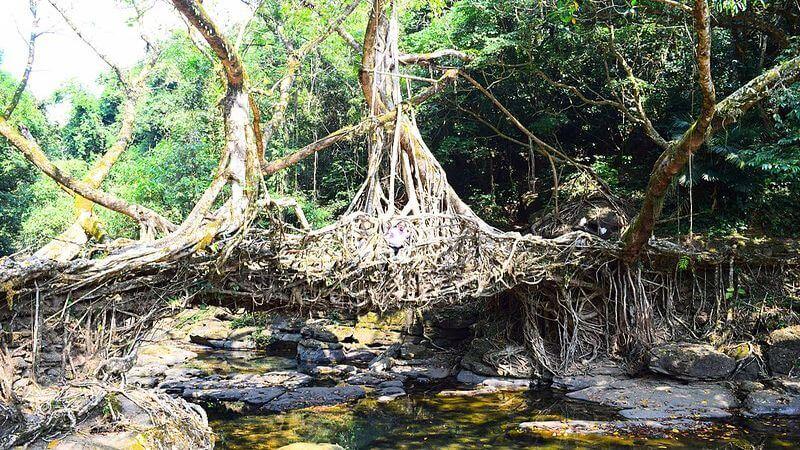 Image Source: Wikimedia Commons
A monsoon trip to Shillong is incomplete without a visit to the Mawlynnong Village. The cleanest village in Asia also has the Mawlynnong waterfall as a highlight. Exploring this village on foot will bequeath you several instances in the form of physical attribute beckoning of nature's wonder, like the root bridges. The village also interests those having know-how about archeology.
Check Out: Places to Visit in North East India
Nongriat Village, Cherapunjee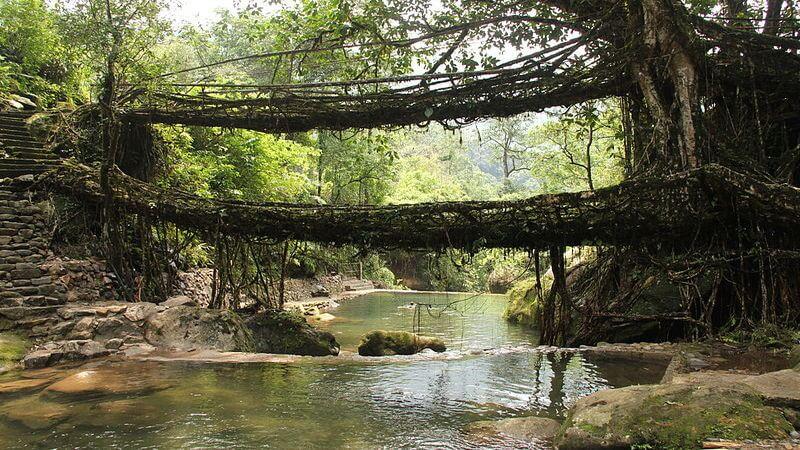 Image Source: Wikimedia Commons
Another great trail that is frequently visited by hiking enthusiasts, the Nongriat Village that has visitors coming to explore it from all around the world. This is where the world-famous Double Decker Living Root Bridge of Cherapunjee lies. To reach this place, one needs to take an arduous ascend and descend through some 2000-odd slippery steps. This bridge has been counted as one of the best things to do in Meghalaya almost eternally!
Balpakram National Park, Tura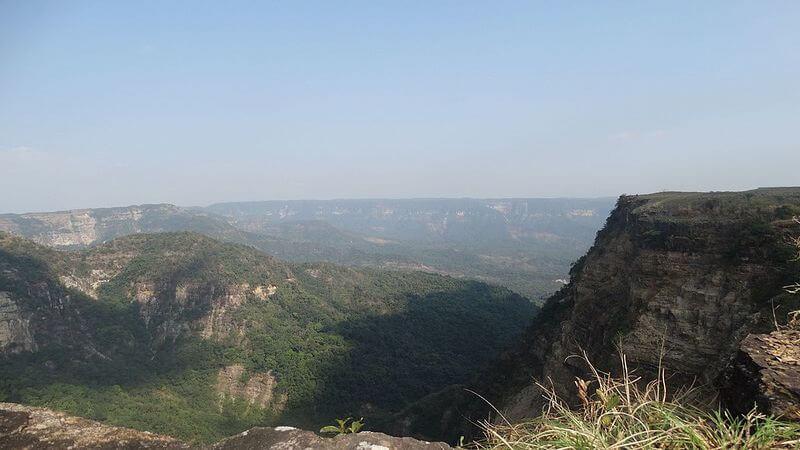 Image Source: Wikimedia Commons
Nestled next to the gorgeous mountain ranges of the Garo Hills, the Balpakram National Park features various altitudes that render its characteristic charm to it. The lowest altitude is around 200 meters while the highest measures at 800 meters above sea level. It lies with a proximity of the neighboring country Bangladesh. The national park is monikered by several names, some including the "land of spirits" and even the "abode of perpetual winds". The marbled cat and barking deer are the most celebrated animals in this park.
Umiam Lake, Ri Bhoi District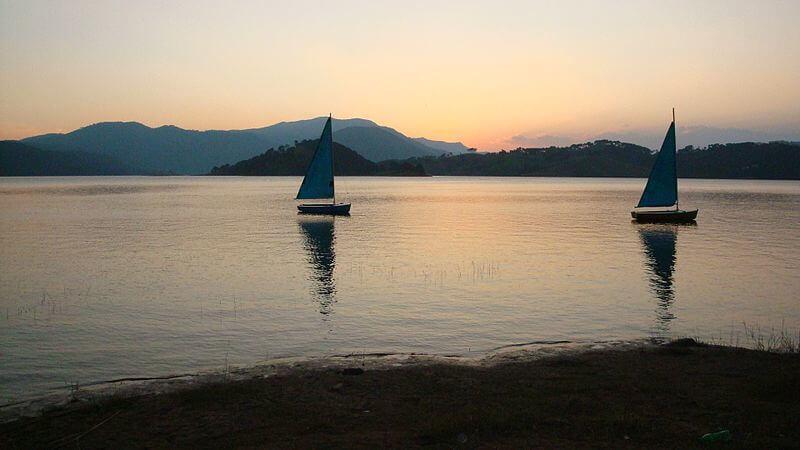 Image Source: Wikimedia Commons
The non-monsoon months are usually categorized as the best time to visit the Umiam Lake; however, the monsoon brings about the unusually beautiful characteristics of the lake. The lake is known to display varying physical characteristics depending upon the season. So, every season you visit, you are bound to find the lake in a new avatar! Shillong vastly depends on this lake for its water supply, thus increasing the water body's significance.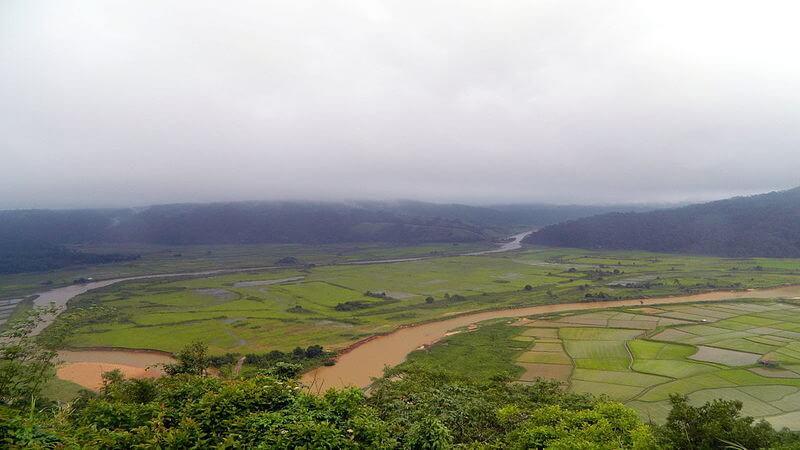 Image Source: Wikimedia Commons
This is one of the most underrated gems of Meghalaya. Often being overlooked on all the "Exploring Meghalaya" plans, even as offbeat as hiking, the Ialong Park has got to be on your list. The park, in fact, can be a refreshing place to relax after all the hiking in the state. You can see the Myndtu river flowing swiftly in all its glory from here. On the recreation front, fishing in the rustically muddy waters and strolling in the lush green fields are the best thing to do.
Mawsmai Cave, Cherapunjee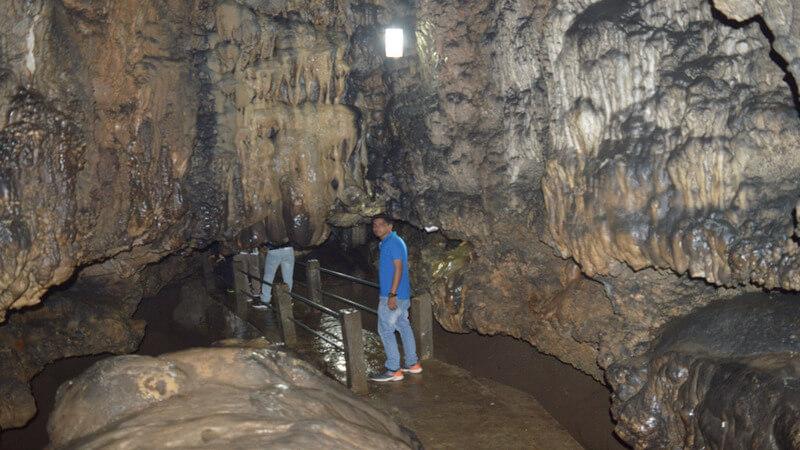 Image Source: Hrishikesh Sharma/flickr.com
As mentioned earlier, Meghalaya has a plethora of caves to explore. The Masmai Cave is one of the most popular caves in Meghalaya owing to its location in the wettest place on earth, Cherapunjee. This cave is identified by its pitch-dark interiors and intricately entwined interiors. Having a common entrance and exit, the cave can be a daunting place. Albeit this cave has got to be on your list if you are inclined towards geology, owing to the formation of stalactites and stalagmites.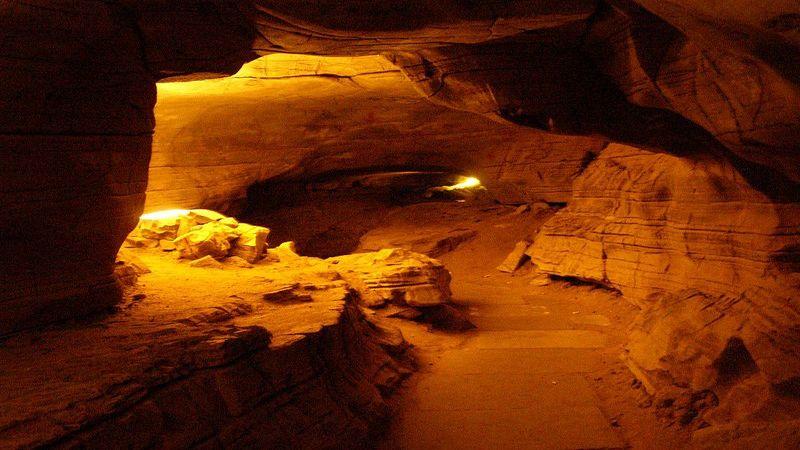 Image Source: Wikimedia Commons
A place where numerous cave researchers have performed various studies, the Siju cave is a source of observations of natural phenomenon. The cave is a popular attraction in Tura given the fact that it is India's first lime lighted cave. One can find several bats inside here, that also has the cave being monikered as the bat cave of Tura.
Mawthadraishan Peak, Nongstoin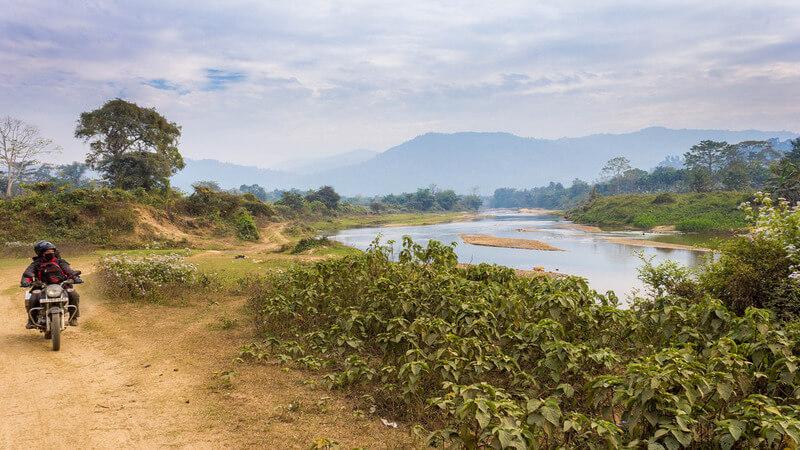 Image Source: Nick Irvine-Fortescue/flickr.com
How about a view that has the majestic Himalayas on one side and a whole new country, Bangladesh on the other? If this idea fascinates you, then you've got to visit the Mawthadraishan Peak in Meghalaya. Additionally, on the east and west, you have the striking mountain ranges of Khasi Hills and Garo Hills respectively. If I could, I would say this is the peak of serenity!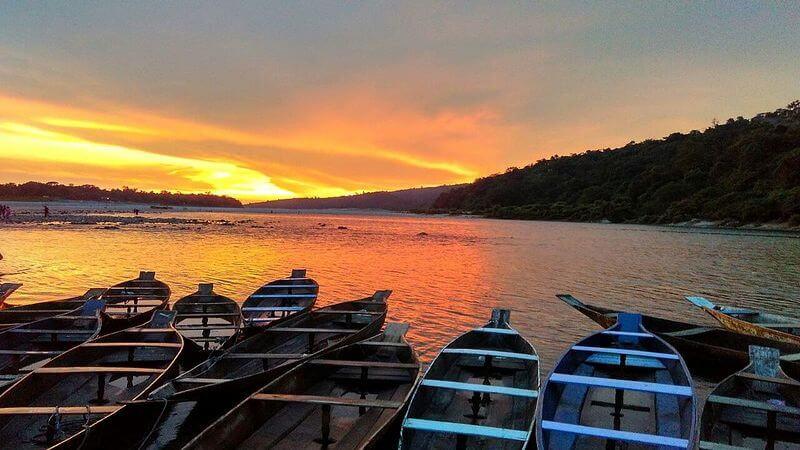 Image Source: Wikimedia Commons
The quaint town of Dawki in Meghalaya can surprise you with its magnitude of things to do. A favorite of adrenaline junkies, Dawki has the best of rafting and trekking. It also a town considered ideal to take one-day trips to adjoining regions such as Mawlynnong, Umden and Mawphanlur. Umden is an interesting place to visit given its moniker as the silk village of Meghalaya.
Tips for hotel booking in Meghalaya:
• There are plenty of bed and breakfasts in and around Shillong. AirBnB in Meghalaya offers some great accommodations
• You can even choose to experience a homestay in Meghalaya, which is more prominent in villages like Nongriat, Mawsmai, and Mawsynram
• In Shillong, the market area is characterized by budget hotels
• The Meghalaya Tourism Development Corporation Hotel in the outskirts of Shillong offers beautiful views of adjoining area and is not as crowded as the marketplace
• Most places to stay in Meghalaya include breakfasts in tariff
• March to June is the best time to visit Shillong, thus, tariff is usually on the higher side
• July to September is monsoon in Meghalaya when not many visitors are drawn to the state. This is when you will find hotels at their lowest tariffs
Monsoon travel tips for Meghalaya:
• Monsoons in Meghalaya have the region highly prone to landslides, albeit the road conditions per say are pretty good
• Flights to Guwahati, the main airport near Meghalaya, may sometimes be disrupted owing to heavy rainfalls
• Flights to Shillong, especially, are susceptible to delays and cancellations
• A good idea is to fly to Guwahati and then take a taxi to Shillong
• Roads in Cherrapunjee may be blocked depending on how heavy the rainfall is
• Characterized by dense fog, the roads of Cherrapunjee require skilled driving. It is advisable to rent a good four-wheeler along with a driver.
• Take necessary precautions of your electronic and digital equipment like cameras
• Given the dense forests almost all through the state, there is a possibility of mosquito menace. Carry necessary precautions for the same.
• If hiking is a part of your itinerary, make sure to carry an extra pair of shoes.
Visiting Meghalaya in monsoons can be an unusual experience, leaving you with memories so refreshing, you will soon find yourself planning your next trip!
Must Read About Monsoon:
Places to Visit in Monsoon Near Delhi
Places to Visit in Kerala During Monsoon