Weekend Getaways Near Mumbai
* Disclosure: This post may contain affiliate links, which means we may receive a commission if you click a link and book something (there is never any extra cost to you for using these links).
Everyone knows how busy and demanding the city of Mumbai is. The life in this commercial capital of India can be really taxing at times and what you would need is an escape from it. Yes, you heard it right! There are weekends when you would like to just elope amidst the beauty of nature and relaxation but time limitations might restrict you from taking those ventures. If you have tried all the outdoor activites in Mumbai here is a list of those weekend getaways near Mumbai where you can achieve that mental peace yet come back to the city within just few hours:
1. Kolad - go river rafting this weekend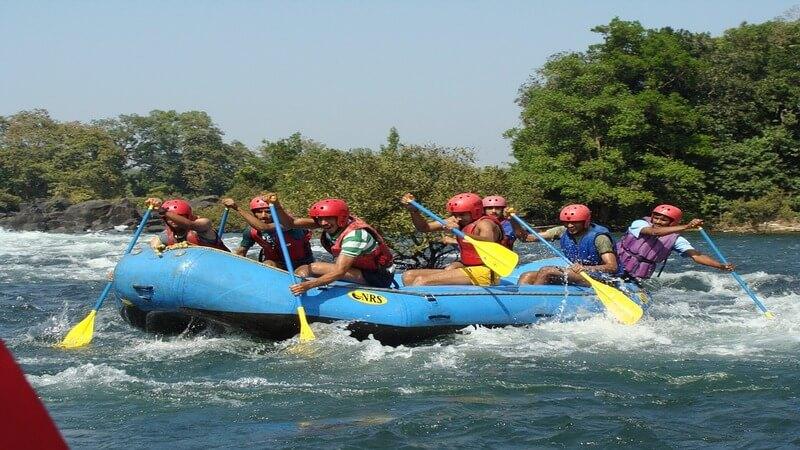 Kolad is a favourite haunt for those who like to try some adventurous activities during weekends. This place is famous for river rafting opportunities that take place on Kundalika River. So while you are cuddling with the enormous waves of the water look at the scenic surrounding mountains and get bewitched by them.
Distance from Mumbai: 121 kms
Best time to Visit: June to February
What to See
There is an ancient fort Tala that was built in 4th century.
Don't forget to see the Kuda Caves, a series of 13 caves carved out of rocks by Buddhists.
Walk down the waterfalls in this region such as Tamhini Falls and Kansai Falls.
Devi Kedar Janani Hills
Bhira Dam
What to do
River rafting, Kayaking, boating, camping and adventure sports such as rappelling, paragliding, and hiking.
2. Rajmachi - The ruined charm near Mumbai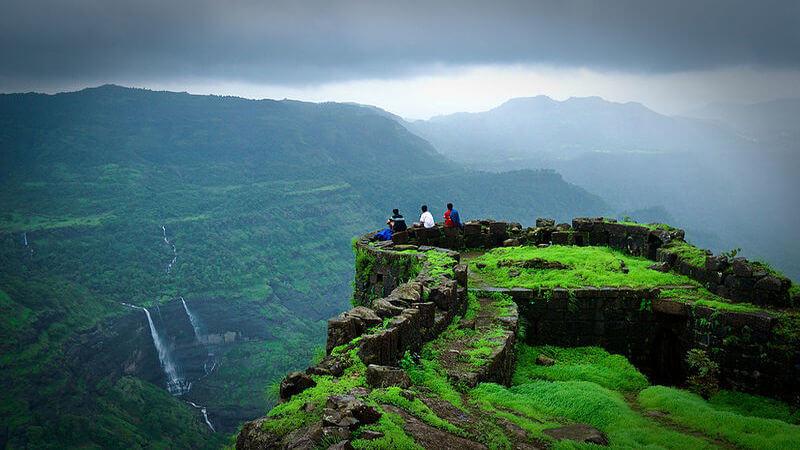 Rajmachi is a rare combination of ruined beauty and natural charm. The historic fort of Rajmachi is one of the favourite places to visit near Mumbai. Do go on a Rajmachi Trek in Monsoon.
Distance from Mumbai: 62 kms
Best Time to Visit: Monsoons are the best time to visit since the area becomes tremendously green.
What to see
The historic Rajmachi Fort
Manoranjan Fort
Rajmachi Wildlife Sanctuary
Udhewadi Village
The beauty of nature
What to Do
Trek to the fort. It's an attraction in itself. Explore the history of Rajmachi Fort.
3. Khandala and Lonavala - the most popular getaway from Mumbai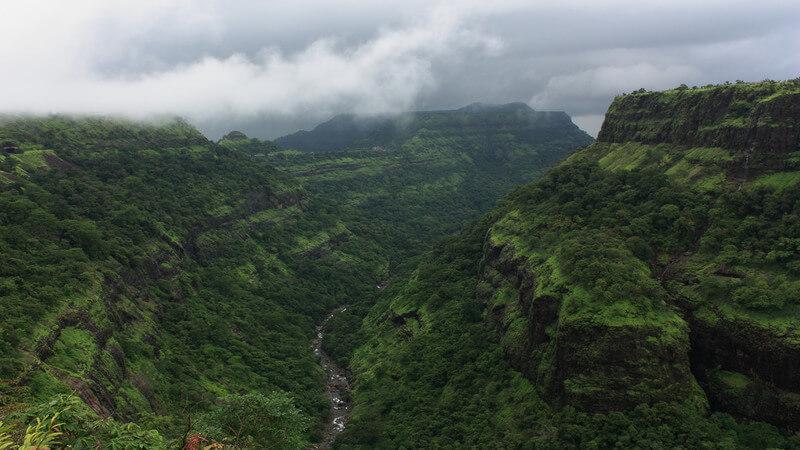 PC: ruben alexande/flickr.com
Khandala and Lonavala are probably the most famous weekend getaways from Mumbai for families and youngsters alike. These twin hill resorts offer astounding beautiful views along with a local culture that leave its indelible mark on the mind of the visitor. While you visit the city, don't forget to gorge on different kinds of chikki, a sweet made of groundnuts and jaggery.
Distance from Mumbai: 93 kms
Best time to Visit: Monsoons are undoubtedly the best time to visit since the area becomes enshrouded in lush greenery.
What to See:
Korigad Fort, the Tiger's Leap, the Lohgad, the Karla and Bhaja caves.
Duke's Nose, a cliff that resembles the nose of the Duke of Wellington. This point offers beautiful views of the surrounding.
What to Do: Trekking, Camping, waterfall rappelling and farm tours.
Here are some more Best Places to Visit near Mumbai in Monsoon
4. Pawna Lake - the serene landscape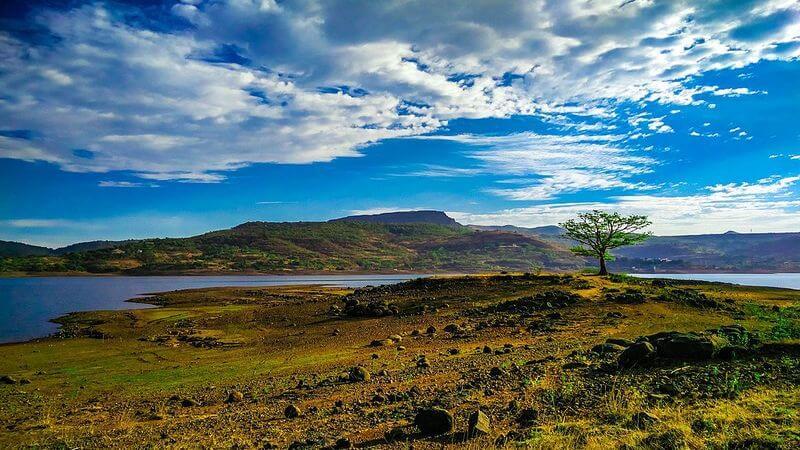 Named after the Pawna Dam that surrounds the lake, this place render exquisite beauty and an escape from an otherwise mundane Mumbai life. Enveloped amidst the Sahyadri Ranges, this place is best for those who love nature, backpackers, campers and others.
Distance from Mumbai: 107 kms
Best Time to Visit: September to March
What to See:
What to Do: Camping, parasailing, kayaking, windsurfing and boating, lakeside bonfire and make your own barbeque.
5. Karjat - the adventure hub for Mumbaikars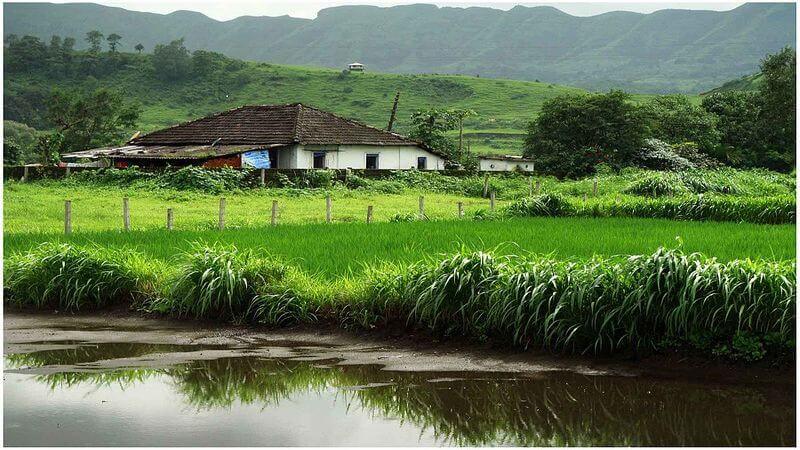 PC: Wikimedia Commons
Known as the adventure hub near Mumbai, Karjat boasts of adventure sports activities such as river rafting, trekking, hiking and mountain climbing. When you visit this place don't forget to visit the Art Director Nitin Chandrakant Desai's ND Studio. Karjat was also the backdrop for the movie Slumdog Millionaire. Several international production houses such as Twentieth Century Fox, Walt Disney and DreamWorks are setting up their studios here.
Distance from Mumbai: 65 kms
Best Time to Visit: November to February
What to See:
Art Director Nitin Chandrakant Desai's ND Studio
Beautiful views of the Sahyadri
Karjat is also home to the largest chain of farm houses in Asia
There are several places of interest in and around Karjat such as the Ulhas Valley, BhorGhat, Kondana Caves, Peth Fort etc.
What to Do: Activities such as river rafting, trekking, hiking and mountain climbing.
6. Alibag - beaches at best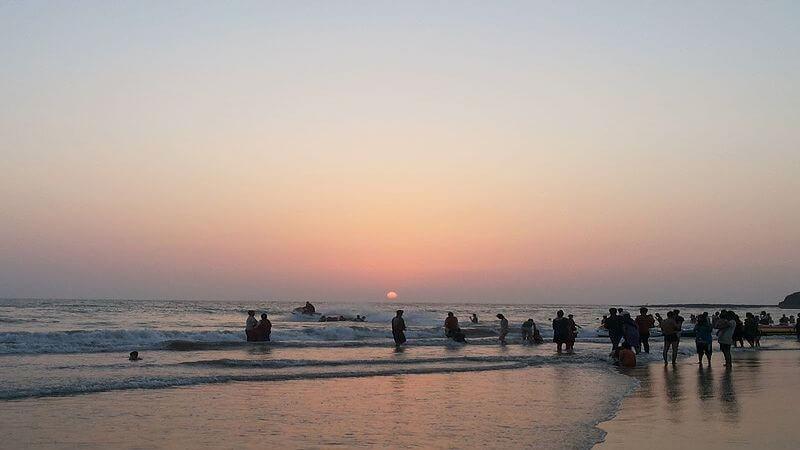 PC: Wikimedia Commons
Alibag is the famous beach destination near Mumbai that offers a relaxed and serene seascape to offer to its visitors. People who come here take a boatride to the old fort that is supposed to have been built during Shivaji's time.
Distance from Mumbai: 95 kms
Best time to Visit: November to July
What to See:
Kanakeshwar Devasthan temple and Vikram Vinayak temple.
Phansad Wildlife Sanctuary
The historic Kulaba Fort
Other beaches of Alibag that include the Versoli Beach, Nagaon Beach, Akshi Beach and Kashid Beach.
The hill fort Sagargad
What to do: Walk upto Kulaba fort when the tide is low, take a boatride towards it, and water activities.
Game for a long drive, you may like to take this ultimate Mumbai To Goa road trip
7. Murud-Janjira Fort - the picturesque small fishing village close to Mumbai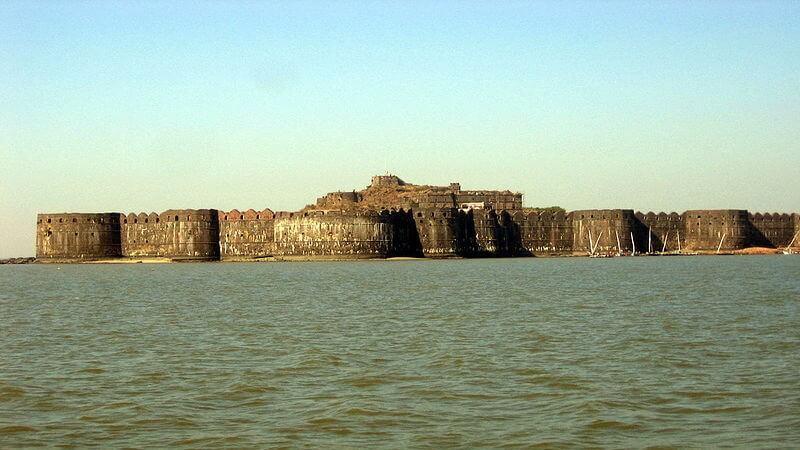 Once a small fishing village, Murud has become a famous weekend destination near Mumabai owing to its beautiful sea views and the historical Janjira fort that stands here.
Distance from Mumbai: 148 kms
Best time to Visit: October to March
What to See:
Visit the fort and see its ancient glory. Although in ruins, you can still see its wall as well as the 19 bastions. In order to reach here, you will have to take a boat.
Janjira Caves
Kasa Fort and Ahmedganj Palace
What to do: Take a boat ride to Janjira Fort, Try local cuisine in restaurants around.
8. Matheran - the quaint British Town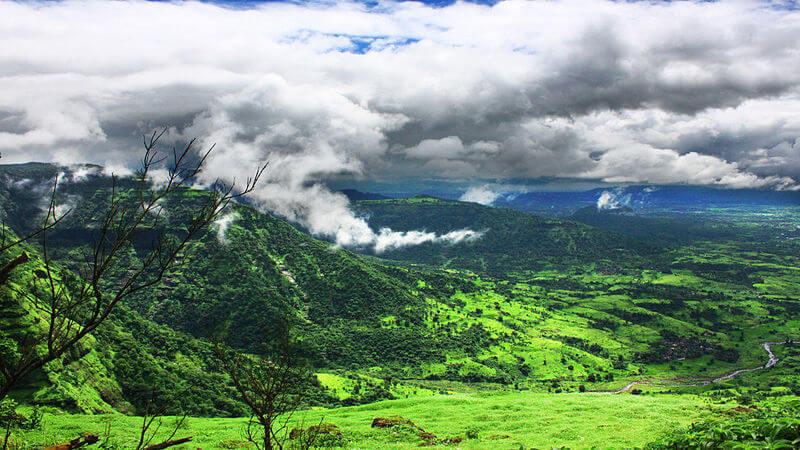 Situated near the Karjat tehsil of Maharashtra, Matheran the most popular weekend getaway near Mumbai oozes a distinct charm of its own. This is Asia's tiniest hill station whose name means "forest on the forehead". Something that would attract the Mumbaikers here would be that this place is completely no motor zone that renders the purity of air here.
Distance from Mumbai: 83 kms via Sion-Panvel Expy.
Best Time to Visit: October to May
What to See:
Stand at the panorama point that offers a 360-degree view of the surrounding area and the Neral town.
Louisa Point also unravels a stunning view of the Prabal Fort.
One Tree Hill Point, Hart Point, Monkey Point, Porcupine Point, and Rambagh point
What to Do: Horse Riding, Trekking, Parasailing.
9. Lavasa - the modern weekend getaway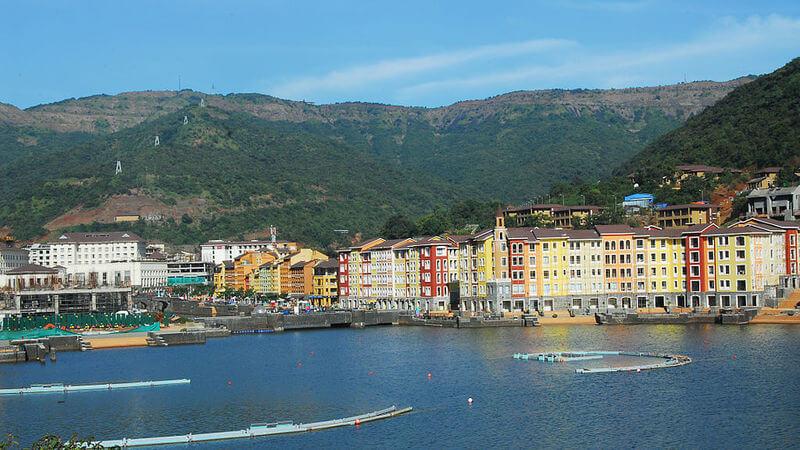 Tucked away in Western Ghats, Lavasa is a recently developed hill station that offers beautiful views of the ghats and the mountains from its planned precincts. Located near Varasgaon Dam, this place looks quite modern as well as naturally bestowed.
Distance from Mumbai: 186 kms
Best time to Visit: Throughout the year
What to see
Varasgaon Dam
Lavasa paths, they are quite planned and look beautiful.
A musical fountain and laser animation show takes place here.
Natural trails
What to Do: Walk up its nature trails, jet skiing, kayaking and boating in Lavasa Lake. Adventure activities like rock climbing, rappelling and trekking are also available here. You can also play golf here.
Also Read: Corporate Team Outings Near Mumbai
10. Igatpuri - the hidden beauty amidst the Western Ghats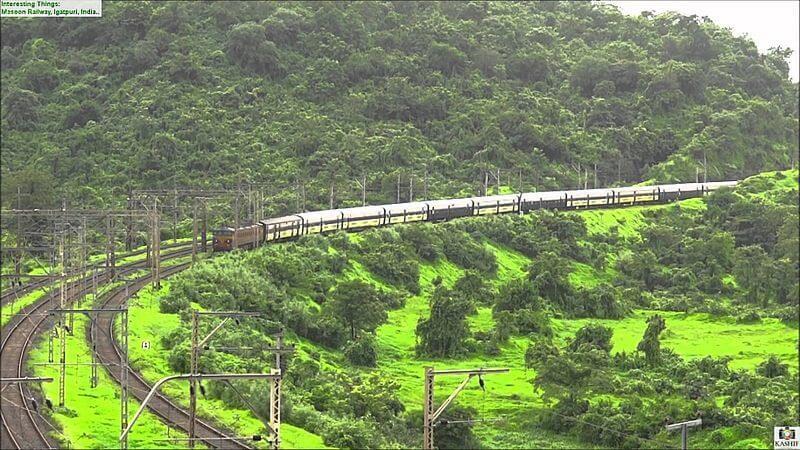 PC: Wikimedia Commons
Enveloped by Nashik and lush green peaks, Igatpuri is a tiny hill station that looks enamouring during the monsoon season. Very near to Mumbai, this town has become the favourite tourist spot for Mumbaikers.
Distance from Mumbai: 120 kms
Best time to Visit: June to September and November to March
What to See:
DhammaGiri Meditation Centre
Ghatandevi Temple
Bhandardara, Nashik
What to Do: Treks, camping expeditions, rappelling, Ziplining and other activities.
11. Silvassa - Visit the Portuguese past this weekend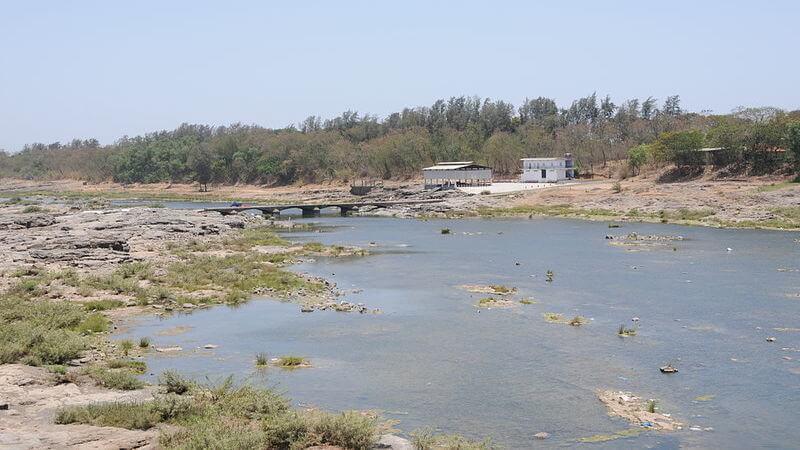 Visit Silvassa to get enamoured by the history of Portuguese rule in India. Known asVila de Pacod'Arcos during the Portuguese rule, Silvassa is the capital of the Dadra and Nagar Haveli, which is a Union Territory of India. In 1885, the Portuguese decided to transfer the administration of Nagar Haveli into it.
Distance from Mumbai: 166kms
Best Time to Visit: November to June
What to See:
Visit the Roman Catholic Church known for its enamouring Portuguee architecture.
Visit the Silvassa Museum to see the exhibits and artefacts of the local history.
Madhuban Dam
Dadra Park, Dudhani, Vrindaban Temple, Balaji Temple and the Ban Ganga Lake
What to Do: Visit the Deer Park of Silvassa, Vasona Lion Safari Park, Water sports at Dudhni Lake.
12. Diveagar Beach - For an offbeat beach weekend from Mumbai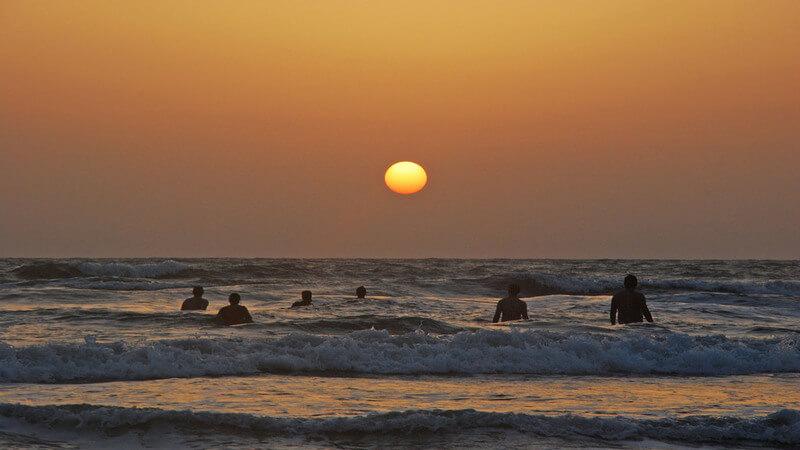 PC: Abhijit Tembhekar/flickr.com
Diveagar beach gained its share of popularity after thediscovery of a golden mask of the elephant god Ganesha here. Located at one end of the triple Raigad beaches, this beach is a quaint little town that has gained all the trappings of a tourist destination.
Distance from Mumbai to Diveagar Beach: 177 Km
Best time to visit: September to March
What to See:
Harihareshwar Beach
Lord Suvarnaganesha Temple
Kalbhairav Temple
What to Do: Water sports and activities.
13. Bhandardara - The Fort beauty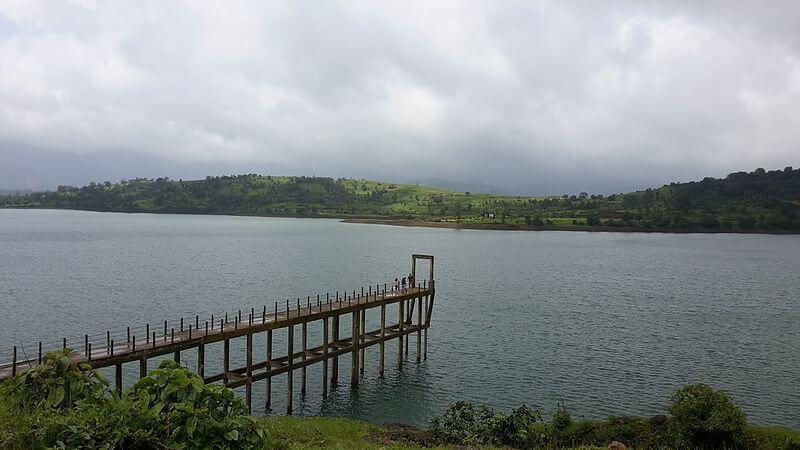 Located near the Pravara River, Bhandarara is a beautiful town that offers a varied number ofwaterfalls, mountains, dams and lakes to view. For Mumbaikers, this place is like a slice of heaven with its quiet surroundings and serene Pravara River that flows in the backdrop. The beauty of this place lies in its historic fortsRatangad and Harishchandragad.
Distance from Mumbai to Bhandardara: 185 Kms
Best Time to visit: Mid-September to February
What to See:
Arthur Lake
Randha and Umbrella Falls
Amruteshwar Temple
Ratangarh Fort
Agastya Rishi Ashram
What to Do: Go trekking between Ratangad and Harishchandragad.
14. Karnala - Go Birdwatching around Mumbai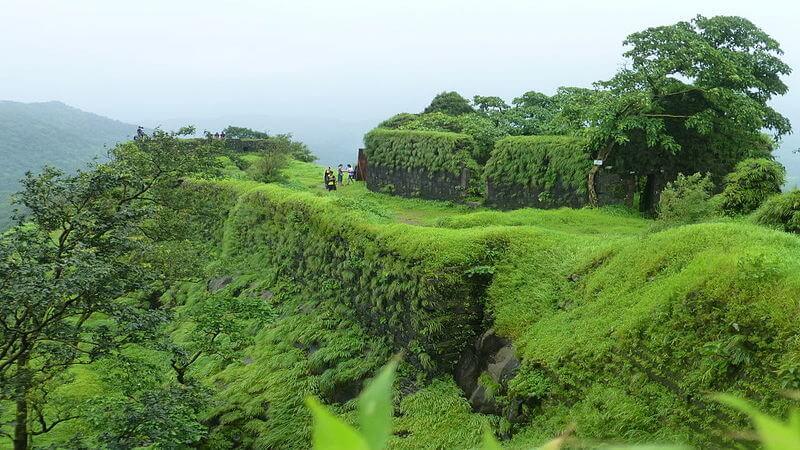 Distance from Mumbai: 48 Kms via Sion-Panvel Expy.
Best time to Visit: October to April
Known for Karnala Bird Sanctuary and the Karnala Fort, this town is again a famous weekend destination near Mumbai that promises a relaxed weekend. The Karnala Fort overlooks the Bor Pass, which connects the Konkan coast to the interior districts of Maharashtra. Situated at just distance of about 12 km from Panvel, Karnala is best known for its population of birds and hence attracts a large number of bird lovers and bird watching enthusiasts.
What to See:
Karnala fort
Karnala Bird Sanctuary
What to Do: Go birdwatching in Karnala Bird Sanctuary, watch rare bird species such as Ashy minivet, three toes kingfisher and Malabar Trogon.
15. Saputara - the abode of the serpents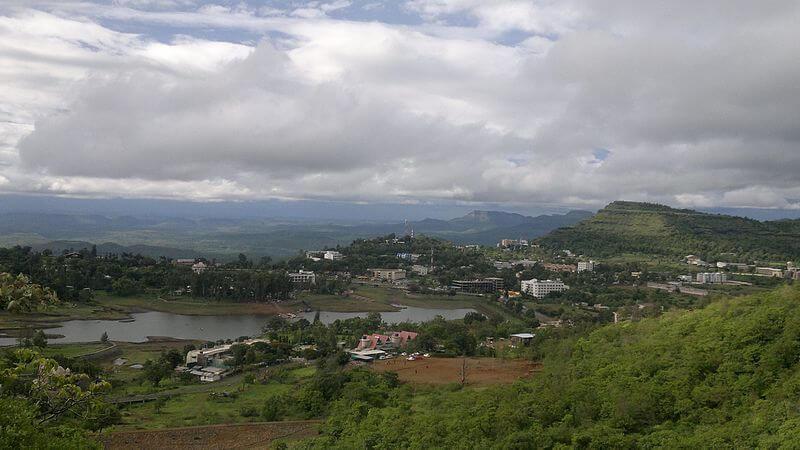 Translated as the abode of serpents, Saputara is one of the most popular weekend getaways near Mumbai, situated in the Dang district of Gujarat. The name has been attributed to it owing to the image of a snake along the banks of the River Sarpagana which is worshipped by adivasis of the region on Holi.
Distance from Mumbai: 248 Kms
Best Time to Visit: Mid-March to Mid-November
What to See:
Visit the Artist Village to see Tribal artefacts, Warli paintings and tribal craft objects.
Vansada National Park: It is home to four horned antelopes, giant squirrels, pythons, rusty spotted cats, pangolins, leopards and tigers.
The other highlights of this holiday destination include the Sunrise Point, Sunset Point, Ropeway, Gira Falls, the Rose and Step Gardens.
What to Do: There are ropeways, boat clubs, swimming pools, parks and hotels to entertain tourists, shopping at Crafts village, Trekking in Purna Sanctuary.
So which of these places would you like to visit next weekend from Mumbai?
Also Read: