10 Tips On What Not to Wear in Goa
* Disclosure: This post may contain affiliate links, which means we may receive a commission if you click a link and book something (there is never any extra cost to you for using these links).
So it's that time of year when things in Goa kick into high gear. The weather is starting to cool after the scorching summer, the shacks are setting up for the season and people from all over are pouring into Goa for a healthy dose of fun and the sun!
And obviously, you want to be part of it all too. So get cracking and packing!
But wait...But wait...avoid the cringe-worthy faux pas that several commit when visiting the sunny beaches and you are guaranteed to come back with memorable pictures and an even more memorable holiday! Here's a little advice on what not to wear in Goa trip.
1. No Underwear Underwater!
Just because it looks similar does not mean your innerwear passes for swimwear. It assaults the eyes of all those around and is not designed for swimming, especially in the pool since the microfibers clog the filters.

2. Avoid Hell in High Heels!
Ladies, we all love our sexy stilettos but spare your feet the torture and leave them at home. Can you imagine every painful step with pencil heels in the sand?! If you really can't do without heels then settle for a sensible pair of wedges.

3. Stay Away from Monstrous Makeup!
Unless you want to look like a raccoon and scare innocent people who are on holiday, stay away from excessive makeup. The water and humidity will ensure that any heavy make up will run and ruin so it's best to keep it simple and light.

4. Leave Behind the Leather!
Have you ever sat in a car with leather seats on a sunny day? Remember that sticky sweaty feeling? Now imagine walking down the beach clad in that!

5. Closed Shoes Stay in the Closet!
Unless you're there to attend a wedding, a conference or a funeral there is absolutely no reason to wear closed shoes on the beach. Also, why would you want to walk around with sand filled in your shoes?

6. No Socks for Sure!
The Sandals-with-Socks trend belongs on top of every fashion gaffe list and it's no different in Goa! Sand is a natural exfoliant, let your feet get the care they deserve.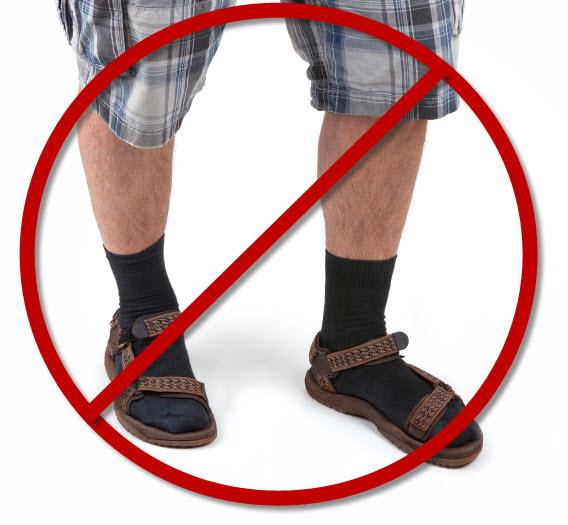 7. Don't wear Oodles of Oil!
Enjoy your massage at the spa then shower before you get in the pool. Body oil pollutes the pool, which is an obvious no-no. And if you decide to bask in the sun covered in oil, be prepared to be barbecued!

8. Don't Transgress in Transparent or Ill-fitted Swimwear!
Do you really want your privates on display for the entire world to see? It's obviously a rhetorical question. Just make sure everything is tucked and tied at the right places and doesn't go sheer when wet.

9. Be Happy without Hair-dryers, Hair-gels and Hair-dos!
Windswept beach hair is sexy. Let your hair be natural as any excess styling is bound to be ruined in the humidity and obviously in the water too. If it needs taming, try a bandana or hairband.

10. Analyze you Accessory Choices!
Too many accessories or very chunky metal accessories are bound to be uncomfortable and over-the-top for the beach. It may look great on a model in a magazine but is hardly practical. Also avoid expensive jewelry as you may risk losing it in the sand.

Goa is easy going and relaxed, let your style reflect that. Wear loose, comfortable clothing, bright colors, flipflops, shorts, sundresses the options are endless.
Frequently Asked Questions on What to Wear in Goa?
⭐ What should men wear in Goa?

A. "Loose-fitting shirts or t-shirts over Bermudas or shorts go best in Goan weather for men. You can add a pair of flip flops to avoid getting sand in shoes.

⭐ What should ladies wear to the beach?

A. Some of the best beach outfits for ladies are - comfortable swimsuit, high-waisted shorts combined with a bikini top, flowy maxi dress, crop top, and a sarong.

⭐ What should I pack for the Goa trip?

A. Things that you need to pack for the Goa trip - comfortable swimwear, sunscreen, hat, sunglasses, comfortable footwear instead of sports shoes or heels, and a first-aid kit.

⭐ What should you not wear to the beach?

A. Unless you are visiting Goa in winter, you wouldn't need a sweater. Avoid wearing black clothes as it will be too hot during the afternoons. Sued-shoes and non-polarized sunglasses are a big no-no. Do not wear an ill-fitting bathing suit as it will make you uncomfortable. Avoid sneakers if you do not want beach sand to seep inside.

⭐ Can we wear jeans in Goa?

A. Yes, you can wear jeans in Goa. But, keep in mind that the weather is usually humid unless it is winter. Jeans that are too tight will make you feel uncomfortable. So, when you are wearing jeans in Goa, make sure the material is a little breathy and not too tight.