10 Tips On What Not to Wear in Goa
UPDATED Oct 03, 2018
1034.2K Views

Image Source: Wikimedia Commons
So it's that time of year when things in Goa kick into high gear. The weather is starting to cool after the scorching summer, the shacks are setting up for the season and people from all over are pouring into Goa for a healthy dose of fun and the sun!
And obviously you want to be part of it all too. So get cracking and packing!
But wait... Here's a little advice 10 Tips on what not to wear in Goa trip.
1. No Underwear Underwater!
Just because it looks similar does not mean your innerwear passes for swimwear. It assaults the eyes of all those around and is not designed for swimming, especially in the pool since the microfibers clog the filters.

2. Avoid Hell in High Heels!
Ladies, we all love our sexy stilettos but spare your feet the torture and leave them at home. Can you imagine every painful step with pencil heels in the sand?! If you really can't do without heels then settle for a sensible pair of wedges.

3. Stay Away from Monstrous Makeup!
Unless you want to look like a raccoon and scare innocent people who are on holiday, stay away from excessive make up. The water and humidity will ensure that any heavy make up will run and ruin so it's best to keep it simple and light.

4. Leave Behind the Leather!
Have you ever sat in a car with leather seats on a sunny day? Remember that sticky sweaty feeling? Now imagine walking down the beach clad in that!

5. Closed Shoes Stay in the Closet!
Unless you're there to attend a wedding, a conference or a funeral there is absolutely no reason to wear closed shoes on the beach. Also, why would you want to walk around with sand filled in your shoes?

6. No Socks for Sure!
The Sandals-with-Socks trend belongs on top of every fashion gaffe list and it's no different in Goa! Sand is a natural exfoliant, let your feet get the care they deserve.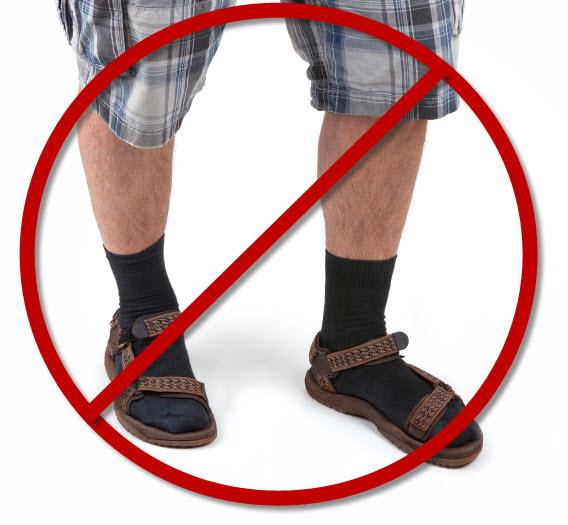 7. Don't wear Oodles of Oil!
Enjoy your massage at the spa then shower before you get in the pool. Body oil pollutes the pool, which is an obvious no-no. And if you decide to bask in the sun covered in oil, be prepared to be barbecued!

8. Don't Transgress in Transparent or Ill-fitted Swimwear!
Do you really want your privates on display for the entire world to see? It's obviously a rhetorical question. Just make sure everything is tucked and tied at the right places and doesn't go sheer when wet.

9. Be Happy without Hair-dryers, Hair-gels and Hair-dos!
Windswept beach hair is sexy. Let your hair be natural as any excess styling is bound to be ruined in the humidity and obviously in the water too. If it needs taming, try a bandana or hairband.

Image Source: Wikimedia Commons
10. Analyze you Accessory Choices!
Too many accessories or very chunky metal accessories are bound to be uncomfortable and over-the-top for the beach. It may look great on a model in a magazine but is hardly practical. Also avoid expensive jewelry as you may risk losing it in the sand.

Image Source: pixabay.com
Goa is easy going and relaxed, let your style reflect that. Wear loose, comfortable clothing, bright colours, flipflops, shorts, sundressesthe options are endless.
Now that you know what not to wear in Goa, here's a lowdown on what to wear in Goa! Because what is a vacay without looking good?!
Clothes for the beach vacation

Image Source: Wikimedia Commons
Sexy swimwear: Irrespective of your shape or size, you have every right to feel sexy. If you've been coy about facing the reality at where you stay, Goa is the place to fulfil it! Choose what you are most comfortable in- bikini, tankini or a monokini. Coming in various colours and cuts these ensembles are certain to make you slay! Still shy, are you? Fine, get a sarong to cover up! You are still bound to feel like a gorgeous, keeping a little secret of your sexy little swimwear inside!
Shorts: Whether or not you have any plans of galivanting around Goa, renting a bike, shorts are a must! This is the classic Goa dress code and you can never go wrong with it. And if you are not keen on anything that will make you reminisce your adolescent, tomboy days, opt for something that will accentuate those curves. High-waist short are the way to go here. Fabric wise; crochet, denim, cotton and polyester are good to go.
Floor length skirts: There is no piece of clothing that will make you feel like a diva, the way a floor length skirt teamed with a sexy cut-out top and the right accessories would. Be your absolute gorgeous self, as you strut through the beach, looking into the sunset! We have given you a great picture composition right here!
Maxi dresses: Again, as mentioned earlier, anything floor length is certain to bring out your divalicous self. One perk that a maxi dress has over floor length skirts is it will save a little more space in your bad! However, this attire is indeed much more dressy, perfect for that dinner at the fairy lights lit shack around the corner.
Jumpsuits, rompers or playsuits: If shorts are not your thing, opt for a jumpsuit, romper or playsuit! While half-length ones are perfect for a day out, full-length ones boast glamour. My personal favourite look for a nice Goan lunch at a shack would be a fun, bright, floral printed one, perhaps with fringed sleeves and an all-black, full-length, lace stunner for the night!
Kimonos: These are that piece of comfort you would want to run into, after all the beer and butter-garlic prawns' binges! Additionally, kimonos also add to that laidback style, when worn with shorts and a tank top.
Cotton t-shirts: No list of goa fashion tips is complete with the mention of cotton t-shirts! If you are style is basic and solid, you can never go wrong with a plain black or white t-shirt in Goa. V-neck or round, tuck it into your shorts or your floor-length skirt or just tie a knot at the waist!
Bermudas: So much for girls but what to wear in goa for guys, you wonder? These chaps have it easier than us girls. Some powder coloured bermudas with a white coloured, button down shirt equals to perfection!
Linen shirts: As if a pair made in heaven, a goa dress for man cannot get more perfect when a white or sky blue linen shirt is paired with a bermuda!
Accessories to Style You

Image Source: Pixabay.com
Sunglasses: You don't need to buy clothes for goa specifically, when you have some good accessories! One item that can make or break an outfit is a stylish pair of sunglasses. Serving two purposes- saving you from the glaring sun and glistening ways along with making you look picture-perfect, don't forget to pack these.

Hats: Again, whether you want to make a style statement or simply save yourself from the heat, hats are the ultimate accessory. What's more? They even make you look cute, if you are wearing something like a fedora hat!
Tassel earrings: Having the ability to literally transform the simplest of outfits, tassel earrings are my current favourite fashion item. Keep it short or go all out with the shoulder-length ones, but make sure to have this on your Goa packing list!
Tote bag: The most convenient and efficient of the lot, a tote bad is a boon of an innovation. I mean, how trouble-free is it to just dump all your belonging in one big thing. This is that accessory that quenches to your laziness, yet making you look like someone who knows a thing or two about style. Perfect to carry around the day, when you are planning to go flea market hopping or simply to dump in all your beach and pool essentials!
Sling bag: The smaller, okay much smaller sister of the tote, a sling bag is what you would want to resort to when you are ideally going club hopping or painting the town red. This bag has just the right space to accommodate your lipstick, some cash and hotel keys! What more do you need, when in Goa?!
Scarf/ stole: Bringing out the feminine attributes of a rather androgynous outfit, a scarf or stole is a reliable accessory. And with its multiple uses- sun protection, face mask, a belt, revamping your bag, a hair-tie and even in awkward situation where you feel the need to cover your modesty, I would say carry one on you always!
Shoes For Comfort

Image Source: Pixabay.com
Flipflops: Come on guys, now these don't need any explanation! Comfort, convenience and tested, flipflops are a blessing. Enough said!
Crocs: Guys can be really picky about footwear, if nothing else. So flipflops might ideally be their cup of tea. But there's an option, an ugly one at that, Crocs! But one advice from us girls- guys, please keep them limited to the beach and don't even think of wearing a pair on a date!
Open sandals: Ideal for both girls and boys, open sandals are dressier than a pair of flipflops. They have that ability to make an outfit look out together. So don't shy away from these on beach, pool or even dinner!
You May Also Like To Read :