Places to Go in August in Europe
* Disclosure: This post may contain affiliate links, which means we may receive a commission if you click a link and book something (there is never any extra cost to you for using these links).
There is hardly anything that can be compared to the charm Europe exudes in the Summer. It is in these months when the terrains of the continent reveal its vivid colours to peeps and offer an opportunity to experience it all, up and close. No wonder summer, particularly August, is the peak season for travellers to come here and enjoy. The varied nations with their diverse culture and unique heritage undoubtedly make Europe a 'place for all'.
If you too are planning on visiting Europe this August and are hard pressed on choosing one city among the unending pile of places it has, keep on reading! Here's are the places to go in August in Europe!
1) Hallstatt, Austria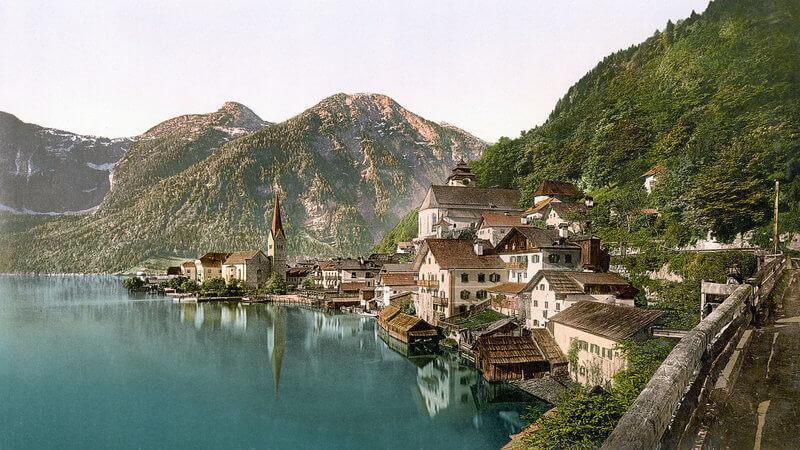 The postcard quaint town might not be your mainstream summer destination in Europe, but it certainly is one of the prettiest and charming ones. Perched on the western shores of Austria's Salzkammergut region, Hallstatt draws a lot of visitors (no surprises there!) earning a reputation among all. It is a beautiful small village that offers a number of fun things to people, especially the ones who has a knack for sports and adventurous pursuits. You can come here to indulge in activities like rock climbing, boating, hiking and such. Its quiet and surreal atmosphere makes it equally appealing for introverts too. Ensure to visit infamous 'Beinhaus' in Hallstatt which is literally a storehouse for excessive human remains, something which can scare and entice you at the same time!
2) Kotor, Montenegro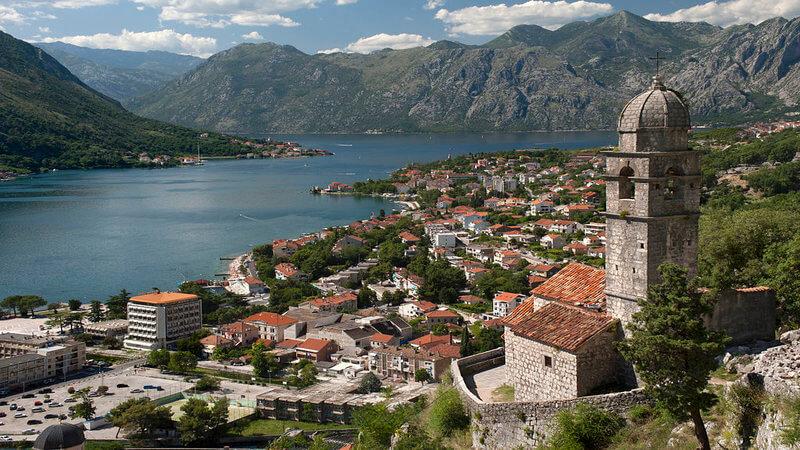 PC Wikipedia
Why should be a small fortified town like Kotor should be on your list when there are many other places you can go for. Simple! Because it has something that many places lack. A character of its own, beauty wise and story wise.Hidden in ria canyon, and secluded Mediterranian port is surrounded by history, literally! The Venetian fortifications are only part of its long history, written in the town's unique blend of architecture. With its Medieval old town, WWII memorials, and Napoleonic gates, it's a quiet town with a long history to explore. It's also home to the Maritime Museum, which explores local seafaring history. Sveti Đorđe, one of 2 tiny islands off the ancient town of Perast, features a centuries-old church.
Check Out: Best Places to Visit in July in Europe
3. Malmo, Sweden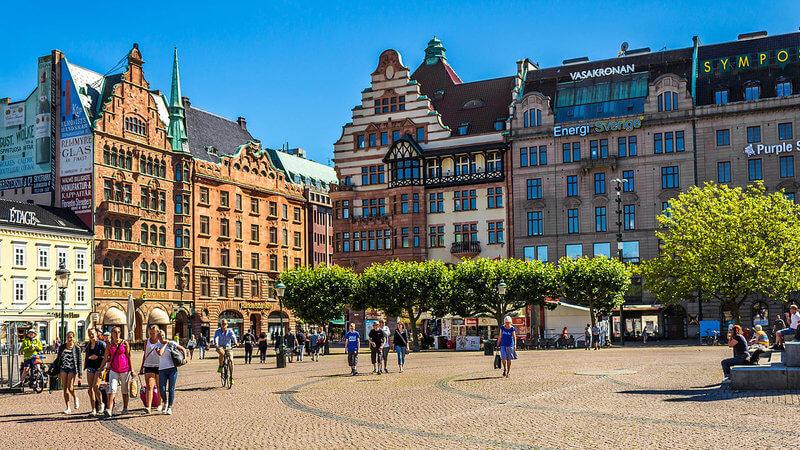 Talk about the best city in Sweden for Summers and Malmo will surely be on the list of best places to visit in Europe in August. The biggest city in Skane is a multicultural heaven for tourists who come here to have a dip into its lovely offerings including innovative architecture and social character. The place is known for its organic goods that span from its lush surrounding. Just by walking around, you can feel how much emphasis is given on a simple lifestyle and organic products. The place was even deemed as the first 'Fairtrade City' of the country in 2006 by the government. Come with a clear mind and shop your heart out as with everything being organic, you will hardly be leaving unsatisfied! The pure food items found here are just as delicious and will let you have a healthy and enjoyable time. Ensure to check out its various shops that are replete with all the trendy accessories and clothing items.
4. Laugharne, Wales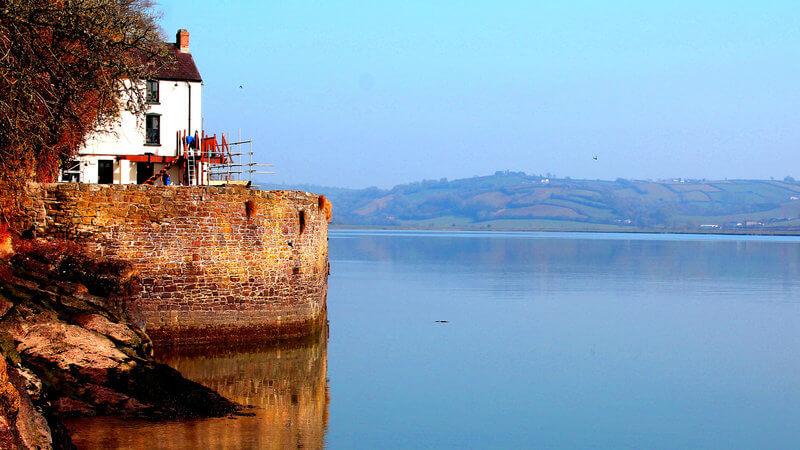 The place first came in public eye years back when famous poet- Dylan Thomas, inspired by its charisma, mentioned it for the first time in his play, Under Milk Wood. Located in Taf Estuary, this beautiful town is home to a vast number of castles, all initially built by numerous Welsh princes and later renovated by other rulers of the place. It was even used as operating base by Major General Rowland Laugharne during the civil wars that took place in the 16th century. It is there where the town took its name from (it was formerly called as Abercorran). Come to watch country's only remaining open-field systems of farming or check out the little quaint houses settles on old school streets of the city. Thw warm folks with their welcoming smile makes it a fun visit for anyone.
Explore: Best UK Road Trips
5) Ghent, Belgium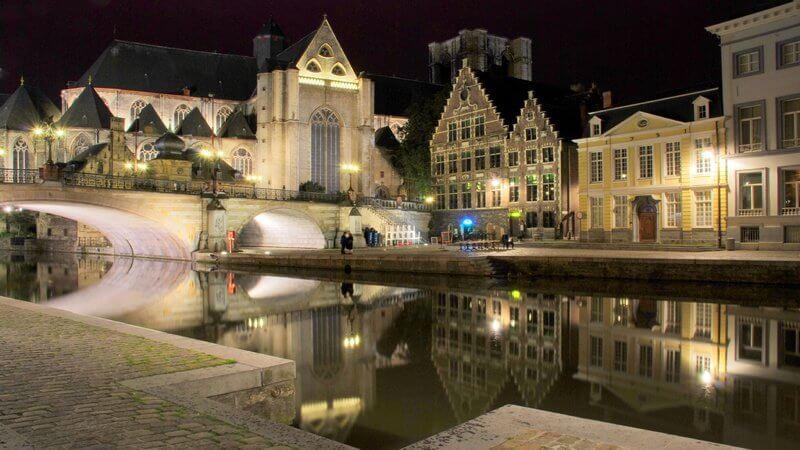 Get ready to feel all the authentic flavours of Belgium in Ghent. The town is soaked in history and has a lot to offer to anyone interested in old days and architecture. Even those, who just wish to have fun will find the town very intriguing. With and impressive collection of 18 museums, 100 churches and more than 400 historical buildings, it is hardly a surprise to see it flocked with visitors throughout the year. Not to forget its most popular attraction- The Gravensteen Castle or Castle of the Counts that is a must see here. Come here anytime from July to October and find a lot is going on here. It is this time when the city bustles to life with myriad festivals and film fests including eclectic Jazz festivals. Everything, from heavy theatrics to lighthearted musicals, food and performances makes its an exemplary experience to witness; which when added to exquisite Belgium platter and traditional wine conjures up the best recipe for fun!
6. Tallinn, Estonia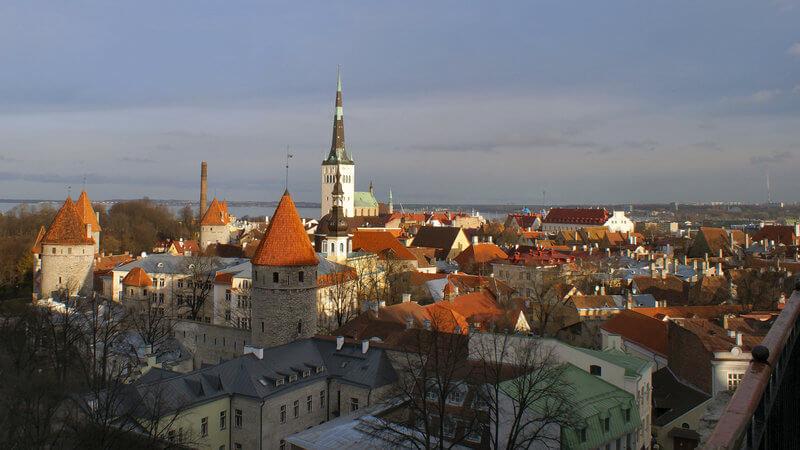 If you are travelling to Estonia for the first time, its capital- Tallinn should definitely top your list! A centre of the cultural and economic hubbub of the country, Estonia also exhibits affluence in historical and architectural areas. You will find a lot of building that will remind of the past, giving the entire town a distinctly medieval feel. Though, the city is actually anything but modern. Ask the residents and they will point towards the numerous trendy boutiques and food places around the city. Its unique blend of trend-driven folks and old whitewashed places (including city walls and gates) had it included in a hip tourist destination in Europe and also, The UNESCO World Heritage List.
7. Akureyri, Iceland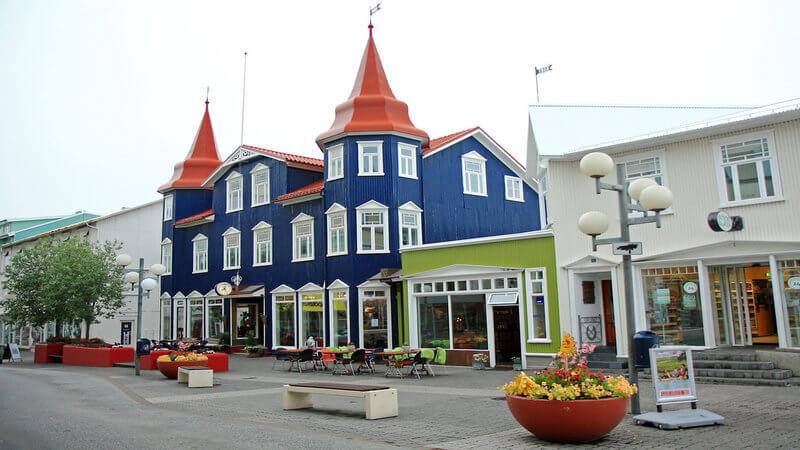 The populous city of Iceland is known for many things, but first and foremost is its beauty and the vast expanse of natural wealth. It is also one of the popular tourist's destination, given how favourably it sits amidst the magnanimous mountains of the area. Boasting of a rare ice-free harbour, the city has over the year created a special place for itself amidst the travellers. Many people also come here for its museums that are enriched with artefacts be speaking of city's past and other aspects. Ensure to give its Botanical Garden a visit while you are here. Visiting Akureyri in Summers also means a great indulgence in the form of vivid concerts and festivals. Make the most of Iceland & its culture in Akureyri!
8. Sardinia Island, Mediterrian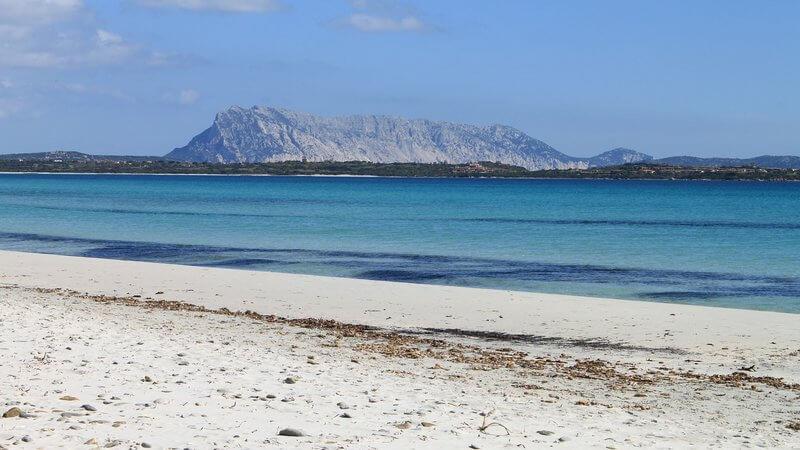 PC Pixabay.com
The island of Sardinia is popular for its emerald sea, past characteristic coves and lush sandy beaches. It is this lovely contrast of wild and homely that makes Sardinia such a charm to be in. You can easily loose yourself flocking around or stay in one of the party places in the city. The old buildings only add to its rustic charm. Delicately nestled upon the Mediterranean Sea and the islands boast of large mountains and high peaks. Thanks to it being so popular with tourists, it is replete with resorts that are well accommodated hence you won't have to worry about a thing here. Shutterbugs and artists will find a lot to muse here and indulge in, talk about its lovely backdrop!
9. Arosa, Switzerland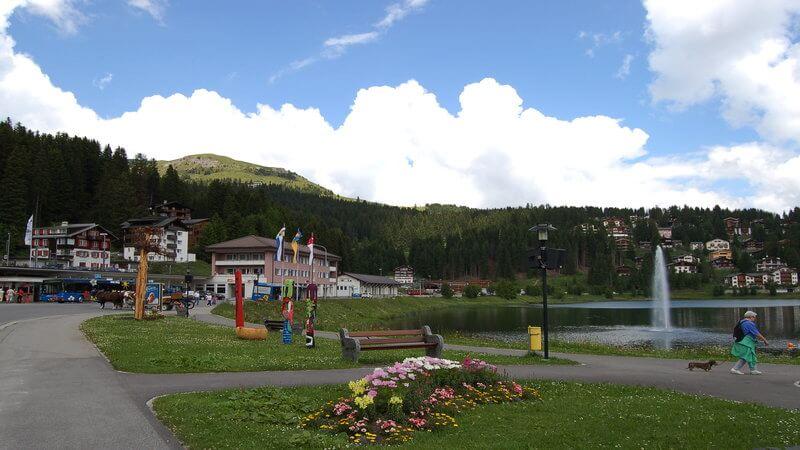 Although Arosa is mostly popular as a skiing destination during winters, it is nonetheless charming in falls too. A little away from Chur, the petite village is like a nature-escape for the recluse or anyone for that matter. The calm and serenity of the place are only accentuated by its greenery. Also, the city is home many alpine spas too; a nice soak in which is great opportunity to unwind and relax. If you are wondering about your stay here, low key places like Arosa Kulm can be a great one to go for! Walk around, delve into the city's culture with folks and enjoy!
10. Pula, Croatia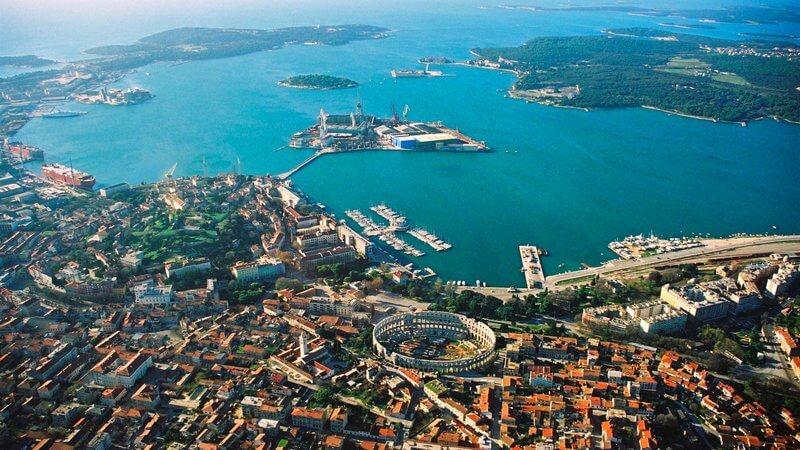 Its stunning surroundings and cool coastal temperate has landed Pula amidst the top tourist destinations in the world. For many, it is a great party hotspot, for others, it is a way to witness its history and medieval period through the ruins that mark the place. Pula is located in Balkans, hence get ready to be treated with vistas of the Plitvice Lakes and awe-inspiring Adriatic coastlines while you walk around looking for a souvenir or two. Make sure to have your camera as well. Clicking some pictures, meeting the locals, jazzing to their jams and dwelling on its past is something all do in Croatia!
11. Toulouse, France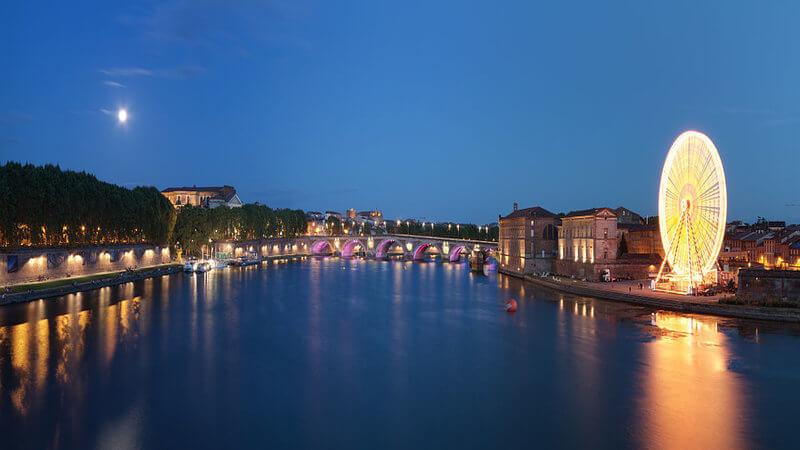 Teeming with youngsters, all drinking and laughing, Ville Rose or the pink city of France is a soulful and hip destination that can be great for a Summer escape! Although the whole city offers a lot to explore, it is in its vivid squares that leave a lasting impression on you. Start with the Place du Capitole which the hippiest centrepiece of the local crowd and rightly sits in the middle of the Toulouse. The numerous shops and restaurants adorning it are also known for luring people in. In my opinion, backpacking (and occasionally bus rides) would be the best way to explore the place. The quintessential buildings and attractions like Japanese Garden close only adds cherry to the cake.
12. Leipzig, Germany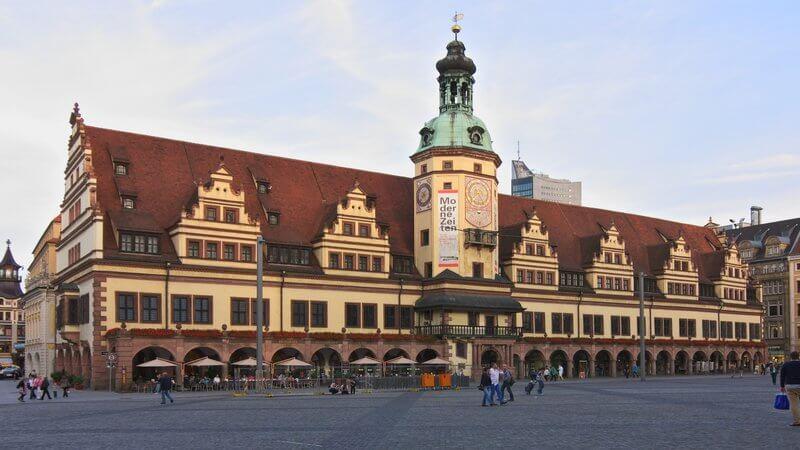 The city of Leipzig has been a constant favourite for artists for long. And why wouldn't it? It has been, after all, home to some very rare and acclaimed artists like Goethe and J.S. Bach, who's also buried here. It was this place that has set standards (a very high one on that!) for German art and culture scene. Thanks to its such a wonderful history, Leipzig has thrived over the years as a destination of peace, not only for history buffs but for tourists as well. In summer, it gets a little noisier with the crowd flowing in, nonetheless, you will get a lot to dig into and enjoy!
Must Visit: Villages in Germany
13. Skagen, Denmark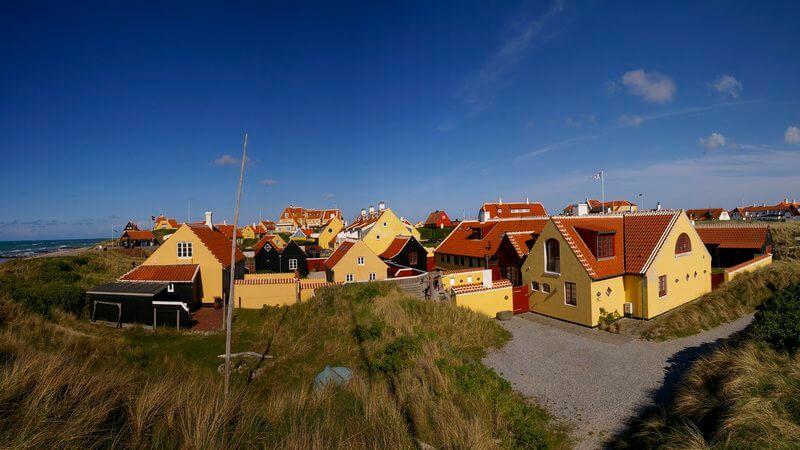 They say size doesn't matter and it really does not, at least not with a city like Skagen. Although small, the postcard town is a bunch of wonders with striking landscapes and beaches that are just too beautiful to be true. The city hasn't always had these beaches though. It was a mere result of the desertification happened back in the 18th century. It is perfect for summer vacations given that the time is when The Midsummer Eve festival takes place here. Come to enjoy the sun at its best and relish the scenic depth that it has. A troll through the soaking sands or a chat with the hippy folks will help you rejuvenate and feel happy!
14. Lappeenranta, Finland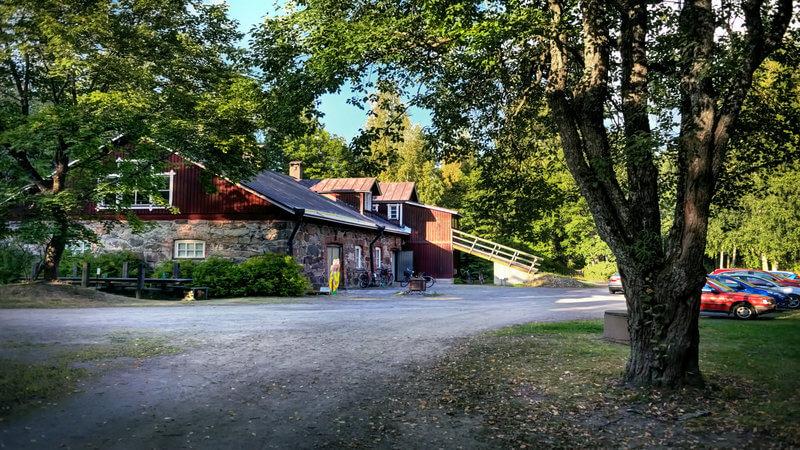 Lappeenranta is perched on the shores of Lake Saimaa and frequented a lot by visitors, both natives and foreigners alike. The place literally comes to life in Summers when people can enjoy water activities and the other things that the lake has to offer. Strategically located in the midst of two other popular destinations- Helsinki and St Petersburg, it acts as a bridge between Russia and the west. While you may not find many rustic places to look at here (since all of them had been burned down), there is still so much to do, with its culture, people and nature, that you never be bored or regretful choosing the city.
15) Tromso, Norway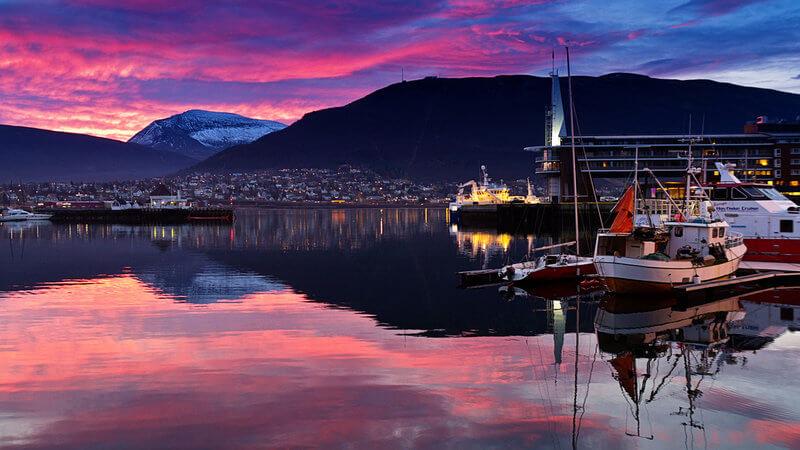 PC Flickr/TheMunicipalityOfTromso
Not only its is the largest city in the Northern Norway, it is also home to now rare and authentic wooden houses that were so regular in the 18th century. It vast and tranquil surrounding is another aspect of it that is to be admired and appreciated here. Perched on the lands of Tromsoya, Tromso is replete with various attractions including museums, parks and dense city forests. The large birch trees creating a shade for visitors who might just want to get lost strolling through them. If nothing, a trip to Storsteinen Mountain on a cable car ride with its lovely panoramas of fjords is enough to leave you wide-eyed and mesmerised. Attractions like the arctic aquarium Polaria and the Polar Museum are popular in this city and lie a mere 350 km from the Arctic Circle.
If you wish to see Europe at its best, August is the best time to do it! Don't wait, just choose one of these above places and set on to explore!