Best Places to Visit In Europe In March 2019
UPDATED Jan 14, 2019
23.5K Views
If you are anything like me; day dreaming about the next vacation which probably ends up being somewhere in Europe, you might be facing one difficulty- where to go in Europe! Mighty and magnetic, the continent of Europe has beautiful treasures that dazzle within its cities as well as sparkle through its petite villages and small towns. Stunning coasts, magnificent mountains and a plethora of art and culture; Europe mesmerises.

But known for its cold weather, planning a trip to Europe in the month of March can be tricky, since it is not really warm anywhere (at least that is what our conception is). To solve the problem of travellers (like me) who want to go to Europe in March, here's a solution! After covering the best places to visit in Europe in February, here's a list of the best places to visit in Europe in March:
1. Seville, Spain - Perfect Weather in March

Think Andalusia, Think Seville! This bountiful European destination entombs the glam of Roman Empire and exhibits the versatility of the various cultures that have ruled it over the years. Home to the Old Town which is a UNESCO World Heritage Site, Seville boasts of beautiful buildings, stunning architecture and a vibe that is quintessentially European. Spring season in Seville invites tourists to its vibrant festivities that line up around the Feria De Sevilla (Sevilla Fair). Just before the crowd kicks in, March is the best time to visit Seville to get the best deals on hotels and a perfect weather to enjoy the city!
What to See: Seville Cathedral, The Alcazar, Gold Tower, Plaza de Espana and Casa De Pillatos

Travel Tip: Buy the Sevilla Card which serves as a priority access ticket to most of the museums and monuments in the city, access to public as well as sightseeing buses and boat rides for 72 hours depending on the card you choose.
Check availability of best hotels in Seville.
Explore Beautiful Europe with Europe Itinerary 1 Week.
2. Saas-Fee, Switzerland - Best Kept Secret of the Alps

Closer to glaciers like Dom and Allalinhorn, Saas-Fee is a ski-resort in Europe that is ideal for a March vacation. The resort is perfect for skiing and has other adrenaline-pumping activities like snow-boarding, snowshoe trekking, ice-climbing and canyon climbing. The beautiful panorama of Saas-Fee is covered with snow adding to its allure and you can experience its grandeur on a funicular ride. Great for nightlife and leisure, Saas-Fee is also home to the world's highest revolving restaurant. March is a great time to visit Saas-Fee since it's time for the fantastic events like Glacier Bike Downhill and Allalin Races.

What to See: Nature and unique wooden houses against the white backdrop!
Travel Tip: The activities can be expensive, opt for a hotel that offers all-inclusive packages.
3. Lesbos, Greece - Best Island to Visit in March

A retreat for art lovers, poets, writers and painters, this beautiful island is known for its cultural abundance and vibrancy. Birthplace of many artists since the time of Greek antiquity, Lesbos has the typical island feel to turn the vacay mode on. What makes it even more interesting is that, it is perfectly pleasant in the month of March and although you can't expect a lot of sun-bathing, a dip in the ocean won't be a bad idea making it one of the best warm places to visit in Europe in March.

What to See: Number of villages and towns like Kalloni, Molivos (for its Gattilusi Castle), Eressos, Agiasos, Vatera Beach and Skala Sykamnias
Travel Tip: Best way to explore the whole of island is to rent a car and enjoy a road trip along picturesque scenery.
Also Read - Top 15 Places To Visit in Europe in May 2018

Check availability of best hotels in Lesbos.
4. Lisbon, Portugal - Charming European Destination to Visit in March


Entertaining, historical, charming and quirky, this Portuguese capital is one of the best destinations of Europe. Being a year-round destination favoured by tourists, March marks the beginning of spring and also is the time for some popular festivals and events that add to the allure of the city. A pleasant weather in the month of March and events like Carnival, Lisbon half-marathon and Peixe Em Lisboa make it a great destination to visit in March. Surrounded by seven hills which make Lisbon a typical European city, Lisbon definitely deserves to be on your bucket-list for a spring vacation.
What to See: Oceanario De Lisboa , Belem, Cristo Rei, Alfama Dsitrict, Calouste Gulbenkian Museum and Chiado Square.
Travel Tip: Purchase the Lisboa card that gives you access to all public transport and reduced ticket price to prime museums and monuments.

Check out the timings of Famous European festivals in 2018 one should experience!

Check availability of best hotels in Lisbon.
5. Taranto - Lesser known Italian destination

Located on the scenic Italian coast, what sets Taranto apart from the towns of Amalfi is its ancient background. Known as 'The Spartan City', the place dates back to 500 BC and was one of the largest in the world back then. The reminisces of the bygone era can be still seen as you walk around the port, especially the Aragon castle that will instantly remind you of Kings Landing from Game of Thrones. The month of March has the right climate to visit this coastal town and you can enjoy the fun in the sun here better than most of the Italian destinations this time of the year!

What to See: Aragon castle, Lungomare, Palazzo del Governo and Street Art of Old Town.
Travel Tip: Don't be here to do a lot, the town is all about relaxing in an old-school way, drink some good liquor, taste some great food and enjoy the view!
6. Belgrade, Serbia - The South-eastern Europe!

Set on the confluence of two rivers Danube and Sava, Belgrade is the capital of Serbia and more often than not, is an ignored destination by tourists. Known as the white city, the destination boasts many culturally, historically and architecturally significant structures, monuments and buildings that are totally worth your visit. The weather in Belgrade in March is anywhere around 10 degree Celsius making it a perfect European destination to visit in March.

What to See: Kalemegdan - Belgrade Fortress, Knez Mihailova Street, Republic Square, Skadarlija, Saint Sava Temple and The National Museum of Serbia.
Travel Tip: Buy the paper card of the bus plus system that can be used to access the public transports with simple validation and save time at the ticket kiosks.

Check availability of best hotels in Belgrade.
7. Rome - Best Place to Travel in Europe in March

The eternal, ethereal beauty, this is hands-down one of my personal favourite destinations in the world. The city's charm needs no introduction but what makes it an ideal destination to visit in March is its relatively warmer climate and fading winter. The winter that begins in November almost comes to end by March, but the tourists are still fewer. The tourist season again kicks-in in April (for Easter Sunday), so this is the perfect shoulder season to visit Rome.

What to See: Colosseum, Roman Forum, Vatican City- Saint Peter's Basilica, Vatican Museums, Trevi fountain and so much more!
Travel Tip: If you have less time on hands, purchase the skip-the-line tickets to save time (sometimes as long as 4 hours) in the queues at the major monuments.
8. Monaco - Big Things Come in Small Packages



The second-smallest country in the world, Monaco is like a precious poem pressed into a place. Flaunting its stunning coastline that dazzles with illuminated buildings in the evening, Monaco lies on the French Riveria and retains its presence among the big charmers like Italy and France. The winters here are really never harsh, so March is a great time to explore this beauty!

What to See: Oceanographic Museum, Princes Palace Of Monaco, Monaco Cathedral, Monte Carlo casino and Japanese Garden.
Travel Tip: Walk around the place and you'll explore beautiful sites on your way. When your legs give up, hop on the public elevators and pedestrian-only ferries!
9. Copenhagen, Denmark - Danish Beauty of Joy For March Vacation

PC: Pixabay.com
Laid back, cobbled streets, historic buildings that spring up on every corner to surprise you and the capital of the happiest places on the earth-Denmark, Copenhagen is a Scandinavian destination that in widely underrated. March is a special and perfect time to visit Copenhagen since it sees festivals like Copenhagen Beer Festival and the Copenhagen Carnival. Lesser crowds, warm weather, and vibrant events; I am packing my bags already!

What to See: The Little Mermaid Statue, Nyhavn, Stroget, Christiania, Tivoli Gardens and Copenhagen Zoo.
Travel Tip: Just like most of the European cities, Copenhagen has its city card known as Copenhagen card which provides access to free transport within the entire region and admission to around 60 museums and sights.

Check availability of best hotels in Copenhagen.
10. Matera, Italy - The City Of Sassi!


Yet another Italian destination, you have to visit Matera for two reasons- its exemplary feel of an Italian town and its mind-blowing UNESCO World Heritage site- Sassi. The weather in March is ideal for a day-out, since summer is too hot and winter is too cold to explore the outdoors. The Sassi- cave houses that are dug out of limestone can transfer you to another time- literally!

What to See: Sassi- the ancient town, cathedral, Park of the Murgia, Regional Reserve San Giuliano, Palombaro Lungo and the beautiful views!
Travel Tip: Hop on the Linea Sassi bus from the Matera Central to get to the ruins and explore the rest on foot, it is really inexpensive!
11. Cannes, France - Lesser Crowds in March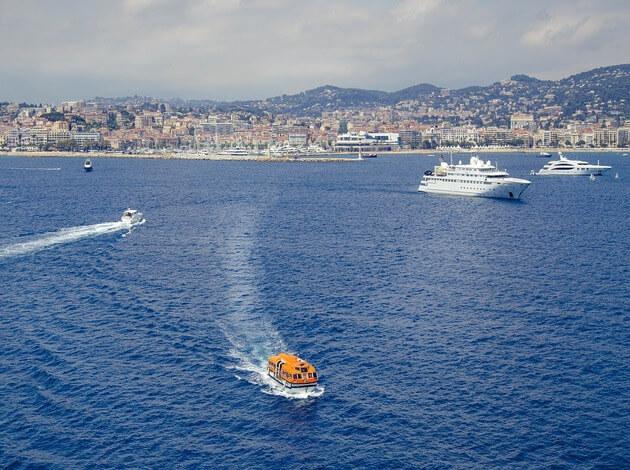 Okay, so most of us know this city because of the extremely glamorous Film Festival that is held here. Since it is an invite-only festival, and I assume most of us aren't Hollywood celebs, the festival is not the reason why Cannes should be on your bucket-list. The city was once a fishing town that saw horrendous wars and bloodbaths, contradictory to its image right now. A scenic sea-side place, the effortlessly beautiful promenade, glitzy shopping centres, Cannes deserves to be on your bucket-list! Visit the place in March to beat the crowds!
What to See:
Promenade De La Croisette, St. Marguerite, Rue D Antibes, Le Suquet and Musee Fragonard.
Travel Tip:
Instead of conventional hotels, opt for an AirBnB place to save on accommodation with fantastic views!
Check availability of best
hotels in Cannes
.
12. Riga, Latvia - For All Things Pretty!


Capital and largest city of Latvia, not many people know what prettiness lies in Riga. Home to UNESCO World Heritage Sites, Riga flaunts its Art Nouveau style buildings with striking facades decorated with minute detailing. Although the city was damaged to a huge extent during the WW II, it has now risen like a phoenix and displays an undying spirit of creation. The weather in Riga is not warm, is milder than prime winter season and is perfect to explore the otherwise humid city.

What to See: Old Town and its monuments, beaches, bunch of museums and striking buildings- the list is endless!
Travel Tip: Buy the Riga Card and save on entry fees to prime museums and monuments.

Check availability of best hotels in Riga.
13. Zadar, Croatia - Visit Pearl of the Dalmatian in Spring Season


More often than not, this oldest inhabited city of Croatia is shadowed by other Croatian destinations like Dubrovnik, Opatija, Hvar and Pula. Nonetheless, this city has its own charisma that can invite any history enthusiast. Civilized since the Stone Age, Zadar is a great place to combine a sightseeing vacation with Leisure. In the month of March, the average temperature is around 12 degree Celsius and this is the right time to visit the place before the summer crowd kicks-in.

What to See: Old Town, St. Donat's Church, Roman Forum, Sea Organ and Archaeological museum.
Travel Tip: Don't forget to swim, and relax on the beautiful beaches like Kolovare, Borik and Vitrenjak.

Check availability of best hotels in Zadar.
14. Montreux, Switzerland - Swiss City With a Touch of France


Situated at the foot of the Alps on Lake Geneva, this is a fabulous leisure destination in Europe that is perfect for a spring vacation. The climate is in the favour of activities like sightseeing and hiking and the atmosphere is lively after bidding adieu to the winter. Go on a cruise ride, treat yourself with delectable food, experience the French extravaganza outside of France and take a stroll along the promenade, Montreux breathes of freshness that can give you the much-needed break!

What to See: Chateau de Chillon, Marmots' Paradise, Casino Barriere de Montreux
Travel Tip: Take a guided tour to be an 'alpage' and experience day-to-day living of the locals, right from milking the cows to making cheese and sleeping on a heap of straw!
15. Malta - The Place with the Best Weather in the World

Known as a country with the best climate in the world, there doesn't need to be a reason why you should be here in March. You can come here anytime really! But when most of the Europe is cold, Malta has a great weather that can instantly elevate your vacation spirit. The holiday season begins from April, so March is an ideal time to grab great deals to visit this scenic coastal island with stunning views, unique terrain and bunch of historical buildings that make Valletta- the capital a UNESCO World Heritage Site.

What to See: Mdina, Valletta, Gozo and the beautiful Megalithic temples.
Travel Tip: The hop-On Hop-Off bus is one the cheapest and easiest ways to explore the whole of the island in a short span.

Check availability of best hotels in Malta.
Explore these beautiful destinations that answer to the question of Where to go in Europe in March, plan a trip today.