Where To Go In Europe In November 2018
NIYATI SHINDE
UPDATED May 24, 2018
3.9K Views
1. Madrid, Spain:

Jazz lovers would definitely love visiting Madrid in November as it hosts the annual Madrid Jazz Festival then. This capital city of Spain has something for everybody, be it family vacationers, solo wanderers, architecture and photography buffs, history and culture lovers and even bachelor/bachelorette party enthusiasts! It is probably the best place to go for sun in November in Europe.
2. Venice, Italy:
3. Transylvania, Romania:

4. Wicklow, Ireland:
Visiting the Wicklow Mountain Range in Ireland during November will make you feel like you have stepped into a fairytale land where fairies and leprechauns exist. That's how beautiful the region looks during autumn- trees laden with golden leaves, greenery everywhere and cascading waterfalls.
5. Bosnia and Herzegovina: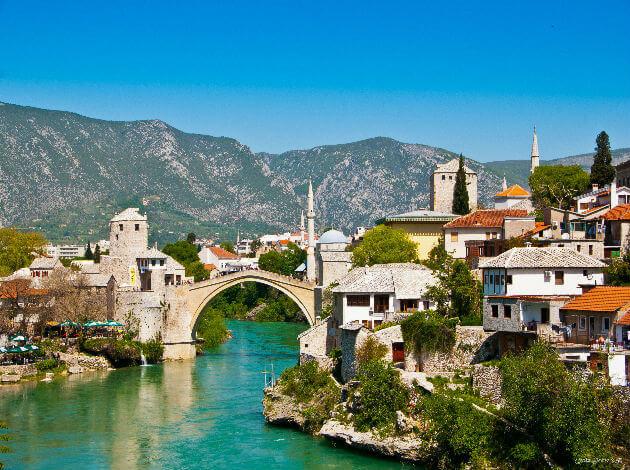 6. Cumbria, England:
7. Bavaria, Germany:

A border state in south eastern Germany, Bavaria is every traveller's dream come true. Home to outstanding cities such as Munich, Nuremberg, Bamberg and Würzburg to name a few, Bavaria is the perfect amalgamation of architecture, nature, culture and history. There is something for everybody, no matter what age, in this amiable state of Bavaria.
8. Dubrovnik, Croatia:
9. Evora, Portugal:

Although facing a few wet and gloomy days during the month, Evora is one of the few places in Europe where it is hot and sunny in November. Located in the heart of the Alentejo region, Evora is full of history and architecture and proves to be the perfect city for wanderers in search of an offbeat destination in Europe. It is home to plenty of Portuguese National Monuments and provides many fabulous photography opportunities for budding photographers.
10. Prague, Czech Republic:
11. Perthshire, Scotland:

12. Ljubljana, Slovenia:
The most environment friendly and green city out there, Ljubljana is the capital of Slovenia. A shining gem in the necklace of Europe, this is one destination you can add to your wanderlust wishlist. Better yet, why not visit it during your November escapade? You will feel like you have stepped back in time during your vacation in Ljubljana. The architecturally marvellous buildings and the denizens' efforts towards preserving the environment will leave you in awe of the city.
13. Zermatt, Switzerland:

If you have skiing on your mind, you have to head over to Zermatt in November. The skiing season officially begins by then and you will have a time of your life zooming down the beautiful Alps. The town is located at the foot of the Matterhorn thus making it a favourite getaway for winter sports enthusiasts.
14. Svalbard, Norway:
One of the best places to see the enchanting northern lights, Svalbard is one place in Europe you should definitely visit in November to catch a glimpse of this natural phenomenon. The Northern Lights are unpredictable but September to March is the time during which they might be spotted in the sky. Even if you don't end up witnessing the stunning lights, you can still enjoy the warm hospitality that the archipelago of Svalbard has to offer.
15. Nice, France:

Explore the beautiful merger of the old world charm with modernization at the city of Nice in France. Having a pristine shoreline, the city boasts of quaint cafes, busy markets, lively atmosphere and interesting museums. The city also hosts the Nice-Cannes Marathon during the month of November. Do participate and make your vacation a fit and healthy one!