Places to visit In November In Europe
* Disclosure: This post may contain affiliate links, which means we may receive a commission if you click a link and book something (there is never any extra cost to you for using these links).
Europe is always a good idea, no matter which month or which season! Each time of the year brings with it its own different charm that captivates visitors. The monsoons are beautifully lush green, spring is vivid, summers are full of life, winters are chilly yet charismatic and autumn is spectacular. But November in Europe is a lot more different than the rest! We have compiled a list with pulsating cities, enchanting regions and picturesque towns. Ready to go on a European sojourn?
Here are Places to visit In November In Europe
1. Madrid, Spain

Jazz lovers would definitely love visiting Madrid in November as it hosts the annual Madrid Jazz Festival then. This capital city of Spain has something for everybody, be it family vacationers, solo wanderers, architecture and photography buffs, history and culture lovers and even bachelor/bachelorette party enthusiasts! It is probably the best place to go for sun in November in Europe.
What to see: Museo Nacional Del Prado, Parque Del Retiro, Royal Palace of Madrid, Plaza Mayor.
Travel Tip: Do enjoy a ride on the Madrid Cable Car.
2. Venice, Italy:

PC: goodfreephotos.com

Venezia, the Italian city that oozes romance, proves to be a perfect European destination to be visited in November. An off season, this is the time when the queues are short, the hotels offer great discounts and many of the restaurants experiment with their menus and offer delicious food. If you happen to be visiting towards the end of the month, do make it a point to visit the Basilica Santa Maria della Salute as it hosts the lovely La Salute festival.
What to see: Grand Canal, St. Mark's Square and St. Mark's Basilica, Doge's Palace, Rialto Bridge.
Travel Tip: November tends to be cloudy and wet. Do pack an umbrella or raincoat.
3. Transylvania, Romania:

Lying in the northern hemisphere, Romania enjoys the fall season in Europe during November. The Transylvania region in the country has always attracted visitors because of its myths, legends, delightful medieval towns and breathtaking natural beauty.
What to see: Bran Castle, the Saxon village, Bear Lake in Sovata, the Carpathian Mountains.
Travel Tip: Don't forget to pack some garlic! You might encounter a Dracula afterall!
4. Wicklow, Ireland:

PC: Flickr.com
Visiting the Wicklow Mountain Range in Ireland during November will make you feel like you have stepped into a fairytale land where fairies and leprechauns exist. That's how beautiful the region looks during autumn- trees laden with golden leaves, greenery everywhere and cascading waterfalls.
What to see: Glendalough, the town of Wicklow, Avondale House & Forest Park, Powerscourt Waterfall.
Travel Tip: The region tends to face a few storms during this month. Not ferocious ones though so you can still plan your visit.
5. Bosnia and Herzegovina: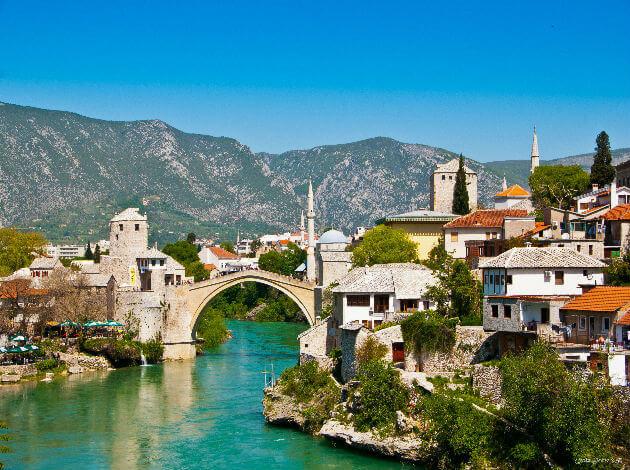 In search of an offbeat place in Europe where you can go in November? How about you head over to the Balkan country of Bosnia and Herzegovina? Still relatively unexplored, the nation is a hidden gem in Europe and is perfect for nature and adventure enthusiasts. With skiing season kicking in towards the end of November, the Jahorina and Bjelasnica Mountain peaks play host to an array of winter sports.
What to see: Stari Most Bridge, Sutjeska National Park, Tvrdo Monastery, Jahorina and Bjelasnica Mountains, Gazi Husrev-bey Mosque
Travel Tip: You have to go white water rafting while visiting Bosnia and Herzegovina.
6. Cumbria, England:

PC: wikipedia.org
An overwhelmingly stunning county in North West England, Cumbria is the best place to go in Europe in the month of November. Considered as one of the most beautiful regions of the UK, Cumbria is made up of the North Pennines, the Lake District, the Furness Peninsula, the Eden Valley and part of the Yorkshire Dales. Boasting of valleys and fells, the region offers plenty of hiking opportunities for visitors.
What to see: Derwentwater Lake, Windermere, the county town of Carlisle, the village of Grasmere.
Travel Tip: You have to try glamping in Lake District. November tends to be wet. Do carry an umbrella or raincoat.
7. Bavaria, Germany:

A border state in south eastern Germany, Bavaria is every traveller's dream come true. Home to outstanding cities such as Munich, Nuremberg, Bamberg and Würzburg to name a few, Bavaria is the perfect amalgamation of architecture, nature, culture and history. There is something for everybody, no matter what age, in this amiable state of Bavaria.
What to see: The Bavarian Alps, the Bavarian Forest National Park, the resort town of Berchtesgaden, the town of Lindau, Marienplatz in Munich.
Travel Tip: You will require at least a couple of weeks to explore the entire region.
8. Dubrovnik, Croatia:

PC: Flickr.com
Fondly called the 'jewel of the Adriatic',
Dubrovnik
will make you fall in love with it. And that's an understatement! When visiting in November, you will get to witness the festivities associated with St. Martin's day. The festival also heralds the official wine season. Now that's one definite reason for wine lovers to visit Dubrovnik! Do ride the cable car in the city that gives you dazzling views of the entire region.
What to see: Ancient city walls, Lokrum Island, Old Town, War Photo Limited Museum, Lapad Beaches, Franciscan Monastery.
Travel Tip: Unfortunately, November is the wettest month of the year in Dubrovnik. The city however still manages to beguile its visitors during the monsoons.
9. Evora, Portugal:

Although facing a few wet and gloomy days during the month, Evora is one of the few places in Europe where it is hot and sunny in November. Located in the heart of the Alentejo region, Evora is full of history and architecture and proves to be the perfect city for wanderers in search of an offbeat destination in Europe. It is home to plenty of Portuguese National Monuments and provides many fabulous photography opportunities for budding photographers.
What to see: Evora Aqueduct, Diana Roman Temple, Praa do Giraldo, Almendres Cromlech, the Bone Chapel.
Travel Tip: Skip the crowded restaurants and head over to tiny family-owned eateries that serve heavenly dishes.
10. Prague, Czech Republic:

PC: wikimedia.org
If you love the magic that winters bring with them then
Prague
is one of the best places to visit in Europe in November for you. This City of a Hundred Spires is romantic to the core and boasts of magnificent architecture. Having said that, the city also has a lively nightlife that should be explored on your trip. Infact, do try the Underground Bar Crawl and enjoy the city's nightlife to the fullest.
What to see: Old Town Hall Tower & Astronomical Clock, Charles Bridge, St. Nicholas Church, Prague Castle, Golden Lane.
Travel Tip: Prague tends to be freezing cold in November. Don't forget to pack extra woollen wear, including gloves and mufflers.
11. Perthshire, Scotland:

Wikimedia
Officially the County of Perth, Perthshire looks right out of Mother Nature's vivid fantasy. Acres of rolling hills, cascading waterfalls, lyrical landscapes, beautiful moors and enchanting forests- that's the county in a nutshell for you. According to Sir Walter Scott, Perthshire is "The fairest portion of the northern kingdom." How can we not agree with him?!
What to see: The peaks of Schiehallion and Ben Lawers, the Hermitage, Queen's View, the Scottish Crannog Centre, House of Bruar.
Travel Tip: Gleneagles in Perthshire is a must visit for golf enthusiasts.
12. Ljubljana, Slovenia:

PC: Flickr.com
The most environment friendly and green city out there, Ljubljana is the capital of Slovenia. A shining gem in the necklace of Europe, this is one destination you can add to your wanderlust wishlist. Better yet, why not visit it during your November escapade? You will feel like you have stepped back in time during your vacation in Ljubljana. The architecturally marvellous buildings and the denizens' efforts towards preserving the environment will leave you in awe of the city.
What to see: Old town area, Butcher's Bridge, Ljubljana Castle, Preservov Square, National Museum of Contemporary History, the Fountain of Three Carniolan Rivers.
Travel Tip: Indulge in some authentic Slovenian food at the Downtown region of Ljubljana.
13. Zermatt, Switzerland:

PC: Wikimedia

If you have skiing on your mind, you have to head over to Zermatt in November. The skiing season officially begins by then and you will have a time of your life zooming down the beautiful Alps. The town is located at the foot of the Matterhorn thus making it a favourite getaway for winter sports enthusiasts.
What to see: Gornergrat Bahn, Matterhorn Glacier Paradise, the Matterhorn Museum, the Sunnega Paradise Ski Area, Mountaineers' Cemetery.
Travel Tip: Pack enough winter wear as the town tends to get super chilly.
14. Svalbard, Norway:

One of the best places to see the enchanting northern lights, Svalbard is one place in Europe you should definitely visit in November to catch a glimpse of this natural phenomenon. The Northern Lights are unpredictable but September to March is the time during which they might be spotted in the sky. Even if you don't end up witnessing the stunning lights, you can still enjoy the warm hospitality that the archipelago of Svalbard has to offer.
What to see: The Northern Lights of course!
Travel Tip: Be prepared to face freezing temperatures. Pack your clothing accordingly.
15. Nice, France:

PC: Wikimedia
Explore the beautiful merger of the old world charm with modernization at the city of Nice in France. Having a pristine shoreline, the city boasts of quaint cafes, busy markets, lively atmosphere and interesting museums. The city also hosts the Nice-Cannes Marathon during the month of November. Do participate and make your vacation a fit and healthy one!
What to see: Promenade des Anglais, Castle of Nice, Cours Saleya Flower Market, Musée Matisse, St. Nicholas Orthodox Cathedral.
Travel Tip: Have a meal at the Restaurant JAN. You can thank us later!
Shortlisted a destination for your November in Europe? Do let us know how your vacation went. In conclusion, we quote novelist James Baldwin, ''I met a lot of people in Europe. I even encountered myself."