Destinations to Explore in September in Europe
* Disclosure: This post may contain affiliate links, which means we may receive a commission if you click a link and book something (there is never any extra cost to you for using these links).
For budget travellers like me, September can be a great month to explore the vast and vivid continent that is Europe. Since the countries have already passed the peak season for 'Summer Staycations', a travelling rendezvous in September tends to be much cheaper (low airfares and budget hostels as their best!) with a warmer climate, fewer crowd, a cluster of festivals and far more possibilities to do and experience here. Not to mention the stunning visuals of autumn foliage!

So if you are not working this Autumn or liable to get a few days off from your work, here are 15 top notch destinations that will give you the perfect insight on Destinations to Explore in September in Europe and have that amazing fall holiday you have been waiting for! Here we go!
1. Peloponnese, Greece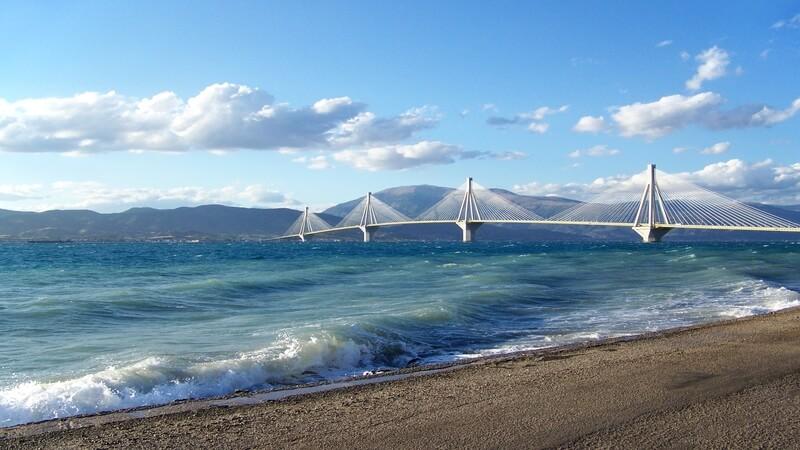 PC: Wikipedia.org
Peloponnese is a unique island just like its name and locates in the southern most region of Greece. It was previously named Morea, which roughly translates to mulberry leaf, referring to its leaf-like shape. A veteran choice among greeks to hop onto for a nice fall getaway, Peloponnese offers a plethora of options for travellers to seek and enjoy. From old Greek temples to Venetian fortresses and Byzantine churches, it teems with history and stories that will entice and intrigue all the same. Come to see its famous Olympia ruins, vivid market-places, food, culture and people, and divulge in an experience unlike ever before. History buffs with an ardent interest in ancient culture and nuances should definitely put it on their bucket list!
Check out: Where to go in August in Europe
2. Salamanca, Spain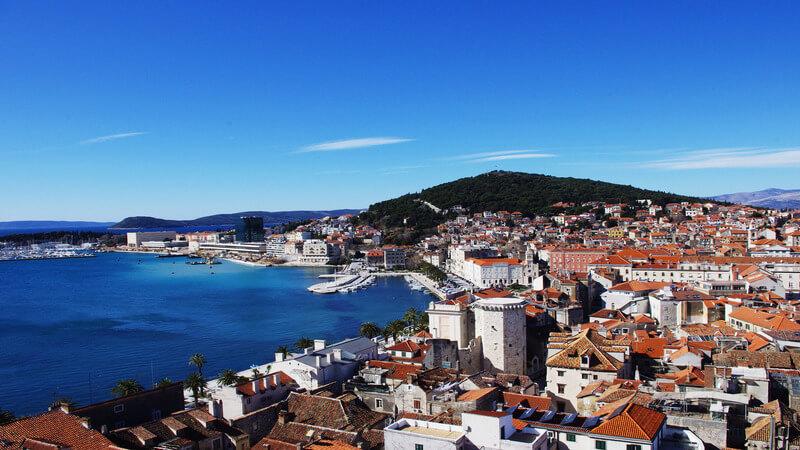 PC: Wikipedia.org
Salamanca is one of the most beautiful places in Spain, owning to its stunning architecture and distinguished surroundings. Anybody who has been here will recommend a quiet detour across its streets, witnessing its unique buildings made of certain sandstone quarries found here. The quality of this stone is that it lights up when the sun rays fall upon it, bathing the entire place in a lovely hue of gold. Its appearance is so striking that many even call it 'The Golden City' of Spain. As if the visuals are not enough, the city is also home to Europe's some very finest universities garnering a reputation among peeps. Talk about attractions like Catedral Vieja and Casa de las Conchas, or bustling common places like Plaza Major square, the city undoubtedly offers a little something to everyone. Dine, wine and everything fine, is what we say in Salamanca!
3. Split, Croatia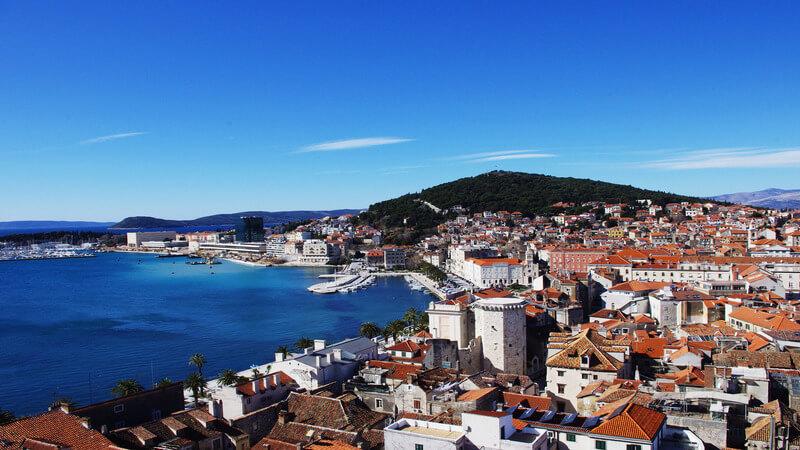 PC: Yoko/flickr.com
Just the mere mention of Croatia forms an enchanting image of lush golden beaches and blues of the sea in our mind. While cities like Dubrovnik are usually preferred by tourists for vacations, it is a hard-hitting fact that they can be very expensive and crowded for many. A nice alternative place to visit in Europe in September would be the city of Split that shares a lot with Dubrovnik in terms of culture, architecture and vibe. Although, a bit older, it is a great destination if you wish to experience culture and food. A nice day amidst the calm atmosphere of the beach, detours alongside its historic part of the town and a great seafood dinner in a quaint restaurant, the picture just can't get any better than this! In fact, many who come here dare to call it even better than other places.
4. Hamburg, Germany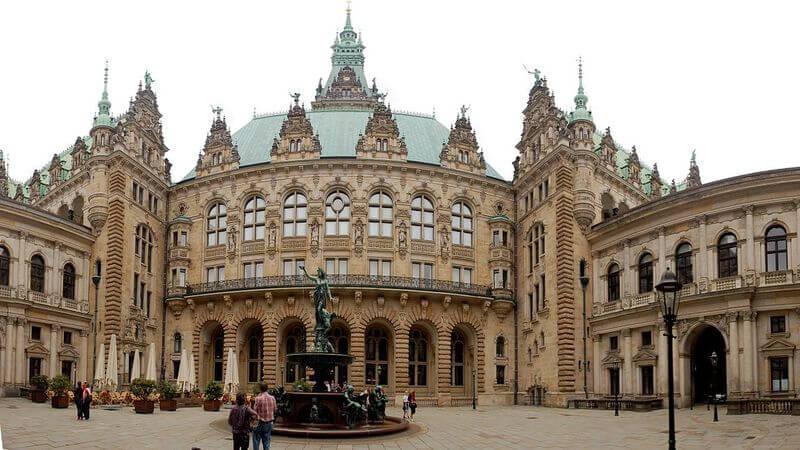 One of the largest cities in Germany, Hamburg boasts of amazing scenarios, magnanimous harbours and an exotic nightlife culture that is on par with world's many metropolises. Located in the north Germany, its main charm though is the various waterways that pass through it giving it the quintessential maritime feel. You will be astounded by the number of bridges it has, and more than that, the visual appeal they exhibit. Perfect for picture lovers and those who have a flair for architectural edifices! A further walk into the city's core will lead you to popular Alster lake which is replete with many boats and cafes. Be it the expressive modernity of Neustadt (new town) or the old school charm of Altstadt (old town), Hamburg won't leave any stone unturned to make your trip a memorable one!
Check Out: Best Villages in Germany
5. Galway, Ireland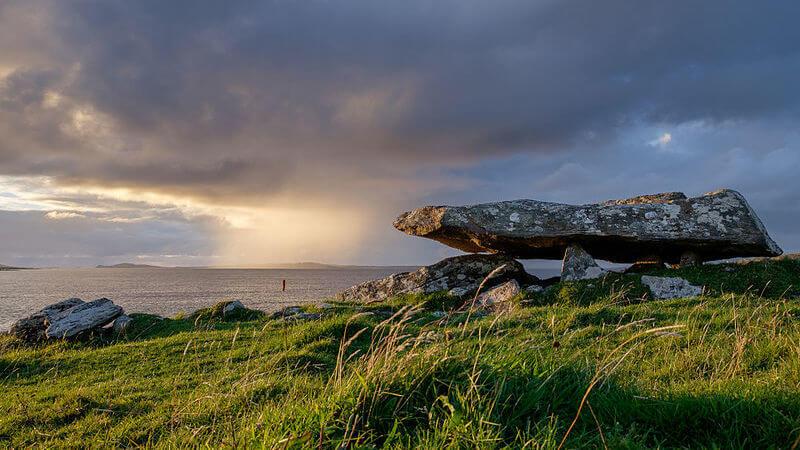 The thing that makes Galway so appealing is its liveliness and vividity. You might have even heard about the place in Ed Sheeran's latest song 'The Galway Girl' which revolves around a vivacious Galway girl. Undoubtedly, the West Ireland city has a lot to offer to tourists. From a vast number of art galleries dotting the city streets to shops and restaurant bustling with folks, Galway is what I would best describe as a 'Little Wonderland' for all. The vibrant environment only gets better with the numerous music venues and a thriving pub places coming to life at nights. Learn a few Irish words (as it is still spoken here) to impress the natives and you will find that you have made a lot of friends by the end of it all. Full of vibrancy, history and depth, the city is a great way to experience Irish culture up & close.
6. Verona, Italy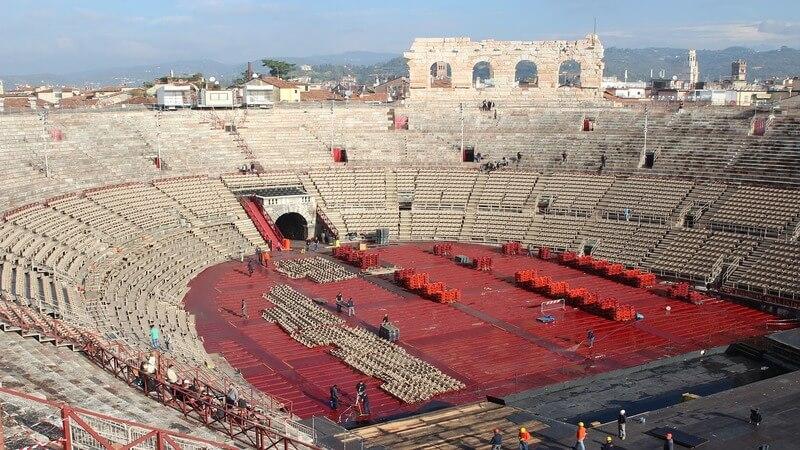 PC: Pixabay.com
I read about
Verona
the first time when I was a teenager. It was a Shakespearean play called 'Two Gentlemen of Verona' and since then the city has intrigued me in more ways than one. Its dramatic landscapes and rich history have even landed it in the list of
UNESCO World Heritage Sites
. For travellers though, a visit here will be welcomed with picturesque views of Adige River, cobbles stone streets and medieval relics that bespeak of a time centuries ago. The quintessential Roman architecture only adds to its edge, giving a boost to one's creativity. Really, I won't be wrong to say it is an artist's paradise. Come here in September for a classic country experience amidst pink buildings, Juliet balconies, peppy crowd and food that is simply drool worthy. What more? You may even get to ride to Venice which is a few hours away!
7. Cesky Krumlov, Czech Republic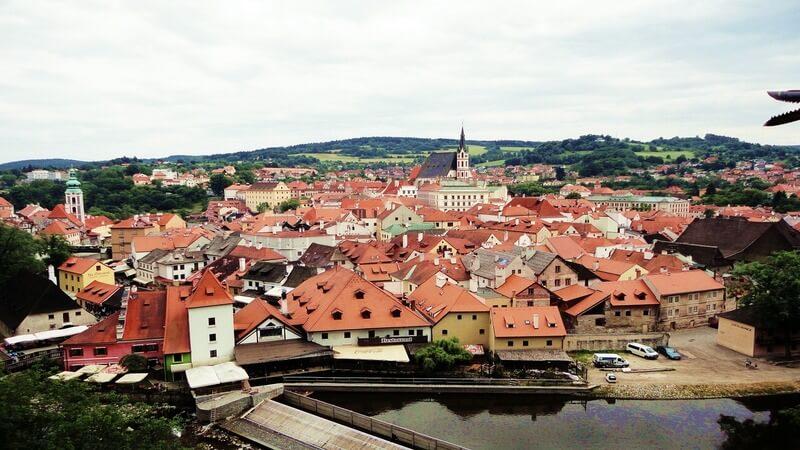 On the very first look, Cesky Krumlov may come across as a town straight out of a fairytale with its colourful soaring castles and lovely awe-inspiring views. Located in the South Bohemia region of the country, Cesky Krumlov is historic city perched on the either edge of Vltava River (the river bisect it in two). Hence, expect to see a lot of historical influence and centuries' old buildings while you are here. Most of them belong to the 13th century when the construction with baroque and gothic elements was at its peak. Its major highlight, though, is an original 17th-century baroque theatre that still functions and intrigue tourists for a watch. Once you are done, head to the old town for it is where you will see the most wonderful sights in the city (Cesky Krumlov castle, Church of St Vitus, a moat full of black forest bears) lies, making it a well deserving name amidst the UNESCO Heritage sites!
8. Hévíz, Hungary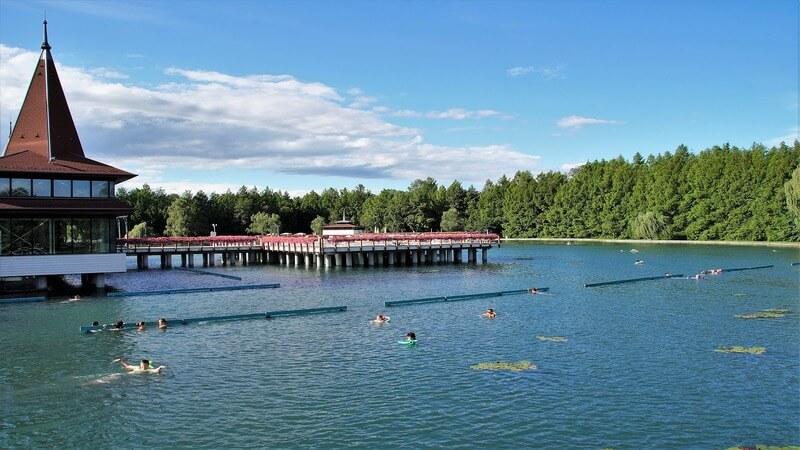 Heviz is that ultimate leisure town that you absolutely would not like to miss in September! Famous for its spas and saunas, Heviz holds a proud title of the best tourist destination in Hungary. The place was named after its local lake that is also the highlight of the city and offers numerous wellness offerings including both - cold and hot springs. If you are specifically looking for a place to relax, Heviz can be a great choice for it. With an average water temperature of 24 to 37 degrees, a dip in this city is a relaxing and rejuvenating affair. Once you are done relieving yourself, head to the nearby forest for a hike or check out the many outdoor concerts around. Food festivals are also a huge hype here!
9. Interlaken, Switzerland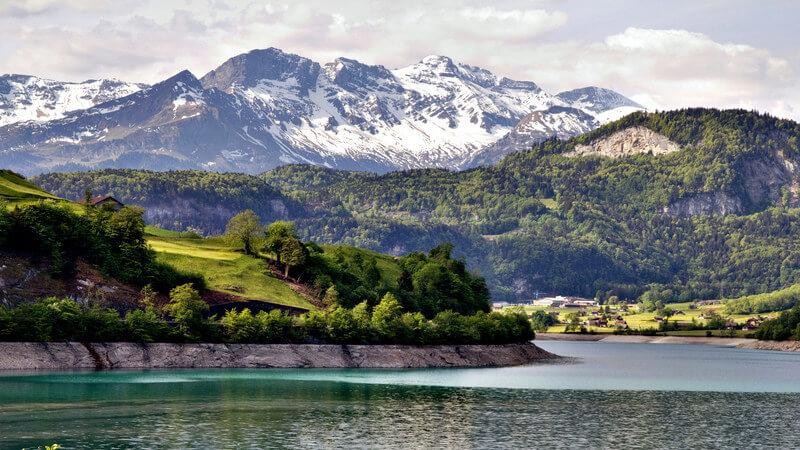 PC: Artur Staszewski/flickr.com
Crazy about Swiss watches? Learn more about it in the Interlaken city of Switzerland which was once the 'Watch Making Center' of the country! Today though, it is more popular for its resort that welcomes thousands of tourists every year. It doesn't matter if you an adventurous person or a laid back one, surrounded by three Swiss mountains- Eiger, Jungfrau and Monch, a visit to Interlaken in September is a complete package within itself that offers sumptuous opportunities to both. On one hand, there are areas like Bernese Oberland Alps that are perfect for outdoor activities (hiking, camping and such), on the other hand, there are spas spread across the city and calls for a relaxing soak. But, rest assured, no matter what you go for, you will have plenty of fun here. If none of these sails your boat, go for other options like a wood carving lesson (it is fun, we tell you!) and a food detour!
Must Read: Best Places to Visit for Honeymoon in Switzerland
10. Bodrum, Turkey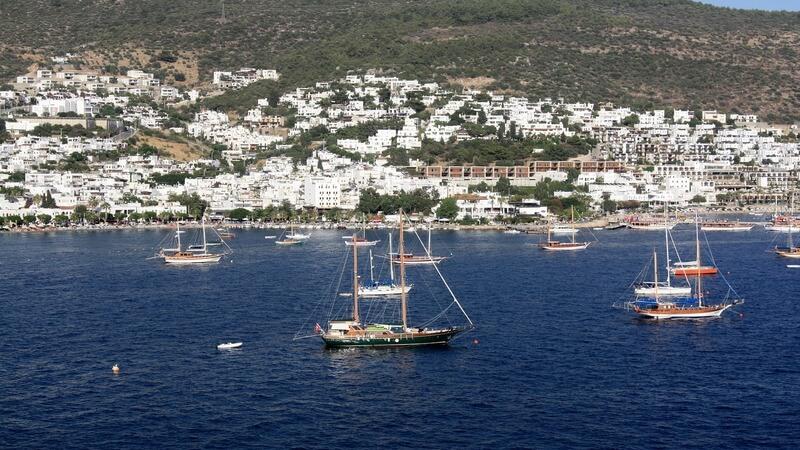 There is no doubt that nature has blessed Turkey with some of the best visuals in the world. Its rustic buildings and vibrant culture have bestowed it with a character that makes a trip to this land a soulful one. For travellers who are tired of mainstream destinations and are looking for offbeat places, Bodrum can be a great choice. Settled in the southern Aegean region, the place is popular for Mausoleum, one of the seven ancient wonders which was later destroyed. Today, its ruins beckon people from all over the world along with its stunning beaches and colourful landscape! Ensure to give it famous Bodrum Castle a visit during your trip. Built in the 14th century, it now acts as a museum exhibiting the centuries' old legacy and heritage of Turkey. Go to the eastern area for a beach escape or head to the west for shopping, but no matter what you do, don't forget to relish some authentic Turkey dishes in one of the many restaurants around.
11. Koper, Slovenia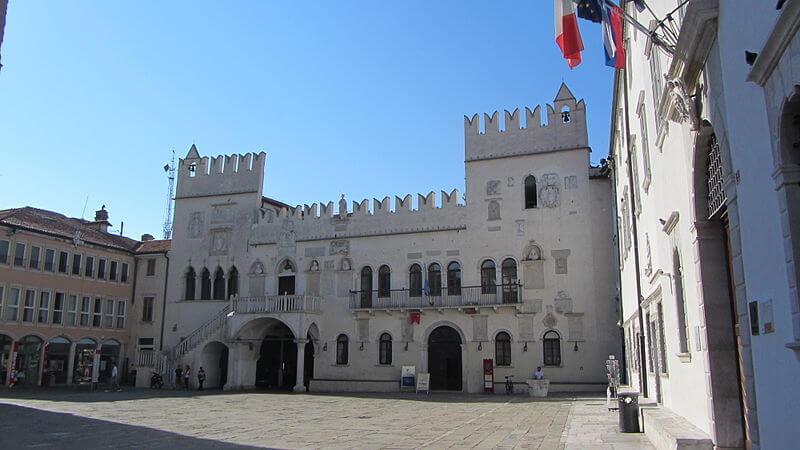 Blessed with natural abundance and beauty, coastal towns are always a beautiful thing to visit. More so, if they are the oldest in the country. The Koper city of Slovenia is one as such. The major port city is not only the epicentre of country's infrastructure but is also a tourist's delight with the myriad attractions that it offers. Visiting Koper, it may not stand out at first, but as you make your way through the city's culture, places and people, you somehow learn to appreciate its medieval feel and that tranquil sobriety which is less seen in other cities. Go for a walk in the Tito Square or Praetorian Palace or click pictures of surrounding panoramas from the Campanile's top, the city will give you the best time of your life. It being less touristy also contributes to the fact that beaches here are some of the cleanest and are great for swimming, and picnicking.
12. Lille, France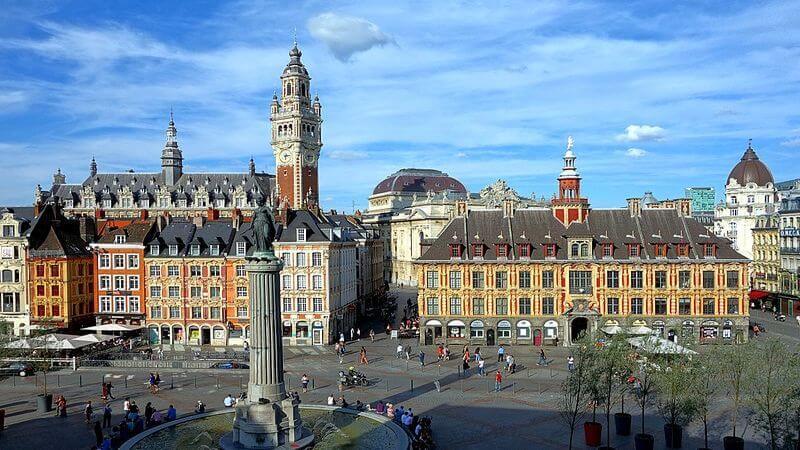 Very close to the Belgian border, Lille is an enchanting city in northern France. Famous for the Grande Braderie de Lille that takes place in September when street markets line the city for 48 hours. Lille is the best city to visit if you are fond of delicacies such as waffles, mussels and French fries. After a hearty meal, roam about the Palais des Beaux-Arts de Lille, one of France's largest fine arts museum, and get lost among the masterpieces. The quintessential charm of the city and warm folks will definitely lure you for an amazing and indulging time!
13. Salzkammergut, Austria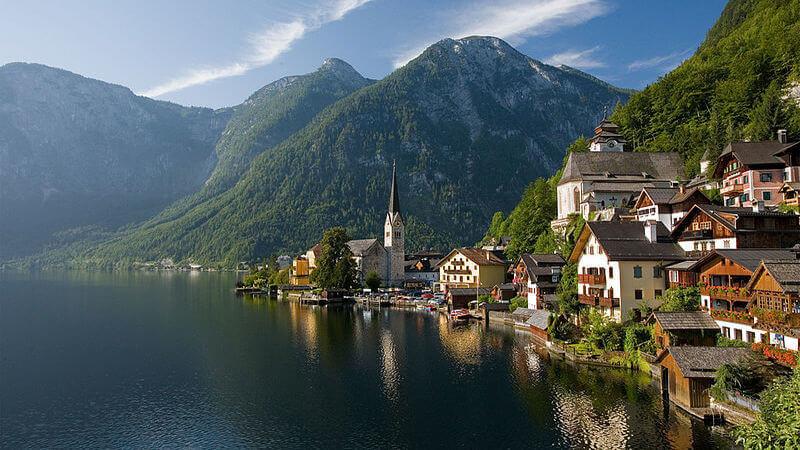 Salzkammergut is a beautiful resort area that starts with Salzburg and heads east into a land of lakes. Sparkling clean lakes, green hills, wonderful mountains, romantic towns like St.Wolfgang and Hallstatt make up this region. Travelers who have seen the movie 'The Sound Of Music' will know what this lake region looks like, because that movie was filmed in and around the city of Salzburg and the neighboring Salzkammergut region. The resort area is popular with sunbathers as well as visitors who seek relaxing spa treatments. Visitors can join in the relaxed moods by donning the ever-popular resort wear, lederhosen for men and dirndl outfits for women.
Check Out: Best Villages in Austria
14. Geiranger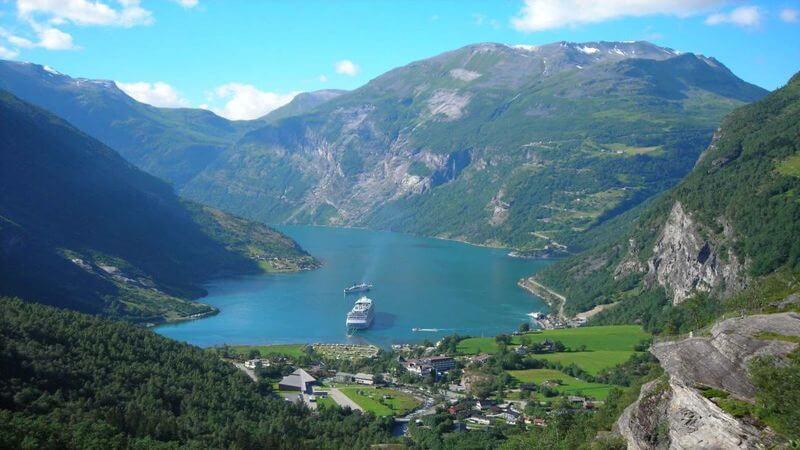 One of Norway's most popular tourist destinations, Geiranger has nevertheless managed to retain an unspoiled, authentic feel. While the village itself is beautiful, with charming traditional houses and a white timber church, its natural beauty truly sets Geiranger apart. The tiny village is situated right at the head of the dramatic Geirangerfjord, with sloping, craggy hills providing an awe-inspiring backdrop, and stunning blue waters and steep mountains unfolding at the foot of the village. Take a hike up one of the many mountain paths, past numerous waterfalls and take in the breathtaking views from the top.
15. Sintra, Portugal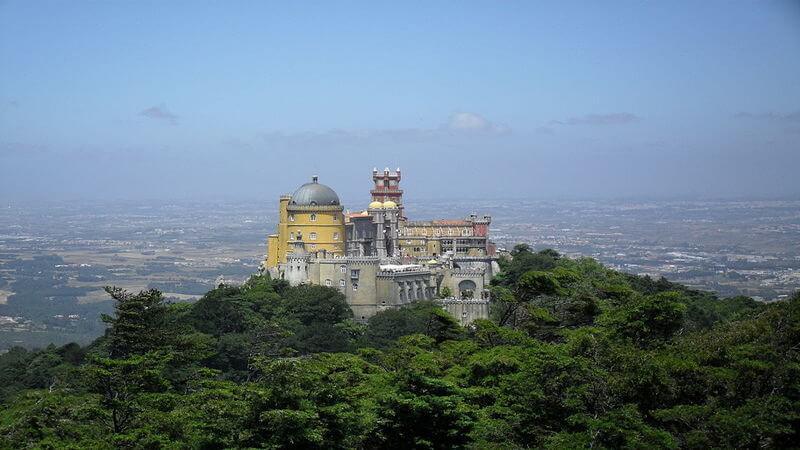 PC: Wikimedia Commons
Sintra is set amidst the pine-covered hills of the Serra de Sintra and this slightly cooler climate convinced the Portuguese nobility to create their summer retreat within the town. The nobility constructed lavish palaces, while the elite of Portugal who followed them constructed equal opulent residences. Today these palaces and stately homes are open to the public and Sintra is considered as the best day trip from Lisbon. Most tourists to Sintra go for a set route and visit the gothic national Palace, the ruins of the Moors castle and the beautiful Pena Palace but there are sufficient sights for a second full day of sightseeing. Sintra is connected to Lisbon by a direct railway and is easily accessible for all tourists.
Pick a Place!
TripHobo travel planner will do the rest for you! Select the best vacation package that suits your travel needs!
Visiting Europe in Fall is always a good idea, especially for backpackers and budget travellers who can make the best of places without going broke or sweating throughout the trip. Just choose one of the destinations above and explore!