Which Countries Celebrate Diwali And How?
* Disclosure: This post may contain affiliate links, which means we may receive a commission if you click a link and book something (there is never any extra cost to you for using these links).
Diwali, the festival of lights. The one that celebrates the victory of good over evil. The triumph of light over darkness. The festival that strengthens the bonds between families and brings together people of different religions and regions. Ever wondered how Diwali is celebrated outside India? With many NRIs trying to keep their cultures and traditions alive and intact, there are now many countries around the world that have started celebrating Diwali with as much enthusiasm as us Indians. Here are a few countries that celebrate Diwali; we have also jotted down how they celebrate it.

Sri Lanka:
Sri Lanka is the only country, apart from India, which plays an important role in the history of Diwali celebrations! It does afterall feature in the story of how the celebrations began back in the day when the epic of Ramayana was taking place. It was from Sri Lanka that Lord Ram brought back his wife Sita to India where people lit oil lamps to welcome them and celebrated the victory of good over evil. Similar to India, the Diwali celebrations in Sri Lanka revolve around lights and illumination. The families come together and make enamel toys and figurines out of Misiri (crystal sugar). Firecrackers and a homely meal form an integral part of the celebrations. Do read about these other
festivals in Sri Lanka
.
Japan:

Image Source: Wikimedia
In Japan, Diwali is celebrated as a day that brings joy, happiness, prosperity and progress in the lives of those who celebrate the festival. Distinctive to Japan and its culture, Diwali in this nation is celebrated by people hanging their lanterns on the branches of trees in their gardens, unlike India, where people hang the lanterns outside their doors. Houses are cleaned and not a single corner is spared! Families get together, dress up in their finest and newest clothes and then take boat rides. Music, dancing and firecrackers make up most of the Diwali celebrations.
Guyana:
Did you know that the Co-operative Republic of Guyana in Southern America has many Hindus? 33% of the country's total population follows the religion. No surprise then that the day of the festival is declared as a national holiday. People clean their houses and then dress up in beautiful new clothes. The festivities include exchanging greetings and gifts, distribution of sweets and lighting of lamps or electric lights within and outside the houses.
Nepal:

The only Hindu kingdom in the world, Diwali celebrations in Nepal are as elaborate as they are in India. In Nepal, Diwali is called Tihar and is celebrated over a duration of 5 days. Like India, Nepal too has the customs of cleaning and decorating houses and places of business, exchanging gifts, preparing sweets, bursting firecrackers, lighting lamps and Laxmi Pooja. However, that's where the similarities end. In Nepal, day 1 of Tihar is dedicated to worshipping cows. Day 2 is for dogs. Man's best friend is worshipped on this day and is fed delicious food. Day 3 is for light and its victory over darkness. The entire nation lights up with lamps, lanterns and firecrackers. Day 4 is dedicated to Yama, the God of Death. Day 5 is Bhai Dooj, dedicated to the special bond between brothers and sisters.
Malaysia:
Not limited just to Hindus, in Malaysia, all the people partake in Diwali celebrations with equal fervour. Known as Hari Diwali in this nation, it is a public holiday and the festivities begin with a visit to temples. The Indian ritual of having a bath with oils and ubtan is followed in Malaysia as well. However, bursting of firecrackers is something that is not a part of the celebrations because it is banned in the country.
United Kingdom:
Being one of the largest ethnic minorities in the United Kingdom, Indians settled in the UK ensure that their cultural roots remain intact. They celebrate Diwali in a grand way and try to inculcate as many Indian traditions as possible including Laxmi Pooja, lighting lamps, hanging lanterns, cleaning houses and shops, wearing new clothes and families coming together for lively feasts. Infact, if you visit Leicester during Diwali, you will find the Belgrave Road lit up in bright sparkling lights and popular Hindi songs blaring from loudspeakers.
Singapore:
Celebrating light in all its forms, the Indian community settled in Singapore celebrates Diwali with devotion and excitement. An illuminated spectacle you have to witness, the festival in the country has Indians decorating their houses with lamps, lightings, colourful bulbs, lanterns, garlands and candles. Families visit neighbourhood temples and pray for happiness and prosperity.
Mauritius:

Image Source: Wikimedia
Did you know that many of the local Hindus in Mauritius believe that Diwali precedes Lord Ram's era?! An age old tradition, this island near Madagascar celebrates Diwali in the traditional way- lightening of earthen lamps and worshipping the goddess of wealth- Laxmi. The lamps that are lit are generally arranged in patterns that form flowers or religious symbols. Definitely a beautiful sight to witness.
Trinidad and Tobago:
To say that the Caribbean Islands are picturesque and beautiful would be an understatement. The southernmost of these islands, Trinidad and Tobago, has a large Indian population and it celebrates Diwali with enthusiasm and zeal. A national holiday, the festival brings together the entire island which is made up of many ethnicities and religions. Following the typical Indian ways of festivities, local government bodies also organise many functions and events to mark this week long fiesta.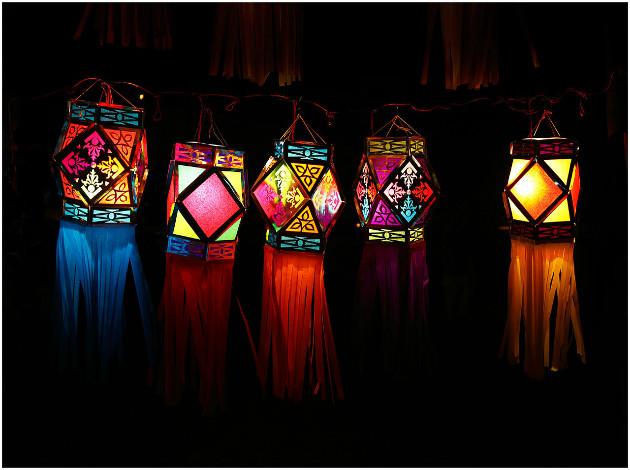 The next time you are left wondering what to do during your Diwali holiday, maybe you can take your entire family to one of these countries and celebrate Diwali outside India in a unique way. This
trip planner
can help you out with planning your Diwali vacation.
You may also like to read:
Note: Some images are for representative purposes only.