The Best Winter Glamping Cabins In UK
* Disclosure: This post may contain affiliate links, which means we may receive a commission if you click a link and book something (there is never any extra cost to you for using these links).
Glamorous Camping or Glamping- as people say it, is in vogue and I can very well see why. While everyone wants to have a taste of nature once in a while, going out and getting yourself dirty may not appeal to many. For people like me who do not want to miss out on star gazing or bonfires or other crazy stuff while camping, yet crave the leisure of a homely food and comfort all the same, Glamping just seems the perfect answer!
And the best part is- there are no rules! You can have your own kind of Glamping with your own kind of setup in your own choice of the environment! From tree houses, pods to bell tents and yurts, you can have it all. Sound exquisite, right?
Here are our picks of varied pleasurable Winter glamping cabins in UK that you can book for your next getaway expedition!
1) Yurt Life in Snowdonia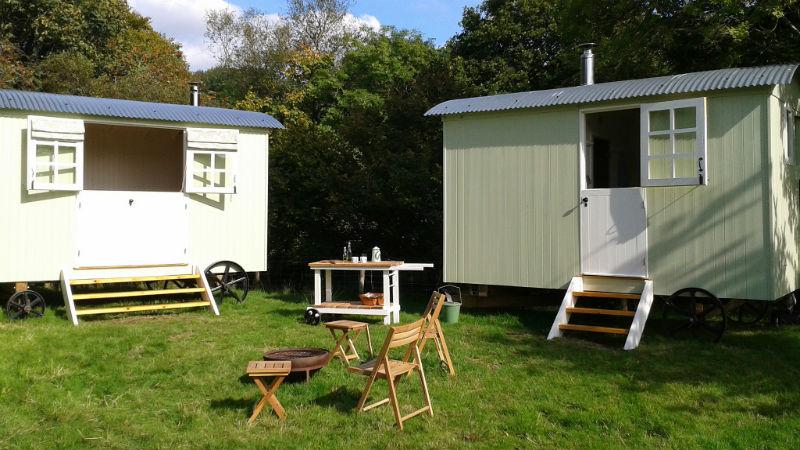 Image Source: Flickr/HazelBarclay
Highly traditional with subtle hints of modernity, this rustic style glamping will let you experience luxury in a way you have never done before. Beautifully perched on the banks of Mawddach estuary, the camping area is a well-planned land where everything is old school, but never old-fashioned. With quite a few beautiful Yurts accompanied by extravagant cabanas and warm cosy tents, the place literally beckons you to come here and enjoy for a while.
As far as interiors are concerned, you will not be disappointed either! Each one of these quaint abodes are well furnished and has been designed in a way to accommodate all the modernities including welsh blankets and a nice wood burner. A few minutes away from the Snowdon, the place offers some quite impressive activities- from panoramic overviews of pines to a nice bicycle ride to the nearby Fairbourne beach.
Yurts for two- £ 100 for two nights
Cabanas for two- £ 160 for two nights
2) Long Valley Yurts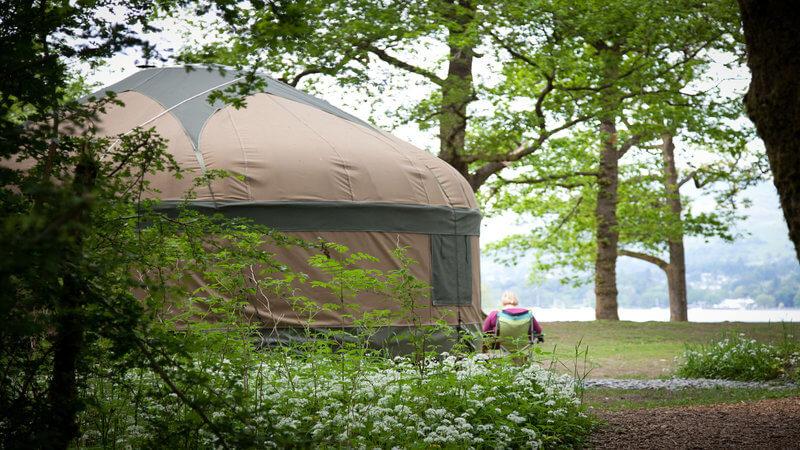 Image Source: CoolCamping.com
Once a play palace of little Beatrix Potter, the lush surrounding of Long Valley now serves as a perfect glamping destination for children and families. Home to a number of bell tents and yurts, designed and carved to suit the quintessential morocco look and style, the place exhibits the perfect familiarity and cosiness that you would seek in the comforts of your home. But that's not it! A dash of innovation in the decor- completed by wood burning stoves, modern vibrant rugs and lanterns along with the scenic surrounding makes this place an utter delight to stay in. The other adventurous pastimes you can indulge in this place including diving, biking and bush crafting is surely a surplus too!
Yurts - £ 199 onwards
Check out: Best National Parks in UK
3) Norwegian log cabins, Inverness-shire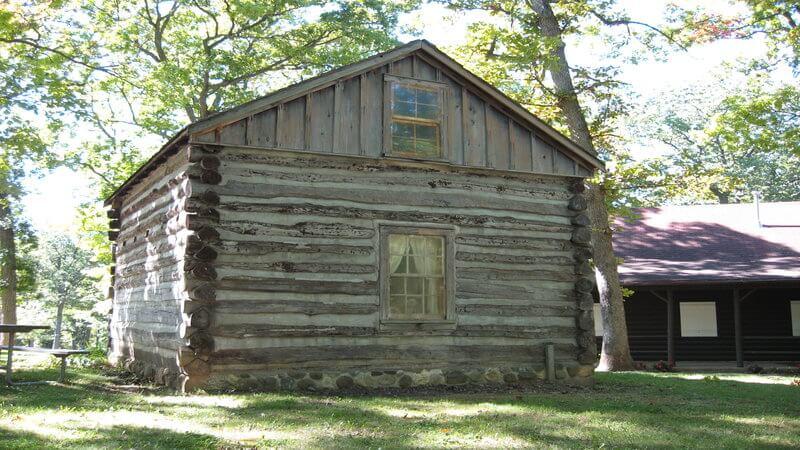 Image Source: Wikimedia Commons
Don't be deceived by its appearance. Despite having the quaint quintessential look, the place is an amazing blend of luxury, art and comfort. In fact, if you ask me, it is just as modern as it gets. There are around seven luxury cabins that dot the place; all of them beautifully highlights the varied influences the place has been favoured with. Be it the woods from Canada or the Norwegian techniques, the place is endowed with a bit of all. The various house amenities include a nice log burner, a cosy comfortable bedroom and a furnished bathroom. Winter activities such as sleigh rides and black grouse safaris only make it more amiable for guests.
Cabin for two - £ 1,094 for a week
4) Lilla Stugan in Worcester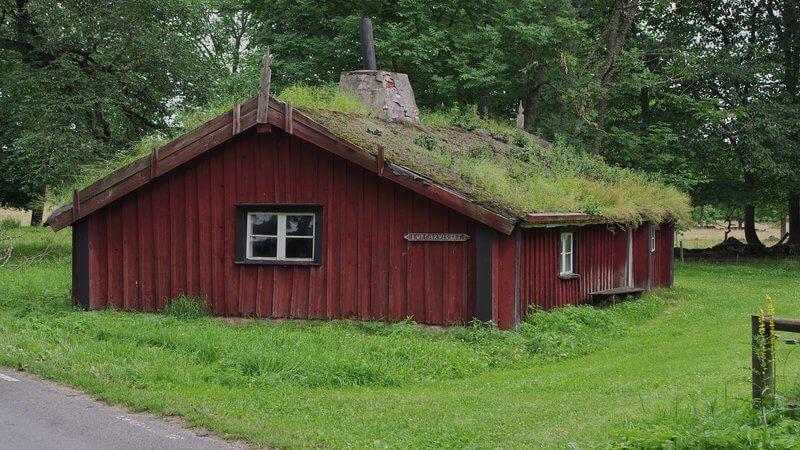 Image Source: Wikimedia Commons
One of the most colourful glamping delights in the UK, these quaint cabins of Lilla Stugan really exhibit the vibe of fun and cheer. Decked in the vibrant colours of red and blue, this Swedish little heaven offers a comfortable stay along with a well-furnished library filled with nice Moomin books. The place is located at the base of a century-old orchard in the little Millham Farm near Worcester and opens up to a natural reserve providing its guests with an easy access to the surrounding natural wealth. Boasting of a log burner in the room along with a modern dutch oven and fire pit outside to keep you warm, the place makes up for one of the coolest glamping sites in the UK.
Cabin for two - £ 1,094 for a week
5) Humble bee farm in Yorkshire Wolds Valley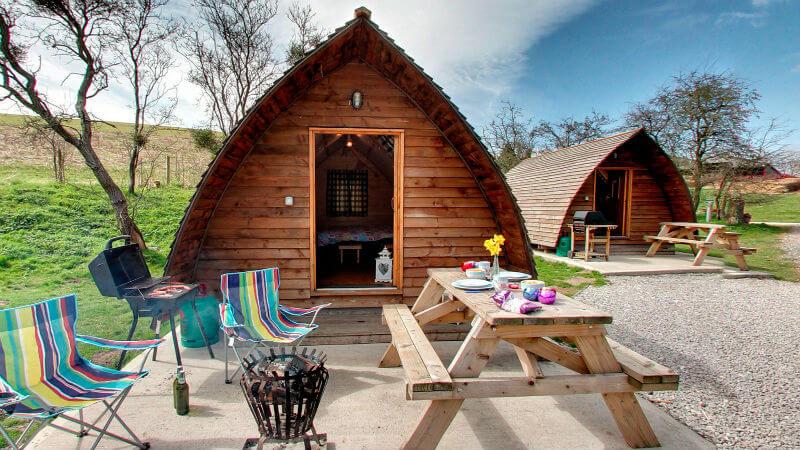 Image Source: CoolCamping.com
If you are looking for nice glamping getaway with your family, Humble Bee Farm would be it. The place encompasses a vast range of camping accommodation, from bell tents to wigwams and yurts, all these are beautifully decorated and come in various sizes. A very family friendly, the place has something to offer to everyone.
Children can play in the specifically designed playground or pet the farm animals while adults can indulge in a nice campfire session outside. A quaint shop near the site offers fresh sausages and other dairy products to its guests. One a chilly evening, a walk in the nearby Filey beach or a drive to Wolds Way will help in enriching your glamping experience.
Wigwams - £ 20 per night
Bell Tents- £ 85 per night
Yurts- £ 60 per night
The glamping site is open year around; a minimum two nights stay is a must.
6) Cwtch Woodland Camp in Pembrokeshire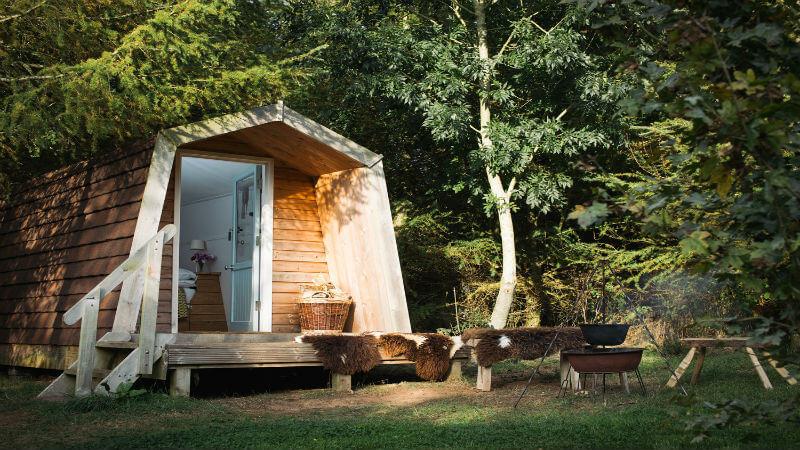 Image Source: CoolCamping.com
Rekindle your romance in this quaint corner of wilderness where nature and luxury sing in symphony to make your glamping experience an utterly memorable one! Far from the crowd and hustle of the city, this camping site is nicely tucked in a quiet corner of Daugleddau Estuary, providing a romantic refuge to its guests.
Home to some of the very modern and luxuriously designed wooden Cwtches and surrounded by dense spruce trees, not to mention the cosy vibes that surround the place, Woodland Camp will surely beguile you for a more elaborate stay. Amenities that are offered here includes large soft double beds along with modelled furniture and vast off grid patch. With so much to do, you will seldom find yourself bored here; and even if you do, the rustic stone coves, castles and cliffs nearby will surely keep you entertained.
Cwtch - £ 90 per night (A minimum two nights stay is must).
Check out: 15 Famous Caves In England
7) Hesleyside Huts in Northumberland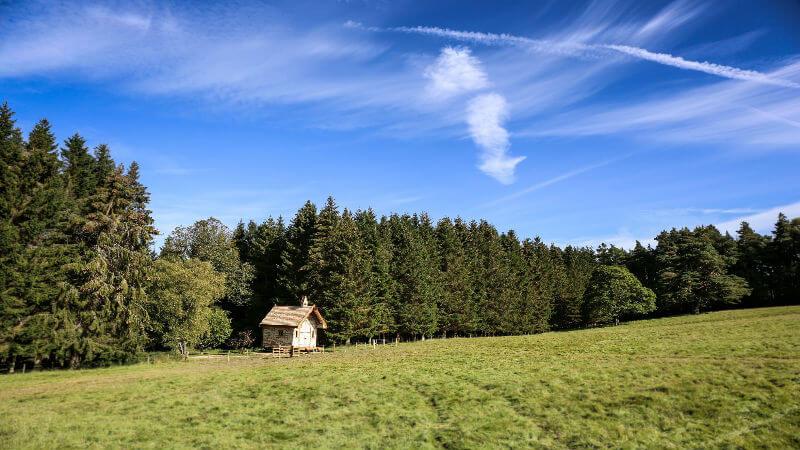 Image Source: CoolCamping.com
Hesleyside Huts, set on the green planes of Northumberland National Park, has long been drawing campers from all over the country. Although quite small, it embodies all the luxury and necessary elements of fun one may wish to have a wholesome glamping experience. Its little assortment of lavish accommodation includes four chapel style shepherd's huts well furnished with all the amenities such as large plush beds with soft comfortable beddings, classy bathtubs painted in bronze, and fully equipped modular kitchen. There is a log burner too in the to keep you warm and cosy. The vast spread of greenery that covers the area ensures to leave ample space for you to just walk around and explore.
Cwtch - £ 75 per night (A minimum two nights stay is must)
8) Mulino Pods in Derbyshire
Image Source: CoolCamping.com
A series of farmhouses lined on the edge of the Peak District, Mulino Pods are luxurious oakwood pods offering an array of delights to its guests. The interiors of these classy glamping pods are well designed with a touch of modernity and furnished with all amenities. While it may not seem much from outside, once you are in there are plenty of things to entertain here- from interesting games to more informative ones like maps and such. The lush outdoor kitchen only adds more to it. Not only this, the campsite is a little away from Kniveton historic town which with its myriad shops and cafes will be enough reason for your prolonged stay. For more adventurous souls, activities such hiking and surfing along with quiet farm tours makes up for the rest.
Pods - £ 230 (3 Nights Weekend)
£ 130 (2 Nights Midweek)
9) Millhouse Farms in Shropshire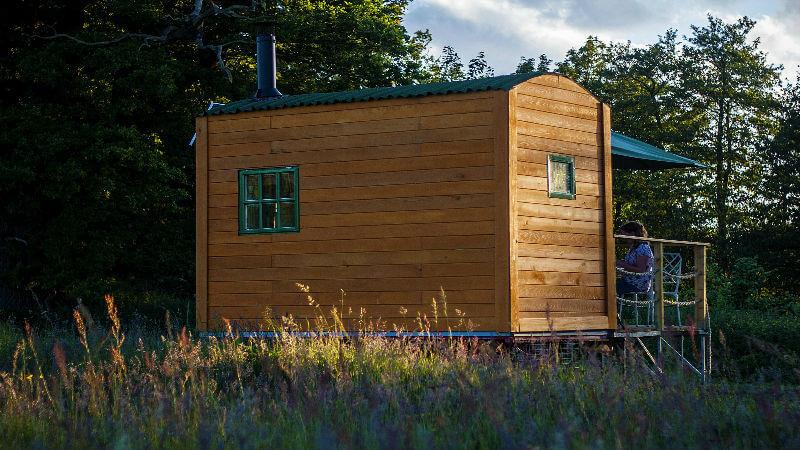 Image Source: CoolCamping.com
If you ask me I can give you a plenty of reasons as to why Mill House Farms could be the ideal glamping destination for you. Tucked away on the grassy plains of Shropshire hills, this lavish glamping cart had once been a moving stage for theatrics and art lovers. Now, though, it acts as a lovely onset for romantic stays and warm family outings. Ornate and luxurious, it is housed with all the necessities so you won't have to worry about a thing. You can also enjoy activities such as fishing and BBQ- all provided within the vicinity of the place.
Mill House Caravan - £ 75 per night (A minimum two nights stay is must)
Check out: Best Places for Camping in UK
10) Amber's Bell Tent Camping in Norfolk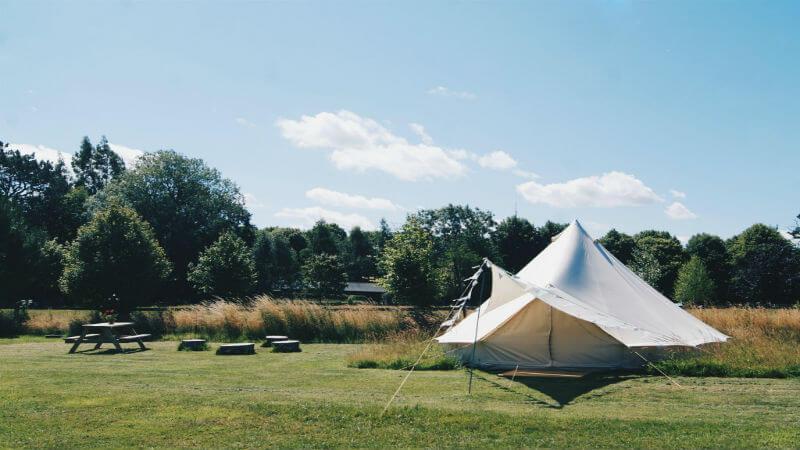 Image Source: CoolCamping.com
Spanning an area of around 3-acre, the beautiful glamping destination lies in a vast spread of grassy meadow on Mannington Hall in Norfolk. This exclusive glamping place is for campers who are looking for a unique camping experience in a familiar vintage setting. These traditionally designed bell tents, with all the amenities- warm beds, soft colourful rugs and beautiful lanterns, will take you back in time when things were old and easy. Not to forget the surroundings! The outdoors of the camping site exhibits lush gardens dotted with woodland trails and a large badminton court for guests to use. The secluded tea room space in the premises surely makes up for a quiet retreat.
Mill House Caravan - £ 85 per night (A minimum two nights stay is must)
11) Loveland Farm In Devon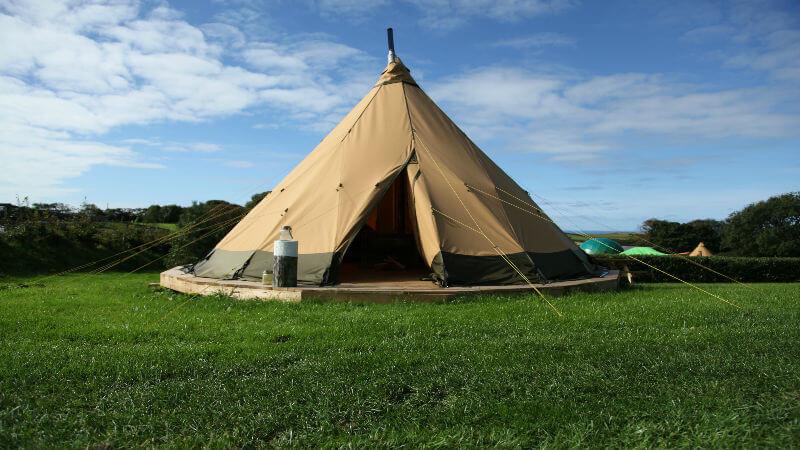 Image Source: CoolCamping.com
This quirky glamping site is for old schools and hippies, the ones who like to experience the unexpected! Set amidst the dual landscape of stunning hills and beautiful North Devon coast, Loveland Farm exudes a vintage charm with its diverse camping dwells, all of which are inspired by quintessential 19th-century look. The array of accommodations you can find here includes farmhouse tents, tipis and extravagant campervans. The highlights of the place though are, its five uber modern domes designed by two popular fashion designers- Jeff and Karina Griffin.
The domes vary in size and are furnished with all the modern amenities including king-size beds, stoves and such. Go for a binge-watching with Wifi and movie projectors or stroll through the rustic pave ways of city's historic villages, or go for a nice surfing expedition in Woolacombe and Westward Ho, you can never go out of things to do here! The place also caters to the eco-friendly side of camping with large solar panels and compost loos, which is obviously a surplus.
Domes - £ 230 for two nights (Two Adults)
12) Blackberry Wood Tree House in South Downs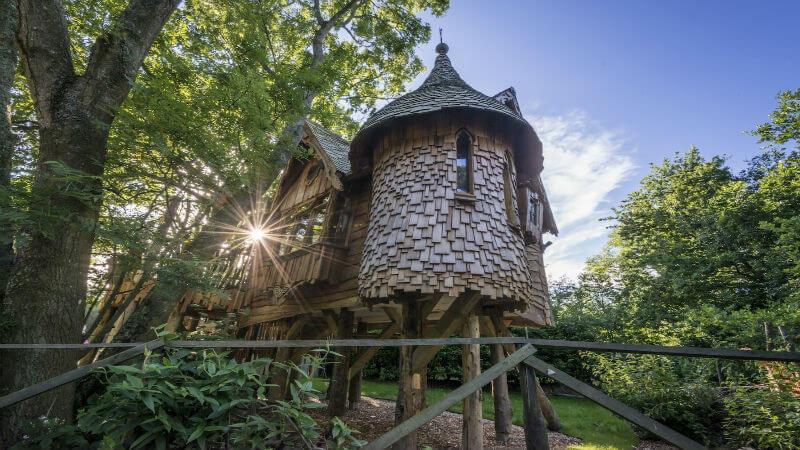 Image Source: CoolCamping.com
A secluded corner in South Downs, Blackberry Wood Tree House is a perfect way to connect with nature, especially for the introverts and recluse. It is hardly a few miles away from Lewes and Brighton and provides a fantastic venture into its major attractions, shops and pubs. As far as the fun activities are concerned, you get to enjoy a plethora of things including retro caravans resembling the trends of the 60s, quirky and unique gypsy carts, fairytale tree house, helicopters, grand staircases and what not! Spend a few days here and you will already find yourself planning for the next!
Mill House Caravan - £ 175 per night
Glamping is not just a vacation; rather, it is a way to reconnect- both with nature and yourself. Make the best of it by plan a trip to one of these absolutely amazing destinations and rejuvenate yourself!
You may also like to read about:
Places for Glamping in california