Best Winter Vacations in the USA with Family
* Disclosure: This post may contain affiliate links, which means we may receive a commission if you click a link and book something (there is never any extra cost to you for using these links).
Whether with family or with friends, USA offers you umpteen choices to celebrate your much-awaited winter vacations. Blessed with a wide terrain that accounts for the presence of all kinds of weathers in America, you don't need to go out of the country during winters looking out for warm sojourns. And if you are not an American, then this land is full of colorful and amiable places to make you fall in love with the much-dreaded winters. So, this time, plan for the best winter vacations in the USA for families to have some unforgettable moments. Crazy or soothing-the choice of destination is yours. But we will give you the reasons to pick!
1. Enter the cultural mish-mash of New Orleans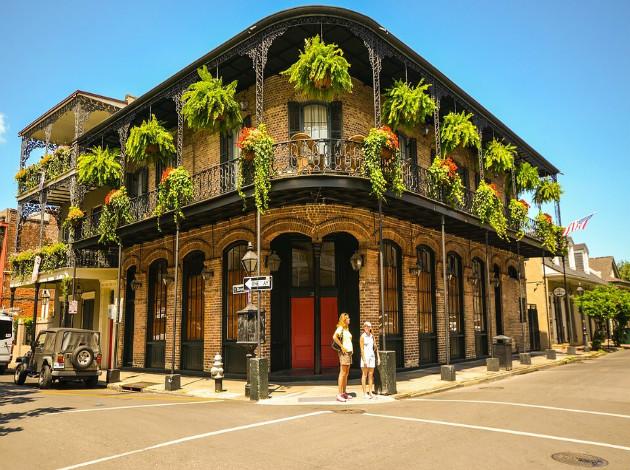 Reason: Enter the revelry of Mardi Gras
Every year, New Orleans dons a completely vibrant look during winters as the revelers immerse themselves in the festival of Mardi Gras. For kids and families, there are several places to soak in those shimmering sun rays. From taking a boat ride to picnicking at
Woldenberg Park
, the city is enlivened with open spaces laying bare under the enveloping sunshine. You will find several other festivals such as Bastille day and Creole Tomato festival to let your spirits turn hot from a warm state.
2. The Sunny San Diego

Reason: The best weather of the year
With San Diego, you can have the best winter vacations in USA. For families and kids, this is the
best time to visit San Diego
as the beaches, attractions and restaurants remain less crowded along with the advantage of a perfect sunny climate to roam around. What makes San Diego super attractive is its laid-back vibe that makes you forget your office hassles and grocery management-something that your kids would look forward to. Do you know that winters is also the best time for whale watching around the waters of San Diego? Blessed With 70 miles of coastline directly in the migration path, San Diego is an ideal destination to see this impressive parade of gentle giants.
3. Every kid's dream destination Orlando

Image source:
Daily Mail
Reason: No rain and weather less stuffy than summers
No points for guessing why Orlando is considered as every kid's dream destination! Celebrating childhood and its innocence in the best possible fashion, Orlando comes across the best place for warm winter vacations as the weather remains dry and less stuffy than the summers. From January to April, you will find several reasons to visit this exemplary destination in the USA. During this time, you'll get more reasonable airfare and lodging, and enjoy shorter lines at theme parks and other popular attractions.
Get year around hotel deal with TripHobo Hotels. Book Now, Pay Later!
4. The Ever Winter Favorite Miami

Reason: The heavenly weather and the famous Art Basel
A sparkling mojito and a vast sea - it is this combination that makes Miami one of the
best winter vacations for couples in the USA
. While summers might be too harsh for you to visit Miami, winter offers you an ideal temperature to swim in many
beaches of Miami
. Amidst gorgeous weather, the festival of Art Basel will give you a memorable sojourn in this lovely city.
5. Meet the Glistening snowy mountains of Aspen
Reason: Perfect place for winter sports
I know what you must be thinking! Yes, Aspen might not be a warm winter destination, but its fresh snow will make you fall in love with the chilly weather. Of course, your kids would love to let themselves loose in activities like snowboarding and skiing to make your vacay livelier and shinier. Also, you will get resorts at lower prices along with good deals in family packages and children's discounts. Featuring the picturesque Colorado Rockies, this is one affordable place to visit in the USA for your winter vacations.
6. Choose a cozy corner at Adirondacks
Reason: The benign woods
From a fun day out to cozy corners, Adirondacks offers you a perfect getaway during winters. For couples and families, there are a lot of things to do in Adirondacks, making it a sought-after destination in the US. The list of activities includes skiing, snowboarding, and snowshoeing at resorts or exploring historic Olympic offerings in the museums. This winter destination is also known for its cozy cabins that render you the much-awaited warmth after you come back from a day out in the chill.
7. The Quaint Savannah, Georgia

Reason: The pleasant weather
What makes Savannah an ideal destination for the chilly season is that winters are generally mild here, and the holiday season offers many compensations for the cooler days, with dozens of special festive events from Thanksgiving through to New Year's, plus concerts and Christmas-themed performances, lights displays and seasonal decorations. With lesser prices on accommodations and thinner crowds, Savannah can become a haven for a tired soul.
8. The Magical Stowe, Vermont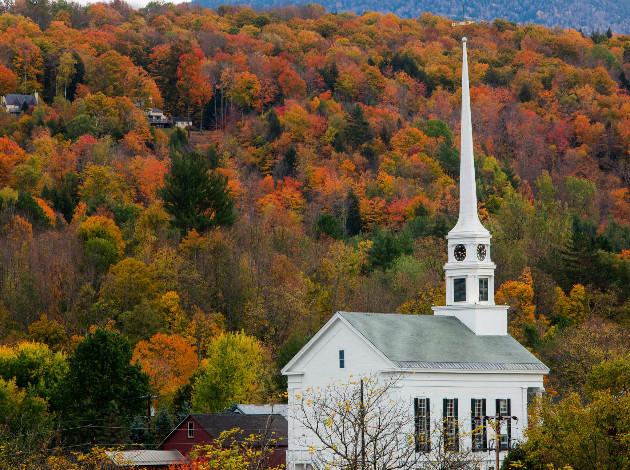 Image source: Anthony Quintano/flickr
Reason: The Winter Carnival
Welcome to the magical world of Stowe in Vermont that gloriously turns into a snow globe during winters. But before that, even autumn brings alluring Fall colors to the city and renders it a poster perfect look. With the backdrop of majestic Mount Mansfield, the landscape of Stowe becomes crowded with people who come here for skiing, snowboarding and other winter activities. Why wait? Plan a trip to Stowe to enjoy a toasty fire, Vermont Cabot cheddar cheese, crackers, Cold Hollow's hot apple cider, followed by stargazing and camping along with your kids and family.
9. The Awe-Inspiring Grand Canyon
Reason: For a different perspective
The name of Grand Canyon is enough to excite you if you are an outdoorsy person. While most of the travelers prefer to visit Grand Canyon during summers, why don't you make a difference and visit it during winters to see the mountains capped with white snow? Those prepared for ice and snow will find the Bright Angel Trail a bit quieter and scenic drives less congested. Crisp air and a dusting of snow will offer you a fresh perspective of the temples and buttes emerging from the canyon floor.
10. The Jovial Bahamas
Reason: For Winter Family Fun
Wish to escape snow and chill? Head to the Bahamas to sink into those swimming costumes and welcome the gushing waves of the ocean. While most of America is wrapped up in snow during winters, the Bahamas is one place where you will find the perfect combination of pleasant weather and jovial spirits. The Bahamas is also one of the most affordable locations in terms of the services that you can take and the number of persons per family can have fun together.
11. The Festive San Antonio, TX
Reason: Winter Festivals especially the Mud Festival
The effervescent weather of San Antonio offers you and your family can immerse themselves in the festivities of the Mud festival that takes place during winters. The festival centers around the draining of the San Antonio River, a project that takes place every January. It's time when the San Antonio Parks & Rec Department cleans up the River Walk, Texas' most renowned tourist attraction, and a time when public and media officials of the Alamo City vie for honors as the King and Queen of the Annual Mud Fest. So try visiting San Antonio this winters and you will come back with great festive memories.
12. The Music City of Nashville
Reason: Concerts, shopping deals, and stunning art exhibitions
Winters is that time of the year when Nashville enlivens with several dazzling concerts, stunning art exhibits, incredible shopping deals, and unique special events. Hear the jingles in this musical city and fall in love with winter this time in Nashville. All the beauty, joy and magic come along as an incredible array of events ranging from concerts to theatrical performances to reminders of Christmas past.
So, which of these cities will become your next destination for a Winter Vacay?