14 Top Hot Air Balloon Rides In The World
* Disclosure: This post may contain affiliate links, which means we may receive a commission if you click a link and book something (there is never any extra cost to you for using these links).
Have you ever experienced a hot air balloon ride? If yes, you know we are right when we say that it takes you to a whole different world. The way it shows you vistas that look right out of a vivid fantasy and the way it gets your adrenalin pumping; we are sure you can never forget that first time you got onto a hot air balloon. If you are one of those who haven't had the experience, what are you waiting for?! Go ahead, be a daredevil and visit one of these world's best hot air balloon rides- because you deserve to have a surreal experience!
1. Bagan, Myanmar: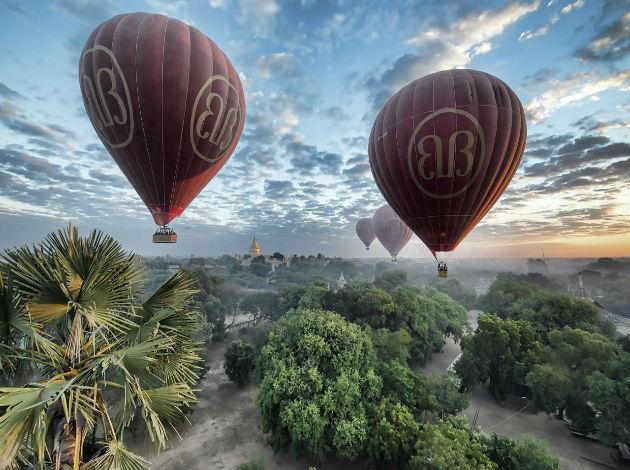 Image Source: Wikimedia
Balloons over Bagan is a lovely organization that will let you explore this picturesque city in Myanmar. An offbeat honeymoon destination, Bagan is where you can opt for a hot air balloon ride for two and enjoy a view that is made up of dense greenery, gorgeous stupas, marvellous temples and charming villages.
Best Time: October to March.
Approximate Cost: USD 330 onwards.
2. Napa Valley, California:
When you go on a culinary adventure across Napa Valley, how about you also explore its loveliness on a hot air balloon ride? This famous wine destination in USA boasts of some gorgeous locales and the view from the top is just breathtaking.
Best Time: April to October.
Approximate Cost: USD 200 onwards.
3. Bristol, England: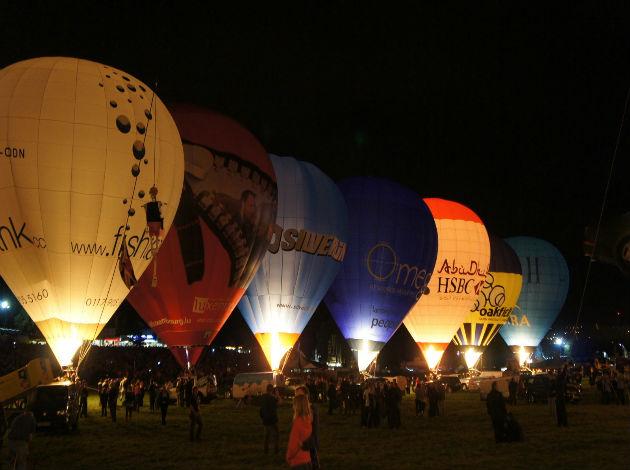 Image Source: Wikimedia
Hosting one of the best hot air balloon rides in Europe, Bristol is also known for the fabulous International Balloon Fiesta. Every year, during the month of August, the skies of Bristol get covered with over 150 hot air balloons of different shapes and sizes during this largest festival of its kind in Europe. Held at the Ashton Court Estate, apart from witnessing the marvellous balloons, you can also hop on one and enjoy the ride of your life! Balloon ride operators you can consider for your escapade include ABC Balloon Flights Ltd., Bailey Balloons, Bristol Balloons and Elite Air.
Best Time: August to October.
Approximate Cost: GBP 110 onwards.
Check out other exciting tours and activities with TripHobo
Bristol Tours
4. Cappadocia, Turkey: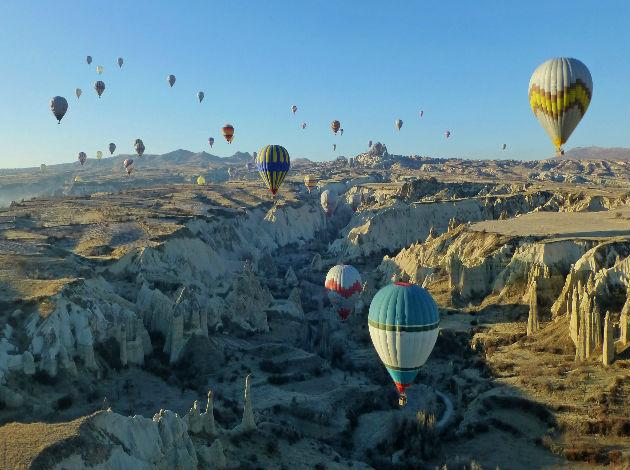 Image Source: Wikimedia
The best hot air balloon ride in Turkey is at Cappadocia. Why, you ask? Because of the gorgeous and unique landscapes you get to see from up there! One prominent geological formation you'll get to witness is the Hoodoo, popularly known as fairy chimney, which manages to fascinate visitors. The entire landscape has a prehistoric appearance which adds to its distinctiveness. Opt for an early morning ride and witness a hauntingly beautiful sunrise.
Best Time: April to June
Approximate Cost: USD 250 onwards.
5. Loire Valley, France:
Get a bird's eye view of over 800 glorious castles that Loire Valley is home to on this hot air balloon ride across the French countryside. Set amidst scenic vineyards, these castles and manors are rivalled only by the lush green fields and lively rivers that surround them. Don't forget to carry your camera for this one!
Best Time: June to November.
Approximate Cost: Euros 220 onwards.
6. Luxor, Egypt: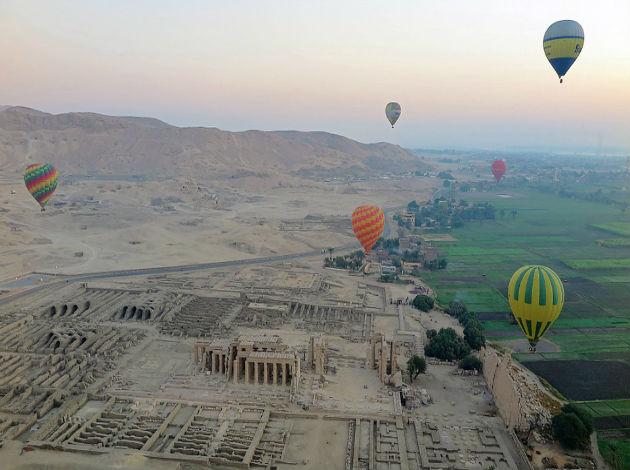 Image Source: Pixabay
Known as world's greatest open-air museum, hot air ballooning is an offbeat
activity to do in Luxor
offers unparalleled views of its infinite deserts, its intriguing ruins and archaeological sites and the River Nile. However, do opt for a reliable organizer as the city has had a couple of horrendous hot air ballooning accidents in the past. Some recommended organizers include SindBad Hot Air Balloons and Magic Horizon Balloons. Besides, Luxor has some of the
cheapest hot air balloon ride
prices in the world!
Best Time: October to March.
Approximate Cost: EGP 450 onwards.
7. Queenstown, New Zealand:
Get to see magnificent views of the lyrical landscapes that form an important part of The Lord Of The Rings franchise when you hop on a hot air balloon in Queenstown. One of the best places for a hot air balloon ride, the views from the top consist of serene lakes, mesmerising mountains and a cityscape that will make you fall in love with its aesthetic beauty. Soar high up in the clouds and appreciate the exquisiteness of New Zealand on this hot air ballooning escapade.
Best Time: September to December.
Approximate Cost: NZD 495 onwards.
8. Magalies River Valley, South Africa:
A luxurious experience, complete with hot coffee and delicious muffins, hot air ballooning at the Magalies River Valley in South Africa is a must for anyone who wants to explore the splendour of the nation in an eccentric way. Did you know that the valley is a designated UNESCO World Heritage site since the year 1999?
Best Time: April to August.
Approximate Cost: USD 130 onwards.
9. Atacama Desert, Chile: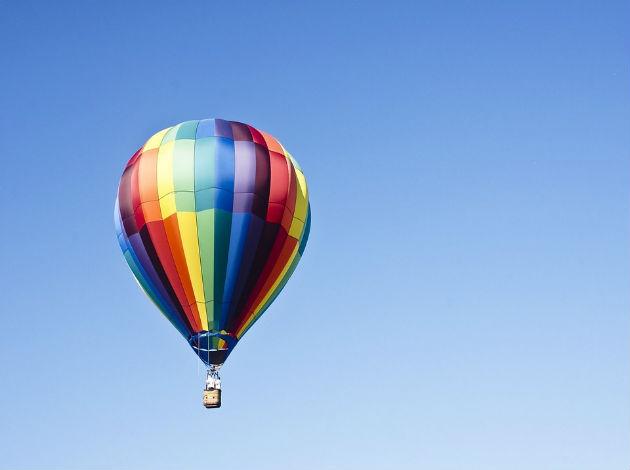 Image Source: Pixabay (image for representational purpose only)
Recently introduced, hot air ballooning in the Atacama Desert is fairly new and thus, booking your ride in advance is highly recommended. Conducted by an organization called Eastern Safaris, the rides are generally conducted at sunrise as you get to soar across the desert landscape.
Best Time: Please check the official website of Eastern Safaris for the timetable.
Approximate Cost: USD 300 onwards.
10. Yang Shuo, China:
The surreal landscape of Yang Shuo with its limestone karst formations, serene farmlands and the winding Li River attracts many visitors from all across the world. While many people explore the vistas by boarding a boat, how about you try something offbeat and hop on a hot air balloon ride instead?!
Best Time: November and December.
Approximate Cost: RMB 600 onwards.
11. Jaipur, Rajasthan:
One of the best hot air ballooning places in India, Jaipur proves to be the perfect backdrop to your adrenaline pumping journey in the sky. The Pink City offers views consisting of regal palaces and vast deserts. You will also get to see the majestic Aravali Mountain Ranges and the quaint hidden Rajasthani villages.
Best Time: September to November
Approximate Cost: INR 12,000 onwards.
12. Serengeti National Park, Tanzania: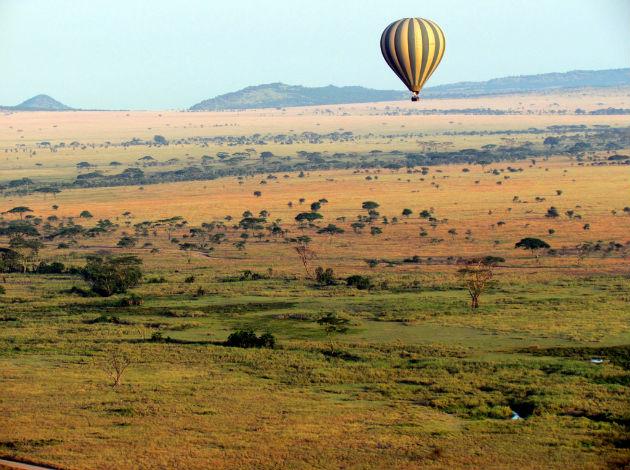 Image Source: Flickr/David Berkowitz
Go on a wildlife safari, not in a jeep but in a hot air balloon! Now that's an experience you can boast of for generations to come! One of the world's best hot air balloon rides, you should opt for it when the great migration takes place in the Serengeti National Park. You'll get to catch sight of over 2 million wild animals as they migrate from Kenya to Lake Victoria.
Best Time: May to June and October to December.
Approximate Cost: USD 530 onwards.
13. Gstaad, Switzerland:
Go on a hot air balloon escapade in the Swiss Alps. The resort town of Gstaad plays host to the annual International Balloon Festival in Chateau d'Oex. Held in the month of January, this is when most of the hot air balloon rides also take place in the region. You get to see a winter wonderland with snow-capped mountains and frozen brooks and ponds during your ride.
Best Time: From December to February.
Approximate Cost: Euros 195 onwards.
14. Albuquerque, New Mexico: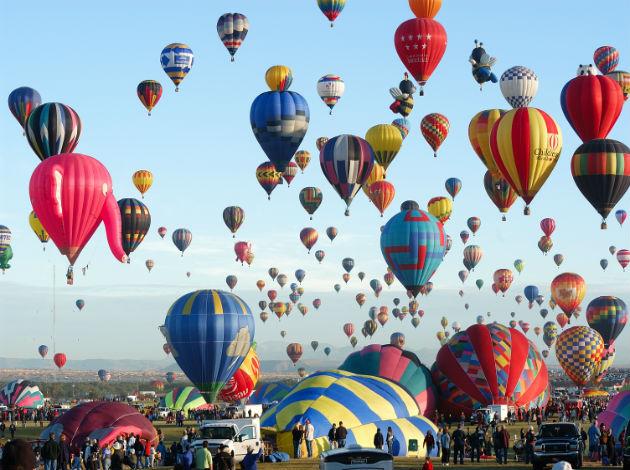 Image Source: Wikimedia
Hosting one of the most happening
hot air balloon festivals in the USA
, the city of Albuquerque is a heaven for hot air ballooning enthusiasts. Every October, the vibrant city hosts the Albuquerque International Balloon Fiesta and this is when the sky gets filled with hot air balloons of quirky shapes and sizes. Although most of the people visit just to view the balloon launches, there are also authorized operators present on site who organize one hour long rides for people who are interested. The festival even consists of a grand display of fireworks and live concerts.
Best Time: August to October.
Approximate Cost: USD 350 onwards.
Hope you have a fabulous time exploring the globe, one hot air balloon adventure at a time. Do let us know how your experience was by commenting below. Did we miss out on your favourite place to go for a hot air balloon ride? Please let us know that as well.