TRAVEL REPORT 2016 & TRAVEL TRENDS OF EARLY 2017
2016 - The Year of Do-it-yourself (DIY) Trip Planning and Experiential Travel
TripHobo analyzed the travel trends of 2016 and structured the user behaviour based on travelers' preferences and choices. The study showed the growing popularity of DIY trip planning. On the basis of the data collected at TripHobo - an online itinerary planning platform and world's largest repository of user generated itineraries, it is evident that there is a considerable change in the way people planned their travel in 2016 as compared to previous years. With the help of extensive research, TripHobo predicts travel trends that will dominate the year 2017.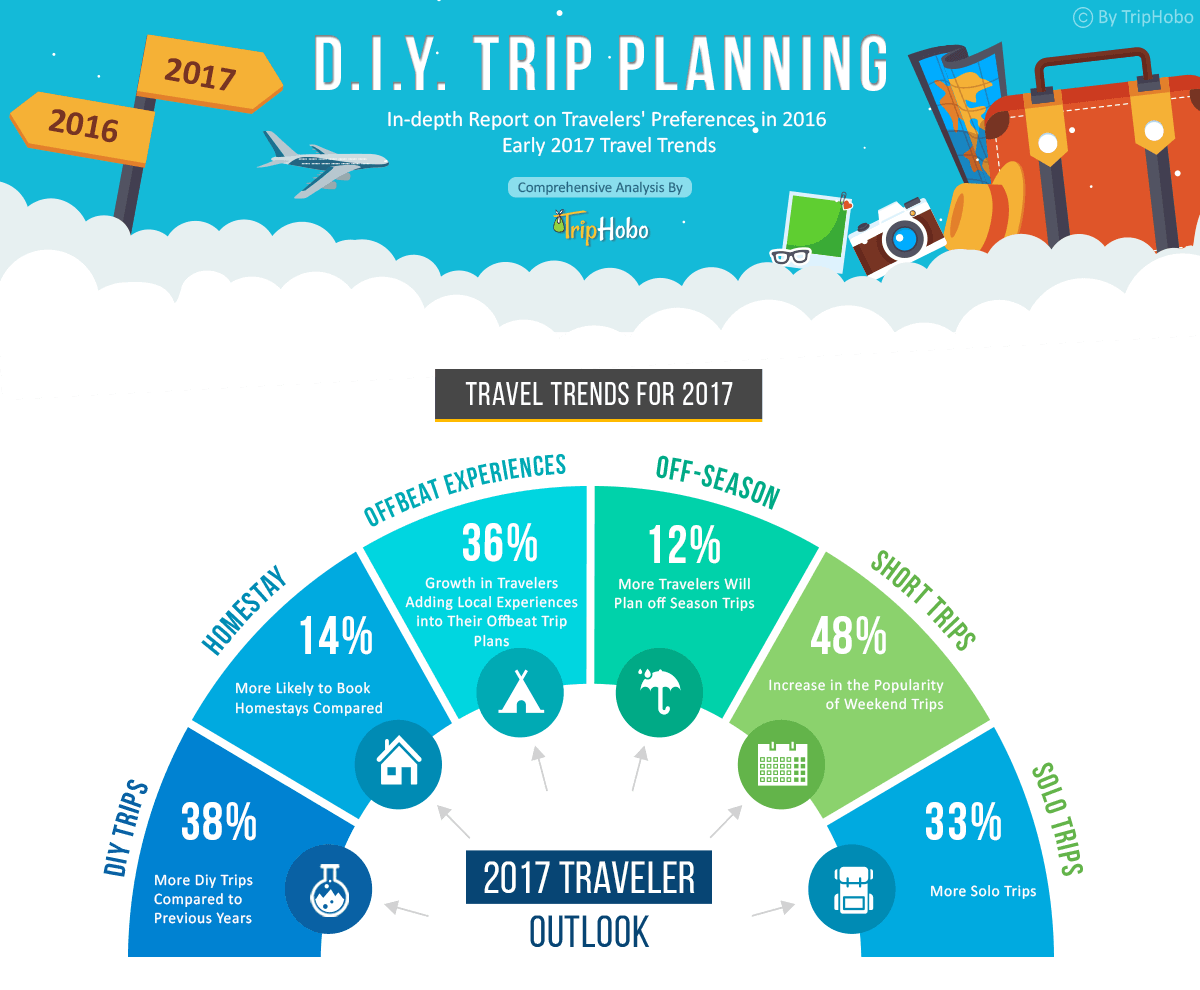 The Rise of DIY Trips and Offbeat Experiences
Let's talk about travel trends for 2017. Unlike 00's, we see a continuous growth in the travelers willing to experiment with their trip plan. Our data predicts a 38% rise in travelers saying bye-bye to traditional travel packages.
Along with that, travelers are more likely to indulge in offbeat experiences like adventure, cultural activities and indulging in local food tours compared to traditional sightseeing.
Shorter Trips and Solo Trips Gaining Popularity
We saw a remarkable rise in the number of weekend trips planned by travelers in 2016 and our analysis shows that this number is expected to grow by 48% in 2017.
There is a significant correlation between solo trips & weekend trips. A growth of 33% is expected in the popularity of solo trips.
Homestays Are the New Hotels
Travelers are opting for personalisation over stars and brands. Homestays are estimated to be a popular choice for accommodation in 2017. Offering a peek into local living, homestays and B&bs provide experiences one cannot find in hotels.

According to the data from the trips planned on TripHobo between September to December 2016 for travel dates of Early 2017, destinations like Reykjavik, Salzburg and Cork saw a spike in the popularity. This seems to be consistent with the trend of travelers experimenting with newer destinations.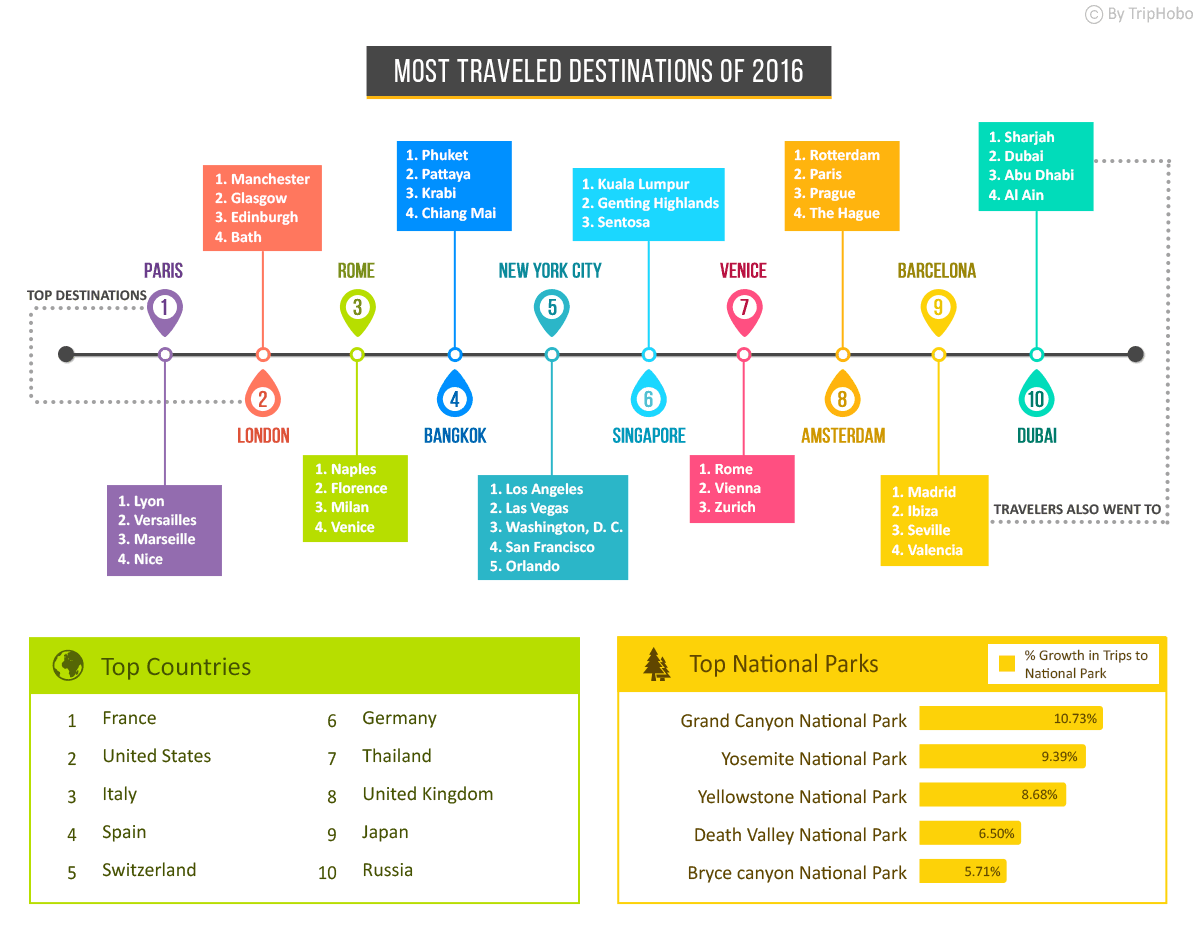 While there isn't a big change in the top destinations of 2016, we tried to analyse the cities that are combined in trips to these popular cities. Rome and Venice are generally covered together. Paris with Nice and Versailles, London with Edinburgh and Manchester, Bangkok with Phuket, NYC with Washington, and Dubai with Abu Dhabi are other such examples. However for certain cities like Amsterdam and Singapore travelers extend their travel plans outside those countries to Czech Republic and Malaysia respectively.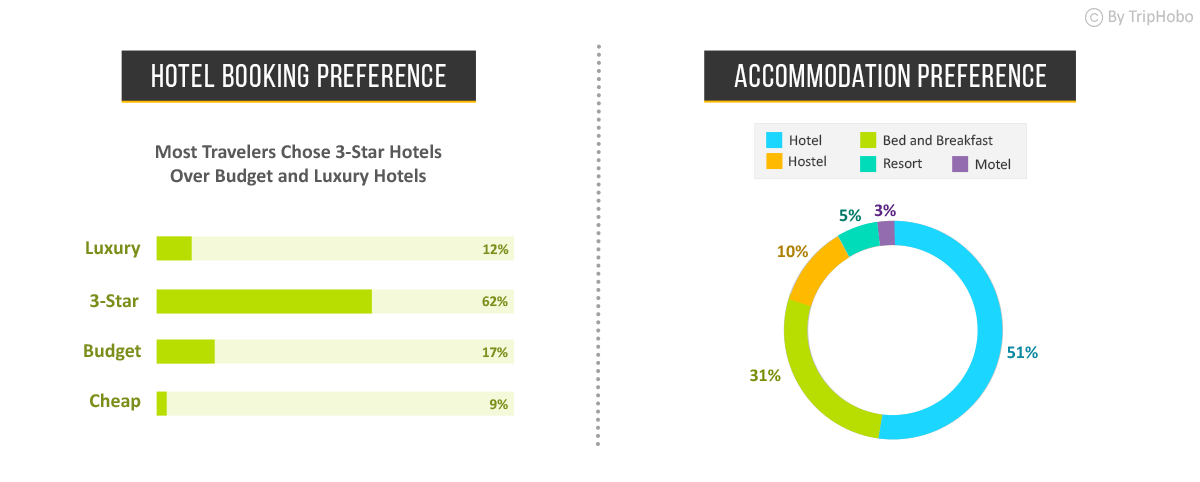 More than 50% of the accommodation preference is for Hotels, with 3-star hotels being the preferred choice. There was a noticeable rise in the number of people who opted for B&Bs and the number is expected to grow in 2017.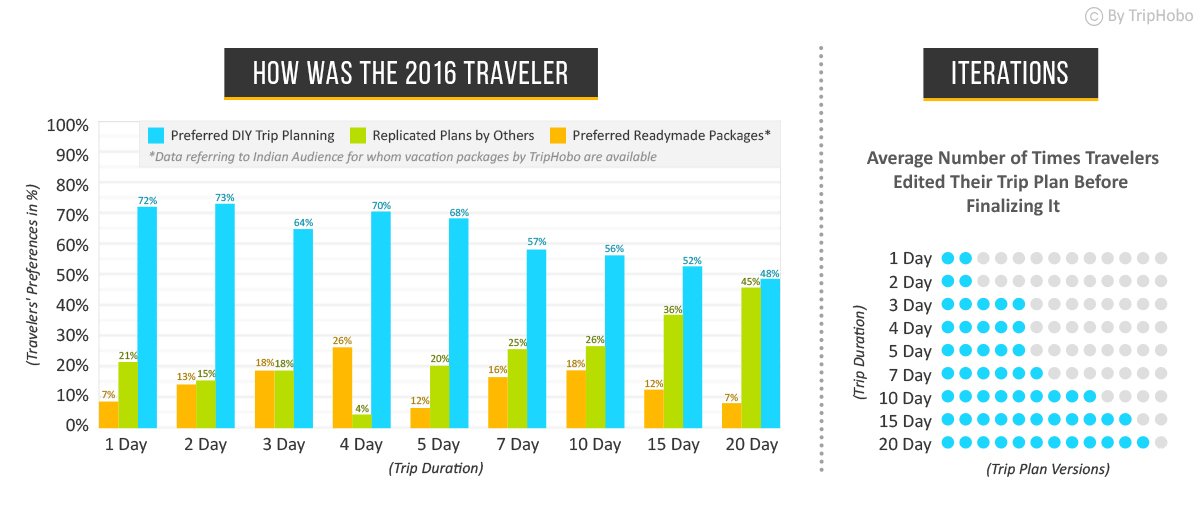 On an average, 62% travelers on TripHobo preferred to plan their trips themselves.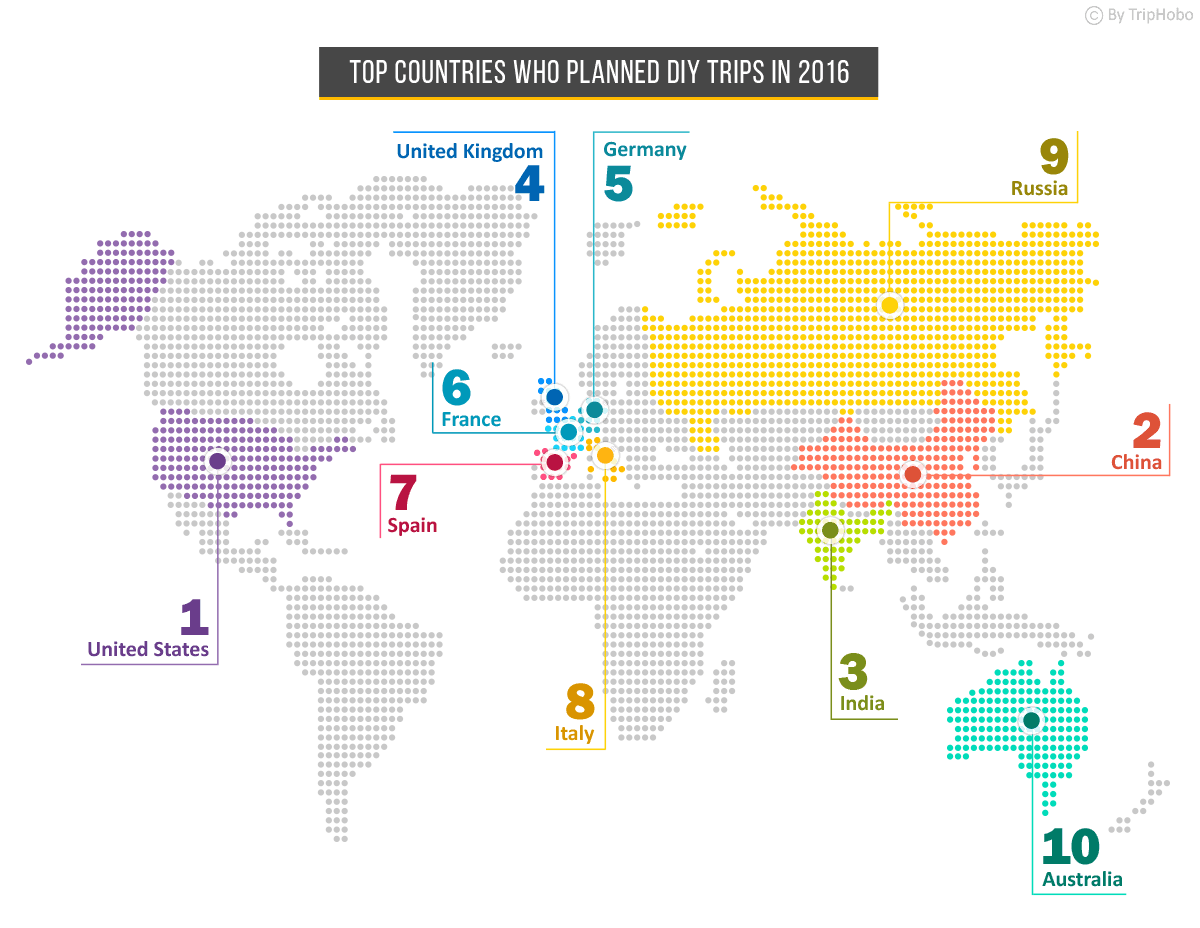 The maximum number of D.I.Y. trips planned on TripHobo came from the United States, followed by China and India.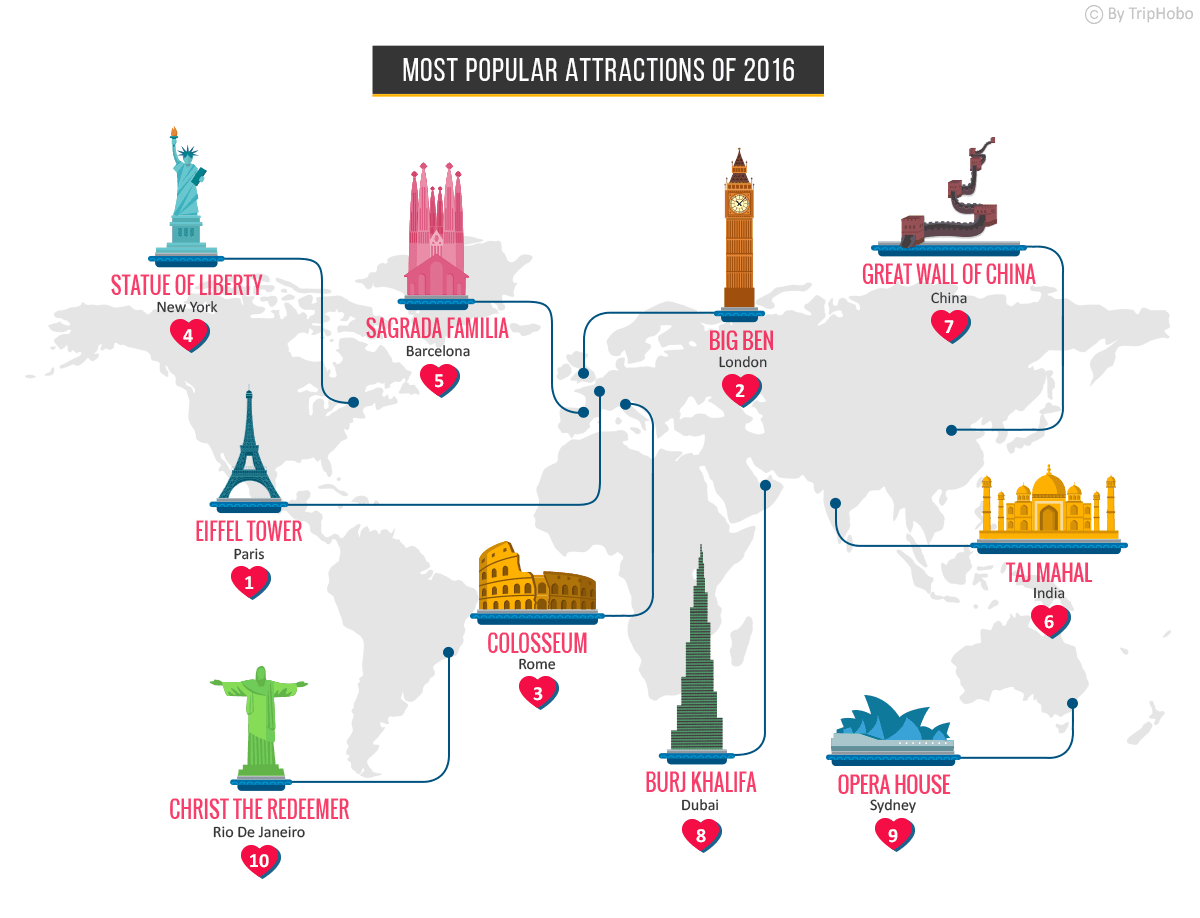 Although the traveler of 2016 was experimental and chose to explore newer geographies, the highest crowd pullers were the good old attractions like the Eiffel Tower, Colosseum and Big Ben. We do not foresee this changing in 2017.
To view the complete infographic click here.
For sharing, using or reproducing this Infographic, a do-follow link is mandatory to TripHobo.com.
For a high-resolution Image, contact: rushali.r@triphobo.com.
Also check out travel report on American traveler of 2017: USA travel trend in 2017