Best Time To Visit Aachen
Explore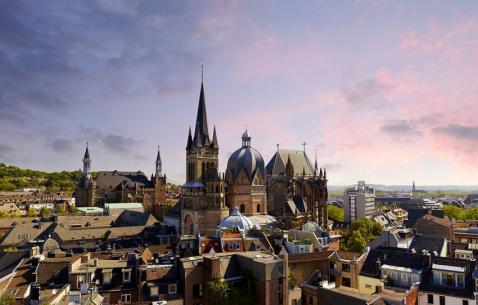 Best Time To Go To Aachen
Aachen experiences temperate climate due to its Southern location. The weather is often humid and the rainfall is comparatively higher than other parts of the country.
Summer (June – August): The summers are warm with an average temperature of 18.5°C.
Winter (December – February): The weather in winters is often mild and the temperature is around 5°C on an average.
Spring (March – May): Spring season sees an average temperature of 10°C.
Autumn (September – November): The temperature can range anywhere between 6-12 degrees during autumns.
Aachen can be on your itinerary planners all year round. But the best time to visit Aachen is during the Months of March, September and December.
Best time to go to Aachen Attractions

: Everyday 11:00 AM - 5:00 PM
: Everyday 11:00 AM - 5:00 PM
: Everyday 11:00 AM - 5:00 PM
: Everyday 11:00 AM - 5:00 PM
: Everyday 11:00 AM - 5:00 PM
: Everyday 11:00 AM - 5:00 PM
: Everyday 11:00 AM - 5:00 PM
: Everyday 11:00 AM - 5:00 PM
: Everyday 11:00 AM - 5:00 PM
: Everyday 11:00 AM - 5:00 PM
: Everyday 11:00 AM - 5:00 PM
: Everyday 11:00 AM - 5:00 PM

: Everyday 9:00 AM - 7:00 PM
: Everyday 9:00 AM - 7:00 PM
: Everyday 9:00 AM - 7:00 PM
: Everyday 9:00 AM - 7:00 PM
: Everyday 9:00 AM - 7:00 PM
: Everyday 9:00 AM - 7:00 PM
: Everyday 9:00 AM - 7:00 PM
: Everyday 9:00 AM - 7:00 PM
: Everyday 9:00 AM - 7:00 PM
: Everyday 9:00 AM - 7:00 PM
: Everyday 9:00 AM - 7:00 PM
: Everyday 9:00 AM - 7:00 PM

: Everyday 10:00 AM - 5:00 PM
: Everyday 10:00 AM - 5:00 PM
: Everyday 10:00 AM - 5:00 PM
: Everyday 10:00 AM - 5:00 PM
: Everyday 10:00 AM - 5:00 PM
: Everyday 10:00 AM - 5:00 PM
: Everyday 10:00 AM - 5:00 PM
: Everyday 10:00 AM - 5:00 PM
: Everyday 10:00 AM - 5:00 PM
: Everyday 10:00 AM - 5:00 PM
: Everyday 10:00 AM - 5:00 PM
: Everyday 10:00 AM - 5:00 PM

: Everyday 9:00 AM - 3:00 PM
: Everyday 9:00 AM - 3:00 PM
: Everyday 9:00 AM - 3:00 PM
: Everyday 9:00 AM - 3:00 PM
: Everyday 9:00 AM - 3:00 PM
: Everyday 9:00 AM - 3:00 PM
: Everyday 9:00 AM - 3:00 PM
: Everyday 9:00 AM - 3:00 PM
: Everyday 9:00 AM - 3:00 PM
: Everyday 9:00 AM - 3:00 PM
: Everyday 9:00 AM - 3:00 PM
: Everyday 9:00 AM - 3:00 PM

: Everyday 10:00 AM - 4:00 PM
: Everyday 10:00 AM - 4:00 PM
: Everyday 10:00 AM - 4:00 PM
: Everyday 10:00 AM - 4:00 PM
: Everyday 10:00 AM - 4:00 PM
: Everyday 10:00 AM - 4:00 PM
: Everyday 10:00 AM - 4:00 PM
: Everyday 10:00 AM - 4:00 PM
: Everyday 10:00 AM - 4:00 PM
: Everyday 10:00 AM - 4:00 PM
: Everyday 10:00 AM - 4:00 PM
: Everyday 10:00 AM - 4:00 PM

: Everyday 9:00 AM - 2:00 PM
: Everyday 9:00 AM - 2:00 PM
: Everyday 9:00 AM - 2:00 PM
: Everyday 9:00 AM - 2:00 PM
: Everyday 9:00 AM - 2:00 PM
: Everyday 9:00 AM - 2:00 PM
: Everyday 9:00 AM - 2:00 PM
: Everyday 9:00 AM - 2:00 PM
: Everyday 9:00 AM - 2:00 PM
: Everyday 9:00 AM - 2:00 PM
: Everyday 9:00 AM - 2:00 PM
: Everyday 9:00 AM - 2:00 PM

: Tuesday to Sunday 10:00 AM - 4:00 PM
: Tuesday to Sunday 10:00 AM - 4:00 PM
: Tuesday to Sunday 10:00 AM - 4:00 PM
: Tuesday to Sunday 10:00 AM - 4:00 PM
: Tuesday to Sunday 10:00 AM - 4:00 PM
: Tuesday to Sunday 10:00 AM - 4:00 PM
: Tuesday to Sunday 10:00 AM - 4:00 PM
: Tuesday to Sunday 10:00 AM - 4:00 PM
: Tuesday to Sunday 10:00 AM - 4:00 PM
: Tuesday to Sunday 10:00 AM - 4:00 PM
: Tuesday to Sunday 10:00 AM - 4:00 PM
: Tuesday to Sunday 10:00 AM - 4:00 PM

: Everyday 9:00 AM - 9:00 PM
: Everyday 9:00 AM - 9:00 PM
: Everyday 9:00 AM - 9:00 PM
: Everyday 9:00 AM - 9:00 PM
: Everyday 9:00 AM - 9:00 PM
: Everyday 9:00 AM - 9:00 PM
: Everyday 9:00 AM - 9:00 PM
: Everyday 9:00 AM - 9:00 PM
: Everyday 9:00 AM - 9:00 PM
: Everyday 9:00 AM - 9:00 PM
: Everyday 9:00 AM - 9:00 PM
: Everyday 9:00 AM - 9:00 PM

: Everyday 11:00 AM - 5:00 PM
: Everyday 11:00 AM - 5:00 PM
: Everyday 11:00 AM - 5:00 PM
: Everyday 11:00 AM - 5:00 PM
: Everyday 11:00 AM - 5:00 PM
: Everyday 11:00 AM - 5:00 PM
: Everyday 11:00 AM - 5:00 PM
: Everyday 11:00 AM - 5:00 PM
: Everyday 11:00 AM - 5:00 PM
: Everyday 11:00 AM - 5:00 PM
: Everyday 11:00 AM - 5:00 PM
: Everyday 11:00 AM - 5:00 PM

: Everyday 9:00 AM - 7:00 PM
: Everyday 9:00 AM - 7:00 PM
: Everyday 9:00 AM - 7:00 PM
: Everyday 9:00 AM - 7:00 PM
: Everyday 9:00 AM - 7:00 PM
: Everyday 9:00 AM - 7:00 PM
: Everyday 9:00 AM - 7:00 PM
: Everyday 9:00 AM - 7:00 PM
: Everyday 9:00 AM - 7:00 PM
: Everyday 9:00 AM - 7:00 PM
: Everyday 9:00 AM - 7:00 PM
: Everyday 9:00 AM - 7:00 PM

: Everyday 6:00 AM - 6:00 PM
: Everyday 6:00 AM - 6:00 PM
: Everyday 6:00 AM - 6:00 PM
: Everyday 6:00 AM - 6:00 PM
: Everyday 6:00 AM - 6:00 PM
: Everyday 6:00 AM - 6:00 PM
: Everyday 6:00 AM - 6:00 PM
: Everyday 6:00 AM - 6:00 PM
: Everyday 6:00 AM - 6:00 PM
: Everyday 6:00 AM - 6:00 PM
: Everyday 6:00 AM - 6:00 PM
: Everyday 6:00 AM - 6:00 PM

: Tuesday to Sunday 6:00 AM - 4:00 PM
: Tuesday to Sunday 6:00 AM - 4:00 PM
: Tuesday to Sunday 6:00 AM - 4:00 PM
: Tuesday to Sunday 6:00 AM - 4:00 PM
: Tuesday to Sunday 6:00 AM - 4:00 PM
: Tuesday to Sunday 6:00 AM - 4:00 PM
: Tuesday to Sunday 6:00 AM - 4:00 PM
: Tuesday to Sunday 6:00 AM - 4:00 PM
: Tuesday to Sunday 6:00 AM - 4:00 PM
: Tuesday to Sunday 6:00 AM - 4:00 PM
: Tuesday to Sunday 6:00 AM - 4:00 PM
: Tuesday to Sunday 6:00 AM - 4:00 PM

: Tuesday to Sunday 6:00 AM - 4:00 PM
: Tuesday to Sunday 6:00 AM - 4:00 PM
: Tuesday to Sunday 6:00 AM - 4:00 PM
: Tuesday to Sunday 6:00 AM - 4:00 PM
: Tuesday to Sunday 6:00 AM - 4:00 PM
: Tuesday to Sunday 6:00 AM - 4:00 PM
: Tuesday to Sunday 6:00 AM - 4:00 PM
: Tuesday to Sunday 6:00 AM - 4:00 PM
: Tuesday to Sunday 6:00 AM - 4:00 PM
: Tuesday to Sunday 6:00 AM - 4:00 PM
: Tuesday to Sunday 6:00 AM - 4:00 PM
: Tuesday to Sunday 6:00 AM - 4:00 PM

: Everyday 9:00 AM - 9:00 PM
: Everyday 9:00 AM - 9:00 PM
: Everyday 9:00 AM - 9:00 PM
: Everyday 9:00 AM - 9:00 PM
: Everyday 9:00 AM - 9:00 PM
: Everyday 9:00 AM - 9:00 PM
: Everyday 9:00 AM - 9:00 PM
: Everyday 9:00 AM - 9:00 PM
: Everyday 9:00 AM - 9:00 PM
: Everyday 9:00 AM - 9:00 PM
: Everyday 9:00 AM - 9:00 PM
: Everyday 9:00 AM - 9:00 PM

: Tuesday to Sunday 10:00 AM - 4:00 PM
: Tuesday to Sunday 10:00 AM - 4:00 PM
: Tuesday to Sunday 10:00 AM - 4:00 PM
: Tuesday to Sunday 10:00 AM - 4:00 PM
: Tuesday to Sunday 10:00 AM - 4:00 PM
: Tuesday to Sunday 10:00 AM - 4:00 PM
: Tuesday to Sunday 10:00 AM - 4:00 PM
: Tuesday to Sunday 10:00 AM - 4:00 PM
: Tuesday to Sunday 10:00 AM - 4:00 PM
: Tuesday to Sunday 10:00 AM - 4:00 PM
: Tuesday to Sunday 10:00 AM - 4:00 PM
: Tuesday to Sunday 10:00 AM - 4:00 PM

: Everyday 7:00 AM - 10:00 PM
: Everyday 7:00 AM - 10:00 PM
: Everyday 7:00 AM - 10:00 PM
: Everyday 7:00 AM - 10:00 PM
: Everyday 7:00 AM - 10:00 PM
: Everyday 7:00 AM - 10:00 PM
: Everyday 7:00 AM - 10:00 PM
: Everyday 7:00 AM - 10:00 PM
: Everyday 7:00 AM - 10:00 PM
: Everyday 7:00 AM - 10:00 PM
: Everyday 7:00 AM - 10:00 PM
: Everyday 7:00 AM - 10:00 PM

: Everyday 4:00 PM - 9:00 PM
: Everyday 4:00 PM - 9:00 PM
: Everyday 4:00 PM - 9:00 PM
: Everyday 4:00 PM - 9:00 PM
: Everyday 4:00 PM - 9:00 PM
: Everyday 4:00 PM - 9:00 PM
: Everyday 4:00 PM - 9:00 PM
: Everyday 4:00 PM - 9:00 PM
: Everyday 4:00 PM - 9:00 PM
: Everyday 4:00 PM - 9:00 PM
: Everyday 4:00 PM - 9:00 PM
: Everyday 4:00 PM - 9:00 PM

: Everyday 6:30 AM - 6:00 PM
: Everyday 6:30 AM - 6:00 PM
: Everyday 6:30 AM - 6:00 PM
: Everyday 6:30 AM - 6:00 PM
: Everyday 6:30 AM - 6:00 PM
: Everyday 6:30 AM - 6:00 PM
: Everyday 6:30 AM - 6:00 PM
: Everyday 6:30 AM - 6:00 PM
: Everyday 6:30 AM - 6:00 PM
: Everyday 6:30 AM - 6:00 PM
: Everyday 6:30 AM - 6:00 PM
: Everyday 6:30 AM - 6:00 PM

: Everyday 7:00 PM - 11:00 PM
: Everyday 7:00 PM - 11:00 PM
: Everyday 7:00 PM - 11:00 PM
: Everyday 7:00 PM - 11:00 PM
: Everyday 7:00 PM - 11:00 PM
: Everyday 7:00 PM - 11:00 PM
: Everyday 7:00 PM - 11:00 PM
: Everyday 7:00 PM - 11:00 PM
: Everyday 7:00 PM - 11:00 PM
: Everyday 7:00 PM - 11:00 PM
: Everyday 7:00 PM - 11:00 PM
: Everyday 7:00 PM - 11:00 PM

: Monday to Friday 11:00 AM - 5:00 PM; Saturday, Sunday 1:00 PM - 5:00 PM
: Monday to Friday 11:00 AM - 5:00 PM; Saturday, Sunday 1:00 PM - 5:00 PM
: Monday to Friday 11:00 AM - 5:00 PM; Saturday, Sunday 1:00 PM - 5:00 PM
: Monday to Friday 11:00 AM - 5:00 PM; Saturday, Sunday 1:00 PM - 5:00 PM
: Monday to Friday 11:00 AM - 5:00 PM; Saturday, Sunday 1:00 PM - 5:00 PM
: Monday to Friday 11:00 AM - 5:00 PM; Saturday, Sunday 1:00 PM - 5:00 PM
: Monday to Friday 11:00 AM - 5:00 PM; Saturday, Sunday 1:00 PM - 5:00 PM
: Monday to Friday 11:00 AM - 5:00 PM; Saturday, Sunday 1:00 PM - 5:00 PM
: Monday to Friday 11:00 AM - 5:00 PM; Saturday, Sunday 1:00 PM - 5:00 PM
: Monday to Friday 11:00 AM - 5:00 PM; Saturday, Sunday 1:00 PM - 5:00 PM
: Monday to Friday 11:00 AM - 5:00 PM; Saturday, Sunday 1:00 PM - 5:00 PM
: Monday to Friday 11:00 AM - 5:00 PM; Saturday, Sunday 1:00 PM - 5:00 PM

: Everyday 24 Hrs
: Everyday 24 Hrs
: Everyday 24 Hrs
: Everyday 24 Hrs
: Everyday 24 Hrs
: Everyday 24 Hrs
: Everyday 24 Hrs
: Everyday 24 Hrs
: Everyday 24 Hrs
: Everyday 24 Hrs
: Everyday 24 Hrs
: Everyday 24 Hrs

: Everyday 24 Hrs
: Everyday 24 Hrs
: Everyday 24 Hrs
: Everyday 24 Hrs
: Everyday 24 Hrs
: Everyday 24 Hrs
: Everyday 24 Hrs
: Everyday 24 Hrs
: Everyday 24 Hrs
: Everyday 24 Hrs
: Everyday 24 Hrs
: Everyday 24 Hrs

: Everyday 8:00 AM - 4:00 PM
: Everyday 8:00 AM - 4:00 PM
: Everyday 8:00 AM - 4:00 PM
: Everyday 8:00 AM - 4:00 PM
: Everyday 8:00 AM - 4:00 PM
: Everyday 8:00 AM - 4:00 PM
: Everyday 8:00 AM - 4:00 PM
: Everyday 8:00 AM - 4:00 PM
: Everyday 8:00 AM - 4:00 PM
: Everyday 8:00 AM - 4:00 PM
: Everyday 8:00 AM - 4:00 PM
: Everyday 8:00 AM - 4:00 PM

: Everyday 24 Hrs
: Everyday 24 Hrs
: Everyday 24 Hrs
: Everyday 24 Hrs
: Everyday 24 Hrs
: Everyday 24 Hrs
: Everyday 24 Hrs
: Everyday 24 Hrs
: Everyday 24 Hrs
: Everyday 24 Hrs
: Everyday 24 Hrs
: Everyday 24 Hrs