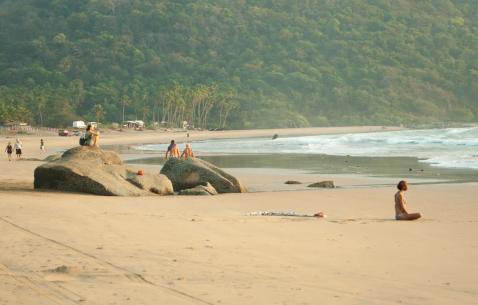 The Best Things To Do in Agonda
Known for its picturesque beaches, Agonda is one place in Goa that the tourists must visit for serene experience. Quite understandably, one of the main things to do in Agonda is to visit its beautiful Agonda beach followed by Galgibaga beach and Conco island. There are a number of famous temples in Agonda that populate its landscape. Some of the main tourist attractions in Agonda are: Mallikarjun Temple and Partagal Matha Temple. For those who wish to see the ruined charm, can visit the famous Cabo de Rama fort, a place that is associated with a mythological legend that Lord Rama accompanied by his wife Sita stayed here for some time during his 14-year-old exile. You can also take a walk between Palolem Beach and Agonda Beach and you will get to see a couple of hidden coves having natural rock formations which must have taken millions of years to get created naturally with the lashing of the sea waves.
For a physical and spiritual rejuvenation, you can also visit Shiv Yoga center and Bio Veda Ayurvedic Beach Resort Spa.
Explore the travel planning tool for your visit to Agonda and create a flawless plan in few simple steps!
11 Tourist Attractions in Agonda

Must see places in Agonda ranked on popularity. Here is the complete list of best attractions in Agonda and point of interests to visit.
Tourist Attractions Near Agonda
Find Your Agonda Attractions on Map
Types of Things To Do in Agonda
Find more attractions and places to visit in Agonda under these things to do categories.
What To Do in Agonda: Day-Wise Ideas
Find what not to miss in Agonda! Recommended Agonda itineraries and vacation ideas created by travelers across the world.