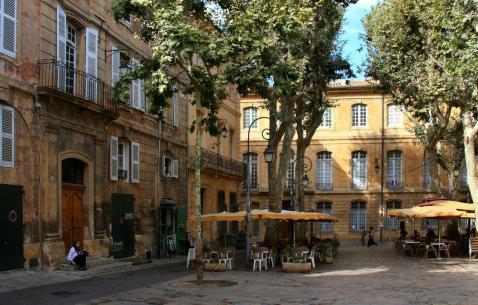 If you are looking for a classic French city dotted with architecturally beautiful squares, leafy walking areas, more than a bunch of refreshing fountains and pretty patisseries where you can slurp espresso or gulp down large portions of Calissons-Aix-en-Provence is a place to be. Aix-en-Provence is also known as Aix and is one of the historically significant cities of South France.
Founded by Roman consul Sextius Calvinus in 123 BC, the city has its own rustic charm reflected in its artistic buildings and over a dozen of fountains. Considered as one of the richest cities in France, Aix-en-Provence is famous as the birth place of famous painter Cézanne. The home and studio of Atelier Cezanne is located on the hills above Aix-en-Provence and is dedicated to the life and work of the famous Provencal painter.
It is also home to Montagne Sainte Victoire- A landmark and symbol of Aix-en-Provence which is known for its heritage buildings like Sainte Victoire monument dating back to the 17th century.
Known for its fashion, Aix-en-Provence sees hottest international styles reflected in its stores.
Aix-en-Provence tourism welcomes Parisians as well as international tourists every year with its French hospitality.
The best tours and activities in the city, guided by experts to give you a local insight to the best of Aix-en-provence