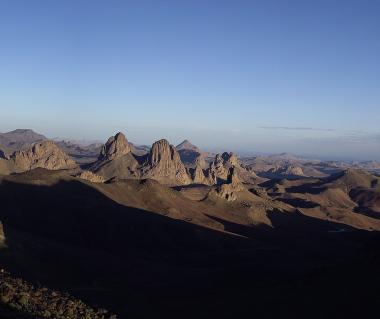 Algeria Trip Planner
Plan your customized trip plan for Algeria. Choose from Top Toursim cities and tourist attarctions of Algeria using trip planner.
Algeria Overview
Plan your travel to Algeria, Algeria has hints of legacies of the various empires that have ruled here over the years. There are remains from almost every period and the most major cities here are immersed deep into history. Even though it is an African gem, it is situated quite close to Europe. It is not exactly an under rated tourist destination but has a very distinctive kind of crowd that wishes to explore it year on year. This country offers a beautiful amalgamation of modernist architecture sprinkled with colonial hints. There are also plenty of spaces here to witness nature in all its glory. The best part about this country is its beautiful Saharan stretch that gives a lovely glimpse of the golden sands. Apart from this, the Roman countries hold their own charm and you will not have even a single dull moment on your tryst with Algeria.Visiting Algeria? Our Algeria vacation itinerary builder is here to help you along every step!
The countries that do not require any visa to get into Algeria are Sahrawi Arab Democratic Republic, Maldives, Morocco, Tunisia, Libyan Arab Jamahiriya, Mali, Seychelles, Yemen, Malaysia, Mauritania and Syrian Arab Republic. If you hold diplomatic passport then you do not need visa if you belong to Argentina, France, Germany, Croatia, Romania and Hungary. There are various other countries that quality in the exempt visa list, but otherwise you can check the simple procedure from the embassy website and see what procedure you need to follow for your country.Stop procrastinating and start planning your algeria trip!
When to create a trip plan for Algeria
The best time to visit Algeria is November- April, March-July and August. November to April is very favourable in terms of the weather and even the autumn season is a highlight during this period. March- July is not only the cheapest time to visit Algeria but also lovely because of the spring season. August is amazing because of the Ramadan festival. Organise your trip now with our Algeria trip planner.
Best places to add to your Algeria itinerary planner
If you are thinking the best places to see and things to do in Algeria, then here are the places that you should consider. Algiers is amazing if you want to dive deep into the culture through monuments, gardens and museums. Oran has lovely monuments, cathedrals and was a big part of Ancient Rome. Tamanrasset has a lovely desert stretch and even gives various opportunities for rock climbing and back packing. Annaba again was a prominent part of ancient Rome and has lovely beaches and churches. Constantine is a great way to leap back into the history as you visit war memorials, museums and monuments.
Planning a trip around Algeria with flight
There are many options you can consider if you are thinking of how to reach Algeria. Getting in by flight is a good option as there are various flights operating here which are facilitated by European, African as well as local carriers. Getting in by train is not a very convenient option. If you wish to get in by train, then you need to go to Algiers. Another option to reach Algeria is through the boat system, but it is quite expensive. If you are travelling around North of Algeria, then Louages is a great way to get around. SNTF trains run from Algiers along the eastern line to Bejaia. Apart from this you can travel internally by buses as well as the local carriers.
The first thing that you will read in any Algeria travel guide is that if your French is fluent, then you will have a really good trip. Even though there are not many budget hostels and hotels available in and around Algiers, the websites of these places are not very helpful. But, keep a budget o upto 10-15 dollars for a budget stay at Algeria. Also remember to gorge on food as it comes from different influences such as Berber to Arabic to French to Jewish.
Searching for something specific?