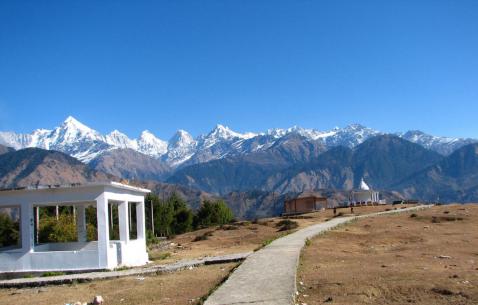 These mountains are associated with the best memories of our race: Here, therefore, must be one of centres, not merely of activity, but more of calmness of meditation, and of peace and I hope someone to realize it.'
Swami Vivekanand said these words when he was addressing the people of Almora and wisely enough, the people of Almora have listened to him and maintained the divine beauty of the region. That is why, even now trips to Almora are said to be among the most spiritual in the world.
The area was ruled by Katyuri dynasty when the Chands took over it. Almora was the seat of power of the Chand Dynasty for more than a thousand years. They ruled the Land of Kumaon from it and developed the whole area.
A beautiful city in a beautiful state, Almora is a quaint and marvellous hill station developed by Raja BhaloKalyan Chand.
An interesting tale that the tourist guides of Almora narrate is of how the king discovered the site of this town is narrated in the region. He was hunting, his prey hiding behind a Burberry bush and the place was revealed to the King in it's pursuit.
The rivers Koshi and Suyal flow through this small town shaped like a crescent moon located above 6000 feet. A crowded town just like any hill station in North India, this town is unique because of the scenic, extremely beautiful surroundings.
Tourism in Almora is thus characterised by it's natural beauty. Many great men found solace in this place and created marvels in this very environment. From Swami Vivekanand, the great Nobel winner to Hollywood actress Uma Thurman, Almora has been praised by several well known dignitaries.
Sitting at a cafe, sipping coffee, you can glance across the valley to see panoramic views of the Himalayas with sun setting between snow clad mountain peaks. Hundreds of tourists visit this hill station to enjoy the beauty of this town.
Bright End corner is famous as a spot for scenic beauty, breathtaking sunrises and sunsets whereas temples like the 800 year old sun temple Katarmal, Jageshwar and Chitoi add to the tourist attractions in this mystical little place.
Tourism in Almora is further supplemented by shopping! Bazaars like the Lal bazaar which is 200 years old are a part of Almora. Angora cloth made from Angora Rabbits and copper vessels are a speciality of the town.
This fairly unknown town is the perfect place in the Beautiful Himalayas to find the real meaning of Beauty. Find your literary and artistic motivations here!Almora is a place to experience Himalayan hospitality, rich cultural heritage and some meditative spirit.
Essential travel information and Almora tips for your visit
Dos
Visit Aaron's tip in Almora, the scenery from there is very soothing.
Do try local Kumaoni food, you will be delighted.
When you plan your trip to Almora in wintertime, plan also to carry lot of winter clothing.
If you do not do well in winters, carry extremely warm protective clothing, or you will be prone to bouts of cough, cold and fever.
Always carry some food with you.
There are few hotels in Almora so book your rooms in advance.
Respect the local culture and etiquette.
Carry a camera with you; you will want to always remember your Almora trip.
Drink a lot of water.
Don'ts
Avoid Public display of affection.
Do not litter the hill station.
Beware of pickpockets at the temples.
Do not use soaps in the natural streams and rivers.
Do not disturb the sanctity of the temples.
Consumption of alcohol is to be avoided at public places.
It is a hilly area, so don't wander off into unknown areas without local help – stick to whatever your itinerary planner for Almora laid out.
Almora Trip Planner
Plan your customized day by day trip plan for Almora. Choose from various experinces categories as adventure, romantic and family and kids friendly for your trip using using Almora trip planner.