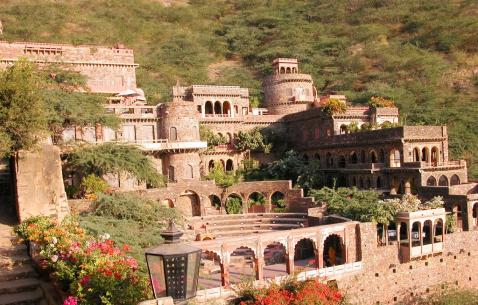 The Best Things To Do in Alwar
Alwar is a district in the Indian State of Rajasthan. Formerly known as the princely state of Alwar, today it is a dusty, provincial town boasting some remarkable monuments, palaces, museums, forts, nature reserves, festivals, Ayurveda practices and temples, that attract local as well as international tourists.
One of the best ways to explore the vibrant culture of Rajasthan and to get a peek into the interesting history of the area, consider indulging in some of the best things to do in Alwar which include sightseeing opportunities like Alwar Fort that dates back to 1550 C.E and the Bhangarh Fort, which is supposed to be one of the most haunted locations in India, along with other forts like Bala-Quila, Neemrana Fort, The Bala Fort and the Sariska Palace. Other top attractions in Alwar include the Siliserh Lake, Vijay Mandir Palace, Alwar Government museum, Sariska Tiger Reserve and numerous temples like Shri Mata Mansa Devi Temple, Jagannath Temple, Jain Temple, Narayani Mata Temple and Karni Mata Temple, just to name a few. Alwar is also home to some excellent local markets where one can shop for silver jewellery, handmade Rajasthani decorative items, wafer-thin pottery, terracotta statues, bangles, carpets and jutis. Alwar also hosts numerous festivals throughout the year, including the Kite Festival and the Alwar Festival. The handicrafts, folk music, splendid forts and picturesque scenery of Alwar is sure to take your breath away and show you a hidden side of India.
Explore the travel planning tool for your visit to Alwar and create a flawless plan in few simple steps!
23 Tourist Attractions in Alwar

Must see places in Alwar ranked on popularity. Here is the complete list of best attractions in Alwar and point of interests to visit.
Tourist Attractions Near Alwar
Find Your Alwar Attractions on Map
Types of Things To Do in Alwar
Find more attractions and places to visit in Alwar under these things to do categories.
What To Do in Alwar: Day-Wise Ideas
Find what not to miss in Alwar! Recommended Alwar itineraries and vacation ideas created by travelers across the world.