Best Time To Visit Amarkantak
Explore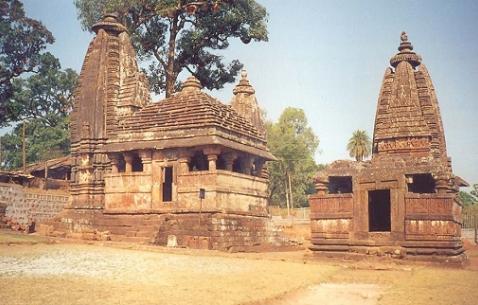 Best Time To Go To Amarkantak
Being a hill station, Amarkantak experiences pleasant climate throughout the year. The subtropical climate makes winters the best time to visit this town. So, August to April are favourable months for exploring this rich town. Thus, during this period Amarkantak tends to be quite crowded. Summers are hot and dry, where the temperature can even cross 45 degrees Celsius.
While pilgrims tend to visit the place throughout the year, certain months especially experience diverse visitors. Winters and summers have nearby tourist destinations like Kanha national park, Bandhavgarh Tiger Reserve being flocked by visitors. While the monsoons receiving a healthy rainfall, attracts nature photographers given its surrounding greenery.
Summer: February to May is summer here. February remains to be very pleasant. May is the hottest season with the minimum temperature being around 30 degrees Celsius and the maximum crossing 45 degrees Celsius.
Monsoon: June to September experiences rainfall. July receives an average precipitation of 310.7 milometers. Post July the rainfall reduces, until September.
Winter: October to January, Amarkantak's temperatures fall considerably. January tends to be the coldest of months, with the minimum temperature being around 5 degrees Celsius and maximum around, 18 degrees Celsius.
Best time to go to Amarkantak Attractions

: Everyday 8:00 AM - ; Everyday 8:00 AM - | 4:00 PM - 6:00 PM
: Everyday 8:00 AM - ; Everyday 8:00 AM - | 4:00 PM - 6:00 PM
: Everyday 8:00 AM - ; Everyday 8:00 AM - | 4:00 PM - 6:00 PM
: Everyday 8:00 AM - ; Everyday 8:00 AM - | 4:00 PM - 6:00 PM
: Everyday 8:00 AM - ; Everyday 8:00 AM - | 4:00 PM - 6:00 PM
: Everyday 8:00 AM - ; Everyday 8:00 AM - | 4:00 PM - 6:00 PM
: Everyday 8:00 AM - ; Everyday 8:00 AM - | 4:00 PM - 6:00 PM
: Everyday 8:00 AM - ; Everyday 8:00 AM - | 4:00 PM - 6:00 PM
: Everyday 8:00 AM - ; Everyday 8:00 AM - | 4:00 PM - 6:00 PM
: Everyday 8:00 AM - ; Everyday 8:00 AM - | 4:00 PM - 6:00 PM
: Everyday 8:00 AM - ; Everyday 8:00 AM - | 4:00 PM - 6:00 PM
: Everyday 8:00 AM - ; Everyday 8:00 AM - | 4:00 PM - 6:00 PM

: Everyday 9:00 AM - 4:00 PM
: Everyday 9:00 AM - 4:00 PM
: Everyday 9:00 AM - 4:00 PM
: Everyday 9:00 AM - 4:00 PM
: Everyday 9:00 AM - 4:00 PM
: Everyday 9:00 AM - 4:00 PM
: Everyday 9:00 AM - 4:00 PM
: Everyday 9:00 AM - 4:00 PM
: Everyday 9:00 AM - 4:00 PM
: Everyday 9:00 AM - 4:00 PM
: Everyday 9:00 AM - 4:00 PM
: Everyday 9:00 AM - 4:00 PM

: Everyday 10:00 AM - 5:00 PM
: Everyday 10:00 AM - 5:00 PM
: Everyday 10:00 AM - 5:00 PM
: Everyday 10:00 AM - 5:00 PM
: Everyday 10:00 AM - 5:00 PM
: Everyday 10:00 AM - 5:00 PM
: Everyday 10:00 AM - 5:00 PM
: Everyday 10:00 AM - 5:00 PM
: Everyday 10:00 AM - 5:00 PM
: Everyday 10:00 AM - 5:00 PM
: Everyday 10:00 AM - 5:00 PM
: Everyday 10:00 AM - 5:00 PM

: Everyday 10:00 AM - 5:00 PM
: Everyday 10:00 AM - 5:00 PM
: Everyday 10:00 AM - 5:00 PM
: Everyday 10:00 AM - 5:00 PM
: Everyday 10:00 AM - 5:00 PM
: Everyday 10:00 AM - 5:00 PM
: Everyday 10:00 AM - 5:00 PM
: Everyday 10:00 AM - 5:00 PM
: Everyday 10:00 AM - 5:00 PM
: Everyday 10:00 AM - 5:00 PM
: Everyday 10:00 AM - 5:00 PM
: Everyday 10:00 AM - 5:00 PM

: Everyday 8:00 AM - 6:00 PM
: Everyday 8:00 AM - 6:00 PM
: Everyday 8:00 AM - 6:00 PM
: Everyday 8:00 AM - 6:00 PM
: Everyday 8:00 AM - 6:00 PM
: Everyday 8:00 AM - 6:00 PM
: Everyday 8:00 AM - 6:00 PM
: Everyday 8:00 AM - 6:00 PM
: Everyday 8:00 AM - 6:00 PM
: Everyday 8:00 AM - 6:00 PM
: Everyday 8:00 AM - 6:00 PM
: Everyday 8:00 AM - 6:00 PM

: Everyday 9:00 AM - 4:00 PM
: Everyday 9:00 AM - 4:00 PM
: Everyday 9:00 AM - 4:00 PM
: Everyday 9:00 AM - 4:00 PM
: Everyday 9:00 AM - 4:00 PM
: Everyday 9:00 AM - 4:00 PM
: Everyday 9:00 AM - 4:00 PM
: Everyday 9:00 AM - 4:00 PM
: Everyday 9:00 AM - 4:00 PM
: Everyday 9:00 AM - 4:00 PM
: Everyday 9:00 AM - 4:00 PM
: Everyday 9:00 AM - 4:00 PM

: Everyday 9:00 AM - 4:00 PM
: Everyday 9:00 AM - 4:00 PM
: Everyday 9:00 AM - 4:00 PM
: Everyday 9:00 AM - 4:00 PM
: Everyday 9:00 AM - 4:00 PM
: Everyday 9:00 AM - 4:00 PM
: Everyday 9:00 AM - 4:00 PM
: Everyday 9:00 AM - 4:00 PM
: Everyday 9:00 AM - 4:00 PM
: Everyday 9:00 AM - 4:00 PM
: Everyday 9:00 AM - 4:00 PM
: Everyday 9:00 AM - 4:00 PM

: Everyday 9:00 AM - 3:00 PM
: Everyday 9:00 AM - 3:00 PM
: Everyday 9:00 AM - 3:00 PM
: Everyday 9:00 AM - 3:00 PM
: Everyday 9:00 AM - 3:00 PM
: Everyday 9:00 AM - 3:00 PM
: Everyday 9:00 AM - 3:00 PM
: Everyday 9:00 AM - 3:00 PM
: Everyday 9:00 AM - 3:00 PM
: Everyday 9:00 AM - 3:00 PM
: Everyday 9:00 AM - 3:00 PM
: Everyday 9:00 AM - 3:00 PM

: Everyday 8:00 AM - 3:00 PM
: Everyday 8:00 AM - 3:00 PM
: Everyday 8:00 AM - 3:00 PM
: Everyday 8:00 AM - 3:00 PM
: Everyday 8:00 AM - 3:00 PM
: Everyday 8:00 AM - 3:00 PM
: Everyday 8:00 AM - 3:00 PM
: Everyday 8:00 AM - 3:00 PM
: Everyday 8:00 AM - 3:00 PM
: Everyday 8:00 AM - 3:00 PM
: Everyday 8:00 AM - 3:00 PM
: Everyday 8:00 AM - 3:00 PM

: Everyday 7:00 AM - 2:00 PM
: Everyday 7:00 AM - 2:00 PM
: Everyday 7:00 AM - 2:00 PM
: Everyday 7:00 AM - 2:00 PM
: Everyday 7:00 AM - 2:00 PM
: Everyday 7:00 AM - 2:00 PM
: Everyday 7:00 AM - 2:00 PM
: Everyday 7:00 AM - 2:00 PM
: Everyday 7:00 AM - 2:00 PM
: Everyday 7:00 AM - 2:00 PM
: Everyday 7:00 AM - 2:00 PM
: Everyday 7:00 AM - 2:00 PM