Best Time To Visit Amritsar
Explore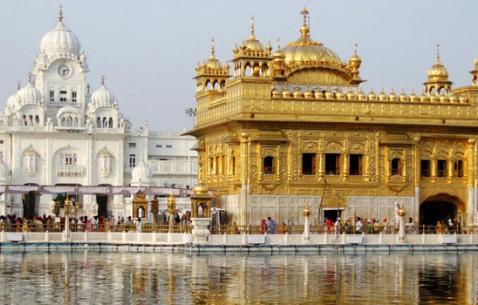 Best Time To Go To Amritsar
Amristar has continental, semi-arid to sub-humid climate and like in many other parts of India,there are three main seasons in Amristar which are winter (November to March), summer (April to June)and monsoon (July to October).
Summer can be as hot as 46 C, but is normally about 25 C. In winter temperatures vary between 0 C and 18 C and expect an average of 790 mm of rainduring the monsoon season.
The best time to visit Amristar is between October and March when the weather is at its mostpleasant and there is less humidity in the air ensuring a comfortable trip.
Best time to go to Amritsar Attractions

: Everyday 3:00 AM - 10:00 PM
: Everyday 3:00 AM - 10:00 PM
: Everyday 3:00 AM - 10:00 PM
: Everyday 3:00 AM - 10:00 PM
: Everyday 3:00 AM - 10:00 PM
: Everyday 3:00 AM - 10:00 PM
: Everyday 3:00 AM - 10:00 PM
: Everyday 3:00 AM - 10:00 PM
: Everyday 3:00 AM - 10:00 PM
: Everyday 3:00 AM - 10:00 PM
: Everyday 3:00 AM - 10:00 PM
: Everyday 3:00 AM - 10:00 PM

: Everyday 9:00 AM - 5:00 PM
: Everyday 9:00 AM - 5:00 PM
: Everyday 9:00 AM - 5:00 PM
: Everyday 9:00 AM - 5:00 PM
: Everyday 9:00 AM - 5:00 PM
: Everyday 24 Hrs
: Everyday 24 Hrs
: Everyday 24 Hrs
: Everyday 24 Hrs
: Everyday 9:00 AM - 5:00 PM
: Everyday 9:00 AM - 5:00 PM
: Everyday 9:00 AM - 5:00 PM

: Everyday 4:00 PM - 6:00 PM
: Everyday 4:00 PM - 6:00 PM
: Everyday 4:00 PM - 6:00 PM
: Everyday 4:00 PM - 6:00 PM
: Everyday 4:00 PM - 6:00 PM
: Everyday 4:00 PM - 6:00 PM
: Everyday 4:00 PM - 6:00 PM
: Everyday 4:00 PM - 6:00 PM
: Everyday 4:00 PM - 6:00 PM
: Everyday 4:00 PM - 6:00 PM
: Everyday 4:00 PM - 6:00 PM
: Everyday 4:00 PM - 6:00 PM

: Everyday 7:30 AM - 9:30 PM
: Everyday 7:30 AM - 9:30 PM
: Everyday 7:30 AM - 9:30 PM
: Everyday 7:30 AM - 9:30 PM
: Everyday 7:30 AM - 9:30 PM
: Everyday 7:30 AM - 9:30 PM
: Everyday 7:30 AM - 9:30 PM
: Everyday 7:30 AM - 9:30 PM
: Everyday 7:30 AM - 9:30 PM
: Everyday 7:30 AM - 9:30 PM
: Everyday 7:30 AM - 9:30 PM
: Everyday 7:30 AM - 9:30 PM

: Everyday 10:00 AM - 5:00 PM
: Everyday 10:00 AM - 5:00 PM
: Everyday 10:00 AM - 5:00 PM
: Everyday 10:00 AM - 5:00 PM
: Everyday 10:00 AM - 5:00 PM
: Everyday 10:00 AM - 5:00 PM
: Everyday 10:00 AM - 5:00 PM
: Everyday 10:00 AM - 5:00 PM
: Everyday 10:00 AM - 5:00 PM
: Everyday 10:00 AM - 5:00 PM
: Everyday 10:00 AM - 5:00 PM
: Everyday 10:00 AM - 5:00 PM

: Everyday 5:00 AM - 9:00 AM
: Everyday 5:00 AM - 9:00 AM
: Everyday 5:00 AM - 9:00 AM
: Everyday 5:00 AM - 9:00 AM
: Everyday 5:00 AM - 9:00 AM
: Everyday 5:00 AM - 9:00 AM
: Everyday 5:00 AM - 9:00 AM
: Everyday 5:00 AM - 9:00 AM
: Everyday 5:00 AM - 9:00 AM
: Everyday 5:00 AM - 9:00 AM
: Everyday 5:00 AM - 9:00 AM
: Everyday 5:00 AM - 9:00 AM

: Everyday 5:00 AM - 11:00 PM
: Everyday 5:00 AM - 11:00 PM
: Everyday 5:00 AM - 11:00 PM
: Everyday 5:00 AM - 11:00 PM
: Everyday 5:00 AM - 11:00 PM
: Everyday 5:00 AM - 11:00 PM
: Everyday 5:00 AM - 11:00 PM
: Everyday 5:00 AM - 11:00 PM
: Everyday 5:00 AM - 11:00 PM
: Everyday 5:00 AM - 11:00 PM
: Everyday 5:00 AM - 11:00 PM
: Everyday 5:00 AM - 11:00 PM

: Everyday 24 Hrs
: Everyday 24 Hrs
: Everyday 24 Hrs
: Everyday 24 Hrs
: Everyday 24 Hrs
: Everyday 24 Hrs
: Everyday 24 Hrs
: Everyday 24 Hrs
: Everyday 24 Hrs
: Everyday 24 Hrs
: Everyday 24 Hrs
: Everyday 24 Hrs

: Everyday 9:00 AM - 5:00 PM
: Everyday 9:00 AM - 5:00 PM
: Everyday 9:00 AM - 5:00 PM
: Everyday 9:00 AM - 5:00 PM
: Everyday 9:00 AM - 5:00 PM
: Everyday 9:00 AM - 5:00 PM
: Everyday 9:00 AM - 5:00 PM
: Everyday 9:00 AM - 5:00 PM
: Everyday 9:00 AM - 5:00 PM
: Everyday 9:00 AM - 5:00 PM
: Everyday 9:00 AM - 5:00 PM
: Everyday 9:00 AM - 5:00 PM

: Everyday 24 Hrs
: Everyday 24 Hrs
: Everyday 24 Hrs
: Everyday 24 Hrs
: Everyday 24 Hrs
: Everyday 24 Hrs
: Everyday 24 Hrs
: Everyday 24 Hrs
: Everyday 24 Hrs
: Everyday 24 Hrs
: Everyday 24 Hrs
: Everyday 24 Hrs

: Everyday 11:00 AM - 1:00 PM
: Everyday 11:00 AM - 1:00 PM
: Everyday 11:00 AM - 1:00 PM
: Everyday 11:00 AM - 1:00 PM
: Everyday 11:00 AM - 1:00 PM
: Everyday 11:00 AM - 1:00 PM
: Everyday 11:00 AM - 1:00 PM
: Everyday 11:00 AM - 1:00 PM
: Everyday 11:00 AM - 1:00 PM
: Everyday 11:00 AM - 1:00 PM
: Everyday 11:00 AM - 1:00 PM
: Everyday 11:00 AM - 1:00 PM

: Everyday 5:00 AM - 7:00 PM
: Everyday 5:00 AM - 7:00 PM
: Everyday 5:00 AM - 7:00 PM
: Everyday 5:00 AM - 7:00 PM
: Everyday 5:00 AM - 7:00 PM
: Everyday 5:00 AM - 7:00 PM
: Everyday 5:00 AM - 7:00 PM
: Everyday 5:00 AM - 7:00 PM
: Everyday 5:00 AM - 7:00 PM
: Everyday 5:00 AM - 7:00 PM
: Everyday 5:00 AM - 7:00 PM
: Everyday 5:00 AM - 7:00 PM

: Everyday 5:00 AM - 6:00 AM
: Everyday 5:00 AM - 6:00 AM
: Everyday 5:00 AM - 6:00 AM
: Everyday 5:00 AM - 6:00 AM
: Everyday 5:00 AM - 6:00 AM
: Everyday 5:00 AM - 6:00 AM
: Everyday 5:00 AM - 6:00 AM
: Everyday 5:00 AM - 6:00 AM
: Everyday 5:00 AM - 6:00 AM
: Everyday 5:00 AM - 6:00 AM
: Everyday 5:00 AM - 6:00 AM
: Everyday 5:00 AM - 6:00 AM

: Everyday 10:00 AM - 6:00 PM
: Everyday 10:00 AM - 6:00 PM
: Everyday 10:00 AM - 6:00 PM
: Everyday 10:00 AM - 6:00 PM
: Everyday 10:00 AM - 6:00 PM
: Everyday 10:00 AM - 6:00 PM
: Everyday 10:00 AM - 6:00 PM
: Everyday 10:00 AM - 6:00 PM
: Everyday 10:00 AM - 6:00 PM
: Everyday 10:00 AM - 6:00 PM
: Everyday 10:00 AM - 6:00 PM
: Everyday 10:00 AM - 6:00 PM

: Everyday 4:15 PM - 4:30 PM
: Everyday 4:15 PM - 4:30 PM
: Everyday 4:15 PM - 4:30 PM
: Everyday 4:15 PM - 4:30 PM
: Everyday 4:15 PM - 4:30 PM
: Everyday 4:15 PM - 4:30 PM
: Everyday 4:15 PM - 4:30 PM
: Everyday 4:15 PM - 4:30 PM
: Everyday 4:15 PM - 4:30 PM
: Everyday 4:15 PM - 4:30 PM
: Everyday 4:15 PM - 4:30 PM
: Everyday 4:15 PM - 4:30 PM

: Everyday 24 Hrs
: Everyday 24 Hrs
: Everyday 24 Hrs
: Everyday 24 Hrs
: Everyday 24 Hrs
: Everyday 24 Hrs
: Everyday 24 Hrs
: Everyday 24 Hrs
: Everyday 24 Hrs
: Everyday 24 Hrs
: Everyday 24 Hrs
: Everyday 24 Hrs

: Everyday 24 Hrs
: Everyday 24 Hrs
: Everyday 24 Hrs
: Everyday 24 Hrs
: Everyday 24 Hrs
: Everyday 24 Hrs
: Everyday 24 Hrs
: Everyday 24 Hrs
: Everyday 24 Hrs
: Everyday 24 Hrs
: Everyday 24 Hrs
: Everyday 24 Hrs

: Everyday 24 Hrs
: Everyday 24 Hrs
: Everyday 24 Hrs
: Everyday 24 Hrs
: Everyday 24 Hrs
: Everyday 24 Hrs
: Everyday 24 Hrs
: Everyday 24 Hrs
: Everyday 24 Hrs
: Everyday 24 Hrs
: Everyday 24 Hrs
: Everyday 24 Hrs

: Everyday 24 Hrs
: Everyday 24 Hrs
: Everyday 24 Hrs
: Everyday 24 Hrs
: Everyday 24 Hrs
: Everyday 24 Hrs
: Everyday 24 Hrs
: Everyday 24 Hrs
: Everyday 24 Hrs
: Everyday 24 Hrs
: Everyday 24 Hrs
: Everyday 24 Hrs

: Everyday 24 Hrs
: Everyday 24 Hrs
: Everyday 24 Hrs
: Everyday 24 Hrs
: Everyday 24 Hrs
: Everyday 24 Hrs
: Everyday 24 Hrs
: Everyday 24 Hrs
: Everyday 24 Hrs
: Everyday 24 Hrs
: Everyday 24 Hrs
: Everyday 24 Hrs

: Everyday 24 Hrs
: Everyday 24 Hrs
: Everyday 24 Hrs
: Everyday 24 Hrs
: Everyday 24 Hrs
: Everyday 24 Hrs
: Everyday 24 Hrs
: Everyday 24 Hrs
: Everyday 24 Hrs
: Everyday 24 Hrs
: Everyday 24 Hrs
: Everyday 24 Hrs

: Everyday 24 Hrs
: Everyday 24 Hrs
: Everyday 24 Hrs
: Everyday 24 Hrs
: Everyday 24 Hrs
: Everyday 24 Hrs
: Everyday 24 Hrs
: Everyday 24 Hrs
: Everyday 24 Hrs
: Everyday 24 Hrs
: Everyday 24 Hrs
: Everyday 24 Hrs

: Everyday 24 Hrs
: Everyday 24 Hrs
: Everyday 24 Hrs
: Everyday 24 Hrs
: Everyday 24 Hrs
: Everyday 24 Hrs
: Everyday 24 Hrs
: Everyday 24 Hrs
: Everyday 24 Hrs
: Everyday 24 Hrs
: Everyday 24 Hrs
: Everyday 24 Hrs

: Everyday 24 Hrs
: Everyday 24 Hrs
: Everyday 24 Hrs
: Everyday 24 Hrs
: Everyday 24 Hrs
: Everyday 24 Hrs
: Everyday 24 Hrs
: Everyday 24 Hrs
: Everyday 24 Hrs
: Everyday 24 Hrs
: Everyday 24 Hrs
: Everyday 24 Hrs

: Everyday 24 Hrs
: Everyday 24 Hrs
: Everyday 24 Hrs
: Everyday 24 Hrs
: Everyday 24 Hrs
: Everyday 24 Hrs
: Everyday 24 Hrs
: Everyday 24 Hrs
: Everyday 24 Hrs
: Everyday 24 Hrs
: Everyday 24 Hrs
: Everyday 24 Hrs

: Everyday 24 Hrs
: Everyday 24 Hrs
: Everyday 24 Hrs
: Everyday 24 Hrs
: Everyday 24 Hrs
: Everyday 24 Hrs
: Everyday 24 Hrs
: Everyday 24 Hrs
: Everyday 24 Hrs
: Everyday 24 Hrs
: Everyday 24 Hrs
: Everyday 24 Hrs

: Everyday 24 Hrs
: Everyday 24 Hrs
: Everyday 24 Hrs
: Everyday 24 Hrs
: Everyday 24 Hrs
: Everyday 24 Hrs
: Everyday 24 Hrs
: Everyday 24 Hrs
: Everyday 24 Hrs
: Everyday 24 Hrs
: Everyday 24 Hrs
: Everyday 24 Hrs