Things to do in Amsterdam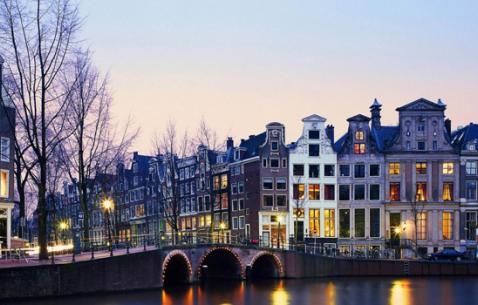 The Best Things To Do in Amsterdam
Amsterdam is considered to be the centre of art and culture in Europe. The city is populated with more than 40 museums, numerous theatres, and entertainment venues that makes it one of the most coveted places to visit. There are atleast 6,750 buildings dating from the 16th to 18th centuries that are crowded into an area of 2,000 acres, dissected by 160 canals (grachten). Some of the main attractions here are the Rijksmuseum, the Anne Frank Museum, Van Gogh Museum, Rembrandt House Museum, the Royal Palace, The Jewish Historical Museum, The Old Church & trip on Amsterdam canal cruise.
The Port Amsterdam is known for its picturesque beauty where you can spend a lot of time. Visit the Amsterdam museum and you will come to know about the constantly changing role of Amsterdam in the country and in the world. Some of the best places for shopping in Amsterdam are Kalverstraat and Vlooienmarkt, filled with many smart boutiques, galleries, perfumeries, and restaurants. The Botanical Gardens and zoo will offer you plenty of insight into flora and fauna and its varieties. Amsterdam is also known in the world for its Red Light district and people in fact take Amsterdam tours to visit this area and to understand it, undoubtedly one of the quirkiest things to do in Amsterdam
Amsterdam at night
One of the most beautiful cities in the world, perfectly balanced with a rugged reputation for being infamous for its eccentric things that give you a rush quite literally, Amsterdam draw visitors throughout the year, in seeking sundry pleasures. Nightlife in Amsterdam is often passed off as being notorious and sleazy given its red-light district. But it is only until you start venturing the city, will this quaint city, popular referred to as the Venice of the North; leave you enchanted. The number of bars and restaurants through the city beguile you with a much-sophisticated opportunity to enjoy some quiet night entertainment. Place such as Jimmy Woo is one fine example of what we mean. There are a ton of concerts too happening through the city, so heading to the Concertgebouw, which also happens to be the pride of Amsterdam can prove to be a rewarding evening. With new nightclubs surfacing through the city almost every day, you can never run out of some good place to dance, drink and have a merry time. Our top pick is the recently-opened club, AIR.
Of course, you cannot come to Amsterdam and not visit the red-light area. One of the most contemplated Amsterdam agenda is red light district. It's not that difficult, if you follow some basic codes of conduct. In fact, visiting this place can be quite exciting and rather enlightening. You can get to experience some of the world's most amusing brothels and sex shops here. Leaving little to your imagination, the Amsterdam Red Light District tours, will throw light upon some really amazing subjects here. There are sex shows, that you may choose to be a part of. The Alleys of De Wallen too are a great place to stroll by.
Things you can Explore Free
There are a ton things you can do in Amsterdam, without spending a penny. Popular attractions too make to this list; Begijnhof Amsterdam is one of them! This attraction is a region of several historical buildings, which are a beautiful sight to watch. Heading to the Grachtengordel in the evenings, for a stroll, some cycling or simply just observing the pace of the city, is one of the quintessential experiences of Amsterdam, that too free of cost. Window shopping at the The Negen Straatjes on a lazy afternoon, is a good idea too. Vondelpark is a brilliant place to stop time and just be, or take a nap. Flower Market, Civic Guard Gallery, Albert Cuypmarkt, and the Cannabis College will bequeath you with an ideal Amsterdam experience.
Amsterdam can be an amazing place, irrespective of the days you plan to spend here. You will never have to wonder what to do in Amsterdam in 3 days or any number of days for that matter given a plethora of things to do here,
Fun activities in Amsterdam
There is no doubt, the way this city can make you have good, real fun! Let's start by getting to ow to explore this city. An ideal way to get around the city is on feet, or even better renting a bicycle. Amsterdam has a huge cycle culture, and there are several rental agencies that provide tourists with 'tourist-special' bicycles. Venturing regions like the De Pijp, on your bicycle or however can be a cute experience, owing the number of quaint, picture-perfect cafes here.
Museums; Expect Amsterdam to take you aback with its eccentric museums like FOAM photo gallery, Van Gogh Museum, the Rembrandt House and a must-visit sexmuseum Amsterdam venustempel! Amsterdam dungeon is one of the most visited places by those seeking fun and excitement! While Amsterdam can be a terrific idea all through the year, festive times like Christmas and New Year's Eve can specially be very fun! If you are wondering about attractions to visit Amsterdam in December, you must know that, there are plenty! From Christmas markets selling the cutest of trinkets, delicious mulled wine and even more delicious foods along with a ton of events and activities, December here is merry in every way!
What's for couples in Amsterdam - Places to visit and see
Amsterdam can be a pleasingly romantic, if you know the right avenues to explore with your lover. Its fairy-lit bridges, quaint cafes, cycling tours among other coy stuff, beautifully juxtaposed by the crispness of the red-light area; an ideal combination for romance! The Spring season is one of the prettiest and most romantic times of the year, to visit Amsterdam with your lover. Spring also offers a wide variety of things to do in Amsterdam in January, February and March; the Spring months here.
Head to A'dam Toren to watch the skyline of the city. Not as overwhelming as other popular cities full of skyscrapers, the charm of Amsterdam lies in its gorgeous historical buildings, canals and bridges. Visiting the many flower and farmer markets, followed by a delicious meal at one of the many food trucks in the city, can be a very romantic thing to do too. And for some old-worldly romance, a picnic in the Vondelpark can never go wrong!
Amsterdam Attractions for kids
It is only recently that Amsterdam became infamous as one of the hottest destinations for adults. Previously, it was one of Europe's most efficient cities for family vacations. Place such as the Artis Royal Zoo, built in the 18th century is a must with kids! This place also accommodates an aquarium, a petting section and a planetarium too. A perfect spot for kids to spend the day out. The Amstelpark is a fabulous playground, as well as a petting zoo that kids can have a gala time at. Museums such as Van Gogh Museum can be very educative and interesting for children. And for an offbeat experience, you could rent a houseboat and live in it. Cafes such as Kinderkookkafe are a great place to let kids indulge in art and craft activities along with good food! The Anne Frank House is a must, if you are taking your children to Amsterdam.
Explore the travel planning tool for your visit to Amsterdam and create a flawless plan in few simple steps!
236 Tourist Attractions in Amsterdam

Must see places in Amsterdam ranked on popularity. Here is the complete list of best attractions in Amsterdam and point of interests to visit.
Tourist Attractions Near Amsterdam
Find Your Amsterdam Attractions on Map
Types of Things To Do in Amsterdam
Find more attractions and places to visit in Amsterdam under these things to do categories.
Top Amsterdam Activities And Tours
Explore the best things to do in Amsterdam. These are the most preferred tourist activities.
Find more places to see in Amsterdam
Koninklijk Paleis Amsterdam

Dam

Historic and Protected Sites

De 9 Straatjes in Amsterdam

De 9 Straatjes

Historic and Protected Sites

Begijnhof

30 Begijnhof

Historic and Protected Sites

Molen de Bloem

Haarlemmerweg 465

Historic and Protected Sites

Elly's

Burg De Vlugtln 200-204

Historic and Protected Sites

Kasteel de Haar

Kasteellaan 1

Historic and Protected Sites
View On Map
WV Sloterplas

Christoffel Plantijngracht

Lakes

Jazz at the Lake

Jollenpad 10

Lakes

Watersportcentrum Sloterplas

Chr. Plantijngracht 4

Lakes

Nieuwkoopse Plassen

Dorpsstraat 116

Lakes
View On Map
Stedelijk Museum Bureau Amsterdam

Rozenstraat 59

Museums

Van Gogh Museum

Museumplein 6

Museums

Joods Historisch Museum

Nieuwe Amstelstraat 1

Museums

Museum Het Schip

Oostzaanstraat 45

Museums

Amsterdam Museum

Nieuwezijds Voorburgwal 359

Museums

Stichting Koninklijk Paleis Te Amsterdam

Nieuwezijds Voorburgwal 147

Museums
View On Map
Raamverhuurbedrijf Het Venster

Oudezijds Achterburgwal 116/A

Amusement Parks

Parcs and Villas

Colenbranderhof 18

Amusement Parks

Keizersgracht 760 V.O.F.

Keizersgracht 760 -2-3-4

Amusement Parks

Holidayhomes.Nl

Jacob van Lennepstraat 59 3hg

Amusement Parks

I Am Shortstay

Willemsparkweg 156 3

Amusement Parks

Gran Dorado Zandvoort BV

Museumplein 1 -Hummel Cons

Amusement Parks
View On Map
Franklin Bar & Kitchen

Amstelveenseweg 156

Restaurants

Cafes, Coffee and Tea Houses

Bars

Café Lowietje

Derde Goudsbloemdwarsstraat 2

Bars

Cafes, Coffee and Tea Houses

Restaurants

Hendrix

De Clercqstraat 82

Bars

Restaurants

De Blauwe Pan

Westerstraat 200

Cafes, Coffee and Tea Houses

Restaurants

Bars

Café Sarphaat

Ceintuurbaan 157-A

Cafes, Coffee and Tea Houses

Restaurants

Bars

Hooischip Café 't

Amstel 31

Cafes, Coffee and Tea Houses

Bars

Restaurants
View On Map
Holland Casino Amsterdam

Max Euweplein 62

Casinos and Gaming

Restaurants

Casino City

Ceintuurbaan 286

Casinos and Gaming

Casino City

Jan Evertsenstraat 108/HS

Casinos and Gaming

Casino Play-In Casino

Nieuwendijk 37

Casinos and Gaming

ACE Amsterdam Casino Events

Spaklerweg 58/AB

Casinos and Gaming

Casino City

Oudezeijds Achterburgwal 35

Casinos and Gaming
View On Map
Amsterdamse Waterleidingduinen

1e Leijweg 6

Natural Parks

Nationaal Park Zuid-Kennemerland

Zeeweg 12

Natural Parks

Spanderswoud (Hilversum)

Spanderslaan

Natural Parks

Park Brederode Bloemendaal

Zocher Laan

Natural Parks

Dino

Industriewg 34

Natural Parks
View On Map
Erasmuspark

Erasmuspark

Dog Parks

Plesmanlaan. Amsterdam

Plesman Laan

Dog Parks

Dierentehuis Amstelveen

Kostverlorenweg 12

Dog Parks

Flevopark

Nieuwe Diep

Playgrounds

Dog Parks

Jaagpad

Jaagpad 40

Dog Parks

Muzenpark

Gitaarstraat

Dog Parks
View On Map
Blijburg Aan Zee

Pampuslaan 501

Beaches

BeeVee Strand

Tom Schreursweg 10

Beaches

Praia de Burcht

Noordhoek 19

Beaches

Strand Wijk aan Zee

Paal 52

Beaches

Strandfestival ZAND

IJmeerdijk 1

Beaches

Naarderbos Strand

Beaches
View On Map
Aalbersestraat

Aalbersestraat 244

Hiking

De Bolus Boerderij

Hiking

Running Track (Westerpark)

Westerpark

Hiking

Groeneveld

Stulpselaan

Hiking

Klimpark Fun Forest Almere

Kemphaanlaan 4

Hiking

Locatie Houtmanpad

Houtmanpad 22

Hiking
View On Map
What To Do in Amsterdam: Day-Wise Ideas
Find what not to miss in Amsterdam! Recommended Amsterdam itineraries and vacation ideas created by travelers across the world.