20 Best Things To Do in Amsterdam, The Netherlands & Points of Interest
An essential guide to the very best things to do in and around Amsterdam.


Photo: wikimedia.org
Amsterdam - the living capital of the Netherlands, is the country's most populated city and one of the best places to visit in the world. It doesn't matter what season it is, there are just no endings to the things that you can do in Amsterdam. Tourists from around the globe visit the city because of its impeccable beauty in terms of everything – from the beautiful well-trodden tourists' paths to the historical background and awesome tourist attractions. Amsterdam stupefies the visitors with its hippie charm that resists absolutism. Strewn with the artworks of Rembrandt, Vermeer and Van Gogh, this city evokes admiration as well as world attention. For foodies, the capital of Netherlands is equally a haven; thanks to its gourmet cuisine and world-class bakeries. Green spaces, dazzling nightclubs and shopping districts dot the cityscape of Amsterdam and render it to be an ultimate tourist destination.
If you are wondering what to do in the city, here are 20 best things to do in Amsterdam:
1. Visit the Historical House of Anne Frank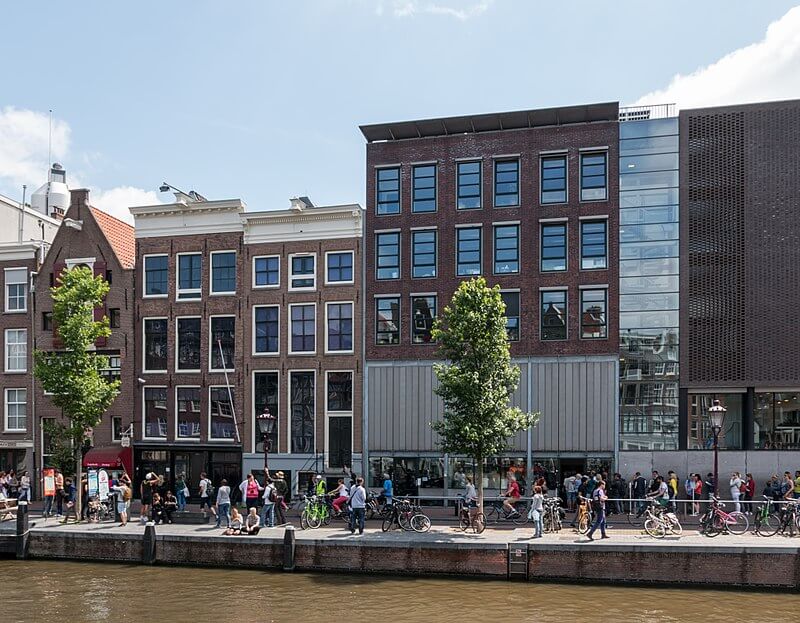 Photo: wikipedia.org
One of the must see attraction in Amsterdam - Anne Frank House. A trip to Amsterdam would be absolutely incomplete without your visit to this historical house. Anneliese Marie Frank or widely known as Anne Frank was a German born diarist who, along with her family had been through a lot of trouble during the Nazi's WWII rule. She was hiding in this house with her family from the Nazis and during those days, she kept a journal explaining her life. The diary is published worldwide and is also translated to many foreign languages. The book is highly appreciated and it has gathered Anne Frank worldwide recognition posthumously. The house in Amsterdam contains various things that Anne and her family used during their hideout. It has been converted into a museum now.
2. Hop on your bike and roam around the streets in Amsterdam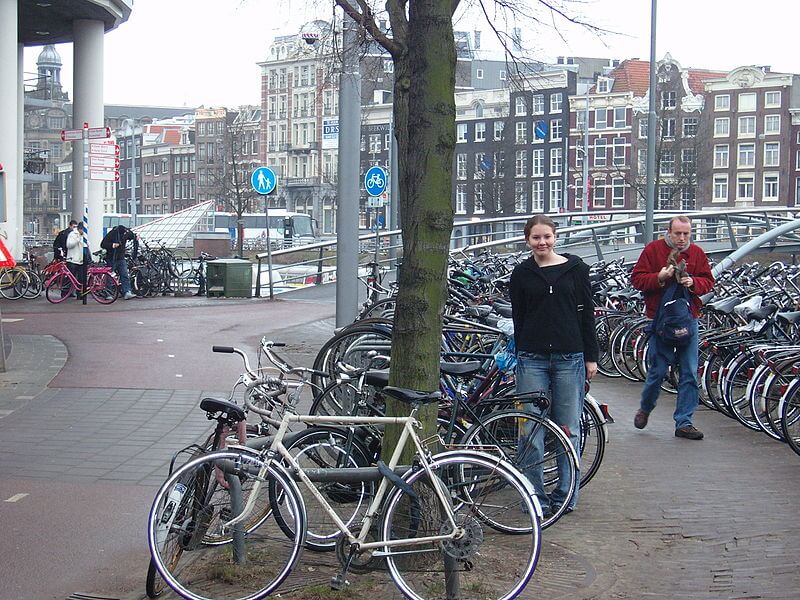 Photo: wikimedia.org
The streets in Amsterdam are one of a kind. And you will be both pleased and surprised to know that there are an incredible number of over 800,000 bicycles in Amsterdam. Cycling in Amsterdam is more like a way of life. If you want to experience the city from within, and want to understand people's way of life, just hop onto one and roam around the beautiful roads. The most cycle-friendly city in the world, Amsterdam offers a safe, enjoyable and invigorating cycling experience. There is no other better way to explore the city than this one. An awesome activity in Amsterdam to enjoy.
3. Enjoy Being Lost in Jordaan

Photo: pixabay.com
The friendliest neighborhood of Amsterdam, Jordaan is basically a trendy city of narrow streets and canals; filled with cozy and exciting pubs, hip eateries and boutiques. A trip to this city is more like time traveling to a different era. Jordaan is all about the antique shops, eateries, cozy bars, and independent art galleries. Ditch your guide and ditch the map – get lost into this world's wonder city. A must visit place in Amsterdam to experience the culture.
4. Experience a Canal Cruise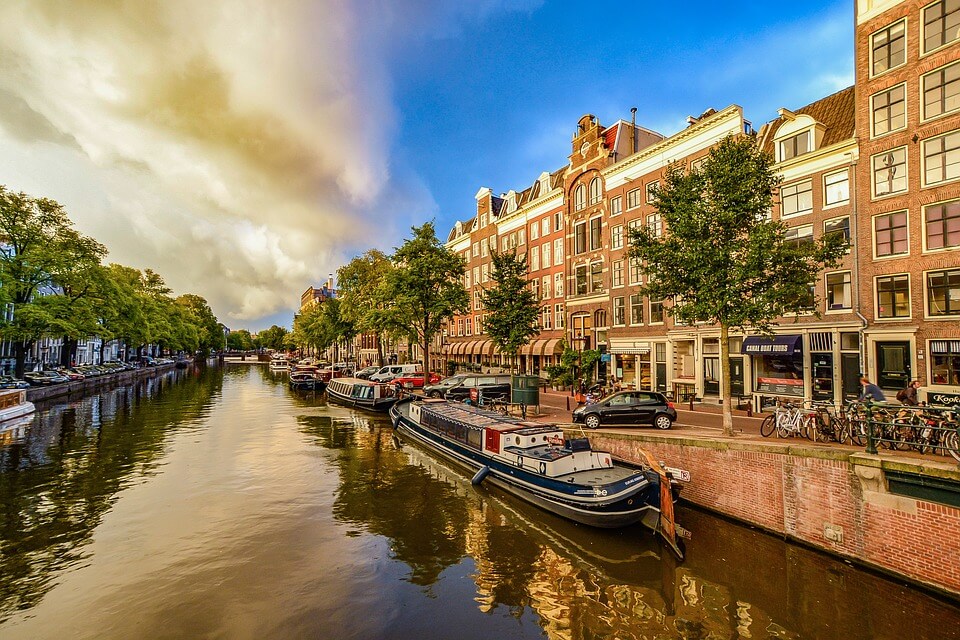 Photo: pixabay.com
During the 17th century, the Canal Belt was built in Amsterdam in order to keep the sea at bay. The Canal Belt is now UNESCO protected and the best thing is you can effortlessly take a cruise on the belt. An unbelievably pretty sight by both day and night, the Canal Belt is definitely an Amsterdam Wonder that you should not miss out on. When you will see the bridges lit up by the fairy lights, being on the boat will make you feel like being in heaven. The canal cruise is filled with exciting stories and facts; a cruise you can call both enjoyable and informative.
5. Watch time passing by at the Bridge of 15 Bridges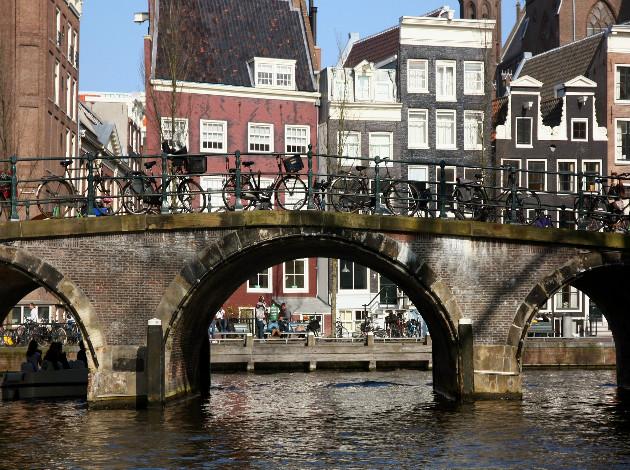 Photo: ErikaBenitez/flickr
If you are looking for some of the top experiences in Amsterdam, just take a halt at the Bridge of 15 bridges and take some enamouring photographs of the city. Explore Amsterdam and try to find out the bridge crossing of the Reguliersgracht and the Herengracht and stand at the side with the odd numbers with your back turned to the Thorbeckeplein. From this epic point, you will be able to see six bridges in front of you, six to the left and two on the right. That makes it 14th and the 15th one, is the one where you will be standing.
Everyone visits museums and art houses in Amsterdam, however, take out some time for these best experiences so that your mind can be stamped with the unforgettable experiences of this lovely city.
6. Do Not Miss out on the Herring (A Duch Food)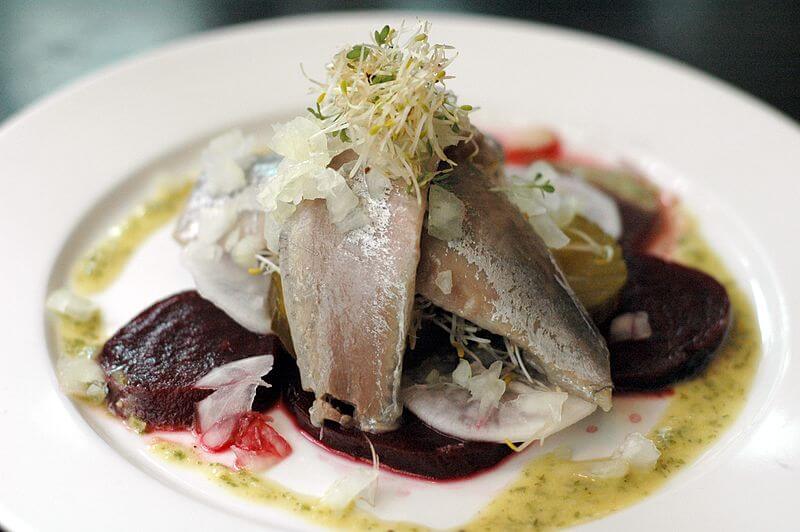 Photo: wikimedia.org
Visiting Amsterdam and not trying out Herring? Although, raw herring can sound quite overwhelming, you still should give it a go. There will be plenty of herring handles or herring carts on the streets of the city. A tip – ask for the "broodje haring" where you can get the fish wrapped in a small sandwich with onions and pickles.
7. Go Beer Tasting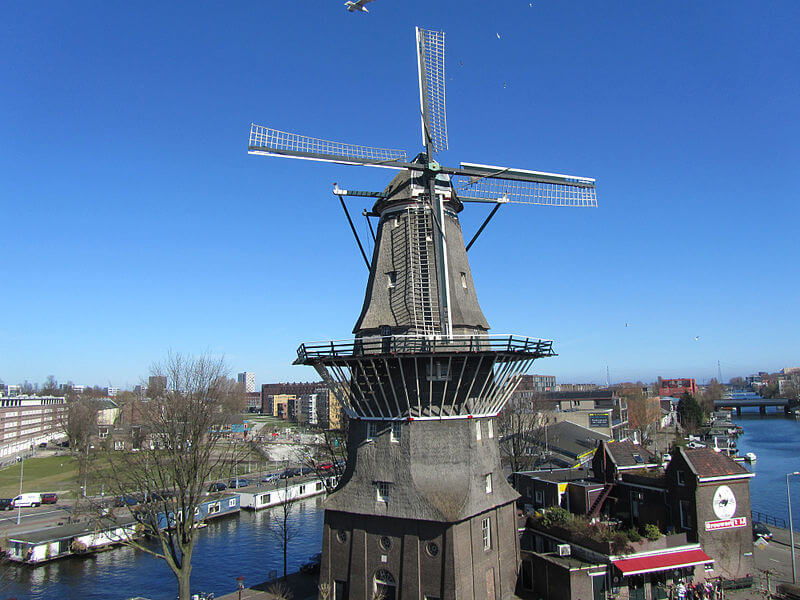 Photo: wikimedia.org
For the beer lovers out there, this is your heaven. There are 8 windmills in this beautiful city and a visit to one of these windmills in Amsterdam can give you a chance to taste varieties of beers. The windmill named as being de Gooyer in the Oostelijke Eilanden neighborhood has a microbrewery called Brouwerij't Ij with a large drinking terrace. This award-winning artesian microbrewery offers a guided tasting tour of 30 minutes.
8. Indulge yourself in Culture, Food and Drink in Westergasfabriek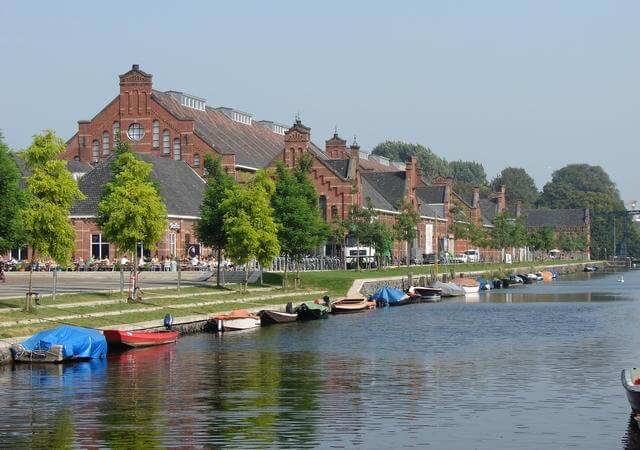 Photo: wikimedia.org
The complex of Westergasfabriek was basically a hub of the city's municipal gasworks. The expansive complex of a few commercial buildings now have turned into a cultural hub where it hosts a number of bars, restaurants, microbreweries, eateries, art house cinema, coffee roasters and a number of other creative businesses. A tour to this place will make your day!
9. An affair with De Pijp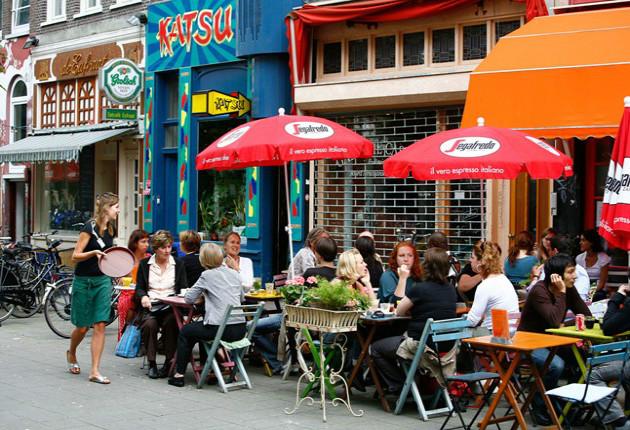 Photo: cntraveller.com
A concoction of quirky shops, trendy bars, arty hotspots and cozy dining areas, De Pijp can be easily considered as the coolest hangout bohemian neighborhood of Amsterdam. This place will certainly offer you some of the most unforgettable dining experiences in Amsterdam leaving you overawed with local crowd and astonishing vibes. Spend an evening here to know the glitters that this area holds in store for you! In short, have an affair with it!
10. Explore the Park life of Amsterdam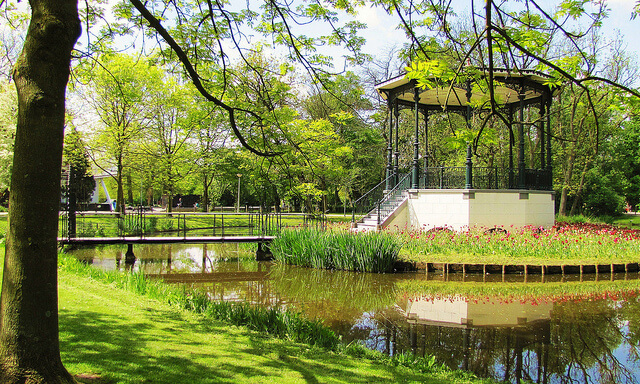 Photo: flickr.com
Imagine having 30 parks to choose from! Isn't that more like a lottery to the nature lovers? Well, Amsterdam is never short of a picnic spot and you should definitely be exploring these beautiful parks. These parks are not just a hub of beautiful flowers and trees and leaves. The parks are an integral part of Amsterdam's culture. Sometimes, when the sun goes down, you can even see these parks turning into some incredible barbeque joints. The biggest park in Amsterdam is Vondelpark with 47 acres. It houses outdoor theater where you can enjoy live concerts during summer.
11. Enjoy the Local Flavor of Amsterdam's Neighborhood
If you are someone who likes to enjoy offbeat places more and want to understand the culture of the city from within, then step out from the tourist places and explore the local neighborhoods of Amsterdam. All the Amsterdam neighborhoods have their own distinctive personality with various foods, drinks and culture. Soak up the local flavors of Amsterdam – talk to people, just get lost in their lives.
12. Pay Your Visit to Vincent Van Gogh

Photo: wikimedia.org
It would an utter waste of time if you are in Amsterdam and you have not paid your homage to none other than remarkable Dutch impressionist Vincent Van Gogh. More than 1000s of letters, drawings and paintings of the veteran artist can be found in the Modern building in Museumplein. Pay your visit to this incredible place in order to show your respect to this incredibly talented artist.
13. Do not forget to visit the Rijksmuseum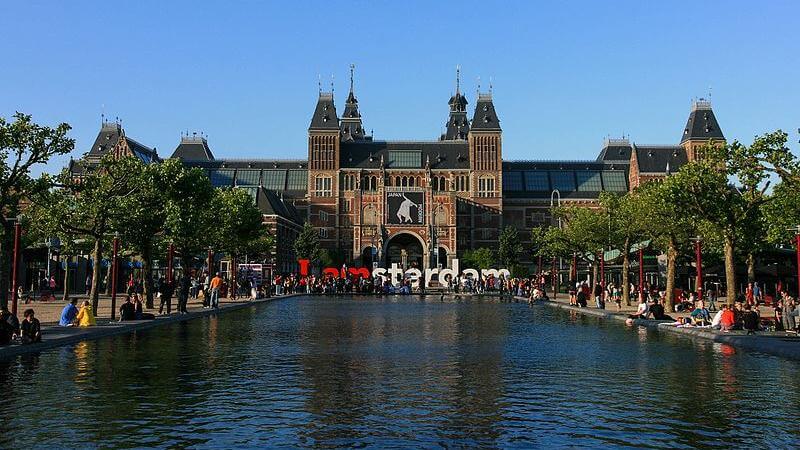 Photo: wikimedia.org
The Van Gogh Museum has it all. But a visit to Rijksmuseum will enlighten your mind to a great extent. The Rijksmuseum is one among Amsterdam's finest museums where you can explore the huge collection of art and craft, as well as history dating back to the 1200s. The best part – this stunning building contains a total of 1 million objects. However, only 8000 of these are in the display.
14. Enjoy an Evening at the Dam Square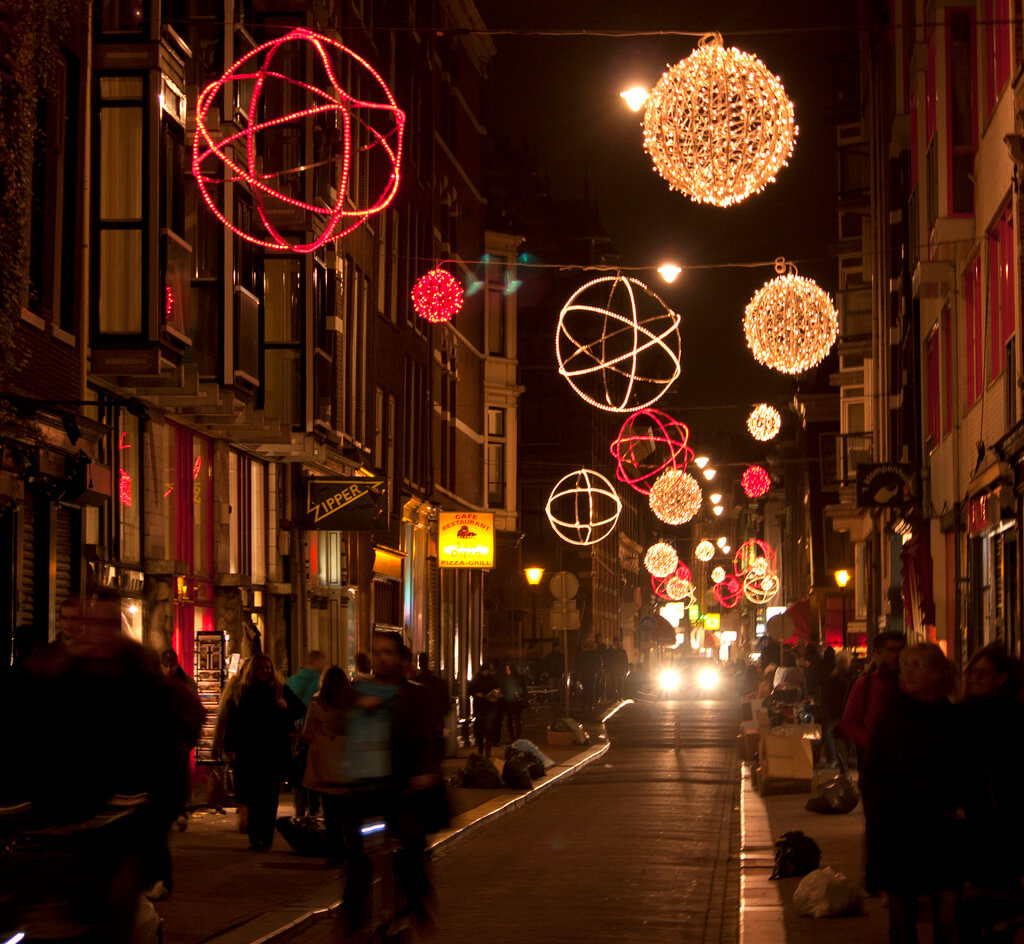 Photo: flickr.com
An evening at the Dam Square in Amsterdam will make your entire day. This is the main square in the central Amsterdam and it is just at a 10 minute walking distance from the Central Station. The square was built way back in the 1400s and it has become the central point of the city ever since. An evening walk on the square will surely refresh your mind.
15. Take a Walk around the Markets in Amsterdam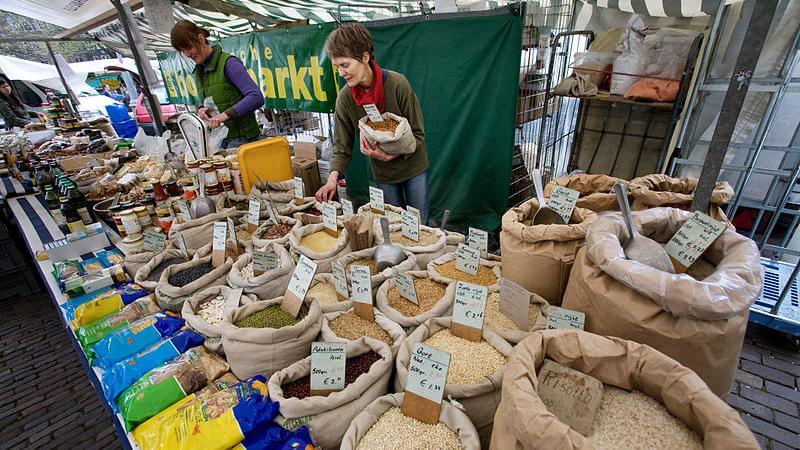 Photo: wikimedia.org
Locals of Amsterdam are quite friendly and nice. And if you are willing to know them more, you should take a walk around the busy streets and markets of the city. There are markets of books, foods, bakeries, flowers and many other things in Amsterdam that you should explore for the best. Try out their local foods, look around for things to buy, and experience the lives of the locals. Something you will remember for the rest of your life for sure.
16. Take an Impeccable Day Trip around the Amsterdam Town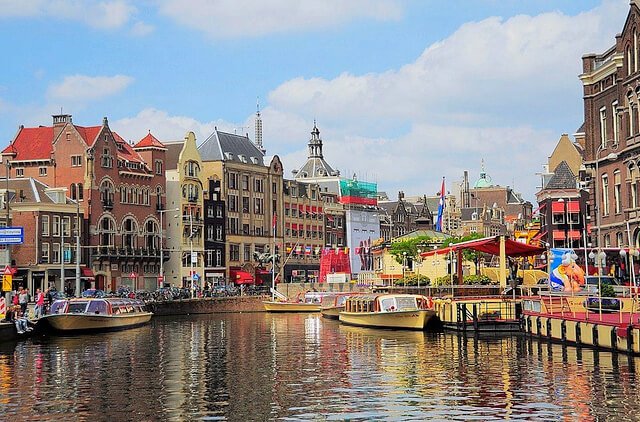 Photo: flickr.com
If you are in the city for a more than a week, then take out your valuable time and roam around the city. Hop on your bicycle and travel around the diverse places of Amsterdam. From beaches to castles, windmills, and historic towns – you will get to experience everything. An experience that you should not miss out on! 15. Take a Picture with the Amsterdam Letters Now this might sound lame to you, but why not try out something fun? The big Amsterdam letters usually travel around the city and they do not stand at one point. Find out where those are and take a picture with them as a souvenir.
17. Take a Picture with the Amsterdam Letters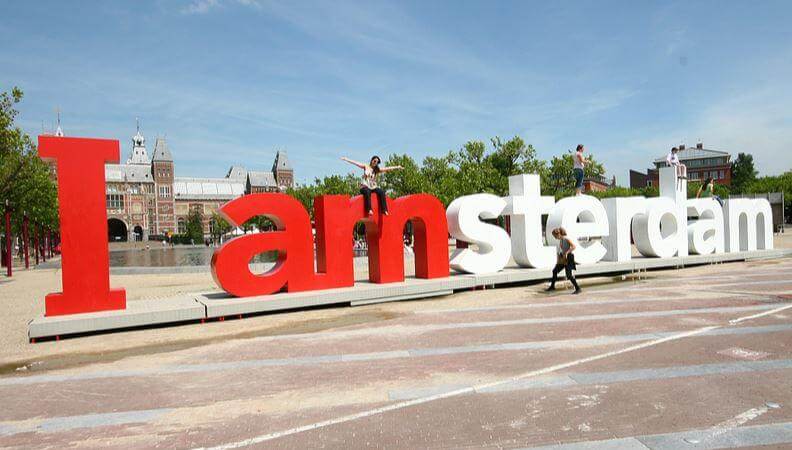 Photo: wikimedia.org
Now, this might sound lame to you, but why not try out something fun? The big Amsterdam letters usually travel around the city and they do not stand at one point. Find out where those are and take a picture with them as a souvenir.
18. Visit First Museum of Fluorescent Art in Amsterdam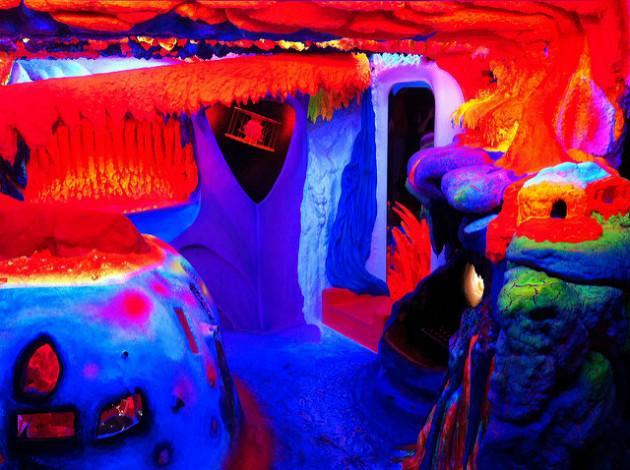 Photo: ilovebutter/flickr
There is a never-ending list of fun things to do in Amsterdam that makes the city so adorable in the eyes of many visitors. Visit, Electric Ladyland, an eccentric museum that is filled with fluorescent art, rendering it to be eye-catching for those who visit it. To visit this museum, you will have to put soft slippers on your shoes, and walk down the stairs into the artistic cave-like space. What you come across inside is a microcosmic, dark collection of fluorescent objects exhibited in a multicolored cave, with artificially created spaces, full of vibrant, fluorescent colors.
19. Indulge into an affair with Tulips

Photo: Emanuele/flickr
Tulips are interwoven in the landscape of Amsterdam, a sight of whose will offer you a synonym of the city. They are the colorful emblems of beauty and truth (reminded of Keats?) and are the symbols of Dutch culture and offer you a unique and unforgettable experience in Amsterdam. The best place to buy the effervescent Amsterdam tulips is the famous world's only floating flower market- Bloemenmarkt. Lined up with stalls and shops selling flowers, this market looks probably one of the most alluring markets in the world. If you plan to make a visit to Amsterdam during the spring time, do take out time to visit Bollenstreek that lay carpeted with colorful strips across miles of lowland fields between Harleem and Leiden.
20. Catch up some foot-tapping live music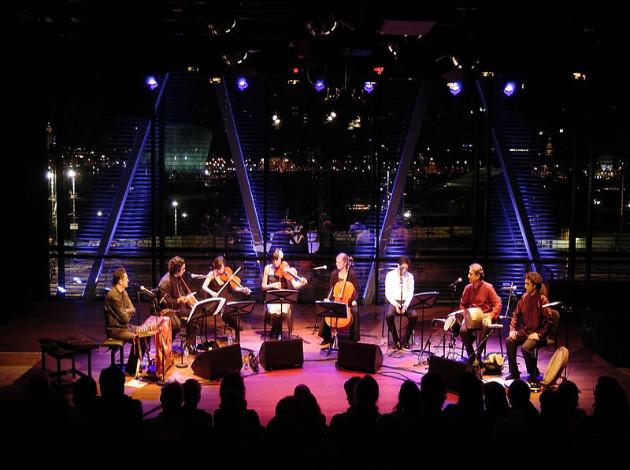 Photo: Wikimedia Commons
It is a world acknowledged fact that Amsterdam bustles with live music venues that offer you a truly unforgettable experience of the city. Catch for some venues where you can listen to some effervescent notes of music that will stir your emotions and jazz up your life. The city is so much abuzz with the music scene that the venues range from the hole- in -the -wall -bars to the famous Concertgebouw. While you are staying in this lively city, do reserve an evening for a live music performance, to transfer you into dizzying heights.
Read: Hidden Attractions And Unusual Things To Do In Amsterdam