Best Time To Visit Anaheim
Explore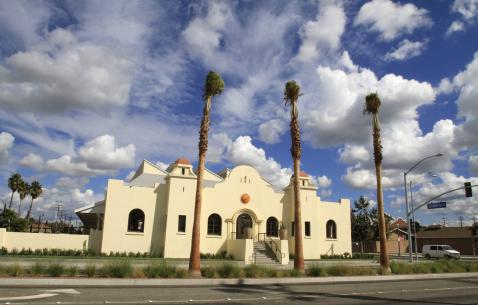 Accommodations with

See All
Best Time To Go To Anaheim
For a county that enjoys on an average of 310 days of sunshine, following is the weather in Anaheim:
Summer: Between July to October. Average temperatures vary between 20° C to 38° C.
Winter: Between April to June. Average temperatures vary between 10° C to 23° C.
Monsoon: Between late October to March. Although, the city does not face a lot of rainfall.
Best time to go to Anaheim is in the months between April to October.
Explore the best travel planner for your visit to Anaheim and create a flawless plan in few simple steps!
Best time to go to Anaheim Attractions

: Everyday 10:00 AM - 8:00 PM
: Everyday 10:00 AM - 8:00 PM
: Everyday 10:00 AM - 8:00 PM
: Everyday 10:00 AM - 8:00 PM
: Everyday 10:00 AM - 8:00 PM
: Everyday 10:00 AM - 8:00 PM
: Everyday 10:00 AM - 8:00 PM
: Everyday 10:00 AM - 8:00 PM
: Everyday 10:00 AM - 8:00 PM
: Everyday 10:00 AM - 8:00 PM
: Everyday 10:00 AM - 8:00 PM
: Everyday 10:00 AM - 8:00 PM

: Everyday 7:00 AM - 2:00 PM
: Everyday 7:00 AM - 2:00 PM
: Everyday 7:00 AM - 2:00 PM
: Everyday 7:00 AM - 2:00 PM
: Everyday 7:00 AM - 2:00 PM
: Everyday 7:00 AM - 2:00 PM
: Everyday 7:00 AM - 2:00 PM
: Everyday 7:00 AM - 2:00 PM
: Everyday 7:00 AM - 2:00 PM
: Everyday 7:00 AM - 2:00 PM
: Everyday 7:00 AM - 2:00 PM
: Everyday 7:00 AM - 2:00 PM

: Monday to Friday 9:00 AM - 5:30 PM
: Monday to Friday 9:00 AM - 5:30 PM
: Monday to Friday 9:00 AM - 5:30 PM
: Monday to Friday 9:00 AM - 5:30 PM
: Monday to Friday 9:00 AM - 5:30 PM
: Monday to Friday 9:00 AM - 5:30 PM
: Monday to Friday 9:00 AM - 5:30 PM
: Monday to Friday 9:00 AM - 5:30 PM
: Monday to Friday 9:00 AM - 5:30 PM
: Monday to Friday 9:00 AM - 5:30 PM
: Monday to Friday 9:00 AM - 5:30 PM
: Monday to Friday 9:00 AM - 5:30 PM

: Everyday 8:00 AM - 5:00 PM
: Everyday 8:00 AM - 5:00 PM
: Everyday 8:00 AM - 5:00 PM
: Everyday 8:00 AM - 5:00 PM
: Everyday 8:00 AM - 5:00 PM
: Everyday 8:00 AM - 5:00 PM
: Everyday 8:00 AM - 5:00 PM
: Everyday 8:00 AM - 5:00 PM
: Everyday 8:00 AM - 5:00 PM
: Everyday 8:00 AM - 5:00 PM
: Everyday 8:00 AM - 5:00 PM
: Everyday 8:00 AM - 5:00 PM

: Tuesday to Sunday 11:30 AM - 8:30 PM
: Tuesday to Sunday 11:30 AM - 8:30 PM
: Tuesday to Sunday 11:30 AM - 8:30 PM
: Tuesday to Sunday 11:30 AM - 8:30 PM
: Tuesday to Sunday 11:30 AM - 8:30 PM
: Tuesday to Sunday 11:30 AM - 8:30 PM
: Tuesday to Sunday 11:30 AM - 8:30 PM
: Tuesday to Sunday 11:30 AM - 8:30 PM
: Tuesday to Sunday 11:30 AM - 8:30 PM
: Tuesday to Sunday 11:30 AM - 8:30 PM
: Tuesday to Sunday 11:30 AM - 8:30 PM
: Tuesday to Sunday 11:30 AM - 8:30 PM

: Everyday 10:00 AM - 6:00 PM
: Everyday 10:00 AM - 6:00 PM
: Everyday 10:00 AM - 6:00 PM
: Everyday 10:00 AM - 6:00 PM
: Everyday 10:00 AM - 6:00 PM
: Everyday 10:00 AM - 6:00 PM
: Everyday 10:00 AM - 6:00 PM
: Everyday 10:00 AM - 6:00 PM
: Everyday 10:00 AM - 6:00 PM
: Everyday 10:00 AM - 6:00 PM
: Everyday 10:00 AM - 6:00 PM
: Everyday 10:00 AM - 6:00 PM

: Monday to Thursday 10:00 AM - 10:00 PM; Friday 11:00 AM - 11:00 PM; Saturday 10:00 AM - 11:00 PM; Sunday 10:00 AM - 8:00 PM
: Monday to Thursday 10:00 AM - 10:00 PM; Friday 11:00 AM - 11:00 PM; Saturday 10:00 AM - 11:00 PM; Sunday 10:00 AM - 8:00 PM
: Monday to Thursday 10:00 AM - 10:00 PM; Friday 11:00 AM - 11:00 PM; Saturday 10:00 AM - 11:00 PM; Sunday 10:00 AM - 8:00 PM
: Monday to Thursday 10:00 AM - 10:00 PM; Friday 11:00 AM - 11:00 PM; Saturday 10:00 AM - 11:00 PM; Sunday 10:00 AM - 8:00 PM
: Monday to Thursday 10:00 AM - 10:00 PM; Friday 11:00 AM - 11:00 PM; Saturday 10:00 AM - 11:00 PM; Sunday 10:00 AM - 8:00 PM
: Monday to Thursday 10:00 AM - 10:00 PM; Friday 11:00 AM - 11:00 PM; Saturday 10:00 AM - 11:00 PM; Sunday 10:00 AM - 8:00 PM
: Monday to Thursday 10:00 AM - 10:00 PM; Friday 11:00 AM - 11:00 PM; Saturday 10:00 AM - 11:00 PM; Sunday 10:00 AM - 8:00 PM
: Monday to Thursday 10:00 AM - 10:00 PM; Friday 11:00 AM - 11:00 PM; Saturday 10:00 AM - 11:00 PM; Sunday 10:00 AM - 8:00 PM
: Monday to Thursday 10:00 AM - 10:00 PM; Friday 11:00 AM - 11:00 PM; Saturday 10:00 AM - 11:00 PM; Sunday 10:00 AM - 8:00 PM
: Monday to Thursday 10:00 AM - 10:00 PM; Friday 11:00 AM - 11:00 PM; Saturday 10:00 AM - 11:00 PM; Sunday 10:00 AM - 8:00 PM
: Monday to Thursday 10:00 AM - 10:00 PM; Friday 11:00 AM - 11:00 PM; Saturday 10:00 AM - 11:00 PM; Sunday 10:00 AM - 8:00 PM
: Monday to Thursday 10:00 AM - 10:00 PM; Friday 11:00 AM - 11:00 PM; Saturday 10:00 AM - 11:00 PM; Sunday 10:00 AM - 8:00 PM

: Everyday 7:00 AM - 9:00 PM
: Everyday 7:00 AM - 9:00 PM
: Everyday 7:00 AM - 9:00 PM
: Everyday 7:00 AM - 9:00 PM
: Everyday 7:00 AM - 9:00 PM
: Everyday 7:00 AM - 9:00 PM
: Everyday 7:00 AM - 9:00 PM
: Everyday 7:00 AM - 9:00 PM
: Everyday 7:00 AM - 9:00 PM
: Everyday 7:00 AM - 9:00 PM
: Everyday 7:00 AM - 9:00 PM
: Everyday 7:00 AM - 9:00 PM

: Everyday 10:00 AM - 5:00 PM
: Everyday 10:00 AM - 5:00 PM
: Everyday 10:00 AM - 5:00 PM
: Everyday 10:00 AM - 5:00 PM
: Everyday 10:00 AM - 5:00 PM
: Everyday 10:00 AM - 5:00 PM
: Everyday 10:00 AM - 5:00 PM
: Everyday 10:00 AM - 5:00 PM
: Everyday 10:00 AM - 5:00 PM
: Everyday 10:00 AM - 5:00 PM
: Everyday 10:00 AM - 5:00 PM
: Everyday 10:00 AM - 5:00 PM

: Monday to Thursday 10:00 AM - 10:00 PM; Friday 10:00 AM - 11:59 PM; Saturday 9:00 AM - 11:59 PM; Sunday 11:00 AM - 10:00 PM
: Monday to Thursday 10:00 AM - 10:00 PM; Friday 10:00 AM - 11:59 PM; Saturday 9:00 AM - 11:59 PM; Sunday 11:00 AM - 10:00 PM
: Monday to Thursday 10:00 AM - 10:00 PM; Friday 10:00 AM - 11:59 PM; Saturday 9:00 AM - 11:59 PM; Sunday 11:00 AM - 10:00 PM
: Monday to Thursday 10:00 AM - 10:00 PM; Friday 10:00 AM - 11:59 PM; Saturday 9:00 AM - 11:59 PM; Sunday 11:00 AM - 10:00 PM
: Monday to Thursday 10:00 AM - 10:00 PM; Friday 10:00 AM - 11:59 PM; Saturday 9:00 AM - 11:59 PM; Sunday 11:00 AM - 10:00 PM
: Monday to Thursday 10:00 AM - 10:00 PM; Friday 10:00 AM - 11:59 PM; Saturday 9:00 AM - 11:59 PM; Sunday 11:00 AM - 10:00 PM
: Monday to Thursday 10:00 AM - 10:00 PM; Friday 10:00 AM - 11:59 PM; Saturday 9:00 AM - 11:59 PM; Sunday 11:00 AM - 10:00 PM
: Monday to Thursday 10:00 AM - 10:00 PM; Friday 10:00 AM - 11:59 PM; Saturday 9:00 AM - 11:59 PM; Sunday 11:00 AM - 10:00 PM
: Monday to Thursday 10:00 AM - 10:00 PM; Friday 10:00 AM - 11:59 PM; Saturday 9:00 AM - 11:59 PM; Sunday 11:00 AM - 10:00 PM
: Monday to Thursday 10:00 AM - 10:00 PM; Friday 10:00 AM - 11:59 PM; Saturday 9:00 AM - 11:59 PM; Sunday 11:00 AM - 10:00 PM
: Monday to Thursday 10:00 AM - 10:00 PM; Friday 10:00 AM - 11:59 PM; Saturday 9:00 AM - 11:59 PM; Sunday 11:00 AM - 10:00 PM
: Monday to Thursday 10:00 AM - 10:00 PM; Friday 10:00 AM - 11:59 PM; Saturday 9:00 AM - 11:59 PM; Sunday 11:00 AM - 10:00 PM

: Everyday 9:00 AM - 11:45 PM
: Everyday 9:00 AM - 11:45 PM
: Everyday 9:00 AM - 11:45 PM
: Everyday 9:00 AM - 11:45 PM
: Everyday 9:00 AM - 11:45 PM
: Everyday 9:00 AM - 11:45 PM
: Everyday 9:00 AM - 11:45 PM
: Everyday 9:00 AM - 11:45 PM
: Everyday 9:00 AM - 11:45 PM
: Everyday 9:00 AM - 11:45 PM
: Everyday 9:00 AM - 11:45 PM
: Everyday 9:00 AM - 11:45 PM

: Everyday 10:00 AM - 7:00 PM
: Everyday 10:00 AM - 7:00 PM
: Everyday 10:00 AM - 7:00 PM
: Everyday 10:00 AM - 7:00 PM
: Everyday 10:00 AM - 7:00 PM
: Everyday 10:00 AM - 7:00 PM
: Everyday 10:00 AM - 7:00 PM
: Everyday 10:00 AM - 7:00 PM
: Everyday 10:00 AM - 7:00 PM
: Everyday 10:00 AM - 7:00 PM
: Everyday 10:00 AM - 7:00 PM
: Everyday 10:00 AM - 7:00 PM

: Everyday 8:00 AM - 11:59 PM
: Everyday 8:00 AM - 11:59 PM
: Everyday 8:00 AM - 11:59 PM
: Everyday 8:00 AM - 11:59 PM
: Everyday 8:00 AM - 11:59 PM
: Everyday 8:00 AM - 11:59 PM
: Everyday 8:00 AM - 11:59 PM
: Everyday 8:00 AM - 11:59 PM
: Everyday 8:00 AM - 11:59 PM
: Everyday 8:00 AM - 11:59 PM
: Everyday 8:00 AM - 11:59 PM
: Everyday 8:00 AM - 11:59 PM

: Everyday 11:00 AM - 10:00 PM
: Everyday 11:00 AM - 10:00 PM
: Everyday 11:00 AM - 10:00 PM
: Everyday 11:00 AM - 10:00 PM
: Everyday 11:00 AM - 10:00 PM
: Everyday 11:00 AM - 10:00 PM
: Everyday 11:00 AM - 10:00 PM
: Everyday 11:00 AM - 10:00 PM
: Everyday 11:00 AM - 10:00 PM
: Everyday 11:00 AM - 10:00 PM
: Everyday 11:00 AM - 10:00 PM
: Everyday 11:00 AM - 10:00 PM